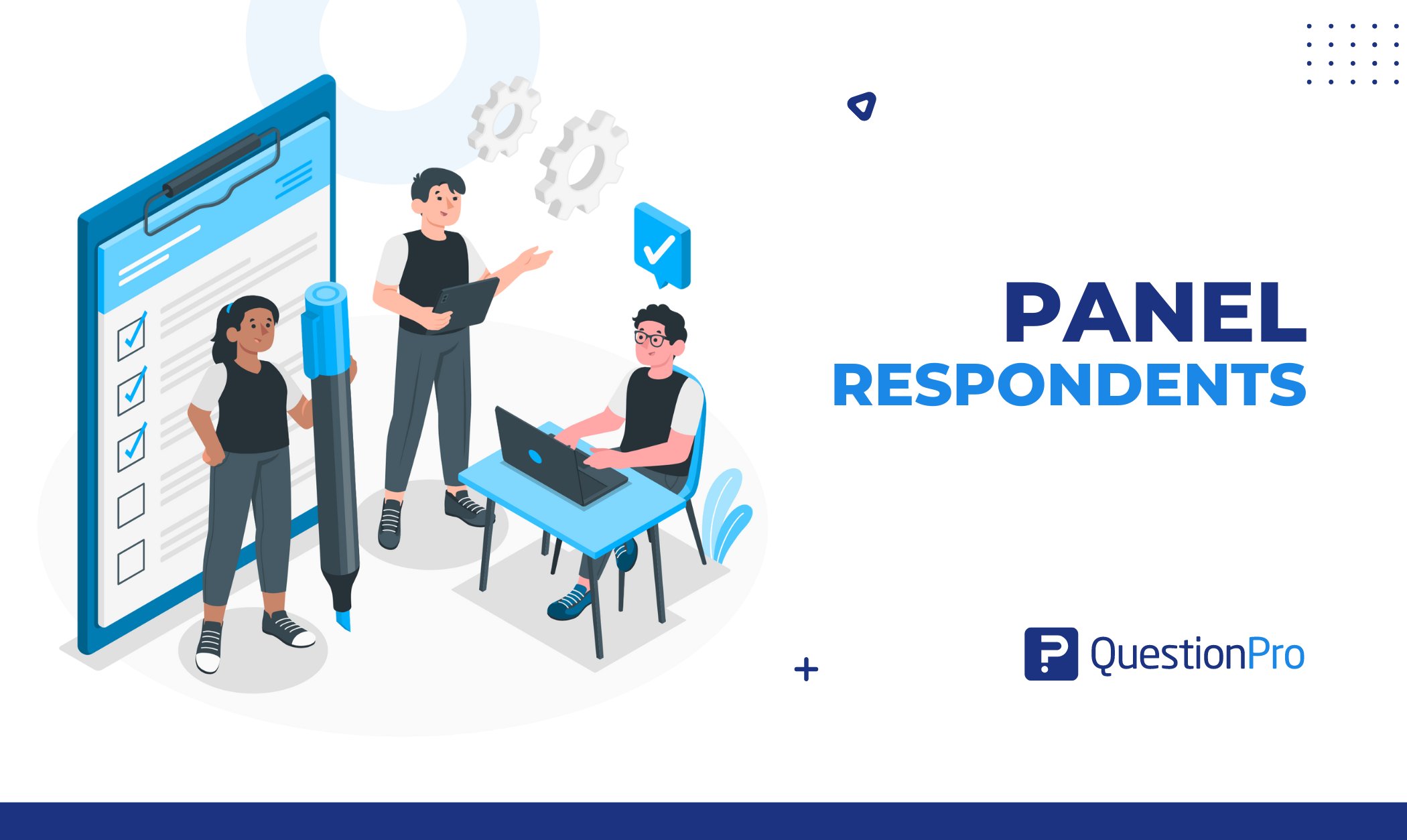 When gathering data from a large sample, there's no better way to do it than using panel respondents.
Surveys play a pivotal role in gathering insights, understanding customer preferences, and making informed business decisions. As technology evolves, so do the methodologies for conducting surveys. One powerful approach gaining prominence is leveraging panel respondents for surveys.
A panel member is an individual who is part of a group willing to participate in surveys on a regular basis. Here are some reasons why this article will help you make more value out of your data!
They're chosen from a pool of people who've agreed to respond to market research surveys—so you know you're getting a good response rate.
The great thing about panel respondents is that they are chosen from a pool of people who've agreed to respond to market research surveys, which means they usually tend to receive higher engagement and a good response rate because respondents opt to participate in the research.
LEARN ABOUT: What Is A Panel Survey?
Online survey software has been expedited recently, which has seen tremendous growth in using panel members around the globe to answer research surveys—and QuestionPro Research Suite researchers easily and swiftly field market research studies to particular audiences or demographic groups with a vast but niche and specialized audience at your disposal!
LEARN ABOUT: Audience Research
Who are the panel respondents?
Panel respondents, also known as online sample or sample respondents, are pre-recruited people who respond to online research surveys. Panel respondents are chosen from a pool of people who've agreed to respond to market research surveys. Online survey software has been expedited recently.
This advancement has seen tremendous growth in using panel members around the globe to answer research surveys. With a vast but niche and specialized audience to choose from, researchers easily and swiftly field market research studies to particular audiences or demographic groups.
Online panels tend to receive higher engagement and a good response rate as respondents opt to participate in the research. Using an existing customer base as your sample is not the most efficient way to research because they will not always be prepared to participate in surveys.
Request your free Audience Trail
Benefits of panel respondents
Panel respondents provide a wide range of benefits that can significantly enhance your survey research's quality, efficiency, and effectiveness. Here are some key benefits that panel respondents offer:
The online market research panel is carefully curated by individuals matching specific demographics or traits. This ensures that your surveys reach the exact audience you need for insightful responses.
Efficient data collection
With a ready-to-go panel at your disposal, the process of collecting responses becomes quicker and more streamlined. This is particularly beneficial when you're working on time-sensitive projects.
Panelists are committed participants who regularly take part in surveys. Their sustained involvement leads to more thoughtful and reliable responses compared to one-time survey-takers.
Engaging survey panel providers eliminates the need for continuous participant recruitment. Utilizing a panel allows you to conduct multiple surveys with the same group, resulting in significant cost savings over time.
Reputable survey panel providers prioritize data quality. They employ mechanisms to validate responses, ensuring that the data you receive is trustworthy and valuable for informed decision-making.
Online market research panels often encompass a wide range of backgrounds, interests, and experiences. This diversity enriches your survey results, providing comprehensive insights into various aspects of your survey research questions.
The survey panel provider is experienced in maintaining and managing panels. They handle participant recruitment, engagement, and validation, freeing you from the logistical challenges of panel maintenance.
Top 10 reasons to use panel respondents for surveys
Online survey respondent panels have gained popularity in recent years and even more after the onset of COVID-19. Market researchers are scrambling to conduct online studies with focused research panels, and rightly so. Let's look at the top 10 reasons to use survey respondent panels for your research surveys and online market research studies.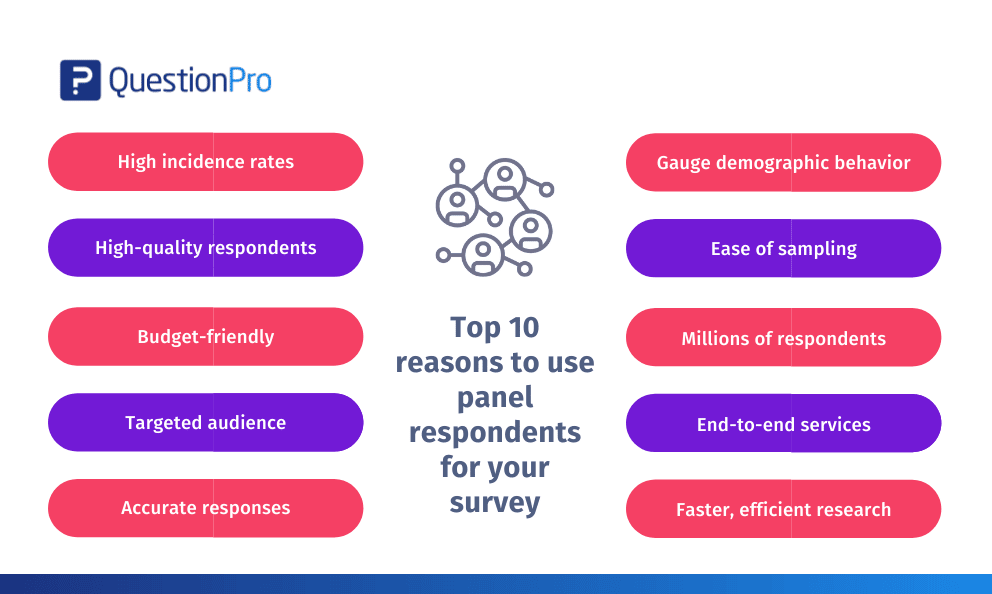 01. High incidence rates online
Respondent targeting is a faster and more consistent approach than traditional respondent targeting. Millions of survey respondents residing in online panels increase your response rates tremendously. You can always expect high survey response rates since respondents opt to participate in research surveys themselves.
QuestionPro's proprietary panel has more than 22+ million survey respondents around the globe. Get guaranteed responses with quick turnaround times on your data collection with panel respondents.
02. High-quality respondents
Panel providers highly profile the respondents based on various demographic data points during panel recruitment. Primary examples are age, ethnicity, race, gender, income, marital status, education, income, and employment.
Panel providers continuously monitor for fraudulent, duplicate, and suspicious panelists to ensure researchers receive the highest quality. The sample database is updated regularly with updated respondent demographics and new respondents to make up for panel attrition.
03. Budget-friendly
When it comes to online research, online panels serve just the purpose. Using online survey panels for surveys, especially significant research studies, proves to be cost-beneficial. You can save a lot of time with quick turnaround times on your studies.
Online panels work instantly and efficiently, so you never have to own a panel or look for survey respondents elsewhere. Because panelists are pre-screened, you get filtered respondents and responses. You save considerable effort and market research budget to re-field the survey and gather answers.
04. Targeted audience
Surveys are specifically fielded to a focused research panel of your choice. For example, QuestionPro onboards panelists after scrutinizing them with more than 300 demographic profiling points.
Your survey is fielded to respondents who suit your research category to help you target the exact individuals and capture the right insights. With a database of more than 22 million panelists, you are bound to reach a specific audience and gain real insights from the survey responses.
05. Accurate responses
You can expect accurate responses from online panelists for a few reasons. Firstly, members join panels to take part in surveys concerning subjects of their interests or expertise.
They help in providing the most accurate insights. Gamified rewards are also a reason why respondents take surveys seriously. Panel providers monitor panels continuously and weed out all the sub-quality responses.
QuestionPro uses a unique device identifier to keep a check on duplication. We also detect one-word answers, duplicate text across responses, patterned responses, and gibberish words to filter only respondents with quality responses.
06. Understand behaviors across demographics
The world is your marketplace, and in this marketplace reside people belonging to varied demographics. It is tough to guess what certain people who belong to different demographics like and dislike. With online panel respondents, understand what each individual likes and dislikes.
Know what the population is more inclined toward. People belonging to different demographics respond in different ways to different situations. Break down and understand what each demographic feels or draw conclusions about the entire population for better decision-making.
07. Ease of sampling
Using online panel services is simple, even for novice researchers. Sampling becomes very easy compared to other recruitment methods. As the respondents are often ready to answer surveys, taking a larger population sample becomes easy.
With QuestionPro, you can directly select the sample in three steps. Simply select the basic demographics necessary for your survey and launch it. The answers you receive will be representative of the sample. You can also reach out to us at [email protected], and we'll help you gather quicker, higher quality, and more consistent insights.
If you want to learn more about the different sampling types: visit our QuestionPro Sampling Article
08. Millions of respondents
QuestionPro's proprietary panel provides you access to more than 22 million active members worldwide who are double opted-in and highly qualified in research studies of any level of specificity.
From conducting a gen pop study to one with niche panelists like building contractors, and veterinarians to pet owners, a survey panel, is the most efficient way to gather accurate responses. Sample management becomes easy when you receive guaranteed responses from the millions of panelists in survey panels.
09. End-to-end services
Panel providers do more than just hand you the sample. In QuestionPro's case, we help you achieve the most accurate market research data by monitoring and discarding unhealthy survey responses.
Our highly-skilled and dedicated project managers understand the complexities of online data collection, providing you with total fieldwork management and sophisticated sample configurations. For longitudinal studies, we manage your community so you focus on the research part worry-free.
10. Faster and more efficient research
Sampling is not easy, especially when the accuracy of the results is a high priority to the study. Researchers spend a lot of time finding the accurate mix and then spend time cleaning overshot quotas. With panel respondents, the quotas are automatically taken care of.
Respondents who overshoot quotas are automatically terminated. Researchers can spend more time digging into and analyzing the data than cleaning up responses. Research projects get completed much sooner, with higher accuracy.
Speed, accuracy, and reliability with panel respondents
In a world where the pace of life is faster than ever, researchers are looking for ways to get more done in a shorter time. With QuestionPro's Audience, you can do just that! Our software provides reliable data that are accurate and fast, helping you make better decisions for your business.
They also allow you to reach audiences far and wide, so you can easily solve all your research queries. You can access respondents at any time of day or night and on any day of the week—no matter where they are or what they're doing. You'll never have to worry about missing out on valuable insights because someone wasn't available when you were ready to collect data.
And because they're diverse groups made up of real people who've agreed to share their opinions with us, online panels help us better understand our target audience—which makes them ideal tools for conducting market research, customer satisfaction surveys, and other types of studies that require accurate responses within your market research firm.
With QuestionPro Audience at your disposal, there's no reason your business shouldn't be able to stay ahead of the curve by accessing timely feedback from customers worldwide!
Frequently Asking Questions (FAQ)
What is a panel respondent?
A panel respondent is an individual who participates in online surveys through a survey panel provider.
How do panel respondents benefit from data quality?
Panel respondents offer high-quality responses due to pre-screening and attention checks.

Why should I use panel respondents for my survey?
Using panel respondents ensures targeted and reliable insights from a consistent group of participants.