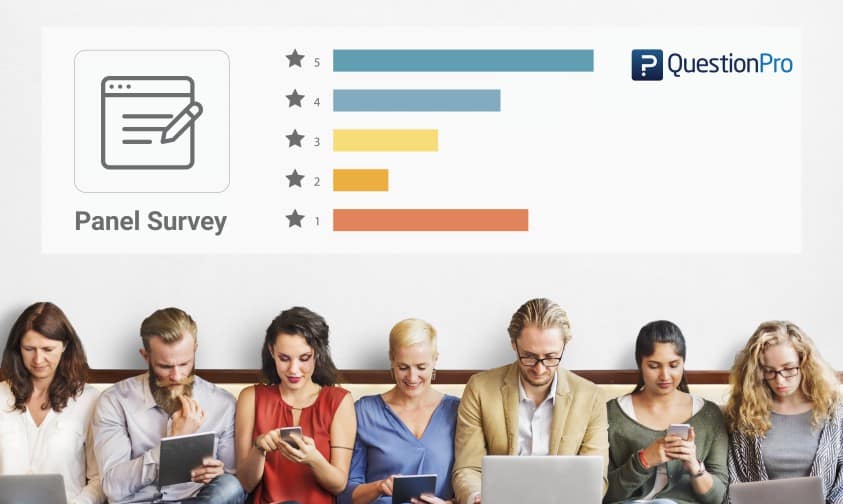 The panel survey helps collect the exact, relevant data for a more extended period, from a group of people to the target audience. The commercial use of this survey started as early as 1948. However, during that time, panel surveys were mostly restricted to paper and pencil.
Since then, it has come a long way. Electrical instruments have been used for a long time to collect data using a panel survey. The Internet has made a revolution in the way data is contained in the last decade or so.
Let's not ignore the fact that the Internet has become one of the essential sources for data collection about any topic or product. Panel surveys are conducted online with large numbers of people who participate voluntarily and anonymously in them.
They are generally conducted by companies that require information about their products or services or competitors' products or services they want to know more about before deciding how best to market their products or services effectively.
What is a panel survey?
A panel survey is a type of longitudinal study. It can be a qualitative or quantitative survey used to measure people's behavior. Such survey data can be collected in various ways, from interviews to online surveys or scanning barcodes.
In a panel survey, the same set of questions or measurements is administered to the participants at multiple points in time, allowing researchers to observe and analyze changes and trends over time within the group. By following the same individuals or households over an extended time period, panel surveys offer valuable insights into social, economic, and behavioral change dynamics.
User-centered design (UCD) aims to increase a product's or service's usability. It involves the users in designing a process of iterations of design solutions. In such cases where UCD is applied, qualitative data is most valuable, and this data can be collected using panels.
Why do researchers use panel surveys?
In the market research space, panel surveys are utilized to track consumer behavior and preferences over time, providing valuable insights into trends and changes in the target market. Panel surveys can be used for a variety of research purposes but are commonly used as a method of research for :
Panel surveys allow researchers to track changes and trends over time within a specific group of individuals or households. By collecting data at multiple points in time, researchers can analyze individual-level dynamics, study patterns of stability and change, and observe the impact of various factors on the target population.
This enables researchers to examine causal relationships by observing changes in both the independent variables (such as policies, interventions, or events) and the dependent variables (such as behaviors, attitudes, or outcomes) over time. This longitudinal approach helps identify the effects' directionality and control for confounding factors more effectively than cross-sectional studies.
It provides insights into individual differences and variations in a population's behavior, attitudes, or outcomes. By following the same individuals over time, researchers can investigate why some individuals experience different outcomes or respond differently to interventions or policies, allowing for a more nuanced understanding of complex social phenomena.
This allows researchers to examine the effects of specific events or policy changes on individuals or households. By collecting data before and after an event or policy implementation, researchers can assess its impact, explore how individuals adapt or respond to changes, and study the short-term and long-term consequences.
These are useful for evaluating the effectiveness of policies, programs, or interventions over time. By measuring outcomes and tracking changes within a panel of participants, researchers can assess whether a policy achieves its intended goals, identify areas for improvement, and provide evidence for decision-making and policy refinement.
Panel surveys repeatedly collect detailed information from the same individuals or households. This allows researchers to study complex phenomena, explore the interplay of various factors, and delve into the mechanisms underlying behavior or outcomes. 
The longitudinal nature of panel surveys also enables the collection of retrospective data, which can provide insights into past experiences or events that may influence present behaviors or outcomes.
LEARN ABOUT: Online Panels
Example of a panel survey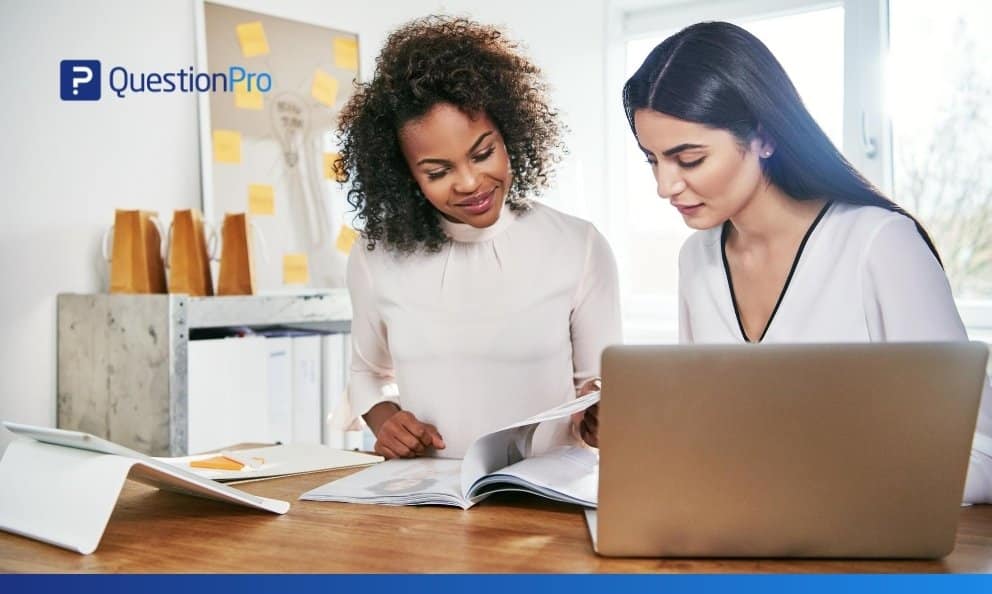 As mentioned above, researchers use panel surveys to measure specific parameters and human behaviors accurately. For example, they use this type of study to collect and analyze the pricing of a product, the effectiveness of an advertisement campaign, or the projected sales numbers.
Panel survey data is used for panel research to track continuous consumer purchasing habits, like purchasing groceries, food, and drinks, electronic gadgets, clothing items, toiletries, etc.
User-centered design for panel surveys makes use of focus groups. A moderator is assigned to a small group of people, usually 6-10. The moderator facilitates discussions amongst the people in the group. Focus groups consist of participants who have a good knowledge of the subject matter being discussed for data collection.
LEARN ABOUT: Best Data Collection Tools
It is a type of longitudinal study where the same group of individuals, known as a panel, is surveyed at multiple time points to track changes and trends over time. Here are panel survey examples:
Title: "Health and Well-being Panel Survey"
Objective: To understand changes in health and well-being indicators among a selected group of participants over a period of five years.
Sample Selection: A random sample of 1,000 adults aged 25-65 years was selected from the general population of a specific city.
Survey Design:
Baseline Survey (Year 1): The first survey is conducted in the year 2023. Participants are contacted through various means, such as phone calls, emails, and in-person visits, to collect demographic information, health history, lifestyle habits, and well-being indicators. The baseline survey serves as the starting point for the panel.
Follow-up Surveys (Year 3 and Year 5): After two years (in 2025) and five years (in 2028) from the baseline survey, the same group of participants is contacted again for follow-up online surveys. The same set of questions is asked to measure changes in their health and well-being over time. Some additional questions may be included to understand the factors contributing to any observed changes.
Tracking and Attrition: Throughout the five-year period, efforts are made to track and retain as many participants as possible. Participants who drop out are replaced with new participants to maintain the sample size and representativeness.
Data Analysis: The collected data is analyzed using statistical techniques to identify trends, changes, and associations between various factors and changes in health and well-being indicators.
Example Results:
At the end of the five-year panel survey, the research team may find trends and changes in various aspects of health and well-being among the participants. For example:
An increase in physical activity levels among participants aged 25-35 years over the five years.
A decrease in reported stress levels among those who reported adopting stress-reducing practices during the follow-up period.
A correlation between regular social engagement and improved mental well-being over time.
The panel survey design allows researchers to examine how individual participants change over time, providing valuable insights into the dynamics of health and well-being at the individual level and facilitating the study of long-term trends in a population.
LEARN ABOUT: Online Survey Panels
How to design a panel survey
Design your survey carefully and with a smart goal in mind. Reliable and meaningful data can be collected when there is a maximum response to a survey. When you design and deploy a panel survey, the same principles are applicable. Let us now understand the critical attributes while creating a panel survey: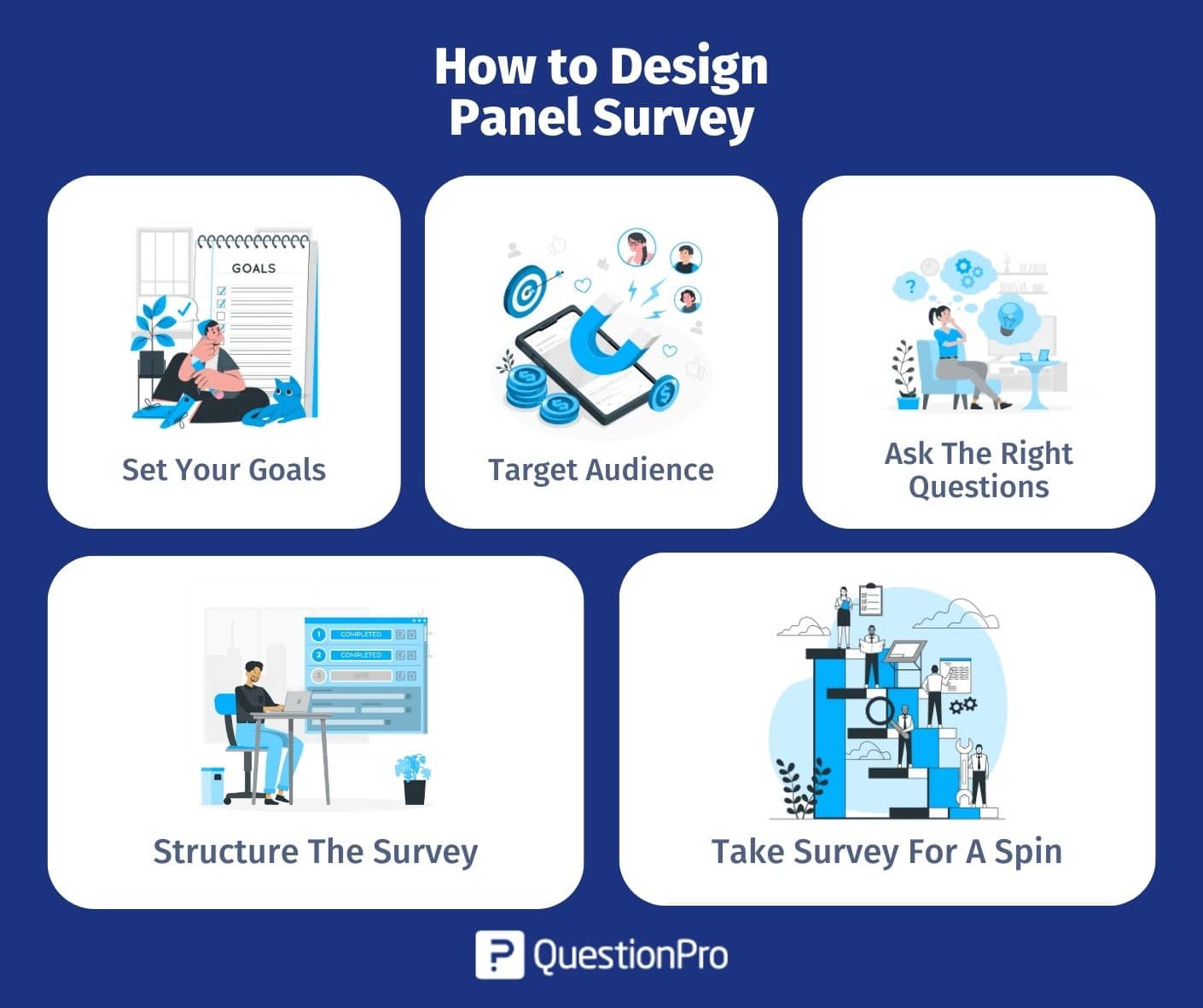 1. First, set your goals
One of the essential characteristics of designing a survey panel is defining the purpose of the study. If the intent of the study is unclear at any point in time, we recommend reinstating the use of the survey research and then starting with defining other attributes.
For example, the goal of a study could be to analyze the impact of royal weddings on the country's micro-economy. You asking "why" is the first vital step.
2. Know your target audience
Once "why" is answered, data collection relevant to study purposes is essential to reach out to the right people. Identifying the right panel to deploy surveys is a critical aspect and is heavily dependent on the structure and mode of the survey.
For example, if a researcher needs to understand the microeconomy of a country's target audience for this particular survey panel, would survey respondents be between the ages of 25-60 and would have a fair understanding of the subject matter?
3. Ask the right questions
As mentioned earlier, It can be deployed to collect both quantitative and qualitative data. The researcher must be careful about the type of survey questions they need to ask. They must understand whether to use quantitative or qualitative questions to gather the correct information to make informed decisions. A right mix of open-ended questions and close-ended questions can help respondents answer the survey with maximum efficiency.
4. Structure the survey
Once the researcher defines the type of survey questions, it is equally important to structure them to avoid confusion among respondents. If respondents get confused while answering the survey, they might end up leaving it half-filled, or the possibilities are they might not fill it at all. A well-structured survey will help respondents understand and respond well to the study.
5. Take your survey for a spin
Once all the above attributes are covered, it is advisable to test the survey. Deploy the survey to a group, and take feedback on the length of the survey, types of questions asked, the structure of the survey, and any other issues while filling it out. Work on changes if necessary and finally deploy it to the target audience.
Benefits of panel surveys
Panel surveys offer several benefits compared to other survey methods. Here are some advantages of using panel surveys:
Survey panels follow the same group of individuals or households over an extended time, allowing researchers to track changes and trends over time. This longitudinal design helps capture dynamics, trends, and patterns that may not be evident in cross-sectional studies.
Panel surveys typically have lower non-response rates compared to cross-sectional multiple surveys. Since the same participants are surveyed repeatedly, researchers can establish a rapport with them, leading to higher response rates and better data quality.
This can minimize sample bias because the same individuals are surveyed over time, which helps control for individual-level variations. This makes panel data suitable for studying sensitive topics or rare events.
Enhanced causal inference
Tracking changes within individuals allows researchers to establish more robust causal relationships between variables. Longitudinal data can help identify the direction of causality and account for confounding factors.
Flexibility and versatility
This can be adapted to various research project objectives, including studying economic behavior, health outcomes, social dynamics, and consumer preferences. The ability to revisit the same participants enables researchers to explore different aspects of their lives.
While setting up, it can be resource-intensive initially. It becomes cost-effective in the long run because data collection is focused on maintaining the existing panel rather than recruiting new participants for each wave.
Seasonal and cyclical patterns
Panel surveys are well-suited for studying changes that occur due to seasonal or cyclical factors. Researchers can observe how participants' behaviors or opinions evolve over different periods.
In public policy research panel, it can be instrumental in assessing the impact of interventions or policy changes over time. This longitudinal perspective allows for more accurate evaluations of long-term policy outcomes.
It enables researchers to study specific subgroups within the sample, as they can identify and track individuals with specific characteristics or experiences, yielding more granular insights.
Valuable data for market research
In consumer behavior studies, panel surveys provide valuable information on brand loyalty, shopping habits, and product preferences over time, which can inform marketing strategies.
LEARN ABOUT: Structured Question
Advantages of panel surveys
Here are the advantages of running panel surveys:
Amplified responses: Panel members willingly sign-up to become panel members, which helps in a reasonable response rate.
Panel diversity: As the panel is diverse, researchers conduct market research surveys to collect various behavioral changes spread across different demographics.
Capture more details: Panelists have adequate knowledge of the subject matter, helping researchers probe them more and capture more information on the subject.
Accessibility: Getting hold of respondents among panelists is very simple compared to finding responses from random individuals.
Efficiency: Panelists are pre-screened at the very beginning, and the screening process is continuous. Survey panels are regularly monitored and cleaned to maintain their high-efficiency levels.
Conclusion
Researchers can determine cause and effect much more quickly with a panel survey than they can with cross-sectional surveys.
An ongoing panel survey involves the same individuals being surveyed at multiple points. The advantage of using this method is that it allows researchers to make causal research inferences about the effects of certain variables on others.

For example, a researcher might want to know whether education levels affect income levels or vice versa. A cross-sectional study would not provide an answer because it would only be able to show correlations between the two variables. However, a panel survey could allow researchers to establish causality by looking at how changes in one variable affect changes in another over time.
QuestionPro Audience provides researchers with the necessary tools to gather valuable insights and transform those insights into smart business decisions!