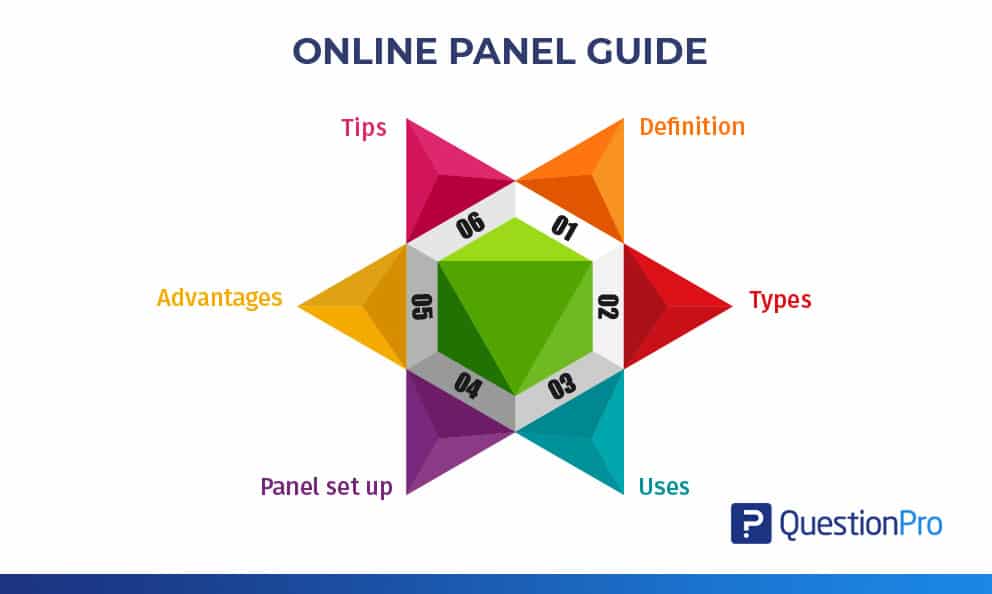 Online panels are now a priceless resource for obtaining information, doing research, and encouraging debates on a variety of subjects in the age of the internet.
Knowing how to use online panels efficiently may be a game-changer for anyone conducting research, marketing their products, or running an organization that wants to interact with their audience. You'll walk through every aspect of online panels in this detailed guide, including how to create and maintain them.
What are online panels?
Online panels are groups of pre-recruited individuals who have agreed to take part in market research surveys, focus groups, or in-depth interviews. These individuals are called panel members or panelists. A panel generally comprises people sharing similar traits.
To get recruited to panels and participate in research studies, individuals share a large amount of household data, demographic data, and behavioral characteristics during the registration phase. Sharing this information makes segregation and recruitment easy for future research studies.
What is online panel research?
Online panel research is the best way of getting an overview of what customers and potential customers want. Online market research panels are growing in popularity as more and more organizations use online panels to study the market.
They use panels before launching a product/service to gauge the success or use panels to understand their position in the market.
Based on this data, they can tweak or improve their product as per the feedback received. Individuals who take part in research studies are generally rewarded with cash incentives or rewards.
The cost of panels generally depends on two factors – The length of the survey and the type of audience. Specialty panels typically cost more compared to panels consisting of the general population.
LEARN ABOUT: What Is A Panel Survey?
Types of online panels
Online panels are built and maintained for different purposes. Here's a look at the types of online panels and their uses.
1. B2B panel
Business-to-business (B2B) panels primarily comprise business decision-makers. They're profiled by employee size, occupation, industry, designation, and organizational revenue. Researchers using B2B panels can access decision-makers across various functions like HR, marketing, sales, finance, etc., including C-level executives.
2. B2C panel
Business-to-consumer (B2C) panels primarily comprise individuals or end-users of a product or service. They belong to a wide range of business fields like automotive, travel and leisure, hotel, entertainment, food and beverage, etc. Businesses can get in contact with these panelists directly to conduct their research.
3. General population panel
A general population panel, also known as GenPop or CensusRep panel, comprises a group of individuals who reflect the actual demographic makeup of the state, country, or a particular region. Individuals are then picked from this panel to participate in research per the research criteria and goal.
4. Specialty panel
Specialty panels are made up of individuals who perform a specific job or belong to a particular specialist group. Some examples of specialty panels are video gamer panels, general contractors, homeowners, college students, veterinarians, and more.
LEARN ABOUT: B2B Online Panels
What types of studies are online panels used for?
Different researchers use online panels for different purposes and goals. These researchers include individuals, college or university students, organizations that want to release a new product/service, those who want to collect feedback on existing products, and hospitality, travel, and leisure industry researchers, to name a few.
Let's take a look at some commonly used panels.
Service or product-based organizations
These organizations primarily research their market before releasing a product or service in the market trends to gauge the potential of that product. They also run market research surveys among panels to get feedback on existing products and services so that they understand what the customers want and can make improvements to existing products.
College/ university students and universities
Students use online panels for their thesis or dissertation. PhDs also make use of panels to assist them in their research activities. Universities run studies around student panels to help them understand the wants and interests of the students and tailor or improve their courses.
Hospitality/ travel/ leisure
Surveys are run by these industries, too. As these industries are 'customer-centric,' it is highly essential for them to understand the wants of their potential and existing customers and take steps to make their experience as smooth as possible.
How are online research panels formed?
People are recruited to panels from various recruiting channels. The internet is the best source and tool to recruit panelists. Social media and email play an essential role in online panel recruitment.
But, panel recruitment can be difficult because recruiting the right people to the panel can be difficult. The market research services leader in the industry consistently provides valuable insights to businesses looking to make informed decisions.
Quality control measures and appropriate recruitment methods should be applied to recruit persons into a panel. People can show interest or recruit to open panels by sharing demographic information.
Organizations, too, invite their existing and potential customers to be a part of panels. Whatever the recruitment channel, every panelist goes through a rigorous screening process where they have to share a bunch of personal, professional, and demographic details to be categorized accurately in the panel.
Many panel providers reward their panelists in the form of gift coupons or offer them monetary benefits to appreciate their time and effort in answering research surveys. People recruited to a specialist or an IDI panel generally receive more incentives compared to general panelists. Panelists can also join through referral schemes.
When to use a market research panel
A market research panel is a group of individuals who have agreed to participate in surveys, studies, or other forms of market research studies on a regular basis. These panels can be a valuable resource for businesses and researchers looking to gather data and accurate insights about their target audience. Here are some situations when you might consider using a market research panel:
Regular feedback: If you need ongoing and consistent feedback from a specific demographic or group of consumers, a panel can provide a convenient way to collect this data at regular intervals.
Targeted research: When you require data from a specific audience or niche market, a panel can be tailored to include members matching your desired demographics, ensuring more relevant responses.
Longitudinal studies: For research that spans an extended period, such as tracking consumer behavior changes or product usage over time, a panel can provide continuity and consistency in data collection.
Comparative analysis: When you want to compare data across different time periods or regions, having a panel with consistent participants can make it easier to draw meaningful comparisons.
Quick turnaround: If you need to gather data quickly, panels can be a ready-made resource, allowing you to reach out to participants who are already signed up and willing to participate.
Cost efficiency: Panels can be cost-effective for certain types of research since you don't have to recruit new participants for each study, reducing the cost and effort involved in data collection.
Specific research objectives: If you have specific research goals in mind and want to ensure that you have access to the right participants, panels can be curated to align with your research objectives.
Access to diverse demographics: Some panels are designed to be demographically diverse, allowing you to reach a wide range of participants with different backgrounds and characteristics.
Product testing: If you want to conduct product testing or gather user feedback on a regular basis, a panel can provide a consistent group of users for this purpose.
Quality control: Panels often come with mechanisms for quality control and data validation, which can help ensure the accuracy and reliability of the collected data.
LEARN ABOUT: Panel Respondents
What are the benefits and advantages of using online panels?
There are many reasons for using research panelists for surveys. Here are our top five advantages to using online panels.
1. You receive quick and accurate responses to your study
No matter the research, panel market research companies have a massive database of highly motivated respondents who are ready to take online surveys. It helps when you have a specific audience in mind, like single working mothers. A higher response rate is achieved.
2. Access to very distinct populations
Panelists are pre-screened on a bunch of demographic criteria. Researchers get access to specific and relevant people for research studies.
3. Cost savings
Data collection with the support of a panel is generally cheaper than using a general population panel. Especially if the population of interest is a low incidence category, re-running a survey to cover up for 'bad data' gets eliminated. Also, money is saved on online ads, buying email lists, etc.
4. Automated data collection
Data collection is automated with samples. Managing quotas becomes very simple if a robust survey tool is used. Managing quotas, pausing, or conducting fieldwork in batches is very much possible. What more? Automatic email reminders can be sent out to the panelists to complete the survey.
5. Convenient for respondents
Most of the online panelists are mobile-ready and can answer surveys quickly on their mobiles. The panelists are aware of how stuff works. They properly understand the steps to log in, access surveys, rewards, etc. It yields a higher response rate in the study.
LEARN ABOUT: Online Survey Panels
What can I do to keep the cost of my online panel down?
Online panels are a very cost-effective and quick source of research data. The cost of the panel is directly proportional to the following factors. To keep your survey costs down, here are a few points to keep in mind.
Define an attainable goal
Before the research activity begins, you must have a clear goal and a plan on paper. This goal must be realistic and attainable. This will save you future re-work and will save you extra costs and time.
Don't let the survey length be too long
Many respondents do not appreciate long surveys. They lose interest mid-way through the study and may drop out. Even worse, they may not answer the research accurately, which leads to the cleaning up of massive, unusable, redundant data. Keep the survey short and to the point.
Use more closed-ended questions
One of the best ways to capture accurate data is by using closed-ended questions. Data analysis saves a lot of effort and time, as the respondents are given multiple-choice or checkbox options. Open-ended questions are time-consuming for the surveyee, too, and they can drop out.
Pre-plan the number of responses needed
Keep the population of interest small unless you're surveying a small population. But, make sure to broaden the target group in the population of interest for accurate results. A large sample size means more specific results, but that also means an increase in research costs.
You do not want to run the survey in one wave. Running a pre-test before sending the survey to the respondents is advisable. It helps you identify issues within the study and gives you a chance to rectify them before a full survey is run.
Online panels with QuestionPro
QuestionPro Audience is a pioneer in providing survey panels to researchers. Our online panel of 22+ million mobile-ready panelists are highly motivated to participate in online research panel surveys.
These panelists are strategically recruited after profiling them on 300+ data points. Get in touch with versatile and trustworthy respondents who are sure to help complete the research study within the stipulated time.
Also, get full turnkey data collection, including – sample, survey programming, tabs, dashboard reporting, and custom scripting!