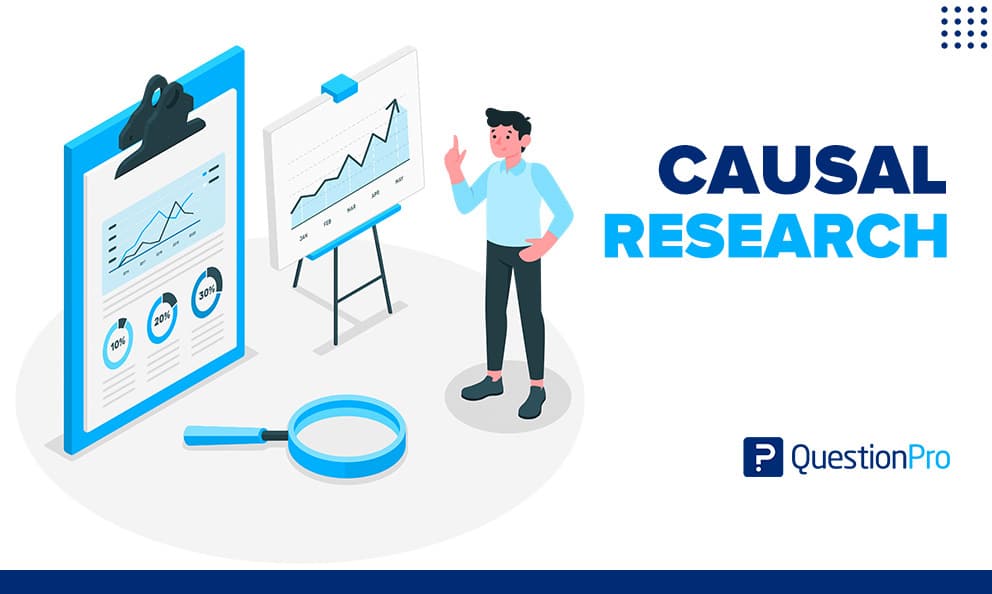 Causal research is classified as conclusive research since it attempts to build a cause-and-effect link between two variables. This research is mainly used to determine the cause of particular behavior. We can use this research to determine what changes occur in an independent variable due to a change in the dependent variable.
It can assist you in evaluating marketing activities, improving internal procedures, and developing more effective business plans. Understanding how one circumstance affects another may help you determine the most effective methods for satisfying your business needs.
This post will explain causal research, define its essential components, describe its benefits and limitations, and provide some important tips.
What is causal research?
Causal research is also known as explanatory research. It's a type of research that examines if there's a cause-and-effect relationship between two separate events. This would occur when there is a change in one of the independent variables, which is causing changes in the dependent variable.
You can use causal research to evaluate the effects of particular changes on existing norms, procedures, and so on. This type of research examines a condition or an issue to explain the patterns of interactions between variables.
Components of casual research
Only specific causal information can demonstrate the existence of cause-and-effect linkages. The three key components of causal research are as follows:
Temporal sequence
Prior to the effect, the cause must occur. If the cause occurs before the appearance of the effect, the cause and effect can only be linked. For example, if the profit increase occurred before the advertisement aired, it cannot be linked to an increase in advertising spending.
Non-Spurious association
Linked fluctuations between two variables are only allowed if there is no other variable that is related to both cause and effect. For example, a notebook manufacturer has discovered a correlation between notebooks and the autumn season. They see that during this season, more people buy notebooks because students are buying them for the upcoming semester.
During the summer, the company launched an advertisement campaign for notebooks. To test their assumption, they can look up the campaign data to see if the increase in notebook sales was due to the student's natural rhythm of buying notebooks or the advertisement.
Concomitant variation
Concomitant variation is defined as a quantitative change in effect that happens solely as a result of a quantitative change in the cause. This means that there must be a steady change between the two variables. You can examine the validity of a cause-and-effect connection by seeing if the independent variable causes a change in the dependent variable.
For example, if any company does not make an attempt to enhance sales by acquiring skilled employees or offering training to them, then the hire of experienced employees cannot be credited for an increase in sales, other factors may have contributed to the increase in sales.
Causal Research's Advantages and Disadvantages
Causal or explanatory research has various advantages for both academics and businesses. As with any other research method, it has a few disadvantages that researchers should be aware of. Let's look at some of the advantages and disadvantages of this research.
The Advantages
Helps in the identification of the causes of system processes. This allows the researcher to take the required steps to resolve issues or improve outcomes.

It provides replication if it is required.

Causal research assists in determining the effects of changing procedures and methods.

Subjects are chosen in a methodical manner. As a result, it is beneficial for improving internal validity.

The ability to analyze the effects of changes on existing events, processes, phenomena, and so on.

Finds the sources of variable correlations, bridging the gap in correlational research.
The Disadvantages
It is not always possible to monitor the effects of all external factors, so casual research is challenging to do.

It is time-consuming and might be costly to execute.

The effect of a large range of factors and variables existing in a particular setting makes it difficult to draw results.

The most major error in this research is a coincidence. A coincidence between a cause and an effect can sometimes be interpreted as a direction of causality.

To corroborate the findings of the explanatory research, you must undertake additional types of research. You can't just make conclusions based on the findings of a causal study.

It is sometimes simple for a researcher to see that two variables are related, but it can be difficult for a researcher to determine which variable is the cause and which variable is the effect.
Tips for implementing causal research
Causal research is frequently the last type of research done during the research process, and it is considered definitive. As a result, it is critical to plan the research with specific parameters and goals in mind. Here are some tips for conducting casual research successfully:
1. Understand the parameters of your research
Identify any design strategies that change the way you understand your data. Determine how you acquired data and whether your conclusions are more applicable in practice in some cases than others.
2. Pick a random sampling strategy
It's critical to choose a technique that works best for you when you have participants or subjects. You can use a database to generate a random list, select random selection from already sorted categories, or conduct a survey.
3. Determine all possible relations
Examine the different relationships between your independent and dependent variables to build more sophisticated insights and conclusions.
Conclusion
To summarize, causal or explanatory research helps organizations understand how their current activities and behaviors will impact them in the future. This is incredibly useful in a wide range of business scenarios. This research can ensure the outcome of various marketing activities, campaigns, and collaterals. Using the findings of this research program, you will be able to design more successful business strategies that take advantage of every business opportunity.
At QuestionPro, we offer all kinds of necessary tools for researchers to carry out their projects. It can help you get the most out of your data by guiding you through the process.