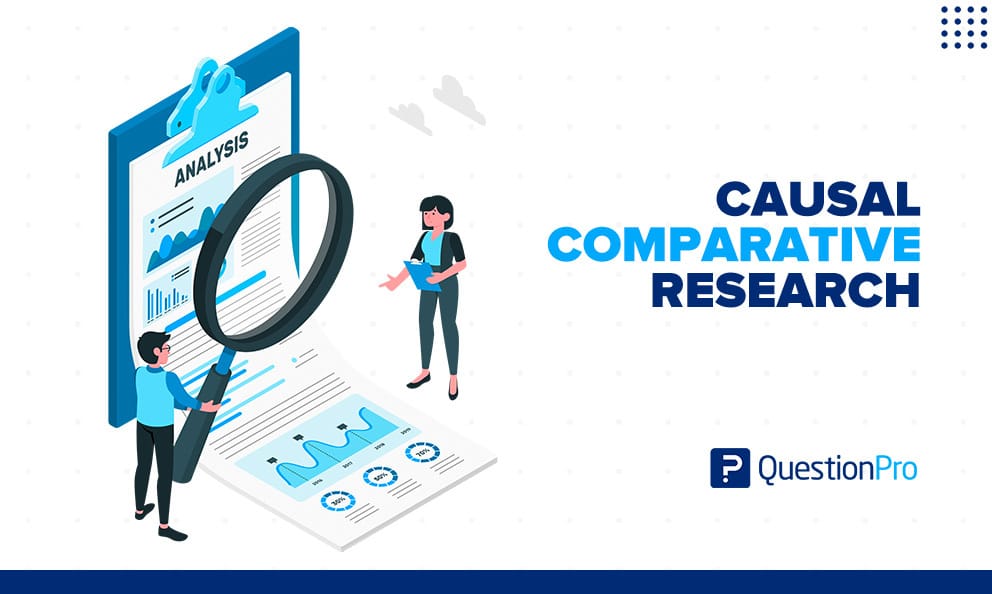 Within the field of research, there are multiple methodologies and ways to find answers to your needs, in this article we will address everything you need to know about Causal Comparative Research, a methodology with many advantages and applications.
What Is Causal Comparative Research?
Causal-comparative research is a methodology used to identify cause-effect relationships between independent and dependent variables.
Researchers can study cause and effect in retrospect. This can help determine the consequences or causes of differences already existing among or between different groups of people.
When you think of Casual Comparative Research, it will almost always consist of the following:
A method or set of methods to identify cause/effect relationships
A set of individuals (or entities) that are NOT selected randomly – they were intended to participate in this specific study
Variables are represented in two or more groups (cannot be less than two, otherwise there is no differentiation between them)
Non-manipulated independent variables – *typically, it's a suggested relationship (since we can't control the independent variable completely)
Types of Casual Comparative Research
Casual Comparative Research is broken down into two types:
Retrospective Comparative Research
Prospective Comparative Research
Retrospective Comparative Research: Involves investigating a particular question…. after the effects have occurred. As an attempt to see if a specific variable does influence another variable.
Prospective Comparative Research: This type of Casual Comparative Research is characterized by being initiated by the researcher and starting with the causes and determined to analyze the effects of a given condition. This type of investigation is much less common than the Retrospective type of investigation.
LEARN ABOUT: Quasi-experimental Research
Causal Comparative Research vs Correlation Research
The universal rule of statistics… correlation is NOT causation! 
Casual Comparative Research does not rely on relationships. Instead, they're comparing two groups to find out whether the independent variable affected the outcome of the dependent variable
When running a Causal Comparative Research, none of the variables can be influenced, and a cause-effect relationship has to be established with a persuasive, logical argument; otherwise, it's a correlation.
Another significant difference between both methodologies is their analysis of the data collected. In the case of Causal Comparative Research, the results are usually analyzed using cross-break tables and comparing the averages obtained. At the same time, in Causal Comparative Research, Correlation Analysis typically uses scatter charts and correlation coefficients.
Advantages and Disadvantages of Causal Comparative Research
Like any research methodology, causal comparative research has a specific use and limitations to consider when considering them in your next project. Below we list some of the main advantages and disadvantages.
Advantages
It is more efficient since it allows you to save human and economic resources and to do it relatively quickly.
Identifying causes of certain occurrences (or non-occurrences)
Scrutinizes the relationships among different variables in which the independent variable has already occurred
Disadvantages
You're not fully able to manipulate/control an independent variable as well as the lack of randomization
Like other methodologies, it tends to be prone to some research bias, the most common type of research is subject-selection bias, so special care must be taken to avoid it so as not to compromise the validity of this type of research.
The loss of subjects/location influences / poor attitude of subjects/testing threats….are always a possibility
Finally, it is important to remember that the results of this type of causal research should be interpreted with caution since a common mistake is to think that although there is a relationship between the two variables analyzed, this does not necessarily guarantee that the variable influences or is the main factor to influence in the second variable.
LEARN ABOUT: ANOVA testing
QuestionPro can be your ally in your next Causal Comparative Research
QuestionPro is one of the platforms most used by the world's leading research agencies, thanks to its diverse functions and versatility when collecting and analyzing data.
With QuestionPro you will not only be able to collect the necessary data to carry out your causal comparative research, you will also have access to a series of advanced reports and analyses to obtain valuable insights for your research project.
We invite you to learn more about our Research Suite, schedule a free demo of our main features today, and clarify all your doubts about our solutions.
Author: John Oppenhimer