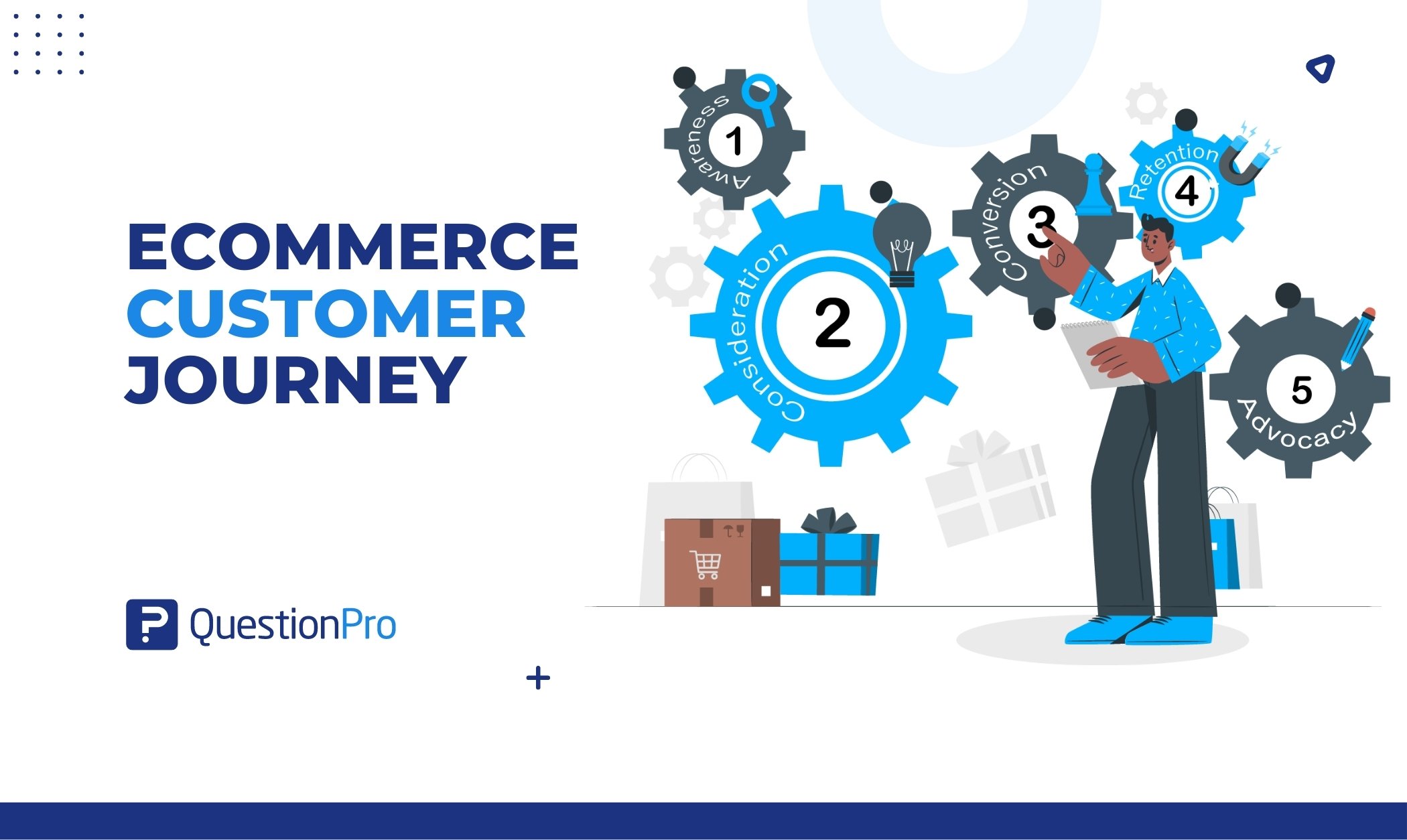 The world of E-commerce is constantly changing, and businesses must adapt to keep up with the competition. One of the most essential elements of this change is understanding the E-commerce Customer Journey.
Attracting and retaining customers is more important than ever before. Businesses are always looking for ways to improve the customer experience and drive long-term profitability. To do so successfully, businesses need to take a strategic strategy across the entire customer lifecycle, from discovery to post-purchase interaction.
LEARN ABOUT: Perfect Customer-First Strategy
In this blog, we will explore the key stages of the E-commerce customer journey and techniques and insights to improve each stage.
What is E-commerce Customer Journey?
The E-commerce customer journey refers to the set of steps and interactions that a customer goes through when making a purchase from an online store or website. It includes every stage of the customer's experience, from initial product or service awareness and consideration to post-purchase follow-up and future repurchase.
LEARN ABOUT: Service Recovery
Online searches, website visits, product browsing, adding products to the cart, making a transaction, receiving order updates, and dealing with customer care are common customer journey touchpoints. Businesses can identify pain areas, improve processes, and boost customer satisfaction, conversions, and loyalty by evaluating the customer journey.
You may also check out this guide to learn how to build your own Customer Journey Map.
5 Stages of the E-commerce Customer Journey and Ways to Improve Them
The E-commerce customer journey comprises five key stages that customers go through when interacting with an online store. These stages are essential for organizations to understand and optimize to provide their customers with a seamless, satisfying experience. Businesses can improve customer engagement, conversions, and long-term loyalty by strategically optimizing each stage.
Stage 01: Awareness
Awareness is the first customer journey stage of your e-commerce site. Customers become aware of your brand, products, or services at this point. They may find you through numerous methods, such as social media, search engines, online ads, etc.
During the customer awareness stage of the journey, customers look for answers and come into contact with various brands and products. If you want to make an excellent first impression, now is the moment to shine.
For example, A customer is browsing social media and sees an interesting ad for a new online clothing store. The ad attracts customers with stylish clothes and a limited-time discount code.
Awareness Stage's Touchpoints: Social media platforms, search engine results, online ads, influencer marketing, content marketing (blogs, videos, infographics), and word-of-mouth recommendations.
Key Focus: The goal is to increase customer awareness of your company's brand, products, or services. The touchpoints are designed to attract their attention, spark their interest, and encourage them to explore more.
How to improve
Enhance your online presence: Optimize your website, develop compelling content, and use SEO tactics to increase visibility in search engines. Use social media platforms, influencer collaborations, and online advertising to expand your reach and target the correct audience.
Engaging content: Create compelling and relevant content, such as blog articles, videos, or infographics, to educate and attract your target audience. Focus on resolving their problems and showcasing the value of your products or services.
Stage 02: Consideration
Consideration occurs when an interested customer considers all of the options accessible in your e-commerce store and expresses an actual interest in purchasing from you.
At this stage, customers directly connect with your brand, and your goal should be to keep the customer engaged with your business for the next phase in the customer journey.
LEARN ABOUT: Customer Journey Mapping Tools
For example, after learning about the new online clothing store, the customer checks the store's website to learn more about their product options. They look through different product categories, read user reviews, and compare prices to determine the quality and value of the items they want to buy.
Consideration Stage's Touchpoints: Website, product pages, customer feedback and ratings, comparative websites, social media platforms, online forums, and communities.
Key Focus: Customers actively research and compare different possibilities. The touchpoints provide specific information, social proof, and an opportunity for customers to explore, evaluate, and judge the value and acceptability of your offerings.
How to improve
Detailed product information: Provide clear and accurate product descriptions, photos, and specifications. Include customer feedback and ratings to increase trust and transparency.
Comparison tools: Provide tools like comparison charts that allow customers to compare your products to competitors. Highlight unique characteristics, benefits, and value offerings to help customers make informed judgments.
Customer Testimonials: Display positive customer reviews and testimonials on your e-commerce website to build trust in your business and products. Consider employing case studies or success stories to demonstrate real-world effects.
Stage 03: Conversion
Conversion is one of the most important words in the e-commerce industry. This stage encourages visitors to do a particular action.
The buy or transactional activity stage is frequently related to the conversion stage, where the customer purchases or takes a specific action contributing to the business's objectives.
At this stage, you have the opportunity to convince the visitor that your product is the best solution to their problem. However, a sale at this stage is not always guaranteed.
For example, The customer adds the clothing items they want to buy to their shopping cart on the online store's website. Customers move to the checkout page, where customers can review their order, choose a payment option, and enter their shipping information.
Conversion stage's Touchpoints: Shopping cart, checkout process, payment options, shipping information, product availability, and customer support.
Key Focus: Customers are prepared to make purchases. The touchpoints are designed to provide a smooth and secure shopping experience, as well as clear pricing and delivery information and efficient customer service.
How to improve
Streamlined Checkout Process: Reducing the number of processes, removing unnecessary fields, and allowing for guest checkouts can reduce cart abandonment and boost conversion rates.
Clear Pricing and Shipping Information: Providing transparent pricing, shipping fees, and delivery schedules helps develop trust and eliminates any surprises during checkout.
Multiple Payment Options: Allowing customers to pay using a number of methods, such as credit/debit cards, digital wallets, or other payment options, satisfies their preferences and improves convenience.
Trust Signals: Displaying trust symbols, security badges, and customer testimonials may improve customer confidence and ease concerns about the security of their personal and financial information.
Abandoned Cart Recovery: Sending reminder emails or giving incentives to customers who have left items in their shopping carts can help recover lost sales and encourage customers to complete their purchases.
Stage 04: Retention
Congratulations, now you have a new customer! Your customer has completed the conversion stage, but the effort does not end there. The goal now is to keep them coming back.
During this phase, your business works to keep existing customers satisfied through relationship management and customer success efforts. Retention strategies are designed to provide a great customer experience, foster long-term connections, and improve the lifetime value of customers.
For example, the store gives customers customized email newsletters with recommendations based on their previous purchases and browsing history. The emails also feature exclusive discounts or early access to upcoming sales as a thank-you for their gratitude.
Retention Stage's Touchpoints: Personalized emails, loyalty programs, exclusive offers, and targeted marketing campaigns.
Key Focus: The goal is to maintain continuous communication, deliver value-added services, and exceed customer requirements in order to generate loyalty and repeat purchases.
How to improve
Enhance Customer Support: Provide excellent customer support by ensuring quick response times, addressing customer inquiries and concerns promptly, and offering multiple channels for communication, such as live chat, email, or phone support.
Personalized Communication: Make use of customer data to personalize communication and offerings. Segment the customer base based on demographics, buying history, and preferences, and then personalize marketing communications, promotions, and suggestions to each segment.
Remarketing and Re-engagement: Use remarketing methods to re-engage with customers who have previously expressed interest in or purchased your products. Display targeted advertising on social media or other relevant channels to remind people about your business and to highlight new products or specials.
Collect and Act on Customer Feedback: Use surveys, customer reviews, and social media listening to obtain feedback from your customers on a regular basis in order to understand their needs, pain spots, and levels of satisfaction. Respond to feedback by addressing issues, improving your products or services, and showing customers their thoughts are valued.
Stage 05: Advocacy
The ultimate goal of the customer journey is reaching this stage. However, it's important to keep in mind that not every customer can accomplish it. The advocacy stage of the E-commerce customer journey indicates the point at which customers become brand advocates and actively promote the business to others.
It happens when a customer has had a positive experience with a brand and built a strong attachment to it. Customer advocacy is a key stage since it can improve brand visibility, customer acquisition, and overall business success.
After a customer has made repeated purchases and demonstrated loyalty to the online clothing store, the company focuses on converting them into brand advocates who recommend the brand to others.
For example, the online clothing store rewards customers for referring friends and relatives. Customers obtain a unique referral link to distribute, and when someone makes a purchase using their link, both parties gain a discount or store credit.
Touchpoints: Customers' experience in social media platforms, reviews & ratings on review platforms, referral programs, community forums, discussion boards, etc.
Key Focus: The goal is to motivate satisfied customers to spread the word about their positive experiences and actively advocate the brand to their social circles.
How to improve
Encourage and Incentivize Advocacy: Develop strategies to encourage and motivate customers to advocate for your business actively. Provide referral programs, unique bonuses, or early access to new items to highly engaged and loyal customers that demonstrate advocacy.
Leverage User-Generated Content: Run contests, campaigns, or challenges that encourage customers to share their advocacy via videos, images, or social media posts. Share and highlight the greatest user-generated content to increase its effect and provide social proof to potential customers.
Engage and Cultivate Brand Ambassadors: Identify and engage with customers who are active advocates for your company on social media. Develop relationships with highly engaged and loyal customers by offering exclusive rewards and offerings.
How Can eCommerce Customer Journey Help Your Business?
The eCommerce customer journey is important for the success and growth of your organization. Here are a few ways how the customer journey might help your business: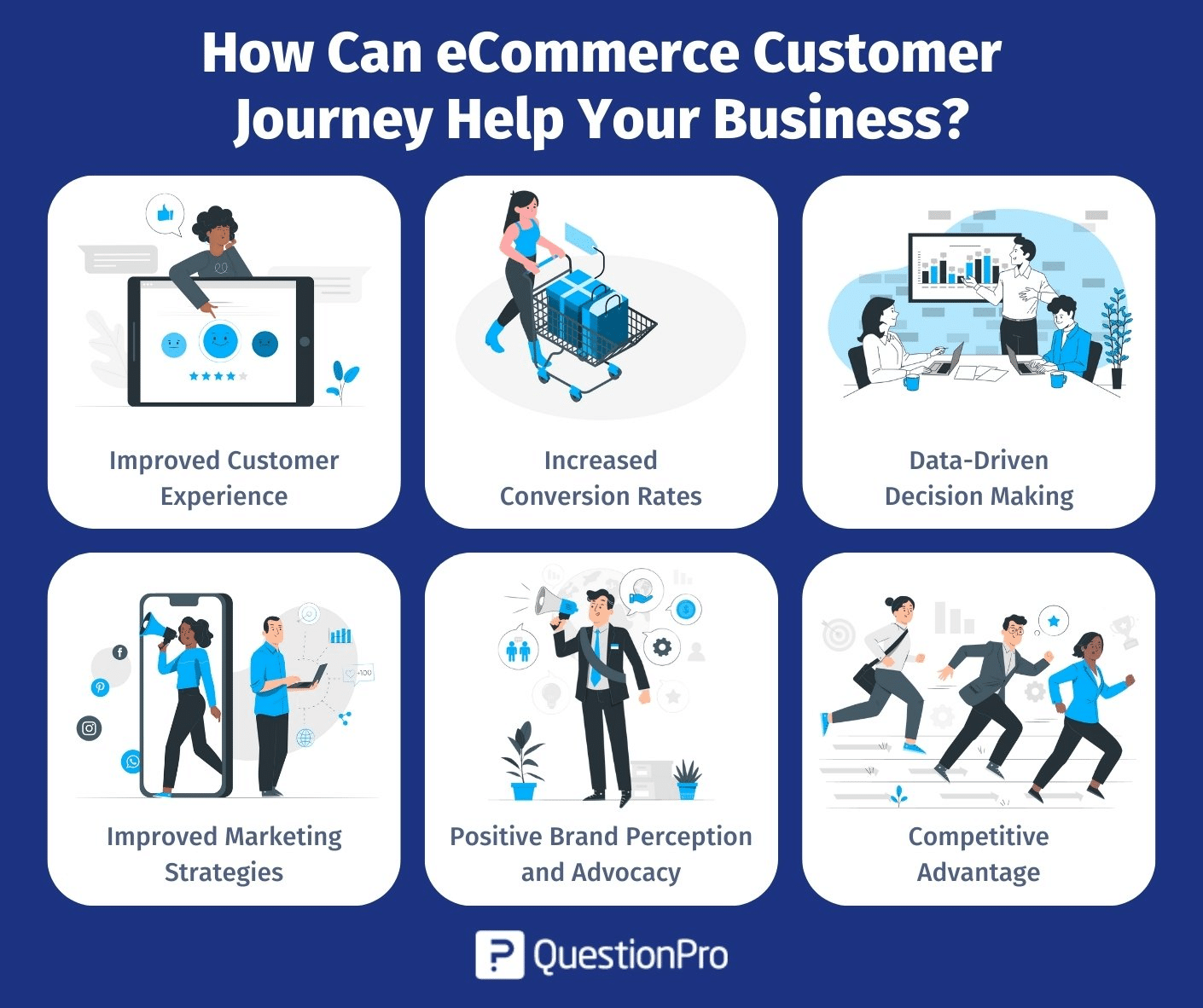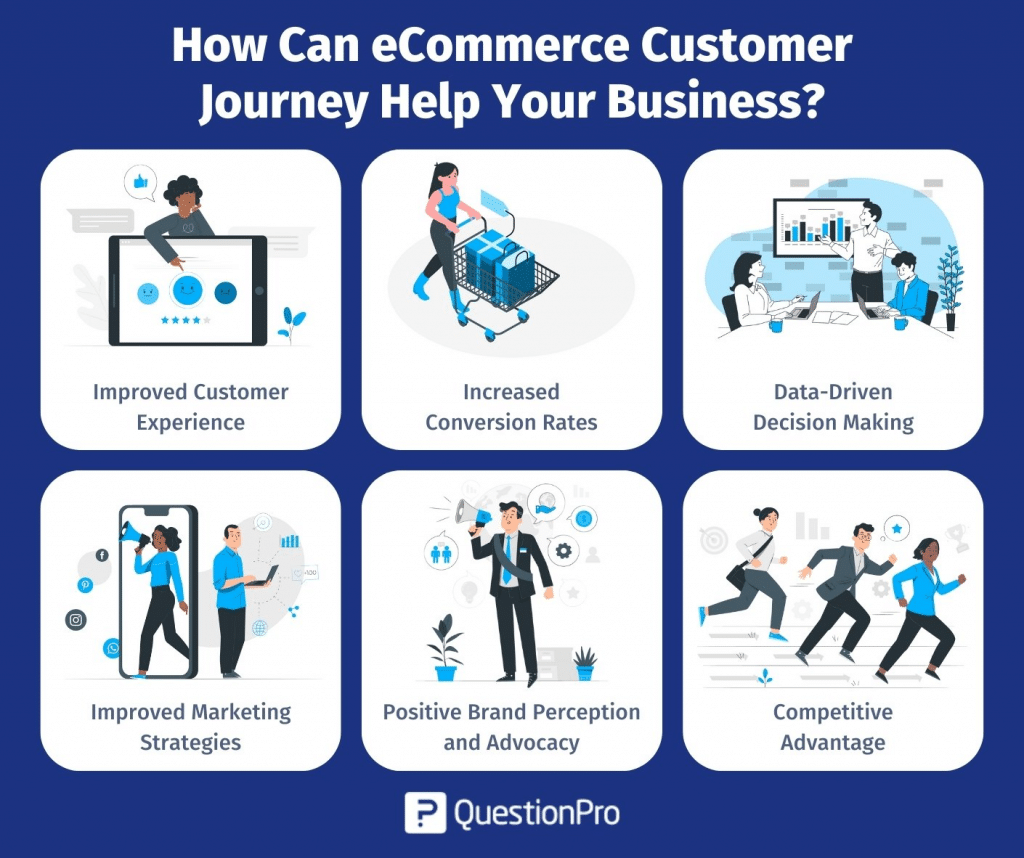 Improved Customer Experience
Understanding the customer journey stages allows you to carefully develop and optimize each touchpoint to provide an amazing customer experience. You can boost consumer satisfaction and loyalty by offering seamless navigation, personalized suggestions, user-friendly interfaces, and responsive customer care.
Learn more about why understanding your Customer Journey transforms your CX program.
Increased Conversion Rates
Using the eCommerce customer journey, you can discover any challenges or difficulties that may slow conversions. You can remove obstacles, speed up the buying procedure, and provide convincing information and incentives to encourage customers to complete their purchases by optimizing each journey stage. This results in increased conversion rates and revenue creation.
Data-Driven Decision Making
The eCommerce customer journey reveals important customer behavior and preferences information. You can better understand your customer's needs, preferences, and pain points by analyzing customer data at each stage. With this data-driven approach, you can make informed judgments about product offerings, marketing initiatives, and consumer interaction approaches.
Improved Marketing Strategies
Understanding the customer journey allows you to create targeted and customized marketing campaigns. You can offer relevant material and offers to customers by adjusting your messaging and promotions to each point of the journey. This results in more engagement, higher click-through rates, and higher marketing ROI.
Positive Brand Perception and Advocacy
A well-designed eCommerce customer journey creates pleasant brand experiences at all stages. Customers are more likely to establish a good image of your business if their experience is smooth and entertaining. Satisfied customers are also more likely to become brand ambassadors, generating positive word of mouth and driving new customer acquisition.
Streamlining the eCommerce customer journey can set your company apart from competitors. Giving your customers a great experience throughout their journey differentiates your business and establishes a reputation for quality and dependability. This competitive advantage can help you attract new customers, keep existing ones, and establish your company as an industry leader.
How Can QuestionPro CX Help You Create and Improve Customer Journey?
QuestionPro CX can help businesses learn more about the customer journey and make data-driven choices to improve the customer experience. QuestionPro CX is software for managing the customer experience. It can help online businesses create an e-commerce customer journey by giving features like:
Surveys & Questionnaires
Data Collection
Visualization
Analytics and Reporting
Metrics tracking
QuestionPro CX allows you to collect feedback, evaluate customer sentiment, and make data-driven decisions to improve the customer journey at all stages. You may improve customer satisfaction, generate conversions, increase retention, and create brand advocacy by utilizing the platform's features.
Awareness Stage
QuestionPro CX enables you to conduct surveys to gather insights into customer awareness and perception of your brand.
Survey Design: QuestionPro CX allows you to design personalized surveys to get valuable insights from potential consumers during the awareness stage. You can leverage brand awareness, perception, and customer needs effectively to create your advertising campaigns.
Market Research: You can use QuestionPro CX features to conduct competitor analysis, research industry trends, and successfully uncover opportunities to establish your brand in the market.
Consideration Stage
QuestionPro CX has several features and functions to improve the consideration phase of the customer journey. It helps:
Feedback Collection: Gather feedback from customers who are actively considering your products or services. Surveys, internet reviews, and sentiment analysis can be used to learn more about their preferences, pain areas, and expectations.
Customer Segmentation: You may segment your customers based on their comments and demographic information with QuestionPro CX. You can personalize your messaging and services to certain customer groups, improving their likelihood of conversion.
Conversion Stage
Here's how QuestionPro CX features and capabilities can help you improve the customer journey:
Customer Satisfaction Surveys: you can use QuestionPro CX to conduct customer satisfaction surveys after purchase to learn more about the factors that influence customer happiness and to find areas for improvement in the conversion process.
Purchase Experience Analysis: You can use the analytics features of QuestionPro CX to examine the purchase experience and discover any bottlenecks or roadblocks that may be affecting conversions. This analysis helps in the optimization of the checkout process, payment options, and overall purchasing experience.
Retention Stage
QuestionPro CX has various retention-stage features and functionalities. Here's how QuestionPro CX can help:
Net Promoter Score (NPS) Surveys: QuestionPro CX offers NPS surveys to measure customer loyalty and advocacy. These surveys recognize customer emotion, identify boosters and detractors, and take proactive measures to keep loyal customers.
Customer Journey Mapping: SuiteCX by QuestionPro is the only customizable and secure customer experience, journey mapping, and journey analytics platform. You can utilize this customer journey mapping tool to help view and understand the customer experience at each touchpoint. You can identify areas where customers may experience dissatisfaction and implement changes to promote customer retention.
Advocacy Stage
QuestionPro CX has a number of features and capabilities that can assist you in improving the customer journey throughout the advocacy stage, such as:
Testimonial and Review Management: The platform allows you to collect and manage customer testimonials and reviews. You can create surveys to collect customer testimonies, success stories, and positive evaluations. This helps you acquire original, valuable material for your website, social media, and other marketing channels to promote brand advocacy.
Advocacy Campaign Tracking: You can build and deploy advocacy campaigns using QuestionPro CX to encourage customers to share their good experiences with your brand. You may use the platform to track the performance of these campaigns, monitor customer responses, and evaluate the reach and impact of your advocacy efforts.
LEARN ABOUT: Consumer Decision Journey
Conclusion
The E-commerce customer journey is essential for your online business's success. Understanding and optimizing the customer journey at each stage becomes vital for acquiring, converting, and retaining customers.
QuestionPro CX delivers essential tools and insights to help you optimize the customer journey and create business success at each stage of the customer journey. It lets you collect customer feedback, analyze data, and make informed decisions at every customer journey touchpoint.
Transform your e-commerce customer journey with QuestionPro CX. Get a free trial and use data-driven insights to optimize the customer journey.