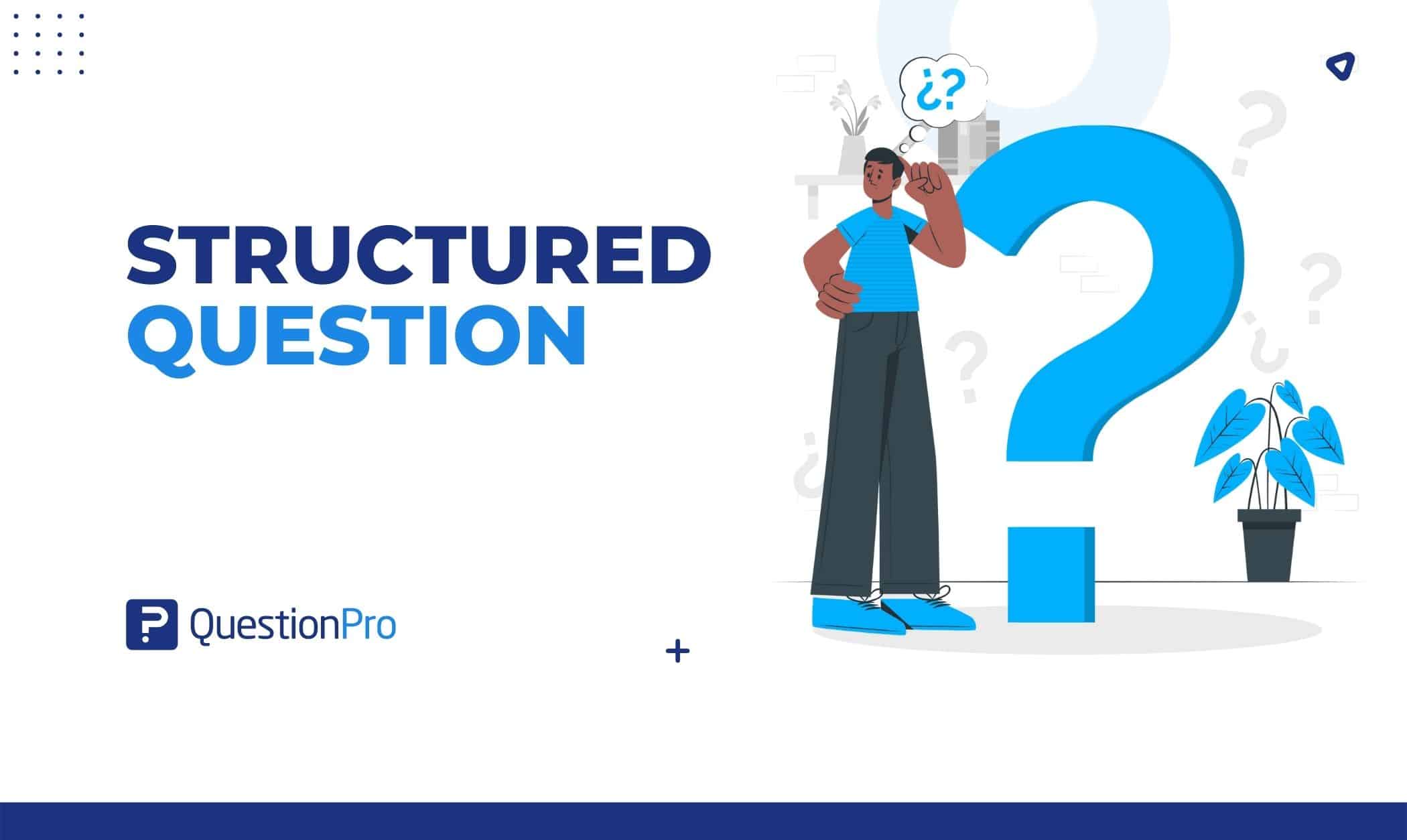 Surveys are a type of quantitative market research. Surveys for communication research use different questions to collect data supporting the research questions or hypotheses. Survey questions come in two varieties:
Structured questions

Unstructured questions.
Structural survey questions usually give more accurate results because the respondent only needs to use lower-level thinking to answer.
Also, researchers find it easier to code and analyze structural questions. Single-answer, multiple-answer, scaled, and ranking questions are structural questions.
Quantitative research uses structured questions and can sort the answers so that people who answer one way are sent to a different question. Structured survey questions are common in online surveys and take less time and effort to answer.
In this blog, we will discuss what structured question is and their use of it in market research. 
What is a structured question?
A structured question is a closed-ended inquiry employed in surveys to elicit quick and accurate responses while minimizing participant thought.
These questions will lessen the researcher's job because the solutions are straightforward and straightforward to analyze. A thorough survey can still be conducted with much information that can be revealed quickly when several structured questions are combined.
Structured questions offer the following two main benefits:
More accurate data and a higher response rate are typically the results. They demand less of the respondent's mental capacity. They lessen the amount of thought that a response needs to do to do the assignment.

As a result, coding and analysis are simpler for the researcher. This is of utmost importance, mainly if you run a research business by yourself.
Structured questions come in a variety of forms, such as:
Nominal or ordinal categories in a single response (e.g. From the following list, please select the category which includes your visited places)

Multiple replies (e.g. From the following list of side dish menus, please choose any or all that you regularly prefer)

Scaled questions (for example, From "Strongly Agree" to "Strongly Disagree," rate how well the manager is performing the duties of his role.), and

There are numerous variants of these basic types.
How to do market research using structured question
When several structured questions are combined, they can quickly provide many information while still allowing for a thorough survey.
There are numerous variations on the structured question, but some are more prevalent than others. The participant is asked to choose a range in a single response using ordinal categories, a structured question.
For example, "Please select the group corresponding to your yearly spending."
For respondents to easily express their opinions, scaled questions are often used in conjunction with responses like "agree" and "disagree" or a simple numerical scale. When the researcher needs a range of reactions, such as asking, "Which of these countries have you visited?" Multiple-choice questions are another common kind of structured question.
Additionally, structured questions can be used with open-ended questions to elicit more information from respondents and develop contingency questions (one response leads to a new, specific question).
For example, a structured question could be, "Have you ever owned an IOS phone?" The researcher can then ask them unstructured questions to learn more about their ideas if they respond "yes."
Conclusion
In this blog, we have described the structured question, and it's use in market research, including examples. Structured questions can be used in many types of research, including marketing research. Questions can differ depending on what the survey or research needs to find out. 
So depending on the need, structured questions can be chosen. 
Here at QuestionPro, we provide access to a library of long-term research insights and tools for data collection, such as our survey software. For a demonstration or additional information, visit InsightHub.