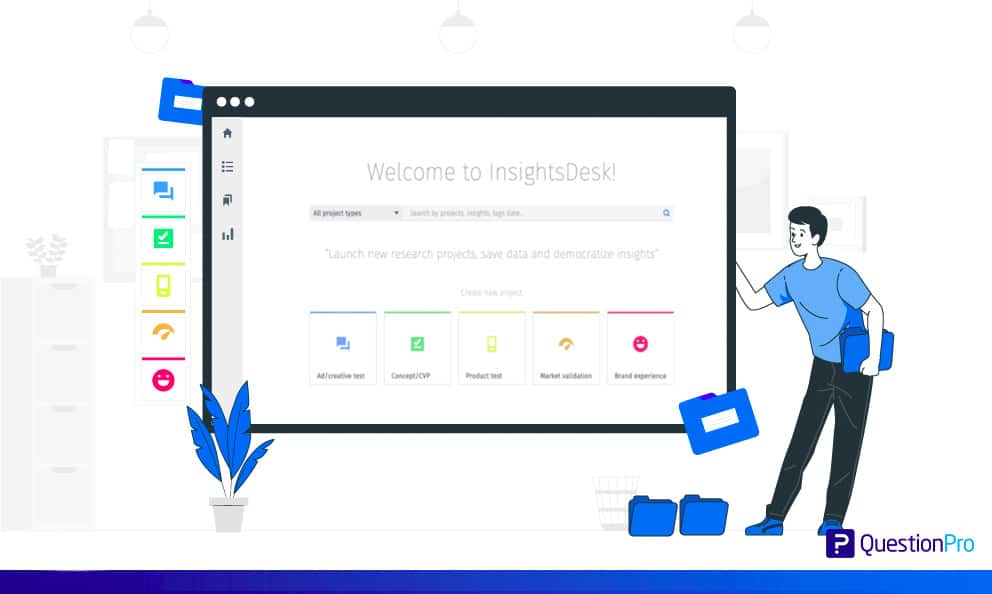 What are insights repositories?
Insights repositories or research repository platforms are indispensable solutions for today's businesses. They collect and store user research data and consolidate and organize insights for further exploration, research, and discovery under one roof. Research repository platforms help researchers pull information quicker and with lesser effort compared to traditional methods. Insights hubs assist with easy access to insights from the past and present projects – a good basis why organizations have begun adopting them for swift research.
Let's take a closer look at the leading insights repository solutions in the market.
Which insights and research repositories are best for your business?
When choosing a research repository for user insights, four platforms lead the way today. Here are the pros and cons of each platform.
QuestionPro research and insights repository:
QuestionPro's Insights Hub is a robust user insight and repository platform used by leading organizations and researchers worldwide. This purpose-built solution assists researchers manage user data for qualitative and quantitative market research under one roof. It is the most preferred software in the market because it is backed by a robust research platform that helps users conduct high-level market research.
LEARN ABOUT: Market research industry
What's good: QuestionPro's research repository is an easy-to-use and master solution. Users can create professional-grade, customized research surveys and boost response rates. The tool can display the outcomes to all stakeholders and researchers to better understand the market. It helps strengthen the transparency of research data with an easily searchable data repository of critical findings and research insights.
The insights hub also allows for full integration of other communication and research tools, making life easier for researchers. Having easy access to past projects helps researchers build on top of projects conducted in the past instead of going through the same cumbersome research setup process again. The data is smartly tagged and thus easily searchable, and all project details, research summaries, and data live under one roof. The platform is built by experienced researchers and thus speaks their language and solves fundamental research problems. This sophisticated tool is convenient to use and is backed by an advanced analytical setup to help researchers collect quick insights, irrespective of the size and depth of the data sets.
The QuestionPro research and insights platform is built on the concepts of atomic research, where information is stored in small-sized nuggets that are easily consumable and make your research data more robust and wholesome.
What could be better: The repository being new to the market continuously improves and evolves based on user feedback. Users share tool feedback, and QuestionPro responds quickly to improve those areas to give users a product they love.
Watch this video to know more about the QuestionPro Insights Hub
Aurelius Lab research and insights repository
Aurelius lab is another powerful yet lightweight platform that brings research data under one roof. Their goal is to help researchers conduct end-to-end market research with great speed and reduce complexities that can slow down research processes.
What's good: Users love the functionality of dumping raw feedback and notes into the system while it intelligently analyzes and organizes the input. The tagging system helps with getting an easy reference to past topics. Aurelius lab allows for qualitative data analysis, and finding patterns in research is much simplified. The information is organized, and researchers like the structure and UI of the repository.
The support team is responsive, and this helps with easy problem-solving. Meta-tagging makes it easy for researchers to search for critical insights without wasting time. It allows for efficiently documenting research and creating shareable reports and does away with document duplication.
What could be better: For researchers who are not seasoned, the several confusing and odd aspects of the UI can get extremely overwhelming. It can get hard to understand the notes from different users and researchers unless they mention their names next to the note – especially for notes belonging to one tag. Data can get scattered quickly, making it challenging to read patterns and keeping track of information already used. Because of this, finding what you're looking for can be a daunting task.
Users have also reported problems with the visual design around information tagging. Novice researchers may face issues with the UI as it can get confusing and takes quite a while to wrap their heads around different features. The UI needs more development.
Bloomfire research and insights repository:
Bloomfire's insight repository boosts collaboration and collective intelligence. They aim to banish silos by promoting a centralized knowledge repository for all the research teams and stakeholders in the organization. This boosts decision-making confidence among departments.
What's good: Users have reported Bloomfire as an easy-to-use knowledge and insights sharing platform for workplaces. Information is made easy by enabling individuals to follow specific topics, posts, and groups for reference. User-friendliness helps them transpose videos easily by creating different groups within the workplace, conducting a full-text search, and conducting user analysis. Ease of categorization boosts the availability of user data. The customer success team is responsive, and users have a pleasant experience dealing with Bloomfire.
What could be better: Users have complained about the function of indexing and navigation, and it can get overwhelming at times. Looking for a specific piece of information does not always work, and users can often get jumbled up between displayed insights. You sometimes don't find what you look for. Challenging navigation leads to a loss in time and effort. The search engine needs to be optimized, and tools to build product taxonomies are limited, leaving less scope to adopt it as a sales enablement tool.
Dovetail research and insights repository:
Dovetail strives to make sense of customer insights data. This intuitive platform helps researchers collaborate and share insights in the repository with ease. They aim to help researchers collate insights not within hours but minutes.
 What's good: Dovetail is an excellent platform for qualitative research. It helps users add in extra information about how researchers built the project, resource planning data, source information, project reports, and analysis in one place. It helps in maintaining project transparency and all team members know the part they play in the project. It enables users to create project templates and save time for future projects. Also, the project's learnings are well-documented, helping researchers understand the shortcomings of previous projects and streamline processes for improvement. Company members can view data with member accounts, and creating these accounts is free. 
What could be better: Users have complained about the tool's insights reporting abilities and need improvement to carry more weight. Sorting insights and creating categories can be improved to add more user-friendliness. They could enhance transcription accuracy to save the researcher's time and efforts. Being a new tool, Dovetail encounters some bugs, and users can get stranded for a while. Novice or first-time users may find it challenging to get started, especially when a tutorial or example projects are unavailable.
We recently published a blog that talks about customer insight platforms; why don't you check it out for more ideas?
Final verdict on the best research and insights repositories
You can use internal tracking systems and platforms for small research projects, but as the scale of these projects increases, internal platforms fail to handle the weight of data. It's best to go with a specialized tool if you want to make sense of your research data and generate a single source of truth.
The aforementioned research and insights repositories are the best in the business, and you can easily choose from one of these to align with your objectives and fit your needs.