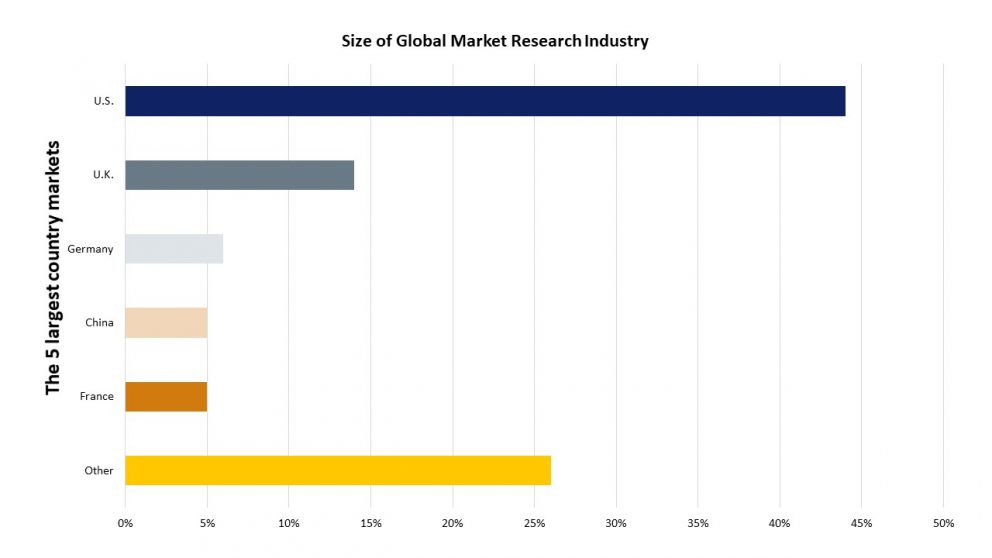 The market research industry has grown steadily over the last five years. But innovations could rapidly increase potential revenue in the research industry in the future. What should companies in this industry expect in the years to come? Here are a few market research stats and trends.
Here, we'll take a look at key market research stats and trends from a variety of new reports covering the market research industry. Read on to gain a quick overview of the industry's performance and important new trends to watch.
The key drivers of market research demand
Companies that provide market research services help their clients gather and interpret information about individuals or organizations, with the insights (market size, competition, market need, consumer behavior, etc) leveraged to shape strategies and marketing/sales activities. Also, studies like the 2018 Global Brand Health Report where tech workers reveal the companies they want to work for and what they value in a job offer are studies that are important to industries. To arrive at their findings and infer insights, market researchers use a range of both qualitative techniques such as in-depth interviews, focus groups, and ethnography, as well as quantitative techniques such as customer surveys, analysis of secondary data and statistical/analytical methods.
Here are the key drivers of market research demand:
Speed:

Researchers need results fast, and with faster results, one sees more evidence-based decision making.

Cost:

Costs have always been an issue. Taking decisions based on accurate research studies help eliminate unnecessary costs.

Quality:

Quality is particularly important in market research when the current offering is not good enough.
North America Dominates
The market research stats and trends favor the US.

According to a recent report by

First Research Inc.

, the market research industry globally produces $45 billion in revenue each year.

Europe and the United States lead the industry overall. Other countries such as China, Brazil, Russia, and India are experiencing increasing demand for market research-related services.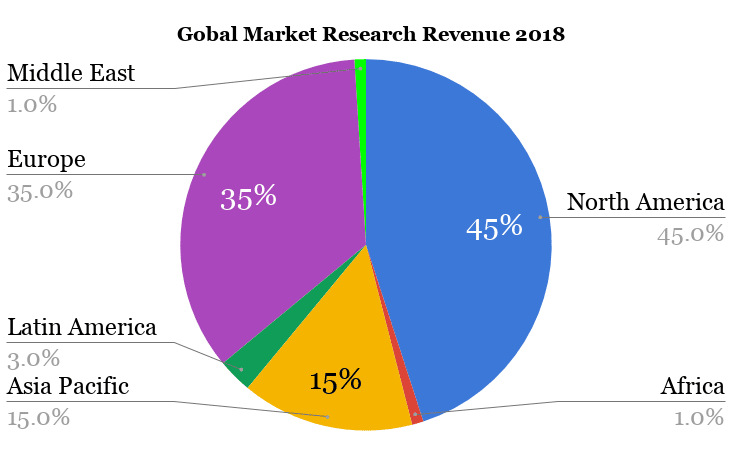 How is the Industry performing in the US?
The Market Research industry in the U.S. has undergone a strong growth over the five years. This has been supported by the increase in research and development (R&D) and internet advertising expenditure, which have driven demand for industry services.
There are 44,000 establishments offering market research services in the United States. They generate approximately $23 billion in combined annual revenue. In this case, "establishments" refer to companies with a single location as well as units of multi-location companies. The increasing use of social media and the changing media landscape will revolutionize traditional methods of doing market research. Between 2016 and 2020, it is expected that industry revenue growth will accelerate in the U.S. as more and more research firms adopt fresh innovative methods.

2018 market research stats and trends
Many of you know that 2016 gave way to wearable technology, big data, mobile research, and many more innovative market research trends.

2018 saw these trends grow, gaining traction, and we anticipate their growth further into 2019.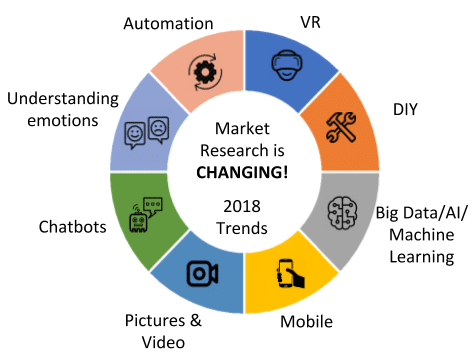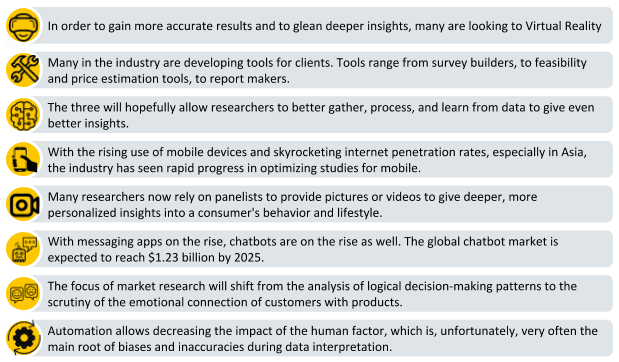 The future of market research is already here
According to the market research stats and trends, many of these trends have been bubbling underneath the surface for the last couple of years. And are now ready to take center stage. Getting a handle on the key trends for market research will position you well to assist your brand with sensible consumer insight. This keeps your organization competitive while building strong customer relationships that will endure for years to come.
Also expect to see more automation, more standardization, and lots of claims about artificial intelligence. The key drivers of success for these systems are ease of use, followed by speed, followed by cost. However, a key element in their success is the ability to leverage existing brands and reputations.