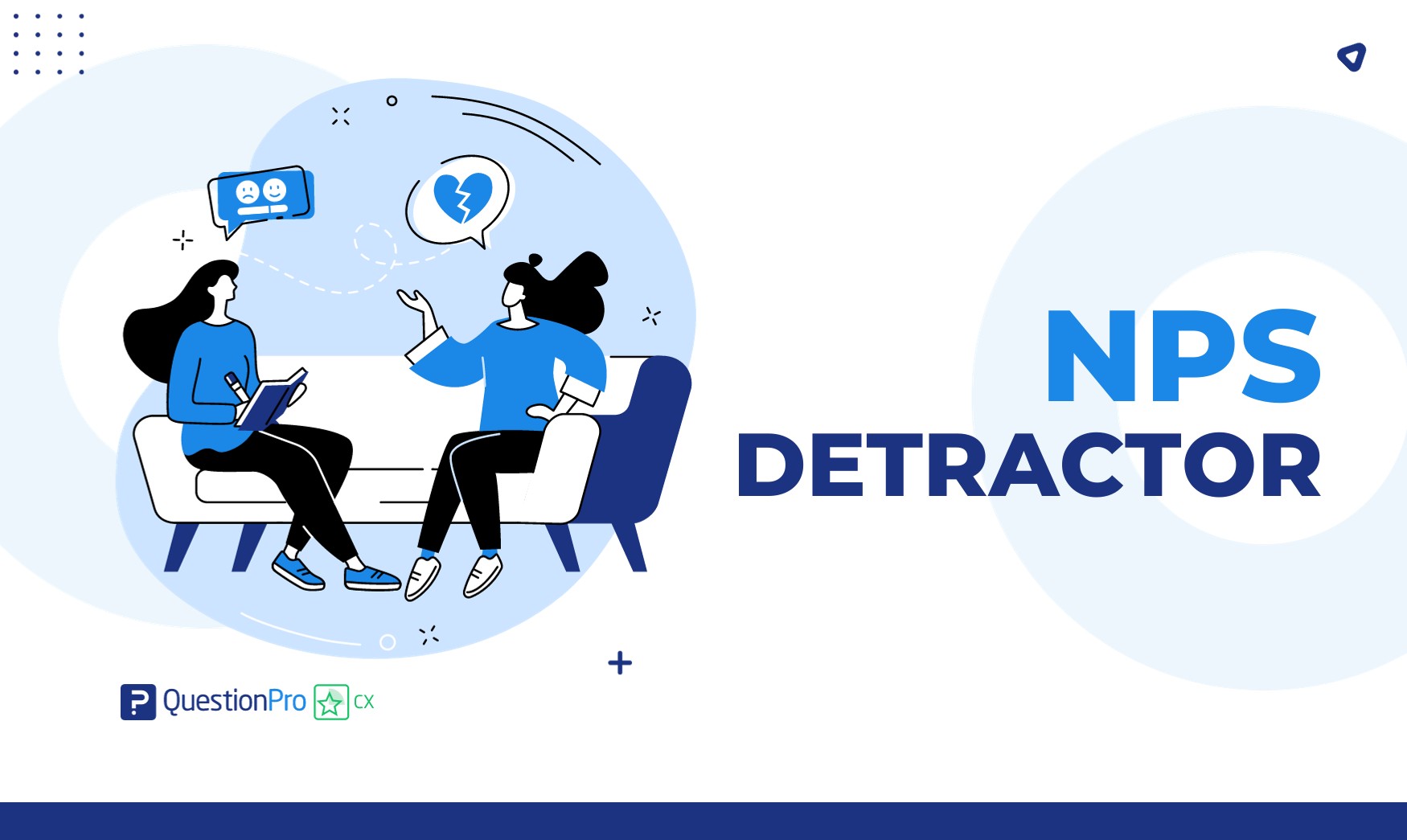 You may have heard of NPS, the Net Promoter Score. It is the one metric that tells you how happy customers are and helps you see what can happen in the future. The NPS detractor is someone who has had less-than-ideal experiences with a business and gives it a big thumbs-down when asked to rate it.
Many unhappy customers often choose not to use a service they don't like, or they might tell their friends about their disappointment. This is why you shouldn't overlook NPS detractors. Even though negative feedback may seem bad, customers who share their dissatisfaction are giving you a chance to improve their experience.
In this blog, we'll learn about NPS detractors and how to identify them. We'll also explore how they can affect your business and share some useful best practices and tips to make your customers happier and turn them into promoters.
The Net Promoter Score (NPS)
The Net Promoter Score (NPS) is a way to figure out if your customers really like your products and services and would tell their friends and family about them. It helps you know how much your customers like you and if they'll stick around. It is a metric that businesses use to measure customer loyalty.
NPS is like a sign that shows if customers are saying good things about your business. Companies do surveys to find out the NPS, which can be between -100 and 100. A higher positive score is better because it means more customers would recommend your business.
A good NPS means customers are happy and like the experience. It also tells you how many customers are super happy, how many are somewhat happy, and how many are not happy or unhappy customers.
NPS isn't just for customers; it's also used for employees. Employee NPS (eNPS) tells you if your employees would recommend your organization to others, like their friends or past coworkers.
NPS Scale and Rating Categories
The NPS score is a way to sort customers and assist businesses in making their service better. Most NPS surveys usually have a question like this:
"Considering your complete experience with our company, how likely would you be to recommend our products to a friend or colleague?"

The answer options are arranged horizontally on a scale of 0-10.
Customers are divided into three groups based on their NPS feedback:
Promoters: These are the customers who rate your service with a 9 or 10. They're really happy and loyal customers to your business. They might even recommend your company to their friends.
Passives: Customers who give a rating of 7 or 8. They're okay with your service but might consider your competitors. They neither spread bad reviews nor actively promote your brand.
Detractors: Customers who rate below 6 and are not happy. They share bad experiences, harm your company's reputation, and discourage others from using your service.
Who is the NPS Detractor?
An NPS detractor is an unhappy customer who doesn't like what you provide, whether it's a product, service, or experience.
NPS detractors usually refer to some of the NPS survey participants. These are the people who give your company a score between 0 and 6. But in essence, they're just dissatisfied customers who rate you low.
This means some customers had a bad customer experience while shopping, with deliveries, or the quality of your products. It's unlikely they'll come back to buy from you again. NPS detractors can be problematic because they might stop buying from you and say negative things about your business, leaving bad reviews and causing losses.
Dealing with NPS detectors is essential. First, find out why they had a bad experience and fix the problems quickly.
How to Identify NPS Detractors?
Identifying NPS detractors is important for figuring out what customers don't like and making things better for them. Let's go through some important steps to identify NPS detractors:
1. Run NPS surveys and collect responses.
The easiest way to find out how many unhappy customers you have is by using net promoter score surveys. With specialized NPS survey software, you can quickly see your scores and identify the customers who are not satisfied.
You can collect NPS survey responses by asking simple questions like "On a scale of 0 to 10, how likely are you to recommend our product/service to others?" Customers who rate you 0-6 are NPS detractors.
2. Run satisfaction metric customer surveys.
You can run CSAT or CES customer surveys to find unhappy customers.
CSAT: Customer satisfaction is a survey that checks how happy customers are with your product, service, or experience. It asks customers how satisfied they are on a scale. If someone rates it low, they might be unhappy.
CES: Customer Effort Score looks at how easy it is to use your product or service. If someone finds it hard to use, they are probably frustrated and unhappy. For example, if your checkout process is complicated, most customers will likely go to a different brand.
3. Analyze open-ended customer feedback.
The numbers in NPS scores are important but don't always tell the whole story. Open-ended feedback is what helps you better understand why customers are not happy.
Besides the rating, look at what customers say. Unhappy customers might leave comments about their unhappiness or what's bothering them.
The Impact of NPS Detractor
It's really important to know how NPS detractors can affect your business. They can have a significant influence on different parts of your company, which can make a big difference in how well your business does. Let's look at how an NPS detractor can affect your business.
People who don't like your product are more likely to tell others about their bad experiences. NPS detractors complain and say bad things about your brand in person on social media, in reviews, or on forums. This can make your brand look bad and make potential customers stay away.
02. Having too many detractors may decrease your business profits.
Having lots of detractors in your business can lower your profits. These people are usually the ones who stop buying from you. When customers leave, you make less money than you can count on.
Unhappy customers won't do business with your brand again. They can also stop others from buying from you, which means you won't make as much money in the future. And the worst part is, they might leave before you can make back the money you spent to get them as customers.
03. Detractors can contribute to your competitors' financial success.
Typical detractors want the solution your company offers but don't want anything to do with your company. They usually look for other options and switch to a competitor. If they like the competitor's product, it damages your company's reputation, improves the competitor's image, and increases the competitor's profits at your expense.
Best Practices to Turn an NPS Detractor into a Promoter
Converting an NPS detractor into a promoter is a valuable and challenging process that can significantly improve your customer relationships and NPS score. Here are some best practices for successfully turning detractors into promoters:
Encourage Feedback: Encourage unhappy customers to share their thoughts with you. Add questions to your surveys and send them at the right time. Make it easy for them to provide feedback through various channels like email, live chat, and your website.
Respond Quickly: Respond promptly to customer feedback. Acknowledge their concerns and take action to address their issues. Fast response times are crucial to maintaining customer satisfaction.
Show Empathy: Understand your customers' point of view and be empathetic. Listen to their complaints, apologize, and take action to resolve their problems. Consider offering incentives like coupons or extended trials as a token of apology.
Create an Action Plan: Analyze your collected feedback and prioritize the most common issues. Involve relevant teams to devise a plan to address these issues. Share the plan with customers to let them know you're taking action.
Deliver on Promises: If you promise to address a customer's concern, make sure you follow through. Don't overpromise; instead, aim to exceed their expectations.
Close the Feedback Loop: Thank the customer for their feedback, inform them about the steps you've taken, and ask for more feedback to continue improving the customer experience.
Conclusion
Handling an NPS detractor can be challenging, but it's also a chance for improvement. Collecting customer feedback through a net promoter system helps you detect customer journey difficulties. Their feedback helps fix problems and enhance products and services. Instead of seeing them as a problem, consider them a chance to make your customers happier.
Customer satisfaction and customer experience are crucial for managing a brand's image. The goal is to keep customers happy and prevent unhappy customers from spreading negative comments.
In today's tech-savvy world with active social media, negative feedback can quickly reach many people. That's why it's important to promptly address the concerns of your most dissatisfied customers. At QuestionPro, we call this "Detractor Recovery."
QuestionPro's NPS Detractor Recovery is a complete system that automatically lets companies receive and address negative feedback. We enjoy celebrating great customer experiences, but we also acknowledge that mistakes can happen.
Our aim at QuestionPro is to help businesses rectify these mistakes and provide excellent customer experiences. Take a look at the free trial to use all the Business plan features.