Net Promoter Score (NPS) is the leading indicator of growth. Simple as the number may seem, the results are powerful enough to reduce churn, foster customer loyalty and ultimately enhance customer experience. Whether you run an ecommerce store or manage brick-and-mortar, understanding your customers and providing them a platform to express their sentiment is critical to identify bottlenecks and drivers of your business. In this post, we'll explore how to maximize Net Promoter Score feedback collection and use it to deliver key insights at various stages of the customer lifecycle.
LEARN ABOUT: Customer Lifecycle
Click here for the previous post: What is Net Promoter Score and how do I use it effectively?
5 ways to deliver Net Promoter Score surveys
NPS via email
In QuestionPro, you can send NPS surveys to your customers in a basic email survey. Sending NPS surveys via email the most common approach to elicit customer response, but not always the most intelligible. The NPS survey is sent via email usually after your customer has made a purchase or after a key interaction with your company. You can send a Net Promoter Score survey independent of other programs by simply sending your email list a link to your NPS survey. This method works well if you have an exhaustive list of highly responsive customers.
While this is the easiest technique to deploy, there are few disadvantages:
Requires multiple steps for the customer to arrive at the NPS survey, diminishing the user experience
A number of your customers will drop off at every step, leaving you with a lower response rate
There is a time delay between when the survey is sent and viewed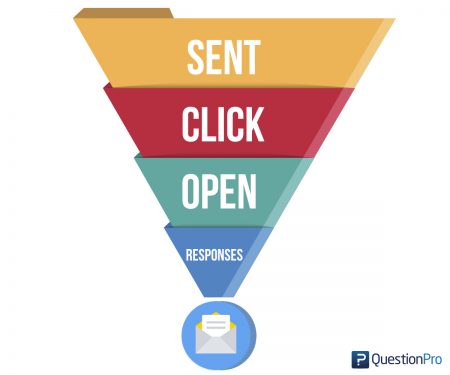 For email NPS surveys, we recommend you have the NPS survey directly in the email. The QuestionPro Customer Experience platform solves the issue by directly embedding the surveys into the email, eliminating an extra step from the flow. We have worked with clients and have found that this increases the response rate by an average of 11%.
NPS via website pop-up surveys
NPS surveys via pop-up surveys are extremely effective when used strategically. Because you have more control over the deployment of your NPS survey, you can ask for an NPS score where you want it. For example, if you want to gain insight on the customer experience right past the purchase stage, you can trigger the survey to pop up right after the checkout process. If you want to understand the customer's experience with support, may also trigger a survey after a user has completed an interaction with an agent.

Being data advocates ourselves, we built QuestionPro CX to give you the capability to prompt surveys to whom you want and when you want. For instance, let's say you want to target a more specific set of visitors. You can customize settings like only targeting returning visitors who spend over 5 minutes on your website.
This method allows you to segment your NPS survey data by context, giving you more native acuity into understanding your customer journey. By orchestrating pop-up surveys on different pages, you open yourself up to more opportunities to widen your response rates. Likewise, you will also be able to identify issues with satisfaction across customer touchpoints when you segment them against your overall company Net Promoter Score. This equips you with contextual data required to answer the "why." For instance, if you want to figure out why your company NPS dropped by 4 this quarter compared to the last. Instead of using assumptions, you can pinpoint the exact touchpoint(s) that have the largest variance.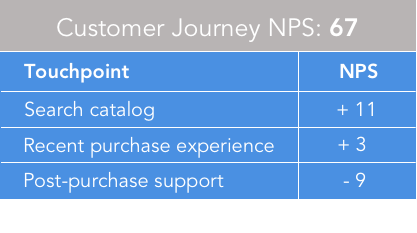 Similar to pop-up surveys, you could also capture an abandoning visitor's feedback right before the page is closed. Before the visitor leaves the page, you can prompt an NPS survey followed by questions such as:
Was your user able to find what your user was looking for?
Why did your user leave the page?
What can be improved to help better the experience?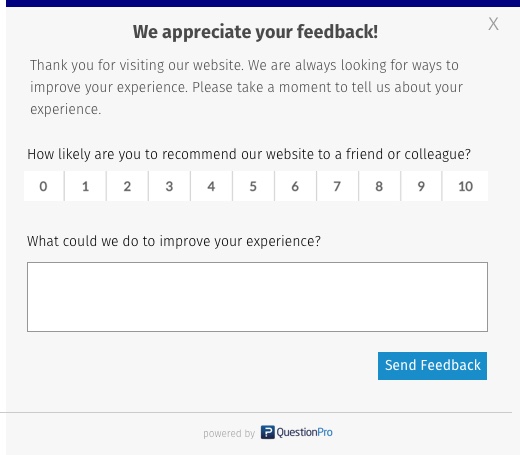 NPS via Feedback Tab
Another method to collect responses from your users is to implement the NPS survey in a form of a tab. If you are concerned with potential disruption of pop-ups, feedback tabs are a perfect option as they are more passive in the background, leaving visitors undisturbed.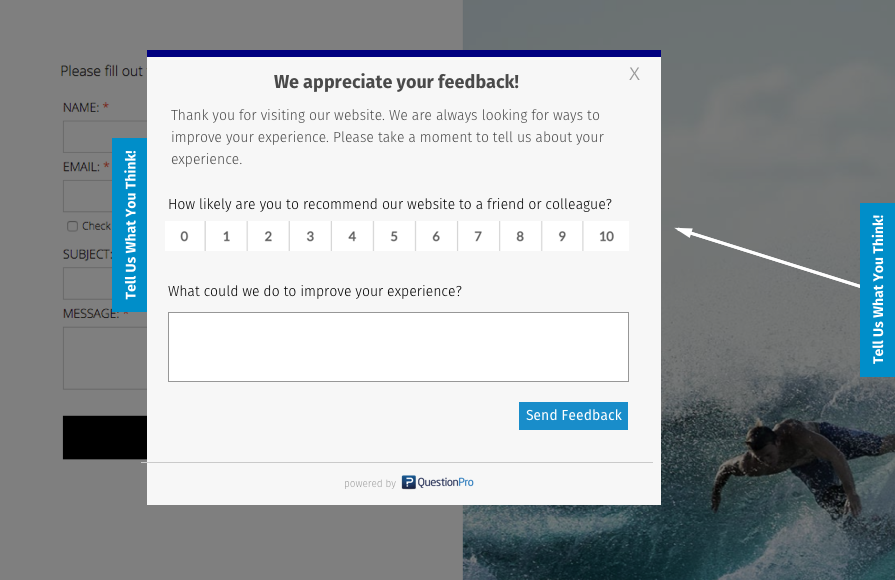 When implemented properly, feedback tabs:
Allow users to submit feedback without visiting an external page
Can provide you with more insight when it appropriately applied to all pages
Are less disruptive and can elicit more responses
NPS via Mobile: Apps and SMS Surveys
QuestionPro CX helps you reach your audience and collect on-the-go email feedback more effectively through NPS surveys sent through mobile apps and SMS. For years, companies have been dependent on emails or websites. Today, mobile has transformed consumer behavior, making SMS the most direct way to reach a user, with over 90% open rate. Influential ways that add to that impressive number are the shorter simple questions that can be responded to from any location. As you can see, sending the actual NPS survey is quite simple. To maximize the effectiveness and grow your business, consider setting up your NPS around the customer journey.
Framing the NPS surveys with the customer journey will help you diagnose issues and identify gaps in your customer's purchasing experience. Just as an average can be misleading, focusing too much on your Net Promoter Score may give you a distorted view of the overall health of your business. The Net Promoter Score, when measured with each stage of your customer journey, will enable feedback email reception across your customer journey touchpoints and allow more visibility into which areas of the business are performing better than the rest. This eventually becomes representative of customer happiness in a timeline form.
LEARN ABOUT: Good Net Promoter Score (NPS)

Now that you are aware of the ways to conduct NPS surveys, here are a few best practices to use NPS strategically:
Track your NPS over time
Keeping track of your NPS provides transparency into your efforts and lets you understand your improvements over time. If your NPS is negative or a zero, focus on collecting your customer's feedback and improving your NPS over time. If you're just starting out, use your first set of results as a baseline.
Close the feedback loop
Make sure your customer or prospect has proper closure. Oftentimes, a detractor will leave details of the experience that goes straight to the frontline. Closing the loop means to acknowledge the subpar experience and take action by resolving the issue with the customer.
Analyze NPS results by segment
Custom filter and create reports to analyze NPS results and analyze by context, customer type, promoters/detractors. Segmenting this type of data will allow you to understand your customers more and helps you with your strategy.
Be Personal
Understand the customer journey individually to create a seamless and personal experience. For instance, your customer will immediately trust you to help when you have the historical knowledge of the journey. Customers must feel better about the company than they did before.
Predict future behavior
Ask "Have you recommended us to anyone in the last year?" to get a more accurate forecast of future behavior.
Lead your growth with Net Promoter Score today
Running an NPS survey means to open up as many lines of communication between you and your customers. The more opportunities you have to connect with your customers, the more touchpoint interactions you will understand. While the number itself is not as helpful, the strategies and tactics you employ are critical for real impact.
Looking to deliver an exceptional customer experience with QuestionPro CX? Discover more about how to delight your customer at every touchpoint and turn them into brand advocates.