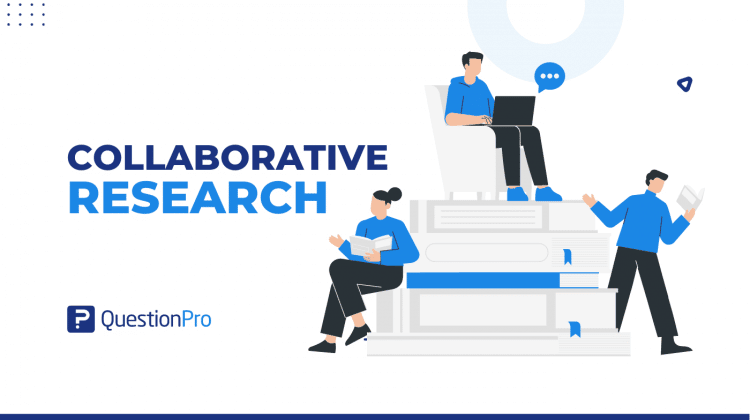 As the world becomes increasingly complex, collaboration has become more critical. Researchers must work together to solve complex problems and make informed decisions. Collaborative research is the key to developing solutions that can have a significant impact on society.
In the field of market research, collaborative research can take many forms. For example, a business might partner with a university to conduct research on consumer behavior. The business can provide real-world data and insights, while the university can provide the academic rigor and expertise needed to analyze the data and draw meaningful conclusions.
While research is the foundation for forming knowledge, collaboration is a strategy to deal with situations that seem challenging to solve individually. Therefore, this article aims to discuss the potentialities of collaborative research in practice, analyze how this collaboration can be developed, and reflect on problems that may arise during the development of these works. Let's talk about that.
LEARN ABOUT: Action Research
What is Collaborative Research?
Collaborative research is a partnership between two or more parties who work together to achieve common goals. In the context of market research, it is a way for researchers from different backgrounds, such as industry and academia, to bridge the gap between the theoretical and the practical.
LEARN ABOUT: Theoretical Research
When done correctly, collaborative research can lead to groundbreaking discoveries and innovations that benefit everyone involved. It refers to subjects in which several entities -generally of a different nature- share an interest in the execution of a project, the effort to develop it, the risks, and ownership of the results according to their diverse contribution to obtaining them.
The grounds or principles from which this knowledge is built can be identified in two areas: on the one hand, the reflective and consolidated capacity of the teacher to carry out an analysis and, based on this, assess the results of their experience. On the other hand, the paradigm, schemes, models, and frames of reference support and endorse this functional knowledge's construction.
Collaborative Research Types
Collaborative research can be either homogeneous or heterogeneous. Homogeneous research involves individuals or groups that share similar backgrounds or perspectives, while heterogeneous research involves individuals or groups with diverse backgrounds and perspectives. Both types of collaborative research have their advantages and can lead to new insights and discoveries.
1. Homogeneous
It occurs when the research team members are similar in terms of their backgrounds, expertise, and research interests. This type of collaborative research can be beneficial because team members may share similar perspectives and approaches to research, which can lead to more efficient and effective collaboration.
2. Heterogeneous
On the other hand, involves team members with diverse backgrounds, expertise, and research interests. While this type of collaboration can be more challenging, it can also lead to more innovative and creative research outcomes. Heterogeneous teams can bring different perspectives and ideas to the table, which can lead to new insights and approaches that might not have been possible with a more homogeneous team.
Various types of research can be considered collaborative. Some of the main types include participatory action research, community-based participatory research, and interdisciplinary research. Let's explore them.
Participatory action research involves researchers and community members working together to identify and address issues within the community. This type of research aims to empower the community and promote social change.
Community-based participatory research involves community members and researchers working together to develop and conduct research that addresses the needs and concerns of the community. The community is an equal partner in the research process, and the ultimate goal is to improve the health and well-being of the community.
Interdisciplinary research involves researchers from different disciplines working together to address a complex research question. This type of research allows for a more comprehensive understanding of the research problem and can lead to innovative solutions.
Collaborative research is a powerful approach that brings together individuals from diverse backgrounds to work towards a common goal. It promotes shared learning and innovation, ultimately leading to better outcomes than traditional research methods.
By combining the strengths of multiple perspectives, collaborative research creates a stronger foundation for the development of new ideas and solutions.
It's essential to understand the different types of collaborative research and how they can contribute to advancing knowledge in various fields. With this understanding, we can begin to appreciate the value of collaborative research and its potential for creating positive change in the world.
Advantages & Disadvantages of Collaborative Research
One of the biggest advantages of collaborative research is that it allows businesses to tap into the expertise of researchers who have spent years studying a particular field. By working with experts in a particular field, businesses can gain a deeper understanding of the market and develop more effective strategies for success.
Another advantage of collaborative research is that it can help businesses stay ahead of the curve. By partnering with universities and other research institutions, businesses can gain early access to the latest research and technology. This can be a significant advantage in a rapidly changing market.
However, collaborative research is not without its challenges. For example, businesses and researchers may have different goals and priorities. Businesses are often focused on the bottom line, while researchers may be more concerned with the pursuit of knowledge. Additionally, different organizations may have different cultures and ways of working, which can lead to conflicts and misunderstandings.
Despite these challenges, collaborative research is a powerful tool that can drive innovation and change. By working together, businesses and researchers can create solutions that are more effective, efficient, and sustainable than those that either party could develop on their own.
Conclusion
Collaborative research is a critical tool for businesses and researchers in the field of market research. It allows for the creation of new ideas, technologies, and solutions that benefit society as a whole. With collaboration, we can bridge the gap between theory and practice and create a brighter future for all.
QuestionPro provides a platform where multiple researchers or team members can collaborate on a single survey or research project, share insights, and analyze data together in real time.
It offers various features such as customizable surveys, question branching, and skip logic that allows researchers to create complex surveys tailored to their research needs.
Join QuestionPro today for free and start conducting collaborative research with ease! Our platform offers a wide range of features and tools that will help you gather and analyze data, collaborate with your team members, and make informed decisions. Sign up now and take your research to the next level!