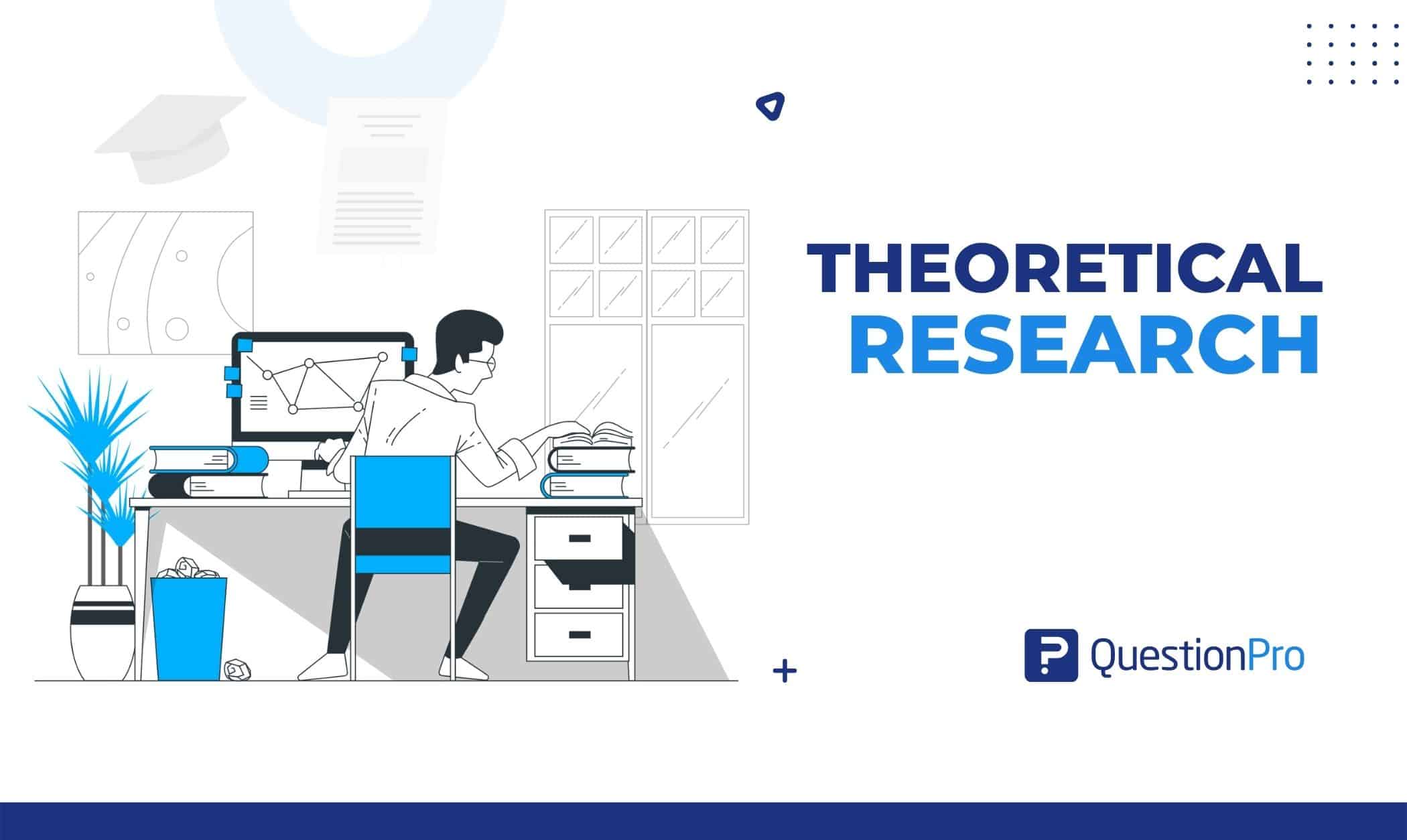 Research is the careful study of a particular research problem or concern using the scientific method. A theory is essential for any research project because it gives it direction and helps prove or disprove something. Theoretical basis helps us figure out how things work and why we do certain things.
Theoretical research lets you examine and discuss a research object using philosophical ideas and abstract theoretical structures.
In theoretical research, you can't look at the research object directly. With the help of research literature, your research aims to define and sketch out the chosen topic's conceptual models, explanations, and structures.
LEARN ABOUT: Research Process Steps
This blog will cover theoretical research and why it is essential. In addition to that, we are going to go over some examples.
What is the theoretical research?
Theoretical research is the systematic examination of a set of beliefs and assumptions.
It aims to learn more about a subject and help us understand it better. The information gathered in this way is not used for anything in particular because this kind of research aims to learn more.
All professionals, like biologists, chemists, engineers, architects, philosophers, writers, sociologists, historians, etc., can do theoretical research. No matter what field you work in, theoretical research is the foundation for new ideas.
It tries to answer basic questions about people, which is why this kind of research is used in every field of knowledge.
For example, a researcher starts with the idea that we need to understand the world around us. To do this, he begins with a hypothesis and tests it through experiments that will help him develop new ideas.
What is the theoretical framework?
A theoretical framework is a critical component in research that provides a structured foundation for investigating a specific topic or problem. It encompasses a set of interconnected theories, existing theories, and concepts that guide the entire research process.
The theoretical framework introduces a comprehensive understanding of the subject matter. Also, the theoretical framework strengthens the research's validity and specifies the key elements that will be explored. Furthermore, it connects different ideas and theories, forming a cohesive structure that underpins the research endeavor.
A complete theoretical framework consists of a network of theories, existing theories, and concepts that collectively shape the direction of a research study.
The theoretical framework is the fundamental principle that will be explored, strengthens the research's credibility by aligning it with established knowledge, specifies the variables under investigation, and connects different aspects of the research to create a unified approach.
Theoretical frameworks are the intellectual scaffolding upon which the research is constructed. It is the lens through which researchers view their subject, guiding their choice of methodologies, data collection, analysis, and interpretation. By incorporating existing theory, and established concepts, a theoretical framework not only grounds the research but also provides a coherent roadmap for exploring the intricacies of the chosen topic.
Benefits of theoretical research
Theoretical research yields a wealth of benefits across various fields, from social sciences to human resource development and political science. Here's a breakdown of these benefits while incorporating the requested topics:
Theoretical models are the cornerstone of theoretical research. They grant us predictive power, enabling us to forecast intricate behaviors within complex systems, like societal interactions. In political science, for instance, a theoretical model helps anticipate potential outcomes of policy changes.
Understanding human behavior
Drawing from key social science theories, it assists us in deciphering human behavior and societal dynamics. For instance, in the context of human resource development, theories related to motivation and psychology provide insights into how to effectively manage a diverse workforce.
In the realm of human resource development, insights gleaned from theoretical research, along with the research methods knowledge base, help create targeted training programs. By understanding various learning methodologies and psychological factors, organizations can optimize workforce training for better results.
It doesn't exist in isolation; it builds upon existing theories. For instance, within the human resource development handbook, theoretical research expands established concepts, refining their applicability to contemporary organizational challenges.
Ethical policy formulation
Within political science, theoretical research isn't confined to governance structures. It extends to ethical considerations, aiding policymakers in creating policies that balance the collective good with individual rights, ensuring just and fair governance.
Theoretical research underscores the importance of research methods knowledge base. This knowledge equips researchers in theory-building research methods and other fields to design robust research methodologies, yielding accurate data and credible insights.
Theoretical research leaves a lasting impact. The theoretical models and insights from key social science theories provide enduring frameworks for subsequent research, contributing to the cumulative growth of knowledge in these fields.
Innovation and practical applications
It doesn't merely remain theoretical. It inspires innovation and practical applications. By merging insights from diverse theories and fields, practitioners in human resource development devise innovative strategies to foster employee growth and well-being.
Theoretical research method
Researchers follow so many methods when doing research. There are two types of theoretical research methods.
Scientific methods
Social science method
Let's explore them below: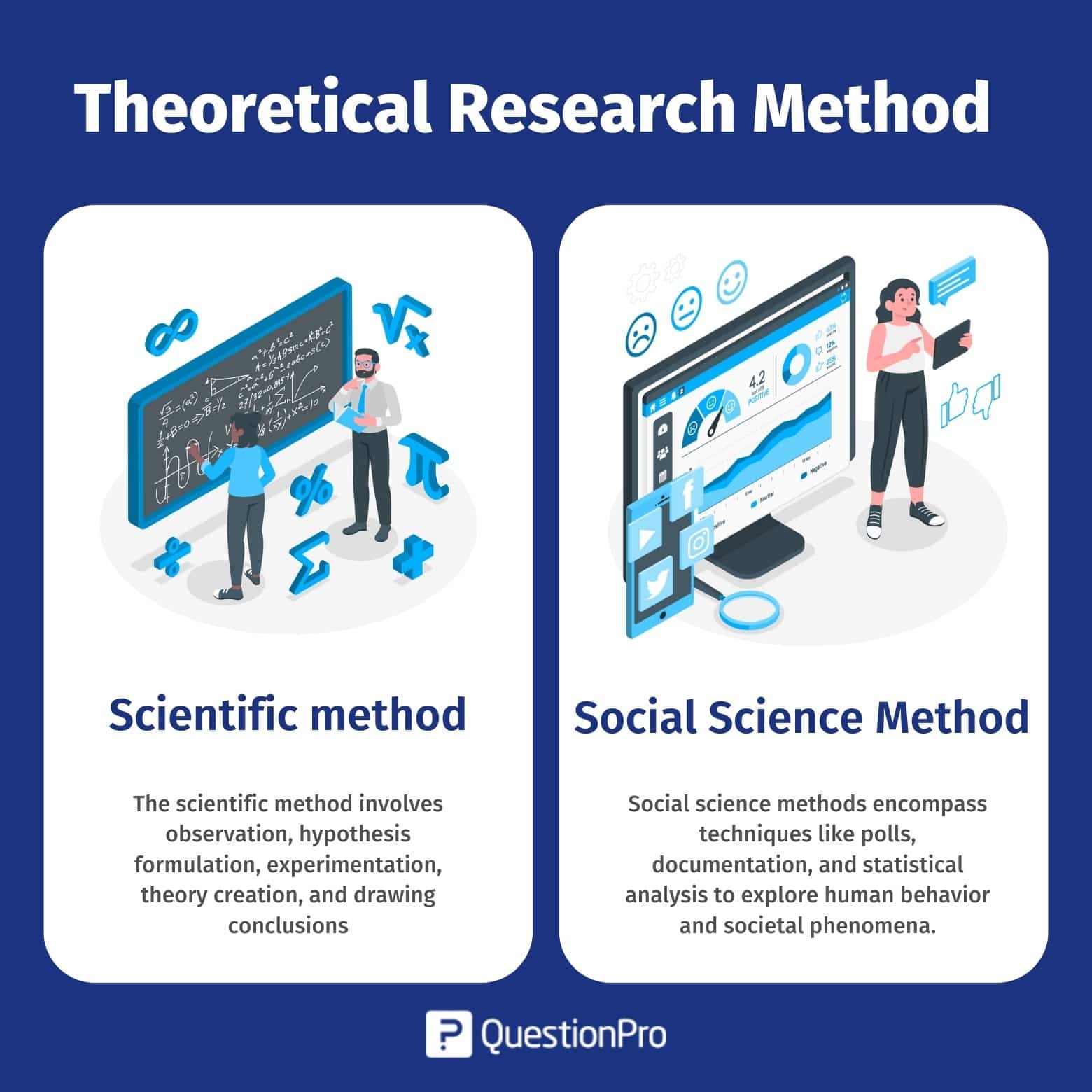 Scientific method
Scientific methods have some important points that you should know. Let's figure them out below:
Observation: Any part you want to explain can be found through observation. It helps define the area of research.
Hypothesis: The hypothesis is the idea put into words, which helps us figure out what we see.
Experimentation: Hypotheses are tested through experiments to see if they are true. These experiments are different for each research.
Theory: When we create a theory, we do it because we believe it will explain hypotheses of higher probability.
Conclusions: Conclusions are the learnings we derive from our investigation.
Social science methods
There are different methods for social science theoretical research. It consists of polls, documentation, and statistical analysis.
Polls: It is a process whereby the researcher uses a topic-specific questionnaire to gather data. No changes are made to the environment or the phenomenon where the polls are conducted to get the most accurate results. QuestionPro live polls are a great way to get live audiences involved and engaged.
Documentation: Documentation is a helpful and valuable technique that helps the researcher learn more about the subject. It means visiting libraries or other specialized places, like documentation centers, to look at the existing bibliography.

With the documentation, you can find out what came before the investigated topic and what other investigations have found. This step is important because it shows whether or not similar investigations have been done before and what the results were.
Statistic analysis: Statistics is a branch of math that looks at random events and differences. It follows the rules that are established by probability. It's used a lot in sociology and language research.
Examples of theoretical research
We talked about theoretical study methods in the previous part. We'll give you some examples to help you understand it better.
Example 1: Theoretical research into the health benefits of hemp
The plant's active principles are extracted and evaluated, and by studying their components, it is possible to determine what they contain and whether they can potentially serve as a medication.
Example 2: Linguistics research
Investigate to determine how many people in the Basque Country speak Basque. Surveys can be used to determine the number of native Basque speakers and those who speak Basque as a second language.
Example 3: Philosophical research
Research politics and ethics as they are presented in the writings of Hanna Arendt from a theoretical perspective.
LEARN ABOUT: 12 Best Tools for Researchers
Conclusion
From our above discussion, we learned about theoretical research and its methods and gave some examples. It explains things and leads to more knowledge for the sake of knowledge. This kind of research tries to find out more about a thing or an idea, but the results may take time to be helpful in the real world. 
This research is sometimes called basic research. Theoretical research is an important process that gives researchers valuable data with insight.
QuestionPro is a strong platform for managing your data. You can conduct simple surveys to more complex research using QuestionPro survey software.
At QuestionPro, we give researchers tools for collecting data, such as our survey software and a library of insights for any long-term study. Contact our expert team to find out more about it.