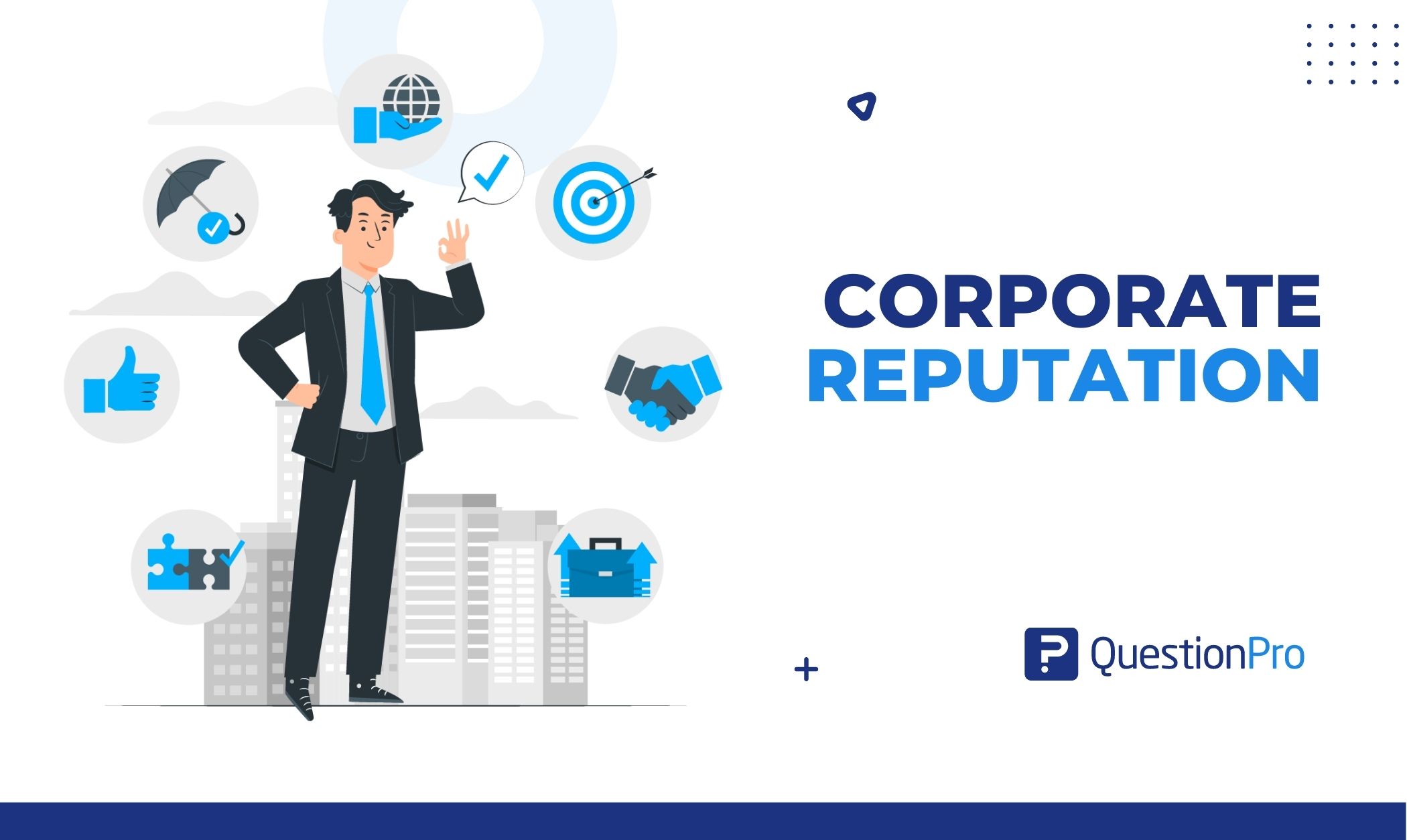 A good corporate reputation is a valuable asset that significantly impacts a company's bottom line. When we talk about corporate reputation, we mean its social status, the amount of power, quality, and value that can be attributed to it. It can change depending on the situation, for better or worse.
We cannot overlook company reputation while discussing the fundamental intangibles of any business. Sometimes it's hard to define because we think it's something abstract, invisible, or hard to measure, or because it's so relative, we shouldn't even bother with it. However, this is the incorrect approach.
In this blog, we will discuss the definition of company reputation and give you some ideas to improve it in your company. So, let's get started.
What is Corporate Reputation?
Corporate reputation refers to how a corporation is viewed by all of its stakeholders, including its employees, clients, shareholders, and the general public.
It is influenced by the company's activities, goods, and communications with stakeholders. Outside variables, including media coverage and market trends, also influence it.
A good company reputation can be one of a company's most valuable assets because it can lead to more trust, customer loyalty, and happy employees, as well as financial benefits like higher stock prices and more revenue.
On the other hand, a bad reputation can lead to severe problems, such as less trust, customer churn, and financial losses.
Learn more about why understanding your Customer Journey transforms your CX program. 
Importance of corporate reputation
Corporate reputation is important for many reasons, including:
A good corporate reputation can lead to more trust from customers, employees, and investors, among other groups. Trust is important for building strong relationships and can be vital to a company's success.
Legal and regulatory issues
A company with a good reputation is more likely to be liked by regulators and may face less legal trouble.
A good corporate reputation can result in financial benefits such as improved stock prices and investment. On the other hand, a bad reputation can hurt your finances in ways like lower stock prices and trouble getting loans.
Customers are more willing to conduct business with a company that has a strong reputation. A good reputation can make customers more loyal and lead to more sales.
Employees are more likely to be satisfied and motivated at work if they believe their company has a good reputation. It can lead to more work getting done and a better atmosphere at work.
Ideas to improve corporate reputation
A good corporate reputation is one of the most important aspects in determining whether or not people would purchase your product or service. Here are some essential tips you can apply to enhance your company's reputation:
Encourage positive feedback
Customers believe reviews. If your current customers trust your brand, their peers will likely feel the same way. Encourage existing customers to leave positive feedback and publicize these reviews on your company's website and social media channels.
It will demonstrate to your partners and potential customers that your company can be relied on to provide excellent service.
Monitor your reputation
Regular monitoring will help you better understand your company and its target audience. It will also show you what people are saying about your brand, which will help you figure out what's working and what's not.
To do this, you can set up Google alerts for your company's name. It will let you know when your company's name comes up online. In this way, you can improve your corporate reputation.
Prioritize your employees as customers
Having a good reputation with customers is not enough. As a company, you also need to have a good name with your employees. Remember that engaged employees are more likely to be proud of their company and spread the word about it. What they say about your business will give customers an idea of how you run things.
Become a thought leader
People are more likely to trust your products and services if you are known as a thought leader in your industry. You can take advantage of this by launching content marketing pieces. You can improve a corporate reputation by regularly posting blogs, podcasts, reports, discussing industry issues in the press, etc.
You may also check out this guide to learn how to build your own Customer Journey Map.
How QuestionPro helps you improve your corporate reputation?
QuestionPro CX Reputation is a social media management software that lets you listen to customers, act on feedback, and improve your online presence. This platform allows you to monitor real-time brand mentions on websites and social media actively. They also allow you to monitor, respond and analyze online public ratings.
It is a survey software that provides tools to assist organizations in performing market research and getting feedback from customers, employees, and other stakeholders.
QuestionPro CX Reputation can assist a company in improving its corporate reputation by offering a platform for collecting and analyzing customer feedback. It can help the business figure out how to improve its products or services and determine what customers like and value about the business.
QuestionPro CX Reputation can also help a business find ways to improve the work environment and culture by getting feedback from employees. It can help the business build a good company reputation.
Conclusion
Corporate reputation refers to a company's overall perception within a specific market or industry. It is important for businesses because a good reputation can increase customer loyalty and trust and attract top talent and investment. A bad reputation, on the other hand, can harm a company's brand and hurt its bottom line.
If you need any help with your corporate reputation, QuestionPro can definitely help.
QuestionPro CX Reputation is a reputation management tool to help you manage your company reputation by collecting and analyzing your data to ensure what your customers, employees, or stakeholders are thinking about your products and services.
CX Reputation also lets your team cross-post and respond to comments across major public reviews and social media platforms, using AI sentiment analysis and a real-time analytics dashboard.
Contact QuestionPro to get the best value for your company!