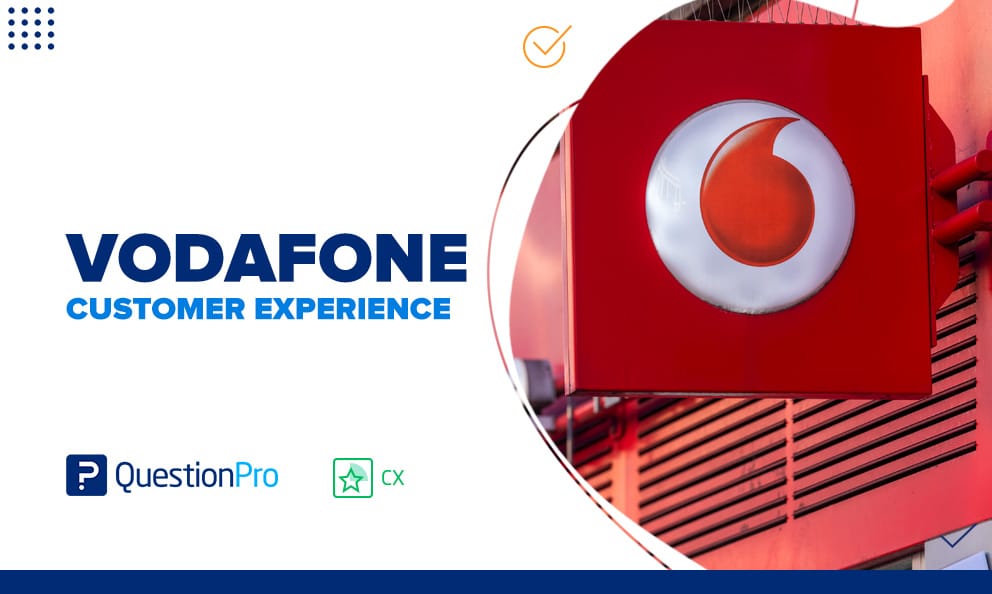 Staying ahead in an industry is no easy task, and when it comes to the telecommunications industry, the challenge becomes even greater. That's why learning from the great customer experience initiatives of the major competitors is a fantastic way to improve in this area. Let's explore the Vodafone customer experience.
In today's article, we'll explore Vodafone's customer experience strategy and take a detailed look at its customer journey map to understand the points of interaction that brands like this have with their customers.
What is Vodafone?
Vodafone is a multinational telecommunications company based in the United Kingdom. It is one of the largest telecommunications companies in the world, providing a wide range of services, including mobile and fixed-line telephony, broadband internet, and television services.
For Vodafone, like many other telecommunications companies, customer experience is one of the pillars on which they build their strategies and initiatives to gain market share and position themselves as leading brands in their industry.
This company uses an agile approach to provide excellent service and cover all aspects of the customer experience throughout their customer journey map.
The adoption of new technologies has allowed them to continue growing in their multiple regions, thanks to their efforts and customer-centric approach.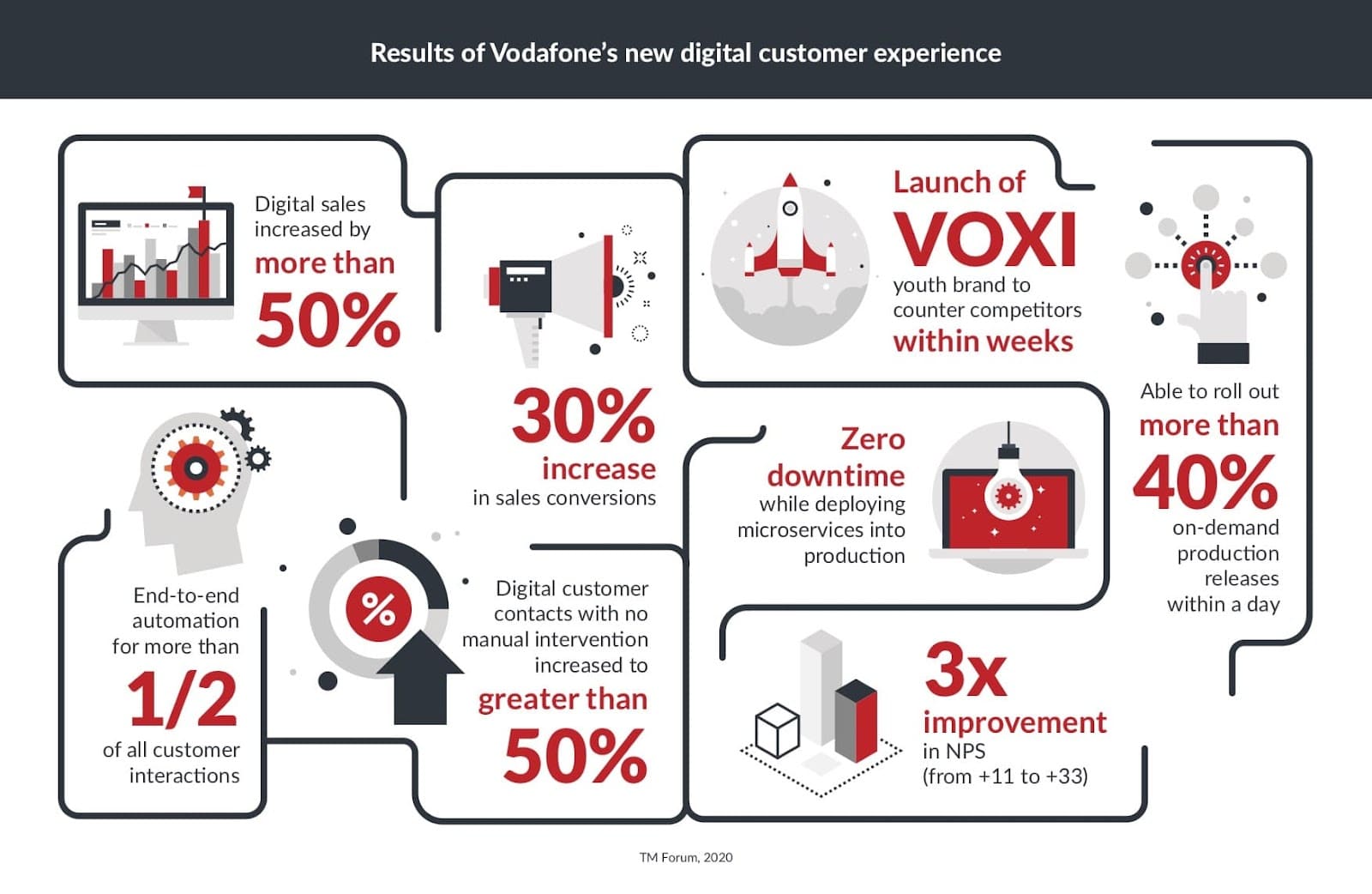 The Customer Journey Map as a Key Element in Customer Experience Strategies
There are many customer experience strategies and methodologies, but today, on the occasion of the launch of our customer journey mapping tool, we want to focus on one of the most effective ones with a significant impact on companies in any industry: the customer journey map.
A customer journey map is a graphical representation that outlines all the stages and points of interaction that a theoretical customer must go through. This journey encompasses all the stages in which there is a certain relationship between the brand and the prospect.
Customer journey maps are highly important for companies like Vodafone for several reasons. Some of the most common and relevant ones include:
Aligning Cross-Functional Teams: Customer journey maps are effective tools for breaking down silos within the organization. They can help different departments within Vodafone align their efforts to provide a cohesive and consistent customer experience.
Measuring Success: Customer journey maps provide a framework for measuring the success of customer experience initiatives. Vodafone can track key performance indicators (KPIs) at each touchpoint and assess whether improvements positively impact the overall journey.
Identifying Pain Points: By visualizing the customer journey, companies like Vodafone can identify pain points and bottlenecks that customers may encounter during their interactions. This allows them to pinpoint areas for improvement.
Innovation: Customer journey mapping can also be a source of innovation. It can inspire companies to create new products or services that address unmet customer needs or pain points identified along the journey.
Example of a Vodafone Customer Journey Map
To better understand how a customer journey map works and what it looks like, we've created an example based on general industry-standard information mixed with some characteristic points of Vodafone.
This is just a basic exemplification. Remember that a customer journey map can become more complex as it integrates various points of information to provide even more context for each touchpoint, action taken, and the consumer profile it focuses on.
Stage 01: AWARENESS
| | | | |
| --- | --- | --- | --- |
| Touchpoint | Activity | Pain Point | Solution |
| Influencer Partnerships | Influencers promote Vodafone on social media. | Building initial brand awareness is a challenge. | Collaborate with influencers who align with Vodafone's values. |
| Podcast Advertising | Vodafone sponsors popular podcasts. | Traditional ads may not reach younger audiences. | Invest in podcast advertising to tap into a growing market. |
| Community Engagement | Vodafone participates in local community events. | Limited visibility in specific geographic areas. | Increase engagement in underrepresented regions. |
Stage 02: CONSIDERATION
| | | | |
| --- | --- | --- | --- |
| Touchpoint | Activity | Pain Point | Solution |
| Augmented Reality (AR) | Vodafone offers an AR app for exploring services. | Understanding complex plans and services. | Simplify AR app user interface and provide tutorials. |
| Chatbot Assistance | Customers use a chatbot for plan recommendations. | Difficulty in finding the right plan. | Improve chatbot's AI for more accurate recommendations. |
| Interactive Workshops | Vodafone hosts workshops for potential customers. | Lack of clarity about plan benefits. | Enhance workshop content to highlight plan advantages. |
Stage 03: CONVERSION
| | | | |
| --- | --- | --- | --- |
| Touchpoint | Activity | Pain Point | Solution |
| Mobile App Purchases | Customers purchase Vodafone plans via the mobile app. | Complex checkout process on mobile. | Streamline the mobile app's checkout experience. |
| Gamified Retail Stores | Vodafone's retail stores feature interactive games. | Traditional retail experience can be dull. | Create engaging gamified experiences in stores. |
| Personal Sales Assistants | Customers have access to knowledgeable sales assistants. | Lack of product understanding can deter conversions. | Continue training sales staff to provide expert guidance. |
Stage 04: LOYALTY
| | | | |
| --- | --- | --- | --- |
| Touchpoint | Activity | Pain Point | Solution |
| Customer Education | Vodafone offers online courses on tech and mobile use. | Limited understanding of advanced features. | Expand educational resources and promote them actively. |
| Tailored Plan Options | Vodafone customizes plans based on individual usage. | Customers may outgrow their plans without upgrading. | Regularly review and adjust plans to meet evolving needs. |
| Premium Customer Support | Loyal customers have access to priority customer support. | Standard support may not meet their needs. | Enhance premium support with faster response times. |
Stage 05: ADVOCACY
| | | | |
| --- | --- | --- | --- |
| Touchpoint | Activity | Pain Point | Solution |
| User-Generated Content | Satisfied customers create and share content about Vodafone. | Limited user-generated content may hinder advocacy. | Encourage and reward user-generated content creation. |
| Sustainability Initiatives | Vodafone promotes its sustainability efforts. | Customers may not be aware of Vodafone's eco-friendly practices. | Increase visibility of sustainability initiatives. |
| Exclusive Community | Vodafone creates an exclusive online community for advocates. | Limited avenues for engaged customers to connect. | Foster a strong sense of community among advocates. |
Start Improving Your Customer Experience!
If you're looking for ideas to start improving your customer experience strategies, we hope these examples have been helpful. If you're in search of a tool to assist you, you're in luck! At QuestionPro, we've developed a range of tools to help you delight your customers at every stage of their journey.
With QuestionPro SuiteCX, you can create incredible customer journey maps with just a few clicks, incorporating various data points for an accurate view of what's happening in your business.
Additionally, with Customer CX, you'll have access to a wide range of solutions and functionalities to measure and manage satisfaction levels.
We invite you to learn more about them and start harnessing their full potential.