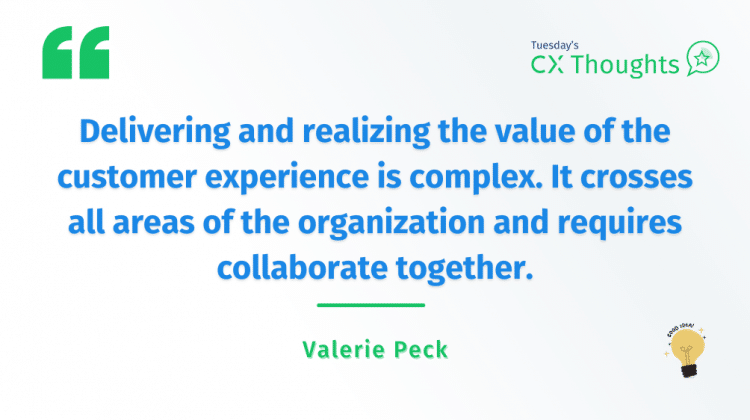 Customer experience is the buzzword in most organizations these days, with most organizations indicating that customer experience is very important. A 2014 Gartner research study found that 89% of companies expect to compete mostly on the basis of customer experience, up from 36% in 2010. However, less than half of the companies felt that the customer experience they delivered was superior to their peers.
LEARN ABOUT: Time to Value
Delivering and realizing the value of the customer experience is complex. The customer's experience crosses all areas of the organization. It requires that these areas collaborate together – stepping back to look at the end-to-end customer experience, breaking down internal walls and silos, and realigning performance measures to help enable the internal change necessary. This is not an easy task!
How To Build Out Your Customer Experience Strategy
We've identified several focus areas for organizations looking to start – or continue – down their customer experience path. Each area has both "quick hit" actions you can start today, as well as longer-term activities to consider. As you work through these focus areas, remember that it is important to align the customer experience with the overall customer and business strategies of the organization as well.
Understand your brand promise.
Quick hits: Spend some time defining and assessing the strength of your brand promise. Look at what your brand stands for, the problems it solves for your customers, and whether the brand promise resonates with your customers. Where are the gaps today that you can begin addressing?
Longer-term actions: Identify how to make the brand promise "come alive" throughout the entire customer experience. How will you deliver your products and services? Have you "translated" your brand promise into actions that your employees can use as guidelines in their work? And how should you define quality in this context?
Understand your Customers
Quick hits: Talk with your customers to understand why they are using your products or services. Conduct focus groups or interviews to gather information that helps you better understand your customers and how they may be different from one another. What need are you filling for them? What problems are you solving for them? How do those needs align with the brand promise? If they were choosing again, would they work with your company? Why or why not?
Longer-term actions: conduct a quantitative analysis of your customer and prospect base, looking across a variety of data points including online behaviors, purchases and shopping cart behavior, interaction history, social media interactions, demographics and appended information, etc. Segment your customers into groups or personas that allows your organization to begin to truly understand the customer and what they need.
Understand the Current Customer Experience
Quick hits: Gather informal, qualitative customer feedback to identify customer pain points that you can begin addressing right away. The best way to understand your customer experience is to interact with your customers. Talk to your sales staff and go with them to talk to customers. Spend some time with your customer care team in the call center. Look at call volume drivers and where the customer "drops out" of the digital experience channels. Work in your retail outlets. Go on service calls.
Longer-term actions: Map the current customer experience journey. Mapping your customer journey is a way to look at the customer experience through the eyes of the customer. We call this the "outside in " approach. A customer journey map should provide you with a visual and numerical representation of what your customers are experiencing. It should cover all the touch-points: website, retail site, call center, email, customer service personnel, direct mail, e-commerce, social media, etc.
LEARN ABOUT: Customer Journey Mapping Tools
The purpose of the map is to show how the customers are interacting at each touch-point, if those interactions are meeting the customer's needs, how the customer feels about it, and ideas of why they like or don't like the current interaction. The objective is to identify the Pain Points (interactions that disappoint) and the Moments of Truth (what they care about), and the value of addressing each.
Once you've mapped the current experience, you can then identify how to improve the experience. Don't forget to look outside your industry for leading practices that are shaping customer expectations when interacting with your organization.
Engage your employees
Quick hits: Employees are the face of the company to customers, and it is well-documented that a good employee experience leads to a good customer experience. Spend time with your employees to understand what is working and not working today in terms of their experience. Are there some easy modifications you can make to internal processes that would improve the employees' experience? Can you develop some simple empowerment guidelines for employees so that they can solve more customer issues without management involvement?
Longer-term actions: Re-assess your employee hiring, training and performance measures. When you hire your employees do you make the decisions based on the employees willingness to serve customers? Do you provide guidelines and adequate training so employees know what is expected? Have you provided the proper tools to provide the right information? Are your rewards and recognition systems reinforcing the behavior you want from your employees?
Make it simple
Quick hits: Research shows that reducing the amount of effort that a customer has to put in to get their issues resolved is highly correlated with their satisfaction level. So make it simple to do business with you regardless of channel. Create a list of FAQs based on an analysis of call volume drivers. See where you can remove a step from an online or IVR process. Explore whether you can incorporate chat or social media into the experience.
Longer-term actions: Streamline the entire customer experience. Amazon.com started with a multi-step purchase experience and has streamlined it down to one click. Review the customer experience map and look for ways that you can streamline the experience by removing unnecessary steps and/or leveraging customer data and insights to proactively do something on the customer's behalf – whether that is prepopulating an order form, transferring data from the web experience to the call center agent or proactively suggesting a product or service you think would resonate with the customer based on your understanding of them.
Link your data
Quick hits: Last but not least is connecting your data. Most large companies are collecting a ton of customer data and feedback on a regular basis. The problem is the data is held hostage in the various silos so it doesn't come back together to paint and up to date picture of your customer or their needs. Work with your customer facing staff to identify the 2-3 pieces of data that would help them provide a better customer experience, and then figure out how to get that data to them.
Longer-term actions: Assign a team to work on data aggregation and updating to be sure you can compete effectively.
Set up a Customer Experience governance model
Quick hits: Customer experience management is an ongoing journey, and work done today on the customer experience will need to be further assessed, validated and improved upon tomorrow when new technologies, channels and interaction preferences come along. Set up a customer experience governance group focused on regularly reviewing the experience; listening to the customers and their changing needs; and monitoring, tracking and reporting on the impact of the customer experience.
Longer-term actions: True customer experience success requires organizations to rethink how they do business, internal processes, and the skills needed to address the evolving expectations of customers. Expand the role of the governance group to include these types of activities.
It's time to stop talking about Customer Experience and start doing it. Get started – your competitors are! – and if you need assistance, feel free to get a consultant or advisor who can help you plan your strategy and metrics to guide you to customer experience success.
Learn more: https://www.questionpro.com/customer-journey-mapping-software/
The Next Leap in Customer Experience Strategy: Track and Respond to Customer Expectations Based on Real Data and Analytics
Customers today love a personalized approach from businesses. They would like you to know what kind of products they like, what improvements they expect and how loyal they actually are to your brand so you can measure your Net Promotor Score (NPS) better.
Of course this should not be confused with "customer stalking", that can land you in trouble! Target Corporation's infamous stunt in 2012 is a constant reminder of such a scenario, where the company used "predictive analytics" to figure out that one of their customers, a teenage girl in US, was pregnant and outed her to her still clueless father by mailing her "personalized" coupons for buying baby cloths and cribs!
No, we are not talking about overstepping into deep predictive analytics. Still, we are saying that it is good to have a healthy insight into your customer's journey and their expectations from you as a brand.
Using Data and Analytics to add real value to CX
Almost every business leader who is aware of the customer experience tracking technology that's available today will tell you that "you must use customer information to add value to their brand experience".
But how do you do that?
Let us break the answer into a few steps:
1. Survey your customers
This is just the first step. Every customer segment differs, sometimes largely, sometimes minutely. But when it comes to business decisions, you cannot make guess by merely Googling your questions.
You need to get the answer from the horse's mouth. It needs to comes directly from your consumers and existing customers and no one else! For this, you must survey them and do so the smartest way possible today – use online survey tools like QuestionPro CX that lets you create and send surveys in minutes.
Ok, now how can it be that fast? I mean your traditional survey creation and sending process takes weeks right? Well that's because CX comes loaded with over 50 ready-to-shoot survey templates. You can customize them, add your own branding and just send them out.
Even better is Locus – The Artificial Intelligence Engine that is there to understand your requirement and pull up a survey template of your exact need in a second's notice. This makes the process even quicker.
You can even acquire customer samples in case you lack a database that is specific to your audience.
2. Analyse the information
So you received responses to your survey and you have the data with you. So what's next? Now you need to analyse it to draw some meaningful conclusions and insights. After all, that was the whole purpose right?
Normally this would be an expensive and time consuming procedure, we are talking weeks or even a month or two here. But just like survey creation, sending and receiving got smarter, so did analysis!
With QuestionPro CX, analytics is instantaneous. You don't have to wait at all for the result to show up, because it's available in "real time" on your dashboard. As soon as the responses start coming in, CX automatically analyses them and shows you the data, visualizations and analytics.
Yes, it's that simple and fluid.
3. Actively respond to customer needs and expectations
Now you really do have everything. You have the data, the smart analytics and the powerful insights to figure out what needs to be done next. So what's next? Just do it!
This might seem really easy, but if you look at most organizations, this is the most cripple task of all. To make this happen, you need will, real will, to make a positive difference in the way your customers experience your brand's products and services.
Organizations that learn to implement ground-breaking strategies to give a maker over to customer experience based on real and effective data, they also receive ground-breaking results for their effort.
Need an example? Google revamped its entire Android User Interface with its Lollipop update in 2014 because consumers often complained about its UI and UX. The result? It is now compared, often rated above, Apple's legendary user interface and experience in iOS.
How can SuiteCX by QuestionPro help you? Let us know!