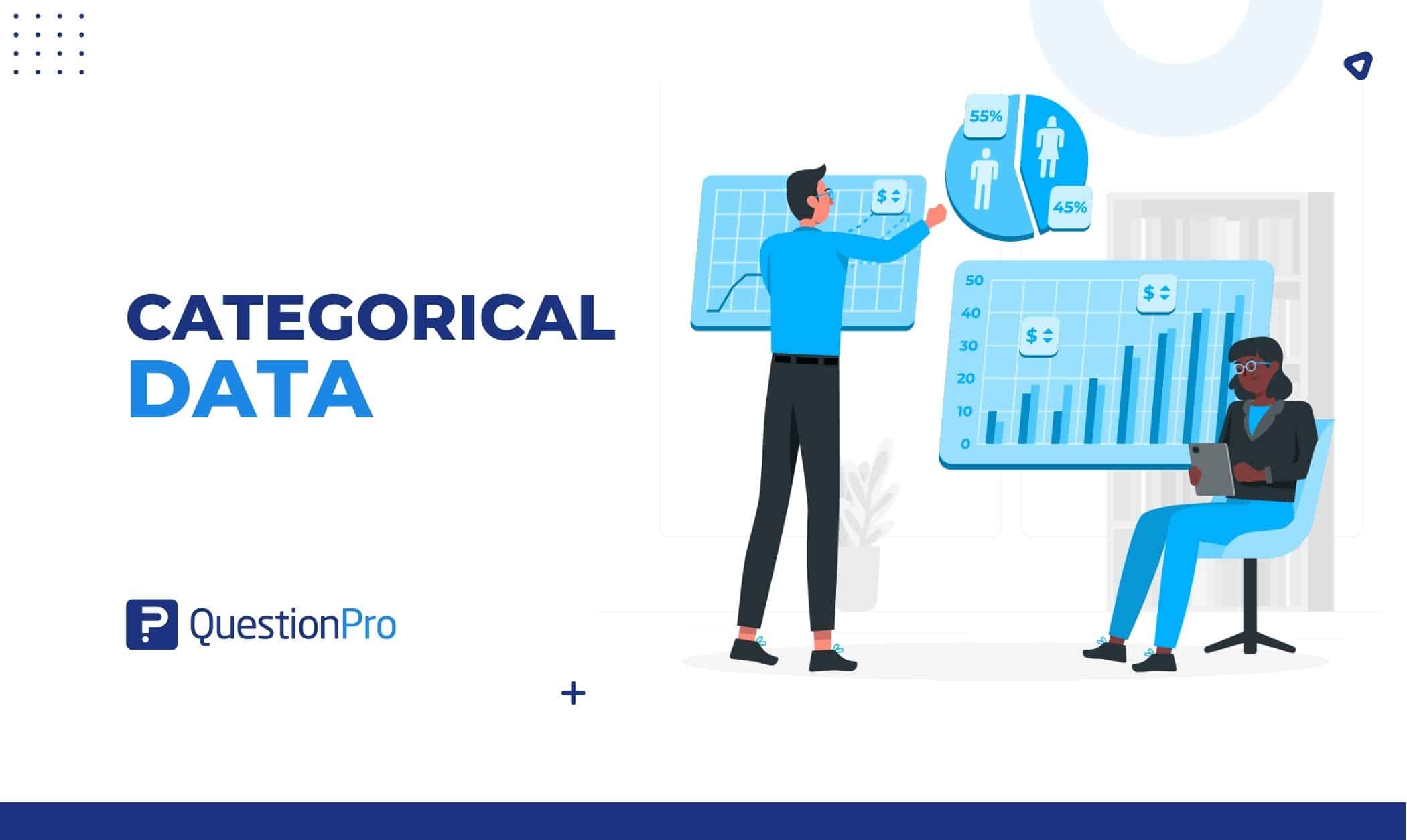 When researchers study a concept, they need to gather data about it. This data can take many forms, such as height, weight, hair color, and opinions. When collecting data for research, it is important to know the form of your data so that you can interpret and analyze it well. Let's discuss categorical data and learn everything you need for your research project.
Research has two main data types:
Categorical data
Numerical data.
In this blog, we will talk about what this data is, the different types of it, and some of its most important features. Let's get started.
What is categorical data?
Categorical data refers to a form of information that can be stored and identified based on their names or labels. It is a type of qualitative data that can be grouped into categories instead of being measured numerically.
This data type is made up of categorical variables that show things like a person's gender, hometown, and so on. Categorical measurements are not given in numbers but rather in natural language descriptions.
Numbers can sometimes represent it, but those numbers don't mean anything mathematically. The following are some examples of this data type:
Birthdate
Favorite sport
Hair Color
Hight
In the above example, both the birthdate and the postcode are made up of numbers. It is regarded as categorical data even though it includes numbers. Calculating the average is a simple way to determine if the provided data is categorical or numerical.
If you can figure out the average, it is considered numerical data. If you can't figure out the average, then it's considered categorical data.
Discover the diverse examples of qualitative data in education through our recent article, exploring examples that unveil a deeper understanding of learning environments and student experiences.
Types of categorical data
Categorical data often includes values and observations that can be categorized or grouped. Bar graphs and pie charts are the best ways to show this data. More specifically, there are two kinds of categorical data:
Nominal Data
Ordinal Data
Let's explore them in detail.
Nominal data is a type of data that consists of categories that can't be ordered or ranked. It is also called a nominal scale. Nominal data can't be ranked or measured in any way. Still, nominal data can be both qualitative and quantitative at times.
Some examples of nominal data are symbols, words, letters, and the gender of a person.
Ordinal data is a category of data that has a natural order. It is often used in surveys, questionnaires, and the fields of finance and economics. Ordinal data stands out since it is impossible to differentiate between data values.
Clothing sizes are one example of this type of data (small, medium, and large are not measurable differences, but they are clearly ordered to show size comparisons).
Features of categorical data
It can have only a few values, each of which represents a different category or group. Some main features include:
There are two types of categorical data: nominal data and ordinal data. Nominal data, also called named data, is the type of data used to name variables, while ordinal data has a scale or order to it.
It is qualitative. In other words, it uses a string of words instead of numbers to describe an event.
Depending on its nature, categorical data can also be divided into binary and non-binary categories. A binary question has two possible answers, such as yes or no, while a non-binary question would have more than two answers, such as maybe.
It is qualitative, yet it often includes numerical values. However, these values don't have any quantitative characteristics. They cannot be used in arithmetic functions.
A pie chart and bar chart can both be used to analyze it visually. A bar chart is used to determine how often something happens, while a pie chart is used to determine percentages. It is done after it has been grouped into a table.
The mode and median tools are used to analyze categorical data. The mode tool is used to analyze nominal data, and both are used to analyze ordinal data. Ordinal data can also be analyzed using univariate statistics. Bivariate statistics, regression analysis applications, linear trends, and classification methods are also used to analyze ordinal data.
Examples of categorical data
Let's say you are having a party and want to make sure everyone has coffee to drink. So you send out a survey asking people what their favorite coffee is, and you put the answers into a table like the one below:
| | |
| --- | --- |
| Favorite Coffee | Frequency |
| Latte | 04 |
| Espresso | 15 |
| Cappuccino | 02 |
| Black Coffee | 10 |
Is the data in the table categorical?
Yes. It is categorical data because it is broken up into groups, like favorite coffee.
Conclusion
Categorical data is often used in non-parametric statistical tests. In statistical analysis, distinguishing between categorical data and numerical data is essential, as categorical data involves distinct categories or labels, while numerical data consists of measurable quantities. Anyone who works with data or does research needs to be able to understand and use it. This blog has explained what it is, described its different types and features, and given examples.
QuestionPro is survey software that allows working with data. The software lets users do surveys and collect data from those who fill them out. Then, this data can be looked at and put into different groups.
LEARN ABOUT: Average Order Value
QuestionPro also has several tools and features, such as cross-tabulation, frequency tables, and bar charts, for analyzing and displaying categorical data. These tools can help users understand and make sense of their data, so they can use the results of their surveys to make smart decisions.
Now it's your turn. Contact QuestionPro to learn more, or ask for a free demo!