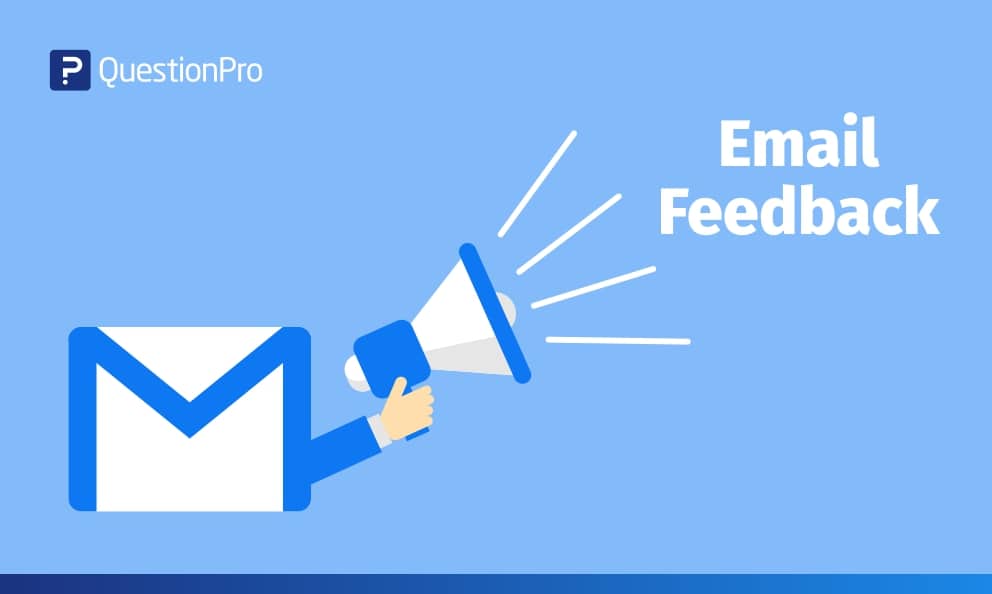 Email is a powerful tool for businesses and individuals in the ever-evolving digital communication landscape. It's not just a means of sending messages; it's also a valuable channel for gathering email feedback.
Email feedback solicits, collects, and analyzes your email recipients' opinions, suggestions, and insights. Whether you're a marketer looking to improve your campaigns or a business owner seeking customer input, understanding email feedback is crucial.
Customer feedback email templates are pre-designed messages used by businesses to solicit input from their customers. These templates typically include polite requests for feedback, expressions of gratitude, and clear calls to action for customers to share their thoughts or experiences.
Customizable and easy to use, these templates help streamline the feedback collection process while ensuring customers feel valued for their opinions. Customer feedback email template allows businesses to gather valuable insights, improve their products or services, and foster stronger customer relationships.
This blog explores what email feedback is, delves into different types of email feedback, and provides valuable tips to make your email feedback campaigns more effective.
What do you mean by email feedback?
Email feedback is a process of collecting feedback through email. The email often contains a link to the brief feedback survey questionnaire or sometimes. It includes an embedded customer survey sent to the targeted audience.
Thus, The respondents can open the survey and answer the questions unbiasedly. Alternatively, they can answer the questions by responding to the email, depending on the surveyor's chosen delivery method.
For example, an automobile company is interested to know the opinions of the owners who have purchased a recently launched car. As the company has all the details of the customers who bought the newly launched automobile, it becomes easier for the company to send out and request customer feedback emails to them.
However, before sending the email, they created an appealing, engaging, and thoughtful feedback survey using an equally trusted, reliable, and effective online feedback software. The feedback thus received helped the company understand if the owners are happy with their cars and the areas needing improvement to enhance the customer satisfaction ratio.
Email feedback is an opportunity to bring change
Whether it is about a person, product, service, or enterprise, we have been giving feedback now and then. Feedback has always been a vital part of communication, regardless of whether it is given or taken. Useful feedback request will still benefit the giver, receiver, and more extensive organization.
Asking for feedback is the first step to initiate change. By asking for feedback from customers, employees, stakeholders, or other entities, an organization depicts how much they care, what they think, and why they wants them to have nothing less than a satisfactory experience.
To some extent, by asking for feedback, you might provoke unhappy customers to give negative or absurd feedback that they otherwise would not have given. Nevertheless, what about the people who are happy using your products or services and who are advocating your brand? Providing them with a voice is essential, and email feedback is a way to let them speak.
Don't back off – do not fear the negative criticism; think about the positive minds, and the impact will be immense. Go ahead and make a choice, select the best email feedback software out there, and bridge the gap between you and your customers.
Email feedback is an opportunity to bring positive change to your email marketing campaigns and overall customer engagement strategy. Here are some ways in which email feedback can be a catalyst for change and improvement:
Feedback from your email recipients can provide valuable data and insights into what type of content resonates best with your audience. Whether it's product recommendations, educational content, or special offers, listening to your subscribers' preferences can help you tailor your content to their needs.
If you notice a trend of subscribers expressing dissatisfaction with the frequency of your emails, you can use this feedback to adjust your sending schedule. Finding the right balance between staying top of mind and not overwhelming your audience is crucial.
Complaints or feedback about email design and formatting issues can prompt you to improve your emails' visual appeal and mobile-friendliness. This ensures that your emails are engaging and accessible across different devices.
Feedback can reveal opportunities to enhance personalization efforts. If subscribers mention that they receive irrelevant content, you can refine your segmentation and targeting strategies to provide more personalized experiences.
Subject line optimization
Whether positive or negative, feedback on subject lines can guide you in crafting compelling subject lines that capture recipients' attention and encourage email opens.
Understanding your audience's preferences can help you create more refined email lists. Segmentation allows you to send more targeted and relevant content to specific groups, increasing the chances of engagement.
If subscribers express concerns or complaints, it's an opportunity to address these issues promptly and professionally. Handling customer concerns effectively can turn a negative customer experience into a positive one and retain customer loyalty.
Feedback related to consent and privacy concerns can prompt you to review and improve your email marketing practices to ensure compliance with data protection regulations.
Testing and experimentation
Email feedback can inspire new ideas for testing and experimentation in your campaigns. Whether it's trying out different content formats or interactive elements, feedback can guide your testing strategy.
Demonstrating that you listen to and act on feedback can enhance trust and credibility with your subscribers. This can lead to stronger, long-term customer relationships.
Types of email feedback
Three primary options are using which surveyors or organizations can collect email feedback.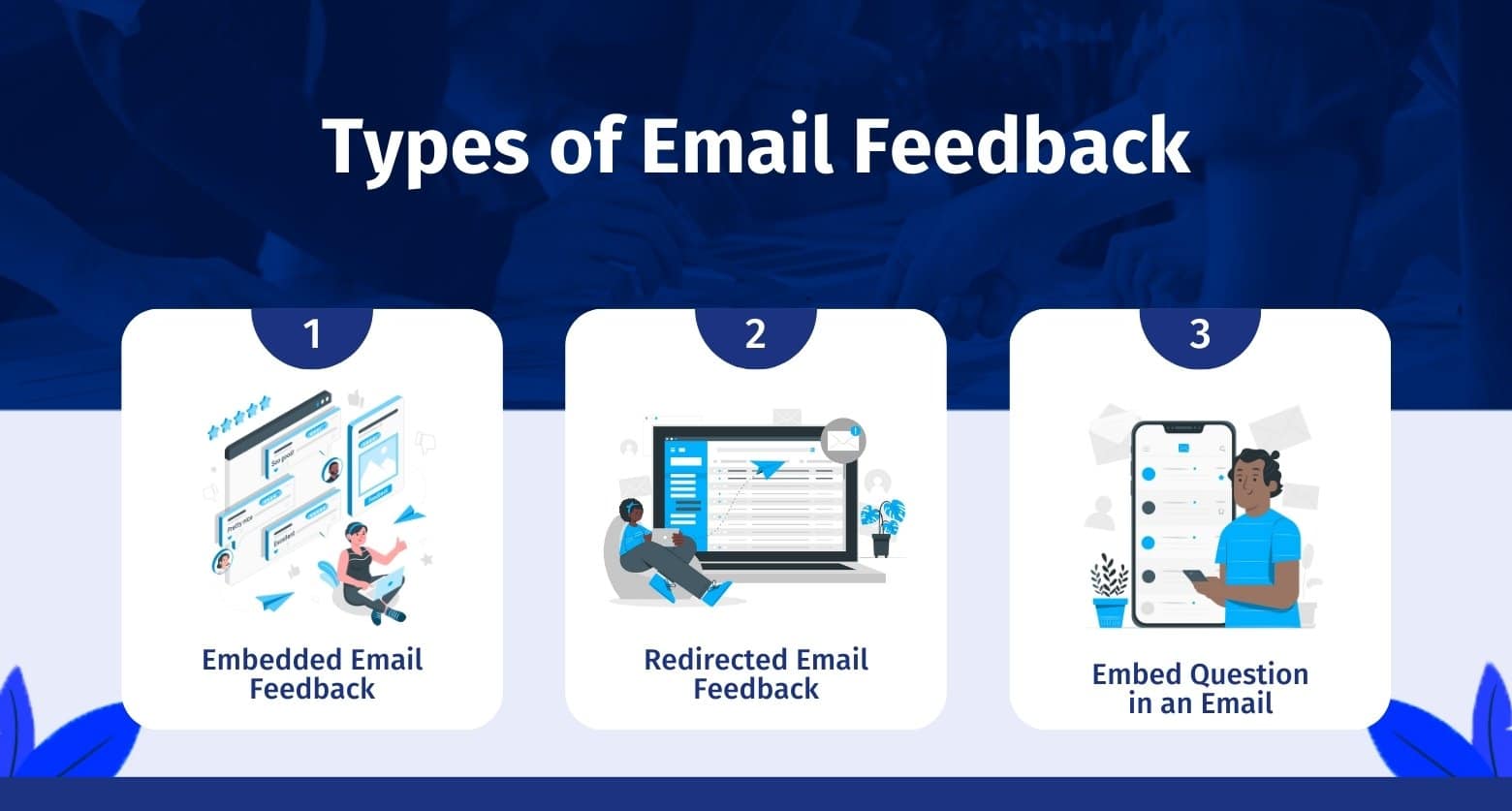 01. Embedded email feedback
Embedded email feedback is embedding the feedback survey in the email itself. As all the survey questions are available within the email, the respondents can take the survey and give their feedback in the email body without opening a new window. The survey questionnaire prepared for the embedded email feedback is often kept short and less illustrative.
Surveyors prefer close-ended questions when they opt for embedded feedback, and almost every feedback software online provides a great variety of close-ended questions and rating questions to collect feedbacks. However, Net Promoter Scores, Matrix Questions, and Rating questions are also widely used to collect raw feedback through embedded feedback.
For example, a newly opened store wanted its visitors to have a good store experience and, at the same time, wanted to understand things that can be improved to provide an even better experience. As most of the visitors were invitees, the store decided to send embedded email feedback to collect their feedback
02. Redirected email feedback
It is the most typical form, which is a widely used, trusted, reliable, and proven way of collecting feedback through email. Your chosen feedback software will allow you to send a customized feedback survey link to the targeted audience, clicking on which the respondent is taken to the new window containing the survey questionnaire. This method is often used when the survey questionnaire is lengthy and descriptive.
In some instances, the surveyor motivates the audience to take the survey. Offering them some reward or incentive on successful completion of the survey. There are no limitations on the use of question types, as surveyors can freely use open-ended, close-ended, multiple-choice, single-choice, or any questions of their choice
For example, an established restaurant wanted to know what customers think about their services and understand if they are happy with the hotel's service, food quality, and ambiance. Consistency in service and quality is the hallmark of customer satisfaction.
Additionally, asking existing customers for suggestions and areas needing improvement creates a feeling of belongingness in them and helps boost customer loyalty. The restaurant sends a redirected email feedback survey to its customers to collect their honest feedback and suggestions and to analyze what changes need to be made to reduce the unhappy customer percentage.
03. Embed question in an email
When you want to avoid settling for a traditional method of sending a survey link or survey questionnaire in an email, you can decide on this option. In addition, when you want to reduce the churn rate and enhance the email opening and survey-taking speed, then opting for embedding questions in an email is the best option.
It works by allowing you to embed only the first question of your survey feedback in the email body. The question works as a motivator, giving the respondent a glimpse of the remaining review. When the respondent answers the first question in the email body, then it proves their interest and willingness to take the rest of the survey.
Likewise, they are redirected to the remaining part of the feedback survey, which they can complete at their own pace. The survey feedback is just like any other survey wherein the surveyors can opt for any question according to their choice.
300+ free survey templates: sample questions and questionnaires
How to write a customer feedback email
Writing customer feedback surveys email is crucial to gathering valuable insights from your customers and improving your products or services. Here's a step-by-step guide on how to write an effective customer feedback email:
1. Choose the Right Subject Line
Make it clear and concise. Use a subject line that encourages the recipient to open the email.
2. Personalize the Greeting
Start with a friendly and personalized greeting, addressing the customer by their name.
3. Express Gratitude
Begin the email by thanking the customer for past interaction with your company or for being valued.
4. Explain the Purpose
Clearly state the purpose of the email: to collect feedback on their recent experience with your product or service.
5. Provide Context
Briefly remind the customer of their recent interaction with your business, such as a recent purchase, support request, or website visit. This helps them recall their experience.
6. Ask for Feedback
Use a polite and inviting tone to request feedback. You can use phrases like:
"We value your opinion and would love to hear about your experience."
"Your feedback is essential for us to improve our services."
"Would you be willing to share your thoughts on your recent experience?"
7. Use a Call to Action (CTA)
Include a clear and concise call to action. This could be a link to a survey, a feedback form on your website, or an invitation to reply to the email.
8. Assure Privacy and Confidentiality
Mention that their feedback will be kept confidential and used only for the purpose of improving your services.
9. Offer Incentives (Optional)
If appropriate, consider offering a small incentive, such as a discount or a chance to win a prize, in exchange for their feedback.
10. Provide Contact Information
Include your contact information (email or phone number) so that the customer can easily reach out if they have any questions or concerns.
11. Express Appreciation Again
Thank the customer once more for their time and willingness to provide feedback.
12. Use a Polite Closing
End the email with a polite closing, such as "Sincerely," "Best regards," or "Thank you."
13. Signature
Include your name and your position within the company.
14. Formatting and Design
Keep the email clean and easy to read. Use a professional email template, but avoid excessive design elements that may distract from the message.
15. Proofread
Before sending the email, proofread it carefully to correct any spelling or grammatical errors.
16. Follow-Up (Optional)
If you are still waiting to receive a response within a reasonable timeframe, consider sending a polite follow-up email to remind the customer to provide feedback.
Three tips for nailing down your email feedback campaign
Using customer feedback software to collect feedback helps you improve product or service quality, analyze customer satisfaction, and enhance the working environment. Before you even start designing your first email feedback campaign, you must outline the motive behind the campaign.
Have a word with the internal teams handling sales, marketing, customer support team, and development departments. Map what you expect from this campaign and how-to insights effectively. Can you meet the end goal of your email feedback campaign?
NOTE: If a customer does not reply to your email, then not even by the slightest chance, assume that the customer is happy or satisfied. Remember, only 1 out of 26 unhappy customers try to give negative feedback; others pile up in the churn; thus, assumptions harm a business.
Keep it Simple Silly (KISS Strategy)
Keeping feedback simple and focused is the mantra to get more responses for your email feedback campaign. Do not beg, do not stand on your knees, and do not spread your hands for feedback. Remove all the unnecessary text, extra elements, and confusing or distracting offers from the mail and speak honestly of your intentions, focusing on results.
Here is an example of one of the clutter-free emails asking for feedback: no images, optional headings, bullet points, or distractors used in the body. An email directly speaking of the intended actions and highlighting the call-to-action provokes a response from everyone who is actively engaged in the email.
The focused message and the conversion action we expect from them are conveyed in a simple manner, encouraging viewers to take action by clicking the survey link.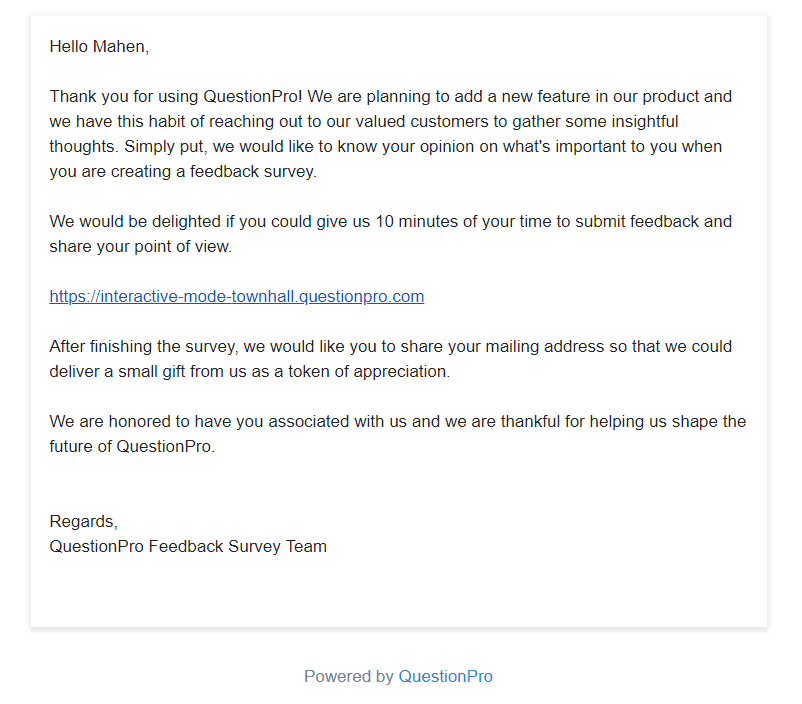 Suppose you met with an accident on a busy street and are expecting some help from the people. Still, the probability of someone helping you is inversely proportional to the number of bystanders. We call it the bystander effect.
Thus, you need to analyze and understand social psychology before sending out the email to collect feedback. If you send out the survey invitation to a large number of people, then the possibility is that very few people will reply, as 90 of email audiences will think that at least someone apart from them will take the survey.
To overcome this problem, you need to personalize the email and address each recipient with his/her first name. Addressing the recipient with his/her first name will make them feel valued, and chances are more than they will think the email was sent directly to them. You are interested in getting feedback from them and initiating prompt action from each of the recipients.
Nevertheless, due to advanced technology, using the first name in the email has become very common. Hence, if you have any other details of the recipient that you can use for personalization, like where they are working or to which place they belong, would work.
After addressing them by their names, you can tell them how lucky they are to work for such a prestigious company or mention the name of their city and let them know the weather today in their city; it will motivate them more to take the feedback survey.
Convey how much their opinion matters
Again, you have to deal with social psychology here as you will be dealing with a bunch of people wanting an explanation as to how their opinion is valuable to an esteemed business like yours. To convince them their opinion matters, you need to convey to them the importance of their opinion.
Therefore, whenever you are sending out email feedback, it is essential to tell them or include in the email body the reason behind asking for their input and how you plan to utilize it for their further satisfaction.
Take a look at the email template we shared before, and you will understand it communicates what's important to customers – matters as we plan new features according to their expectations.
Not only does it answer their ' why,' but it also explains 'how' their feedback or opinion will be used in the future for their as well as others' benefit. Ultimately, telling people the reason behind wanting their opinion and your plan to utilize it in the future will help increase the number of responses you will get through your email feedback campaign.
Conclusion
Getting email feedback from your employees, customers, or stakeholders about your products or services is a straightforward way of gaining valuable insights necessary to improve and grow your business.
However, the entire process, from creating feedback surveys to distributing and analyzing them, is painstaking unless you opt for trusted and reliable feedback software.
A well-designed survey helps in retrieving all the necessary data that depicts certain areas where your business is falling short of satisfying your customers or employees. Acting on the insights to bring the expected change puts your business ahead in tapping new markets, grabbing new growth opportunities, and unrevealing unique revenue possibilities.
Irrelevant to why you need feedback, there is no other better communication channel than email. So go ahead and start collecting email feedback to get pleasantly surprising insights and information.