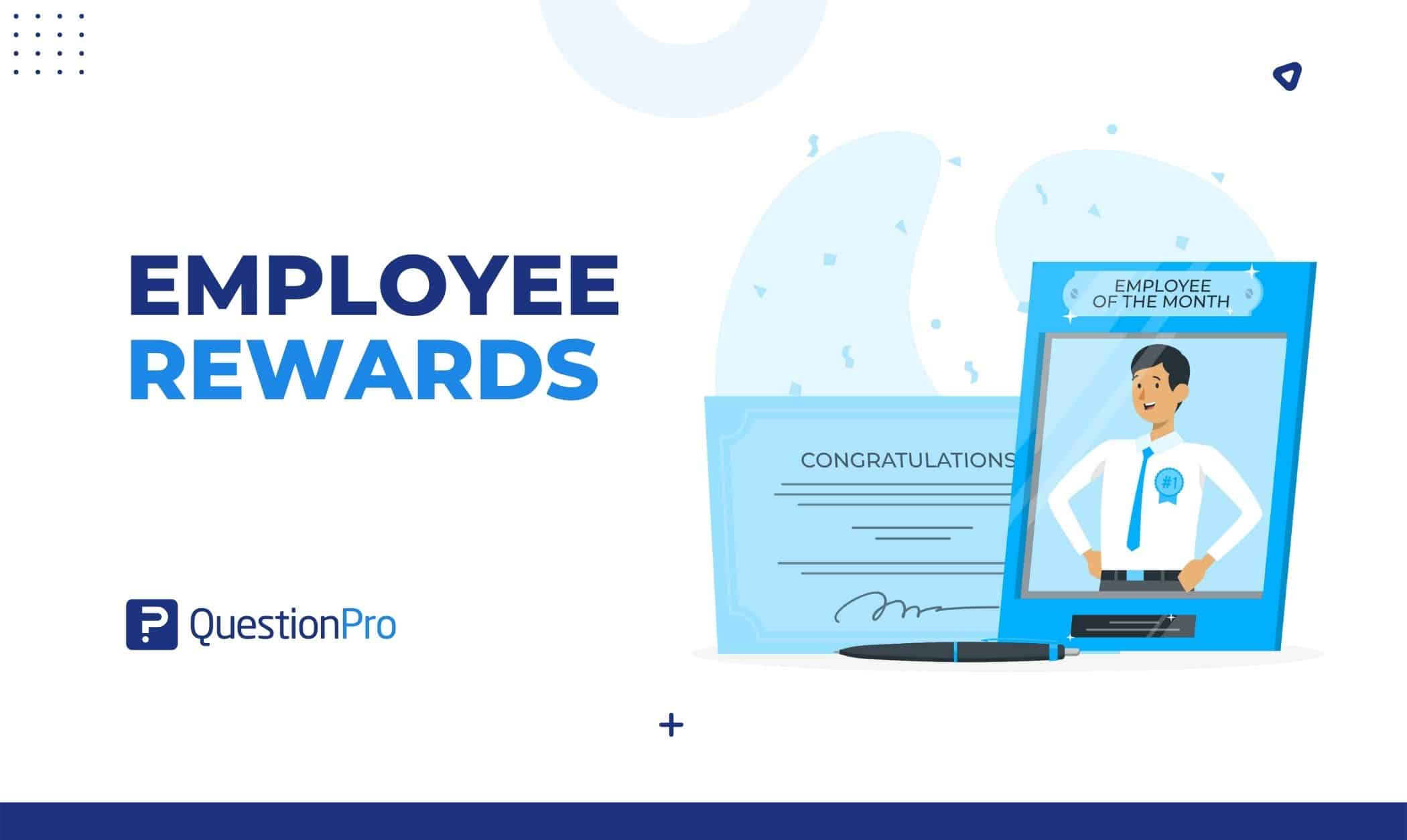 Employee rewards are an effective team engagement technique. Effective employee reward systems and recognition are essential for attracting top talent and maintaining employee job satisfaction.
Creative and considerate incentives are the key to retaining and motivating employees. Now that incentives are embedded in corporate culture, some businesses use them to attract new employees.
There are various options for rewarding employees. Some of them are very successful, while others are a little underwhelming. Discover 20 employee reward ideas to help create a positive business culture and increase employee happiness.
What is Employee Rewards?
Employee rewards are typically objects that have some monetary value attached to them. Awarding incentives is transactional, usually connected to particular performance criteria or work achievements.
Organizations often implement employee reward systems to recognize and encourage employees for their efforts and contributions, both individually and collectively.
The following are some of the most important aspects to consider when designing a reward system:
Specifying the corporate or group objectives that the award program will promote
Identifying the ideal employee performance or behaviors that will support the objectives of the business
Identifying the most critical metrics for the performance or behavior based on the prior successes of the person or group
Selection of the proper incentives
Communication of program information to company employees
Types of Employee Rewards
Employee rewards are essential for companies to use in order to recognize, motivate, and retain their employees. They exist in a variety of forms, and each addresses one particular aspect of employee satisfaction and engagement.
Among the many different forms of awards available, they can generally be split into two categories for their impact on employee morale and performance.
Monetary Rewards
Monetary rewards are financial incentives given to employees in appreciation for their performance, contribution, or tenure. These financial rewards are frequently used to recognize great performance or to encourage specific behavior.
Salary increases, bonuses, profit sharing, and different types of commissions are some examples of monetary rewards.
Non-Monetary Rewards
Non-monetary employee rewards focus on motivational factors and the overall work experience. These types of employee rewards programs greatly impact employee well-being, job satisfaction, and long-term commitment.
Employee recognition and appreciation, providing professional development opportunities, flexible work arrangements, offering promotions, and career advancements are some examples of non-monetary rewards.
Designing Employee Reward Programs
Employee rewards and recognition programs are an excellent approach to employee retention and inspiring them. Employees can win recognition, monetary incentives, and other prizes for their efforts. A well-designed program can benefit employee morale, productivity, and engagement.
When developing a new employee rewards program, keep your budget, corporate vision, and desired award targets in mind. Here's a step-by-step guide to developing an efficient employee rewards program to recognize employees.
Identify why you want a program: Before creating a rewards program, you should understand why you need that. This will help you to focus your program and provide the greatest benefits.
Set a budget: Knowing how much you can afford to invest in your rewards program is important. Determine the available funds for the reward program. When creating a budget, consider aspects such as company size, revenue, and industry standards.
Identify the reward criteria: Establish clear and specific requirements for employee rewards. This may include individual performance measures, team successes, project milestones, or a mix of factors. The criteria should be fair, transparent, and easily measurable.
Choose your rewards: Choose various awards suitable for your company culture, employee preferences, and budget. Think about both monetary and non-monetary choices.
Implement the reward program: It's time to implement your employee rewards and recognition program after you've developed it. Make certain that the employees understand what it is and how it works. Creating a rewards manual or guide that clearly describes your program is frequently helpful.
20 Employee Rewards Ideas to Boost Employee Engagement
Genuine appreciation is more than just a warm feeling. Sales, productivity, and accuracy all increase when employees are satisfied with their work environment. Here are 20 employee rewards ideas you can use for employees to increase productivity, motivate employees, and employee engagement.
Competition for Coffee Mugs
Bring some humor to your daily meeting by selecting the individual whose coffee mug best represents them! Feature the winner's face or a hilarious comment on a personalized mug to recognize their hard work.
Dress Casually for One Day
A planned "Dress Down Day" can do wonders to boost morale and productivity, no matter how strict the dress code at your business usually is. Employees will be more productive if they can shed the pretensions of dressing formally and concentrate on the work at hand.
Welcome Box for New Employees
Think about sending a welcome gift box to a new member in addition to having a streamlined onboarding process. An excellent new pen, a matching t-shirt, and a card written specifically for them can make a new team member feel even more excited about working with you.
A Day as the CEO
To show employee appreciation for their hard work, you may award one of your employees the opportunity to spend the day in the CEO's office. They will have a good time and get a feel for what life is like at the very top.
Plan a get-together outside
If your team members work from home, it may not be easy to celebrate a great win with food or drinks. However, heading outside for a trek or a socially distant picnic is something to think about.
Include a point-pooling option in your personalized rewards catalog so employees may use their time off to socialize.
Have Lunch with the Boss
Give employees the option to trade in their points for a virtual 1-on-1 lunch with the CEO or other members of leadership. It's a terrific way to help employees feel like a part of the company's more prominent family, which can increase their likelihood of staying with the business for the long term.
Honor Achievements
Rejoice on the occasion of each anniversary at your job! Make it possible for workers to view their coworkers' work anniversaries in the platform where rewards and praise are distributed.
Organize A Pool Party
Throw a pool party for your employees. Bring the music, beers, and snacks to the office if the weather is nice and you have the space. You can rent existing pools by the hour elsewhere.
Let Your Employees Help You Make Company Gear
Getting people involved in branded goods creation can enhance engagement and reward them. Whether it's determining where to position the logo on the next branded sweater or helping to choose photographs for the company calendar is a great way to thank them.
Arrange Yoga Session
Free yoga is a beautiful way to reward employees. It has benefits, claims Healthline. Many Yoga instructors will come to your workplace to educate all ages and abilities. So it's a reward for everyone!
Organize A Tournament at Work
Some of the best ideas for rewarding employees involve joyful fun and healthy competition. Ping pong or chess is fun for everyone. Run a few tournaments and let employees choose which to participate in.
Start a Library at The Office
Your employees' love of reading will outlive brick-and-mortar libraries. Buy a selection of books to start, and when an employee displays interest in a book, buy it for them and add it to the workplace library.
That way, they can read it for free, and so can anyone else. This employee reward encourages innovation, mental agility, and personal or professional growth.
Order Lunch for the Winning Team
Food is popular. Giving the winner the ability to order their favorite foods and share them with the staff motivates them and benefits the office. Try an office barbecue or a private chef if you're tired of conventional catering or pizza parties.
Visit a Brewery or A Winery
A guided brewery tour will make an excellent substitute employee reward if wine isn't really their thing. In addition to giving your employees a memorable experience, choosing a local brewery will help you support a neighborhood enterprise.
Schedule A Hackathon for A Day or A Week
Set aside some time to have a hackathon. Plan a day or a week in which everyone on the team is free to "hack" something, whether it's an old procedure, expired content, or an improved strategy for storing and retrieving resources.
The tasks that are completed during this period are often those that employees genuinely desire to complete but are frequently put off. Hackathons are a fantastic way to experiment, try new ideas, and use your abilities to use them freshly.
A Meeting with a Financial Consultant
Long-term financial planning isn't free. It has a substantial personal influence and provides essential knowledge for everyone's future. If money is part of your complete benefits package, consider thinking about having a financial advisor on hand to support your employees all year long.
Wheel of Fortune Style Prizes
Organize some prizes in the style of "Wheel of Fortune." After successfully completing the objective, your employees will get a turn at the wheel. Spinning the wheel will award you the prize.
Organize A Karaoke Day
Set up a karaoke machine during the afternoon and encourage your employees to sing their hearts out to show how much they appreciate them. It is highly recommended that you have some earplugs on hand.
Tuesday Night Football
Throw a gathering for the team or organization to watch Tuesday Night Football on television. Celebrate their hard work by ordering a couple of pizzas, getting some beverages, and eating and drinking together.
Cool Meetings
Every company's meeting approach is unique. Maybe your company's meetings should include healthy food and icebreakers. Employees might enjoy 15-minute music breaks in the workplace. Let your meetings reflect your culture.
Conclusion
Employee rewards are a technique to differentiate your business from the competition. They convey to employees that their efforts are appreciated and may even become established in the corporate culture. Each of these rewards expresses your genuine gratitude and recognition for the contributions made by your team members.
Creating a rewards system keeps your workforce engaged, happy, loyal, and driven. You should use some of these easy but effective employee rewards ideas. Make prizes and competitions part of your culture to cultivate an innovative, loyal workforce.
You can succeed and learn more about the personalities of your employees by conducting a survey. You can understand how to get employee feedback and enhance your company using QuestionPro Workforce. Check out QuestionPro Workforce to align, connect, and engage your workforce.