What is the Real-Time Summary?
The Real-Time Summary is a reporting tool-set that provides you with a quick overview of the real-time data. It gives a quick view of the percentages each answer option received and basic graphs, their mean values, and how many respondents have completed or not completed the survey.
To access the real-time summary report, click on Login » Surveys » Reports » Dashboard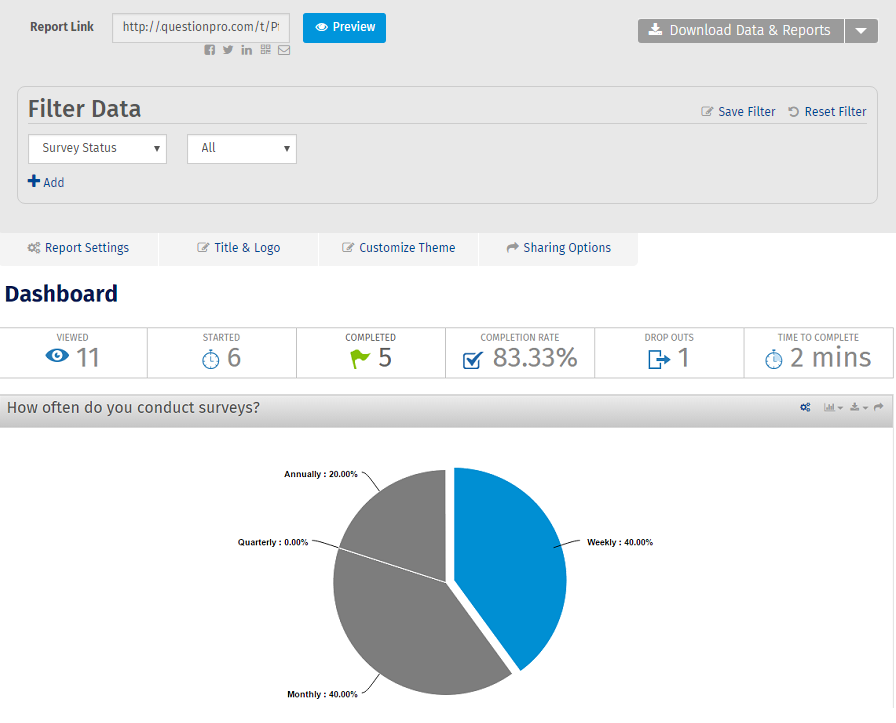 How can I filter the real-time summary report?
You can filter the real-time summary report using multi-level filters. The following filters are available:
Response Status: Filter responses based on whether respondents completed the survey or left it incomplete or got terminated via branching.
Question Responses: Filter your report based on how respondents answered to a particular question.
Custom Variable: If you have loaded custom variables, you can filter on them here.
Geo Location: This is available for corporate licenses and higher. You can enter the location to filter on.
Email List: If you have sent the survey to multiple email lists, you can filter by each list here.
Date: Filter data for a particular segment of time.
Language: Filter data for particular languages. (Available only for multi-lingual surveys)
Can I download the filtered report?
To download the filtered report, first apply your filters, then click Export and select any of the download options available. Any downloaded option will include the filters applied in the real-time summary report.

How can I change the report settings?
You can configure the real-time summary report from the Report Settings section.
Can I share my report?
You can share your report by clicking on the Sharing Options button under the Live Report Link.