From the Oval Office to Silicon Valley, our citizens and employees are demanding more from those who hold leadership positions. Across the nation, people have begun to organize and rally so their voices could be heard in unison by businesses and political leaders. These movements have caused quite a disruption among many businesses and overnight some workplaces have become somewhat hostile working environments. In order to maintain successful workplaces, business leaders need to address how they will guide their organization through a time of uncertainty by relying on their company's core values and mission.
Learn more: Leadership Assessment Survey Questions + Sample Questionnaire Template
"…only 23 percent of companies believe their employees are fully aligned with the corporate purpose." – Deloitte 2017 Global Human Capital Trends
Age old studies indicate that effective leadership starts by listening, which is actually applicable to every relationship. Luckily, there are small and easy-to-implement tweaks (take a 360 leadership assessment) that can be made to business systems, which in turn, will help reduce or eliminate bias—without changing anyone's instincts, feelings, or beliefs.
Develop a Strong Core Mission and Purpose
It is never too late to develop a strong sense of purpose for your employees. Your organization might be well established or in its infancy—the investment in what you do and why you do it will bring a sense of purpose and direction. It doesn't need to be a 6,000 word manifesto like Mark Zuckerberg's recent address to the Facebook community but the mission of your organization and values should be abundantly clear and resonate with every department and every employee. Providing a north star will improve your team's alignment and cohesiveness when working with cross-functional groups.
By linking values to OKRs, contributors can creatively drum up out-of-the-box solutions to get their team rowing in the same direction.
Continuously Invest in People
Human capital management is the single most commonly overlooked way to amplify an organization's potential. Many times, companies have not formally given the responsibility of designing and delivering a basic framework around employee experience. Inspirational leadership requires employees to feel that their work is important to the organization's success. In general, employees seek to work for a humanistic workplace that provides continual coaching and dynamic learning opportunities.
The basic culture must include recognition for loyalty and has a fair, inclusive and diverse work environment. This creates teams built for success—team members are challenged and wins are rewarded. To quickly gauge your workplace culture, purposefully step back and let your team members make decisions without guidance. You will quickly see the decisions they make on their own accord, and as a result, discover how and why individuals within the organization make decisions. This learning exercise provides insight into alignment and can be used as discussion points to empower individuals by mapping their career trajectory.
Build Rapport Through Transparency and Honesty
A number of studies indicate a clear positive correlation among companies where team members can freely voice their concerns with management, displaying higher retention and stronger performance. When employees are not able to speak freely with senior management, opportunities to improve are missed and this directly impacts the organization's top and bottom line. In today's technology savvy world, working side-by-side among colleagues might not be a viable option as scattered and dispersed teams are quickly becoming the norm. Businesses utilize talent from around the world that often comprises of freelancers or contract workers.
These work environments limit management's ability to maintain a close physical proximity to their team. However, an emotional connect with each and every contributor is necessary. Strong leadership requires building relationships—talking with employees rather than issuing orders. Start-ups tend to do this very well and utilize this as a strategic advantage to outperform their rivals by competing in areas of engagement, alignment and operational flexibility. To enhance the relationship with your team, consider the following: Do you feel your business leaders are authentic and straightforward with their organizations? If not, does your team feel comfortable bringing up difficult topics? The highest performing teams exchange feedback on a more regular and casual basis. Team members feel inspired if you are advocating for their cause.
Rethink Your Leadership Model with a 360 Leadership Assessment
The new model should include the concepts of teamwork, motivation, strategy, customer centricity, and communication.
Leaders today are expected to spread their message through digital means, whether it is through social media, a blog post, or a short video. Today's customers demand to know the person behind a product to measure authenticity and to see if their values align. During this digital age where stories are recorded and told over a variety of interactions, customers expect leaders to show their flaws and connect with their personal journey as they show vulnerability at times.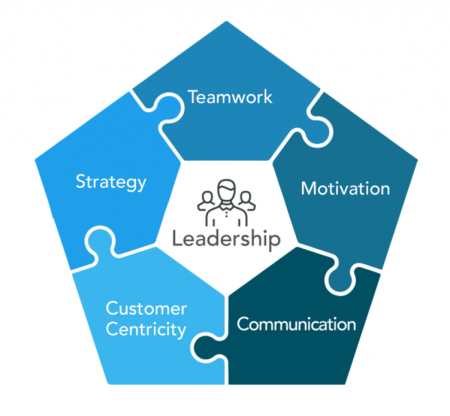 Earlier this year, our CEO, Vivek Bhaksaran took on a challenge to help his company and community by releasing a powerful 360leadership assessment tool free to use and share. The initiative stemmed from his unconventional idea to share his annual 360 leadership report with the rest of his 150+ employees. This action was quite a pivotal point in QuestionPro history as it was unprecedented to share a confidential report. Entire company was moved by his humility and his 90-day action plan to transform the organization. As a company, we made the collective decision that our internally-built-tool should be available free for anyone in a leadership position, anywhere, inside or outside of our organization.
Improving and investing in an employee's journey is an especially critical element of company's ability to thrive in a highly competitive globalized economy. When employees are put first, they turn this over and take care of customers and this improves top and bottom line performance and provides better ROI to shareholders. Listening to employees and providing and fulfilling their experience helps organizations retain skilled contributors. Digital-age leaders are required to build teams, keep contributors engaged, and drive a culture of innovation, learning, and continual improvement.
Our employee engagement platform offers help to HR teams in two ways:
Our Pulse tool provides answers for those who are looking for a way to measure employee engagement on an ongoing basis
Our 360 and Frameworks tools can help leaders understand how their employed talent is aligned with their business.
Organizations can update their employee toolkit by exploring ways to measure and keep employees engaged, using employee insight platforms such as QuestionPro Workforce.