Ensuring a positive and healthy employee experience is necessary for employee retention, positive work culture, employee morale, work experience, etc. But it's easier said than done. There are so many aspects involved, and it's not just one function's responsibility. HR teams are equally responsible as the management team, supervisors, and colleagues. Employees should be surveyed to know how their experiences are to improve them through various initiatives.
Top 6 elements that make an excellent employee experience framework
Having an employee experience framework will help you track, measure, and improve your staff experience. So what are some things that you can do to improve the employee experience? We have put together a framework for you; it is important to remember these are guidelines, and you may add, subtract, and modify as necessary for your organization. Let's look at the elements we think should be part of your workforce experience framework that will also boost employee engagement.
1. Communication
In an organization, no matter how big or small, communication has to be two-way, fair, and transparent. The leadership team needs to inform all employees of strategic decisions, management changes, or business goals. On the other hand, employees should be given freedom and mediums to experience their ideas, concerns, or suggestions. A dialog is as crucial to smooth business operations as is office infrastructure. To ensure a smooth flow of dialog conduct townhalls, regular meetings, and interactive organization-wide events.
2. Employee experience strategy
Since there are so many aspects involved in employee experience, it is ideal to have a strategy in place. Without that, you may be lost and find it difficult to prioritize your actions. Devise a strategy, stick to it, and be on the lookout to see what's working and what's hampering your staff experience. You can make changes accordingly. Remember, there isn't a strategy for workforce experience that works for all. We put out a detailed article on this some time ago. Here's how you can perfect your employee experience strategy.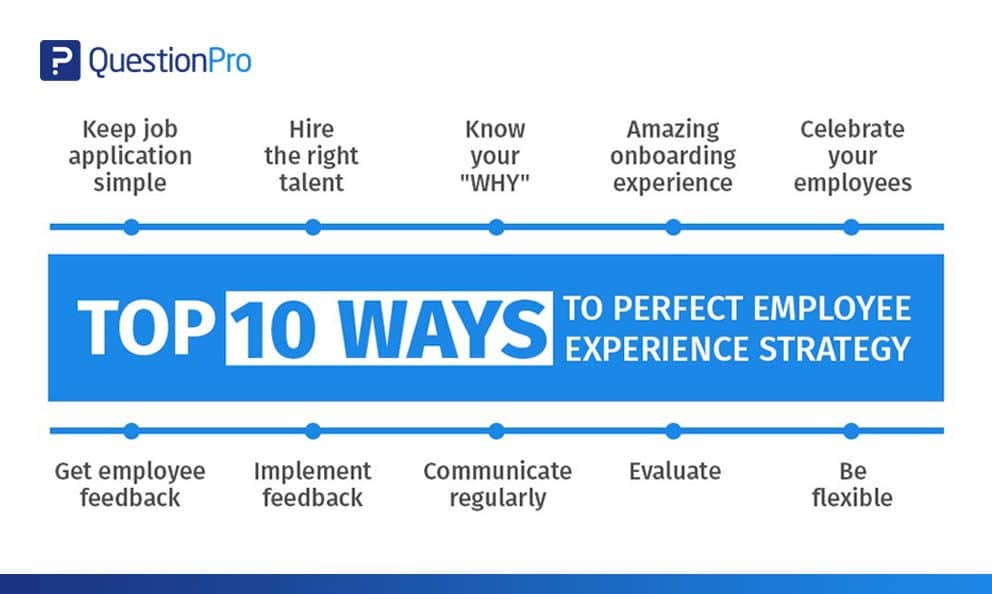 3. Employee experience design
All employees pass through the employee lifecycle, going through various experiences in their employee journey. Some of these may be unique, while some may be common for most. Supervisors, senior leaders, and HR Managers can derive from these experiences and take measures to improve the experience. Being empathetic is crucial to and instrumental in making effective changes to your people processes. A detailed blog on employee experience design was recently published on our website. Here are some tips to build an effective employee experience design from that blog.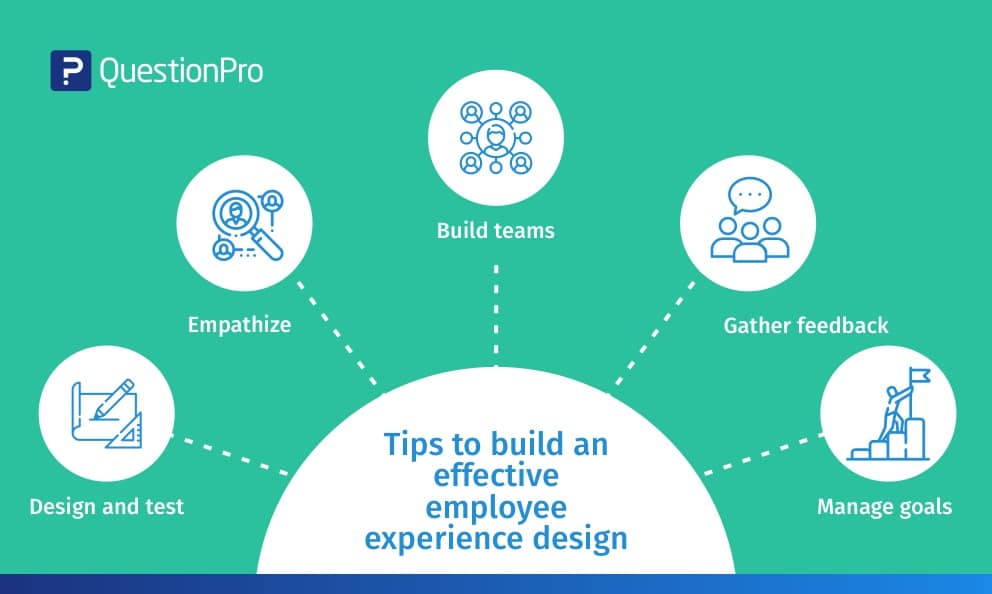 4. Positive employee experience
Positive employee experience is imperative to ensure employee intent to stay with your organization remains high. This not only helps in arresting employee churn but also improving staff productivity, workplace culture, and staff engagement. To ensure great employee experience you can focus your efforts on employee wellness, improving communication channels, career planning, and effective onboarding, among others. Here are some detailed tips and ideas to improve the employee experience.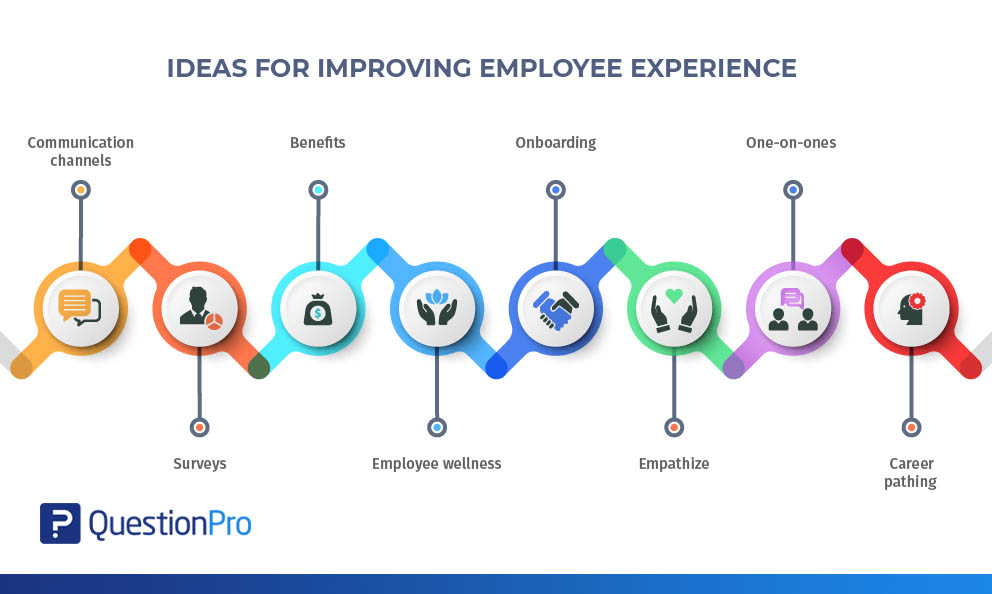 5. Continuous staff feedback
Organizations need to gather feedback from employees on a regular basis. They can do it via meetings or online employee surveys. How well are your employee initiatives doing? Do your employees feel engaged at work? Answers to these important questions and more can be gathered only when you solicit staff feedback. It may be hard to realize and fix gap areas without direct feedback from your staff. Make employee feedback a key piece of your employee experience framework. Organizations that focus on continuous feedback from employees have a higher rate of staff engagement and employee morale.
6. Employee feedback tool
Using online employee surveys such as engagement surveys or day to day work environment surveys to gather real-time information is a great way to ease your feedback efforts and also managing your performance management processes. Online employee survey tools or platforms come with a set of readymade templates that you can use to start collecting feedback right away. These can be modified to include your questions, brand themes, logos, etc. They provide in-depth analytics that lets you bring about informed changes in your employee initiatives. Brands need to understand and remember customer experience (CX) and employee experience (EX) are linked and they should focus on the employee experience first. Good EX will translate into a better CX. Using Employee feedback tools can help in getting information and ideas for improving EX.
QuestionPro Workforce is a one-stop solution for all your employee experience and workplace culture surveys. Create an account to see for yourself.