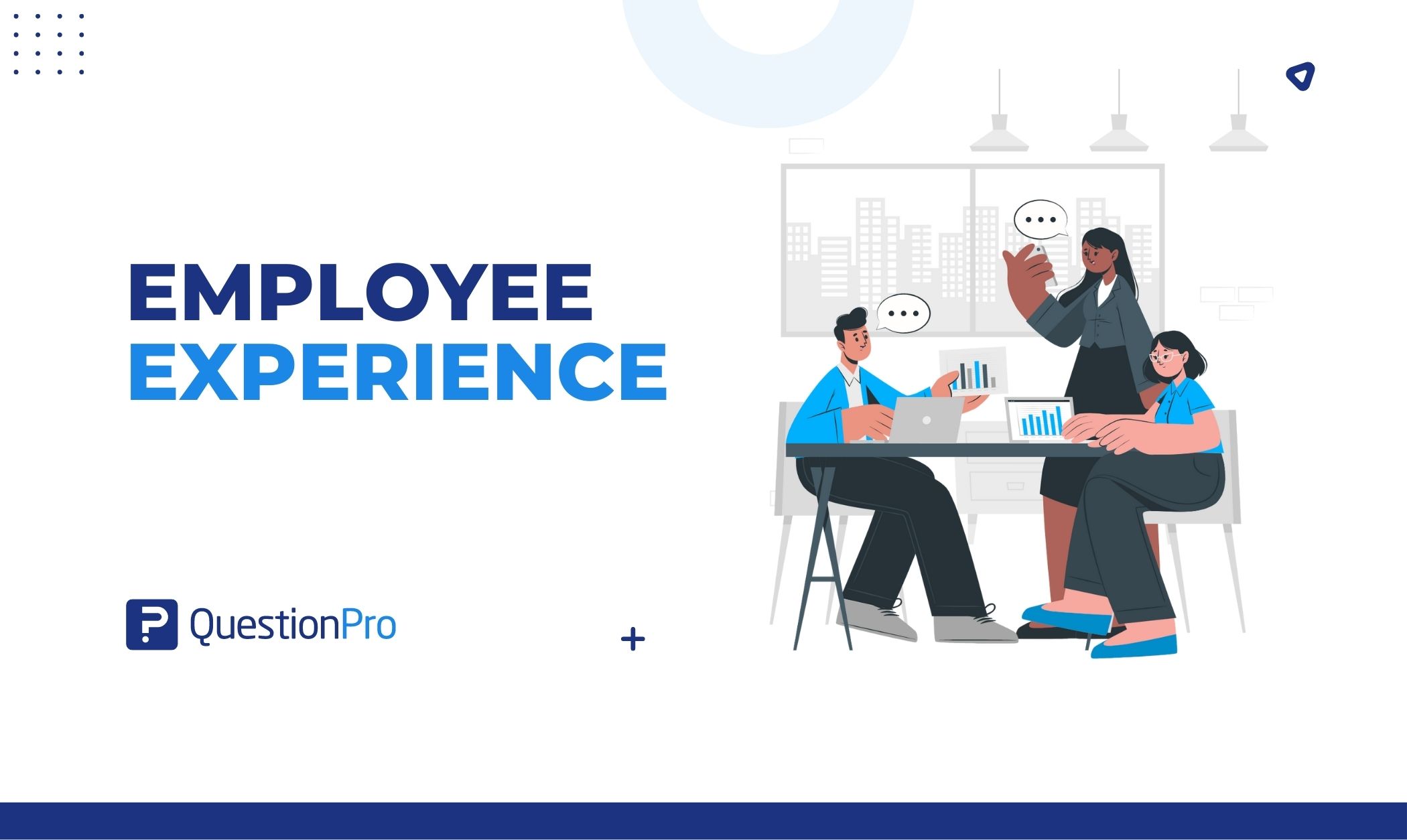 Companies are increasingly understanding the value of employee experience in today's quickly changing workplace.
LEARN ABOUT: Workplace Employee Experience Examples
Employee experience is critical in attracting, engaging, and retaining top employees, just as customer experience drives customer satisfaction and loyalty. Organizations must understand what employee experience involves, how to successfully assess it, and how to enhance it in order to establish a happy and productive work environment.
In this blog, we go over the definition of employee experience, provide examples of survey questions, and address a variety of methods for measuring and enhancing it.
Content Index
What is employee experience?
Employee experience is defined as the overall experience that envelopes what an employee has encountered, observed, or felt throughout the journey during their employment with the organization. Staff experience With the appropriate employee experience strategy, you can attract, engage, and grow top talent.
For example: Once a new employee joins an organization, the human resource team, their direct manager, supervisor, etc., check with the employee after a few months to gauge their employee experience strategy during employee onboarding.
LEARN ABOUT: Employee Experience Strategy
In the last decade or so, organizations, business leaders, and HR experts have emphasized improving the levels of positive staff experience. But what actually is staff experience?
It's an extensive view of the professional relationship between an employee and the organization from the day they apply for a respective job in the organization until the date the employee exits the organization. It applies throughout the employee life cycle, from the employee recruitment and onboarding process to career development and offboarding.
The absolute diversity of the experience that is associated with the employee journey- from interviewing and onboarding, employee training and development, and eventually employee exit means that the overall staff experience is not static.
In fact, the experience varies daily with respect to the defining moments and the milestones in an employee's career with the respective organization.
How to create an employee experience strategy?
Developing an effective employee experience strategy needs a thoughtful and strategic approach. Here are some steps to developing a staff experience strategy: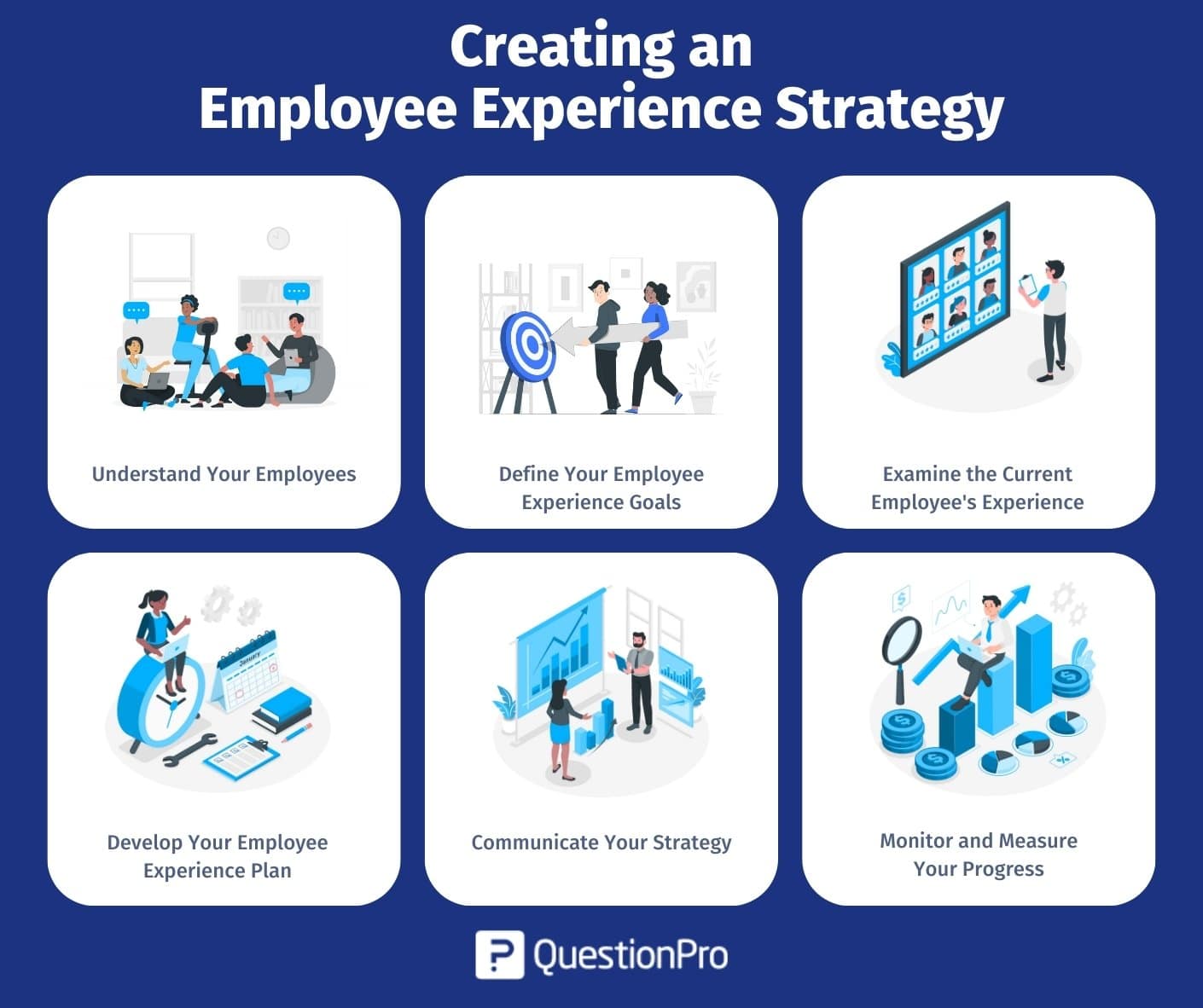 Understand your employees

Understand your employees' expectations first. Conduct surveys or focus groups to find out what employees appreciate most in their work experience and customize your strategy to their demands.
Define your employee experience goals

Establish goals for your employee experience plan, such as improving the employee lifecycle and hiring process, decreasing turnover, or boosting your employee recognition rate.
Examine the current employee's experience

Examine your HR rules, communication channels, workplace culture, and physical workspace to assess staff experience. Prioritize improvement areas based on staff experience goals.
Develop your employee experience plan

Create a plan to improve staff experience based on your findings. This could involve updating HR policies, offering training, or increasing communication.
Communicate your strategy

All employees should know your employee experience strategy and how you plan to achieve it. Implement your approach with employee feedback.
Monitor and measure your progress

Monitor your employee experience management on a regular basis by measuring important indicators, including employee happiness, engagement, and turnover. Use this information to discover areas for improvement and alter your strategy as needed.
Learn more: FREE Employee Survey and Human Resource Survey.
Why measuring employee experience is important?
Employee experience measurement improves engagement, satisfaction, and productivity for organizations. The rise of company review sites such as Glassdoor reflects employees' desire to learn what their experience will be like at a company. Here are some reasons why assessing staff experience is important:
Each step in the employee lifecycle is an important event that determines their association with the organization. Asking for feedback helps organizations understand if they are supporting their employees and helping improve their stay in the organization.
Collecting relevant information helps organizations understand what they are doing right toward creating a satisfied employee experience and what attributes they lag in.
It cannot be collected only during employee exit. It's far too late by then to make sure that your valuable resources have a satisfying experience in the organization. Employee feedback should be collected regularly.
Collecting information regarding staff experience helps the organization take necessary corrective measures well within time. The importance of staff experience cannot be emphasized more.
Make an employee experience framework to set standards for the whole employee journey. Conduct staff experience and workplace culture surveys. Gather employee feedback, share it, and act on it
Top 20 Employee Experience Survey Questions
As an organization, you want to know what is the level of employee satisfaction and employee engagement, but you should also know how to balance what you want to collect.
A staff experience survey is an awesome way to collect information in a more systematic manner. Engaged employees are more productive and bring other competitive advantages, such as improved employee retention rates and workplace safety.
Following are the top 20 employee experience survey questions you must ask your employees:
The most important staff experience question is the employee Net Promoter Score (eNPS) question, which helps measure experience and loyalty, employee satisfaction, and engagement.
You can use employee opinion survey questions. Those questions provide valuable insights into employee morale, enabling organizations to make informed improvements and foster an engaged workforce.
"Considering your overall experience with the organization, on a scale from 0-10, how likely are you to recommend the organization to your family and friends?"
Employee experience survey and employee satisfaction
1. Is there a proper understanding of the strategic objectives of the organization?
2. Is your role in the organization clear to you?
3. Do you believe you have an equal opportunity to have a stable career path in the organization?
4. Where do you see yourself in the next 5 years in the organization?
5. Are you satisfied with your role and responsibilities at work?
Employee experience survey and employee engagement
6. Do you receive constructive feedback from your manager?
7. Is there a strong feeling of teamwork and participation in the organization?
8. Are you provided with the right training if any new system or software is introduced?
9. Do you feel that the organization is supportive of a healthy work-life balance?
10. Are you satisfied with the organization's policies on rewards and recognition?
LEARN ABOUT: Employee Rewards Ideas for Employee Engagement
Employee experience survey and organizational development
11. Are you inspired by the goals of the organization?
12. Do you feel your organization's value aligns with your own?
13. Do you feel the organization is unbiased?
14. Is your work environment distraction-free and motivating?
15. Do you think your work environment reflects your company culture?
Employee experience survey and employee exit
16. What did you enjoy the most about your job?
17. Do you think the company policies are adequate? If not, would you like to suggest any changes?
18. Did you get along well with your team members?
19. What did you dislike about your job?
20. Is there anything that you would like to add to this discussion?
Measuring employee experience with examples
Measuring employee happiness at work is not the same as measuring the experience. Gone are the days when employee happiness was considered the barometer to measure an employee's overall experience at work or in an organization.
People can be satisfied at work because of a good experience and can be dissatisfied because of a poor experience. But they certainly don't mean the same thing.
It depends on various parameters that can impact an employee's work life. For example, most employees can cope with a poor experience because they are new and motivated enough to ignore the experience.
However, it is not advisable that businesses do nothing to improve the overall staff experience just because prospective employees can cope with a poor experience.
So here is a question that most organizations would ask, staff experience: quantitative or qualitative?
Logically this is the question every organization would ask "How to measure staff experience?" It's technically a mix of both quantitative (surveys, polls, questionnaires) and qualitative methods (one-to-one interviews).
In addition, by approaching the matter with a set methodology, we can measure what each business has done to improve or elevate the positive experience and its related consequences.
Let us understand how we can measure staff experience using quantitative and qualitative methods.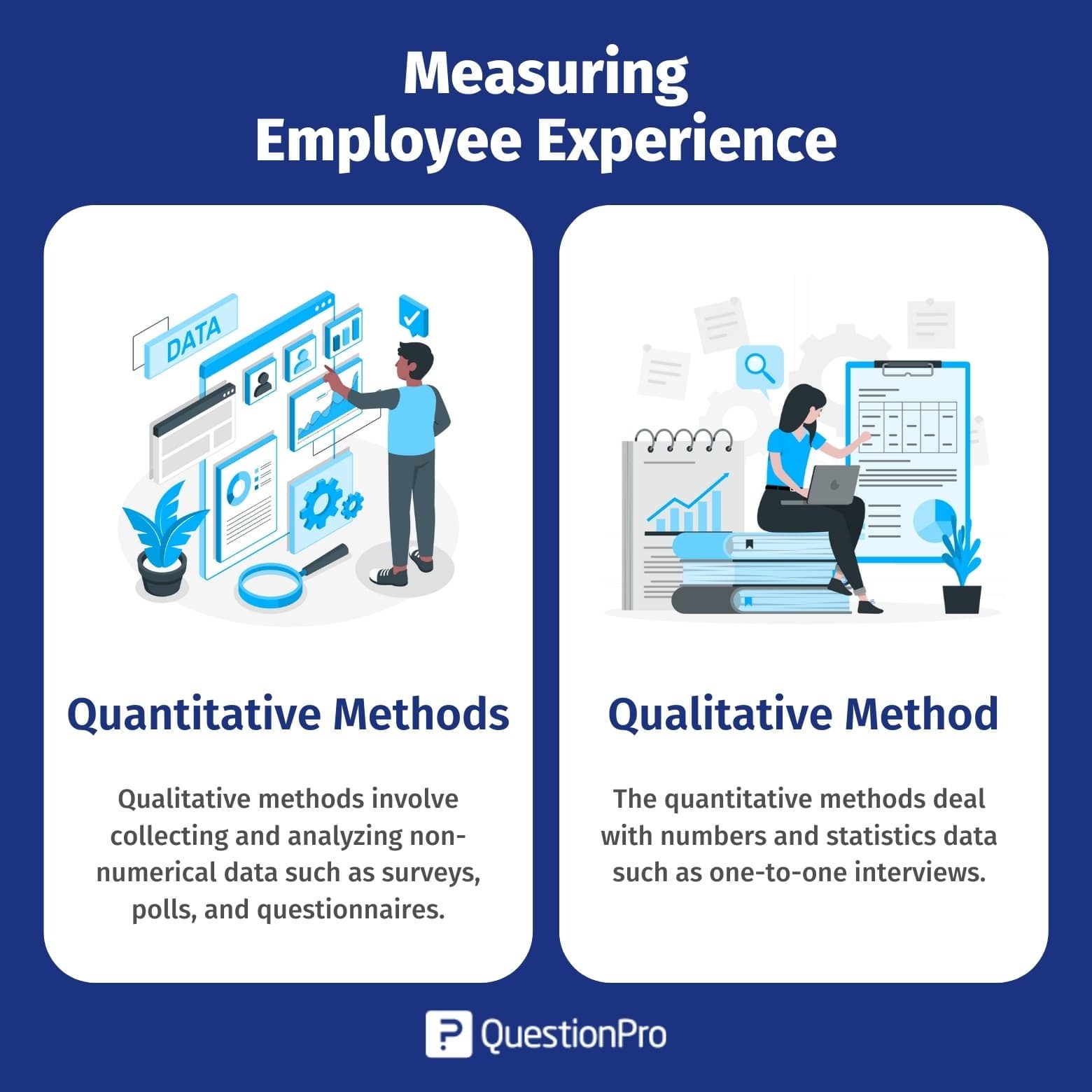 Quantitative methods
There are some quantitative methods you can follow to measure your customer experience:
Survey

An organization can measure staff experience by collecting and analyzing feedback surveys. A 360-degree review survey is a tool that can help organizations collect feedback from an employee, their peers, direct manager or supervisor, team members, and likewise.

Deploying employee surveys is one of the easiest ways to collect quick feedback. Send the employee safety survey online and collect meaningful data to make informed decisions.
Polls

If you are running short on time and need immediate feedback, then conducting a poll is a good idea. Draft a relevant poll question to help you understand the opinion and decisions. The poll should consist of a single multiple-choice question that will ask the employees about their overall experience with the organization.
Questionnaire

A questionnaire is a research instrument consisting of a set of questions that aims to collect relevant information from the respondents.

Questionnaires are typically a mix of close-ended questions and open-ended questions to collect appropriate responses.
Learn more: 360 Degree Feedback: Questions, Purpose, Advantages, and Templates.
Qualitative method
There are some qualitative methods you can follow to measure your customer experience:
One-to-one Interview

This qualitative method helps organizations collect non-numerical information. These interviews usually last for about 30 minutes and depend on the abilities of the interviewer to ask employee survey questions in a sequential manner that will help an organization collect a good amount of information.

During these interviews, the interviewer needs to ensure not to overwhelm the employee. Keeping the interview short and relevant will lead to collecting information that helps determine a positive experience.
Other methods
There are some other methods you can follow to measure your customer experience:
Biosensors

In this age of digital disruption, wearable biosensors are becoming increasingly popular and useful in personalized health and well-being. These biosensors can measure a human's physiological level, like heart rate, body temperature, blood pressure, etc.

These sensors can be used to analyze an employee provided an organization has their consent. These data sources and technology enable the organization to measure the indicators of staff experience.
Facial recognition

Many biometric technologies can scan and recognize an individual's facial expressions. These devices are installed in many organizations to recognize and identify their employees and anyone entering the organization.

These devices are more inclined toward the premises' safety and prevent trespassing. These days, biometric devices are equipped to record emotional recognition, and based on this, data is collected that can define the talent experience of the workforce.
Learn more: Employee Survey Software and Tool
How QuestionPro helps in measuring employee experience?
QuestionPro offers a range of features and tools to help businesses measure staff experience. Here are some ways in which QuestionPro can help in measuring staff experience:
Employee engagement surveys

QuestionPro provides pre-designed survey templates for measuring employee engagement levels. These surveys can assist in discovering areas where engaged employees are most satisfied and areas where they might improve.
360-degree feedback

The 360-degree feedback tool from QuestionPro allows managers and employees to provide feedback on each other's performance, which can aid in identifying areas of strength and weakness.
Employee experience surveys

QuestionPro offers a range of staff experience surveys to help businesses measure employee engagement, professional development, business performance, and overall exceptional staff experience.

These surveys are designed to be customizable and can be tailored to fit the specific needs of a business.
Pulse surveys

Companies may use these brief, frequent questionnaires to assess employee morale and engagement over time. Pulse surveys can assist companies in identifying and resolving issues before they become serious ones.
Exit surveys

Exit surveys can help explain why employees leave. QuestionPro's exit survey templates enable businesses to get feedback from departing employees to improve the staff experience.
Data analytics and reporting

QuestionPro's reporting and analytics help companies understand the feedback of employees. These systems can discover patterns, track employee engagement levels, and provide reports for stakeholders.
Learn more: employee engagement survey examples
Action planning tools

QuestionPro helps companies create employee feedback action plans. This can help companies identify areas for development and take action to improve the employee journey and workplace culture.
Organizations may improve workplace culture, increase productivity, and create a pleasant employee experience by harnessing the insights acquired from the QuestionPro employee experience survey. This leads to improved retention rates and overall success. Contact QuestionPro today!