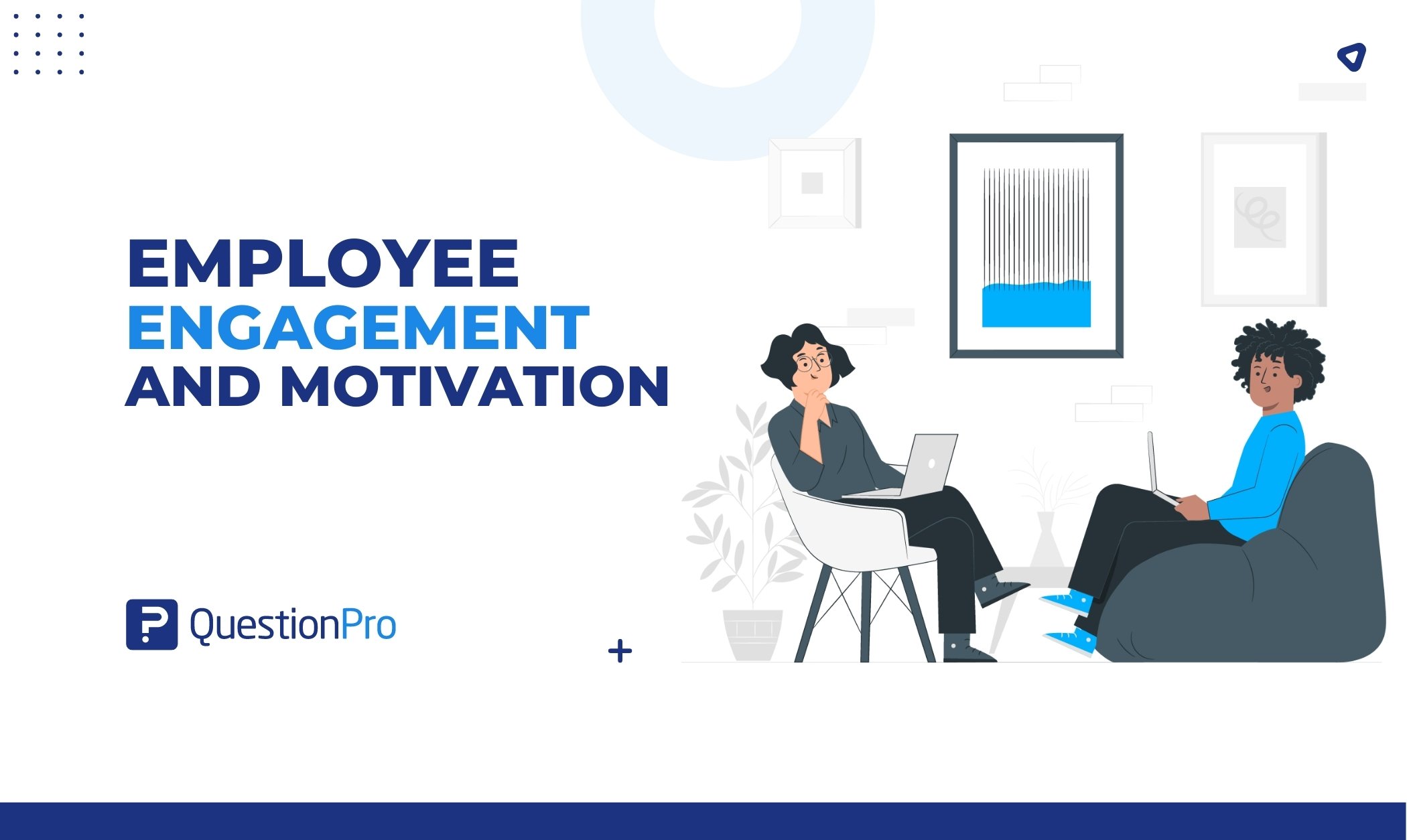 "The only way to do great work is to love what you do"- Steve Jobs.
One of the most important aspects of running a successful organization is having motivated and engaged employees. Employee engagement and motivation are one of the factors that differentiate between the ordinary and the extraordinary.
In this blog, we will discuss what employee engagement and motivation are and the differences between them.
What are employee engagement and motivation?
Employee engagement and motivation are two related but distinct concepts that are critical to creating a positive and productive workplace culture.
Employee motivation
Employee motivation is defined as the inner drive, enthusiasm, and energy that employees bring to their jobs. It is the driving force that motivates people to take action in order to achieve their goals and perform well at work.
Extrinsic and intrinsic motivation are both possible. External factors such as pay, bonuses, promotions, and recognition provide extrinsic motivation.
Intrinsic motivation refers to an individual's drive and energy that comes from within rather than from external rewards or incentives. It is the natural desire to engage in an activity for the sake of engaging in it because it is interesting, enjoyable, or personally satisfying. Internal factors such as personal values, interests, and passions drive intrinsic motivation.
LEARN ABOUT: Employee Rewards Ideas for Employee Engagement
Employee motivation and productivity increase when there is high employee engagement. Employee engagement helps intrinsically motivated employees to perform better.
It is critical because it is linked to job performance, productivity, and satisfaction. Motivated employees are more likely to take the initiative, be proactive, and complete their tasks with excellence. They are also more likely to be satisfied and fulfilled at work, which can lead to higher job retention and lower turnover.
Employee engagement
Employee engagement is an approach that results in giving an appropriate condition to all the employees in a workplace. It is more of a fundamental concept to understand the qualitative and quantitative relationship between employees and their workplace.
Engagement is important because it has a direct effect on employee performance, productivity, and retention. Engaged employees are more likely to do a good job, be productive, and stay with their company for longer. They are also more likely to be supporters of their group and tell others about it.
Unfortunately, there is no exact science of employee engagement or motivation.
Ultimately, the right combination of staff engagement and motivation is the recipe for success because it certainly is an art like cooking.
5 Steps to Success with employee engagement and employee motivation
Employee engagement and motivation are crucial to optimizing employee potential. You can succeed in this area by following these five steps: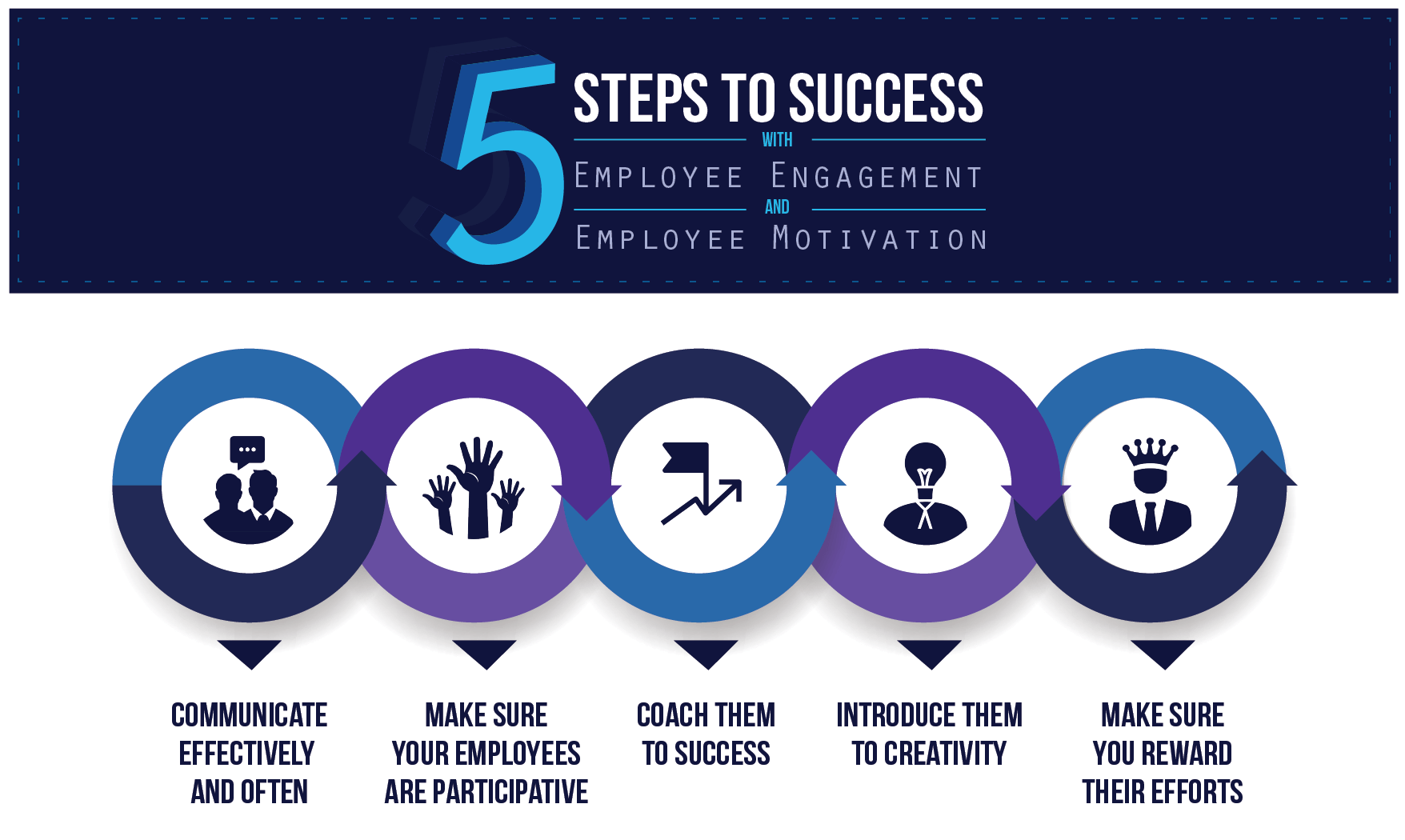 Communicate effectively and often

We have heard the phrase; communication is the key to success. Effective communication is an essential aspect of any workplace. To keep your employees motivated and engaged, as an employer, you need to make sure the communication is transparent and clear.
Make sure your employees are participative

Employee participation in the workplace is extremely important for organizational success. Organizing constructive games once in a while at the workplace helps employees get rid of anxiety and stress, and they get to know other employees better, encouraging healthy work culture.
Coach them to success

Sharing success stories, conducting timely training (with internal and external trainers or coaches), and similar activities can help your employees formulate a clear path to their success. Motivated employees and engaged employees are always an asset.
Introduce them to creativity

According to one of the great coaches, Dale Carnegie, if you keep doing the same thing in the same manner, you end up achieving less. Encourage employees to think out of the box. Don't rubbish their ideas of innovation, and you never know the suggestion can help you earn a million dollars.
Make sure you reward their efforts

Everyone likes employee appreciation once in a while, as an employer rewards your employee's efforts and dedication. It necessarily needs not to have to be big. A voucher, gift card, or simply a thank you note can help your employees perform better and walk in the direction of success.
Engagement and motivation, to a greater extent, are correlated. But there are some theories that talk otherwise. Some organizations weigh engagement and motivation separately. Therefore, they might have a different take on the two expressions.
Free ready-made template for employee engagement
As an employer, you would want your workplace to have both engaged employees and motivated employees. However, there are certain anomalies related to engagement and motivation.
Here are a few examples of how many organizations perceive staff engagement and motivation:
Employees feel an emotional connection to their work (Engagement)
Employees think the work they do is purposeful (Motivation)
Employees have a constant goal of learning and development (Engagement)
Employees show leadership qualities and take authority and control for tasks assigned to them (Motivation)
However, most organizations forget that this is the 21st century and individualization is the attitude. Customization in the approach of assigning work and giving feedback can motivate and engage employees, "than one size fits all" management theory.
When the organization recognizes the efforts put in by their employees, effectively communicates with them, and provides professional development opportunities, engagement as well as motivation soar.
It's always a good practice to know your employees and their concerns. It speaks of you as an effective leader; staff engagement and motivation are not a rare sight. But these attributes have to be nurtured and recognized in a timely manner.
How to engage employees and motivate employees in your organization?
Employee engagement and motivation are critical components of creating a positive and productive workplace culture. The following are some employee engagement strategy that businesses can use to engage and motivate employees:
Provide clear communication

Make sure your employees understand your company's vision, goals, and values. Maintain open lines of communication with them and provide regular updates on the company's progress.
Recognize and appreciate employees

Recognize and appreciate your employees' efforts and contributions. Employee recognition programs, such as employee of the month, annual awards, or team-building activities, should be implemented.
Offer growth and development opportunities

Provide opportunities for employee growth and development, such as training programs, mentoring, and career advancement.
Encourage teamwork and collaboration

Encourage employees to teamwork and collaboration by fostering a positive and inclusive work environment.
Provide competitive compensation and benefits

Offer compensation and benefits that are competitive to attract and retain top talent.
Foster work-life balance

Promote a healthy work-life balance by providing employees with flexible work hours, remote work options, and other benefits that support their personal and professional lives. Encourage employees to take time for themselves and log off after work to create a more motivated and productive workforce in the long run.
Solicit feedback

Request employee feedback and treat their comments seriously. This can help motivate employees to develop a sense of ownership and autonomy.
Differences between employee motivation and employee engagement
Employee motivation and employee engagement are two terms that are sometimes used interchangeably, yet they have significant differences. Some of the main differences are as follows:
Definition

Employee motivation is the drive, enthusiasm, and energy that employees bring to their work. It is the internal state that motivates people to take action toward their goals.

Employee engagement, on the other hand, refers to employees' level of commitment and connection to their work, their team, and their organization. Employees have an emotional attachment to their job and their workplace.
Focus

Individual needs, desires, and aspirations drive employee motivation. It is about what motivates each employee to work hard and achieve their objectives.

Employee engagement, on the other hand, is concerned with the employee's relationship with the organization. It is about how connected and committed employees are to the mission, vision, and values of the organization.
Duration

Employee motivation is often short-lived and can change depending on what each person needs and what is going on in their lives right now. For example, an employee may be very motivated to finish a project so they can get a bonus, but once the project is done, they may lose motivation.

On the other hand, employee engagement is when an employee makes a long-term commitment to the organization. It's how much an employee cares about his or her job and stays loyal to it over time.
Outcome

Motivation is about helping employees reach their own goals, while engagement is about helping employees reach the organization's goals. Highly motivated employees may reach their own goals, but that doesn't mean they will help the organization as a whole.

On the other hand, engage employees to care about the business's success and are willing to go beyond their own goals to help it succeed.

Motivating employees is about giving them the drive and energy they need, while employee engagement is about how connected and committed they are to their organization. Even though both are important for employee performance and the success of an organization, engagement is a long-term commitment that drives success as a whole.
How QuestionPro helps with employee engagement and motivation?
QuestionPro is a versatile survey and feedback platform that can assist organizations in effectively measuring and improving employee engagement and motivation. Here are some ways QuestionPro can help with these critical aspects of workforce management:
Employee feedback surveys

Organizations can easily create and distribute employee surveys using QuestionPro to collect feedback and insights from their workforce.

These surveys can be used to assess the effectiveness of existing engagement and motivation strategies, as well as to measure employee engagement levels and identify areas for improvement.
Pulse surveys

Pulse surveys are a type of short, frequent survey that can be used to get quick feedback from employees on a regular basis. Using pulse surveys, companies can keep track of how engaged and motivated their employees are and quickly spot any new problems.
Customizable feedback forms

QuestionPro has a variety of customizable feedback forms that can be used to find out how engaged and motivated employees are about certain things.

For example, companies can use these forms to get feedback on employee recognition programs or to figure out how well training and development programs are working.
Data analysis and reporting

QuestionPro offers powerful data analysis and reporting features that can assist organizations in making sense of employee feedback. Organizations can use these features to identify trends, uncover insights, and make data-driven decisions to improve staff engagement and motivation.
QuestionPro is an effective tool for measuring and improving employee engagement and motivation. Organizations can use QuestionPro to collect employee feedback, identify areas for improvement, and make data-driven decisions to create a positive and productive work environment.
So, improve your Employee engagement and motivation with QuestionPro! Get started now!