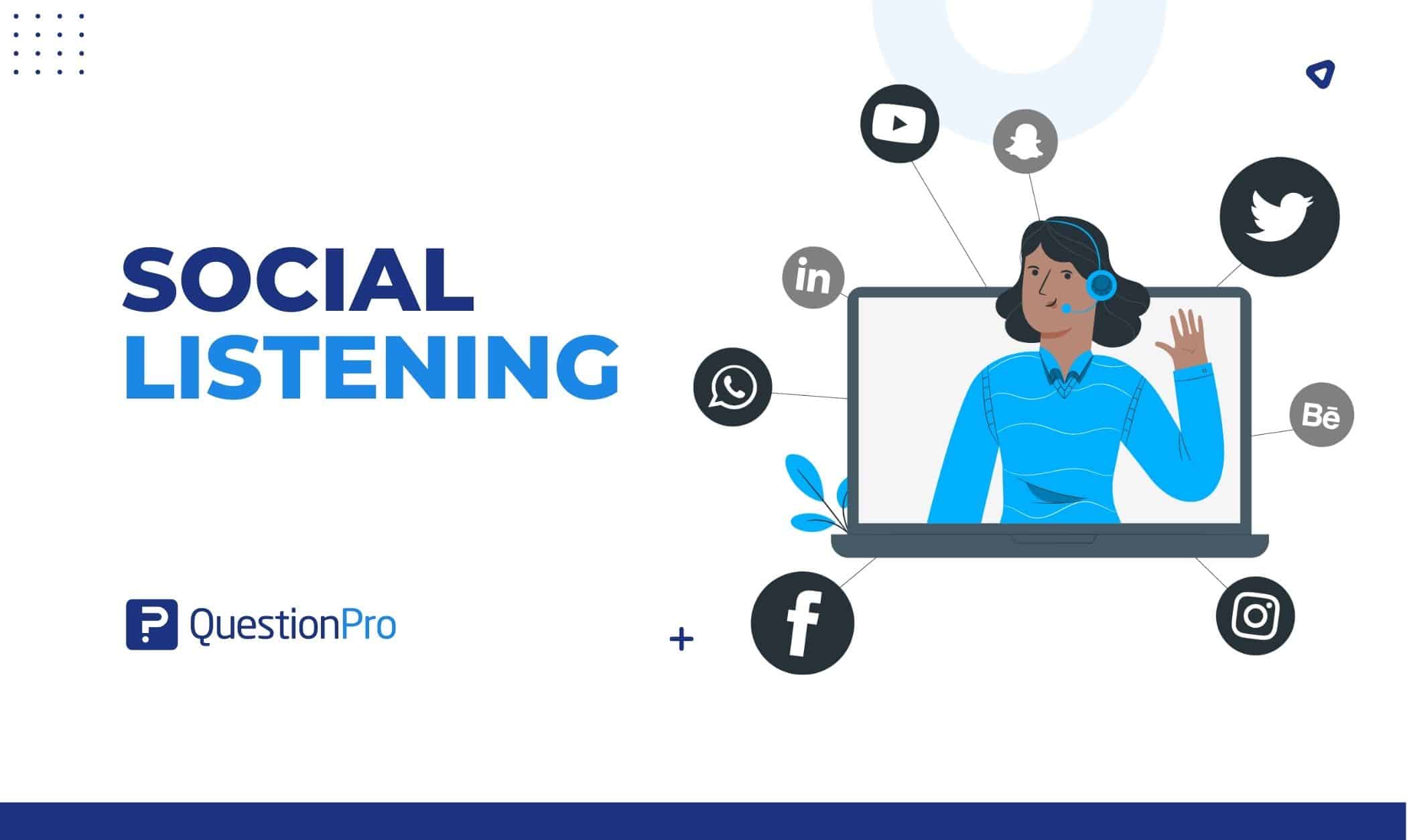 As a business, it is essential to comprehend how your audience perceives your brand, products, and services, and maybe most crucially, what they say about you in reviews, blogs, and social media. Let's talk about social listening.
By incorporating social listening into your branding strategy, you can ensure that your firm is meeting the needs of its target audience. Social listening enables brands to achieve online success and a positive reputation among customers.
If you have a social listening strategy, you can take advantage of some of the most valuable business-building data.
This blog explains what social listening is, why it is important, and how to do it.

What is social listening?
Social listening, also known as social media listening, is the method of locating and evaluating what is being said about a company, people, product, or brand on the internet.
Social listening entails monitoring social media platforms for mentions and conversations about your company, then evaluating them for insights to identify opportunities to act.
It involves two steps:
Step 1: Keep an eye on social media sites for references of your company name, competitor brands, goods, and industry-related keywords.
Step 2: Examine the data to find practical applications for your learning. That might be as simple as thanking a satisfied consumer or as complex as completely changing the positioning of your business.
For example, social media tracking reveals that your company is receiving excellent reviews for its customer support. You may learn from social listening which businesses receive the most attention for their exceptional customer service.
This indicates retail employee's devotion to helping customers. You can reward the team's hard work with a bonus or prize and utilize it to motivate other locations and teams. It's a win-win for customers, staff, and your organization.
Importance of social listening
Social listening will help determine your audience's thoughts about your business and brand. With this information, you can change and improve your branding, customer service, and even products or services.
You can use what you learn from social listening to make campaigns, send out relevant and exciting content, write important educational pieces, figure out what your competitors are doing better, and choose brand ambassadors.
Here are some more reasons why it's important to listen to other people:
Instead of assuming you'll know how customers feel
To ensure you are meeting client expectations, this data will help you allocate marketing and operational resources more effectively. Assumptions can lead to spending time, energy, and resources on ineffective campaigns and methods.
Your company's growth can be documented
You can use social listening technologies to track the evolution of specific perceptions of your brand. Then, you can assign these peaks and dips to a particular cause using additional measurements and specialized technologies.
For example, you may notice an increase in favorable attitudes following the debut of a product and demonstrate that the reason for your brand's recent growth is that people liked your product.
You'll be able to build stronger bonds with your clients
Customers value when brands establish sincere ties with them. They want to feel heard and understood by your brand and know that you care enough to take action.
Customers look to their favorite companies for answers to their queries and to respond to their remarks in a genuine (and, occasionally, insightful) manner.
Your customers can assist you in developing solutions
Customer complaints are important because you can utilize them to find solutions that will make your customers happy and more devoted to your business.
For example, social listening may reveal that your customers are dissatisfied with how your live webinars sell out rapidly and are difficult to attend.
With this knowledge, you can figure out how to let your customers still get the information by either supplying them with your presentation or recording the webinar for them to watch later.
You have content that is built in.
With the help of social listening, you can see what people are saying about your company, which could lead you to some great marketing ideas for your content marketing calendar that your consumers have contributed.
To truly demonstrate how real people are using your goods, you need to include user-generated material as part of your content strategy.
How to do Social Listening
The listening procedure is relatively straightforward, but you'll need the appropriate brand monitoring gear. Of course, you could do it manually, but it would take much longer and be less productive.
Here are 6 stages to setting up your social listening strategy.
Plan your objectives and build and maintain social media profiles
Spend some time defining your goals at first. There are several reasons to use social listening. Focus can easily be lost. The need to clearly state your objectives stems from this. Of course, your objectives may shift over time.
Create profiles on social media platforms where your customers may be found, if you haven't already, and interact with them by posting engaging content to ensure you have a solid online presence.
Be willing to join those platforms where your customers are active even though your overall marketing strategy may not permit a presence on every single one of them.
Select a tool for social listening
Although you can manually perform social listening and scour social media networks for worthwhile mentions, is this method effective? No. It will take a long time, and there's a reasonable risk you'll miss some crucial posts.
With automated tools, you may find the most common and significant mentions in social media.
Therefore, choosing the tool that will handle most of the work is essential once your goals are set. Typically, you may sign up for a trial to try out a tool before purchasing it.
Check these 5 elements when seeking the ideal tool:
Count of sources that are analyzed
Features that will assist you in reaching your objectives
Economical pricing
Comments made on websites that review tools
solution for customer service

Select the keywords you intend to track
Brand names, hashtags, particular keywords, and phrases can all be found in mentions that social media listening systems can monitor. Decide now what you wish to see. Choose terms that support your objectives.
Then consider:
The title of your business, item, or service
Your business's hashtag
Your unique campaign hashtag
Name of your CEO or any other well-known employee
Keywords associated with your industry.

Create a project for monitoring
It's simple to set up a monitoring project. The wizard for creating projects is displayed below. One item needs to be set up before a project can be run:
Keyword: The main word, hashtag, or phrase on which your project will collect data.
Extra settings for advanced users:
Project name
Required keywords (additional keywords): Each of these must appear for the mention to be collected (option)
Excluded keywords (Additional keywords): None of these can appear if the mention is to be collected.
Language
Source
Reports and notifications

Use data you get from social listening
It's time to examine social listening data after setting the project. You'll start seeing results in the Mentions tab whenever your keywords are mentioned on social networking sites.
Starting immediately, you can:
You can reply immediately on social media by clicking on mentions, which will take you there.
To choose the most effective social media networks, find sources that provide the most mentions overall.
Prioritize the mentions that are the most well-liked and significant.
Verify each mention's tone so you can promptly reply to bad comments.

Optimize, expand and continue
Keeping an eye on what people are saying online and developing action plans based on the findings is a component of social listening.
Make a plan for how frequently you'll watch social media to schedule regular meetings with the heads of operations, marketing, and other crucial departments.
The team can evaluate the findings of social listening and monitoring reports to determine what the business can do to enhance the present online sentiment, win the loyalty of new customers, or address an issue.
Conclusion
Social listening involves more than just monitoring stats. It's all about learning what your current and potential clients require from you and how to meet those demands better.
Make sure to examine recurring patterns and trends rather than simply specific remarks. These broad findings influence your future strategy most significantly.
You should now have a better understanding of the importance of social listening and some direction on how to incorporate it into your existing marketing strategy.
We at QuestionPro give researchers access to data-collecting tools like our survey software and a database of insights that can be used in any lengthy research endeavor. You should visit the Insight Hub to see a demonstration or learn more.