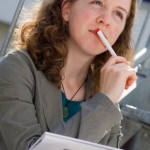 It's not always the economy, and you're not stupid.  The marketing process is a lot like the laws of physics, for every action, there's an equal and opposite reaction.  The trouble with sales is that there are so many variables, that it's hard to pinpoint where the problem is so that you can fix it.
The following is a list of 25 DIY Marketing strategies that you can try to build your sales back up to where they need to be.  I originally published this article on AMEX Open Forum.  But when I looked at it again, I realized that it's not enough to grab any of these strategies and just run with it.  You'll want to do some research to support your plan.
Customer research.  Although it's tempting to jump in and try to do anything, take the time to ask your customers what's important to them and what other alternatives they are considering to solve their problems.  Check out online survey tools like QuestionPro and SurveyMonkey.
Offer different sizes at different prices.  Pricing expert and author of 1% Windfall, Rafi Mohamed says that people will buy at price points that are appealing to them (assuming they have a need or interest in your product).  Give your customers the opportunity to try and buy.
Add new products.  Consider the possibility your customers want something else. Do your research and check your profit margins before you expand your product lines.
Drop Unprofitable products.  Profitability is more important than sales.  Evaluate your product lines and drop products that aren't passing profit muster.  Another option is to raise prices on products that are unprofitable.
Bundle products.  McDonald's is king of the bundle.  Create a value offer that moves product at good margins and gives customers great value.
Find new markets.  This is a favorite strategy.  Look for emerging markets that have a need for your product or capability.  Open your mind and ask "what if" or "in what ways" questions to see how to penetrate more profitable markets.
Provide home delivery or offer monthly delivery.  Combine a distribution strategy with a subscription model to create repeat sales.
Develop new, more varied uses for your product.  We wouldn't know that there were millions of uses for baking soda if Arm and Hammer didn't pull them together and advertise them.
Change the name to reflect new market. If you're launching into a new market, change the name of your product to better reflect the benefits your product provides.
Test higher and lower prices in different markets. You don't have to charge the same price in the same market. Different markets have different needs, charge accordingly .
Try different distribution channels.  Distribution means being within arm's reach of your customer and their wallet.  Think of the different ways you can do that; email, direct marketing, catalog, direct sales, kiosk, manufacturers rep.  The possibilities are endless.
Try new sales incentives and commission structures.  Sales people spend effort where they will make the most money.  Take a close look at your commission structure and make sure that you are rewarding sales people for profitable sales.
Change how you sell.  Don't just assume your current sales strategy is optimal. Consider using affiliates, partners, home parties, catalogs, internet, etc.
Change or adjust your sales process or system.  Your sales process might be out-dated.  Take the time to explore new strategies such as Craig Elias', Trigger Events or Jill Konrath's  SNAP Selling.
Develop or focus on lead generation program.  Where are your leads coming from and are they good leads.  Take a good hard look at your conversions from trade shows, web sites, etc and start optimizing all of them to attract your ideal customer.  For help, check out HubSpot – they are masters of inbound marketing.
Develop a personal follow-up program.  Most sales are lost because our follow-up systems stink.  Map out your sales process and develop a follow-up system that touches your customer at least 7 – 10 times.  For help, visit Constant Contact, aWeber and InfusionSoft  and the new Nimble.
Provide free troubleshooting. Don't sell and run, help your customers over buyer's remorse by providing them help in using and loving your product or service.
Build a customer/user community.  Don't forget the power of social media.  Create a customer community using a Facebook page or Twitter, these tools aren't just for big companies or consumer groups.  If social media isn't your thing – create a customer community using the SurveySwipe mobile survey platform and ask your community questions.
Institute a referral program. Word of mouth is powerful, so create a referral system that rewards fans of your company or product.
Use QR codes to drive customers to coupons.  Research shows that customers love grabbing coupons from their mobile devices.  Use QR codes to reward them for buying.
Create a video couponing page. Groupon has gotten mixed reviews for small business – but Video Coupons are a whole new ball game.  Customers love video and remember twice as much as ads they see on TV and Video coupons are inexpensive and easy to do.
Offer financing or multiple payment plan.   QVC already knows that customers will buy more and spend more if you offer a payment plan.  Remember customers love to buy in increments of $20. So make your monthly prices $19.99, $39.99, etc.
Volume discounts or bundle discounts.  Reward your customers for buying more items more frequently.
Establish a customer club.  Even restaurants can have a customer club.  Charge a monthly fee to receive coupons, free gifts and invites to special events.
Develop a contest to build leads, communities and excitement.  Contests build community and customers.  Use powerful social media tools to manage yours.  There's even an online app to help you create and manage contests – Wildfire.
Direct marketing to target customers.  Three-dimensional, snail mail marketing is still extremely effective.  Select a target group of customers and send them special offers.
And there you have it.  This list is long but not even a sliver of the possibilities that are available to you.  Look at declining sales as a signal that it's time to change it up and use this list to get you started.