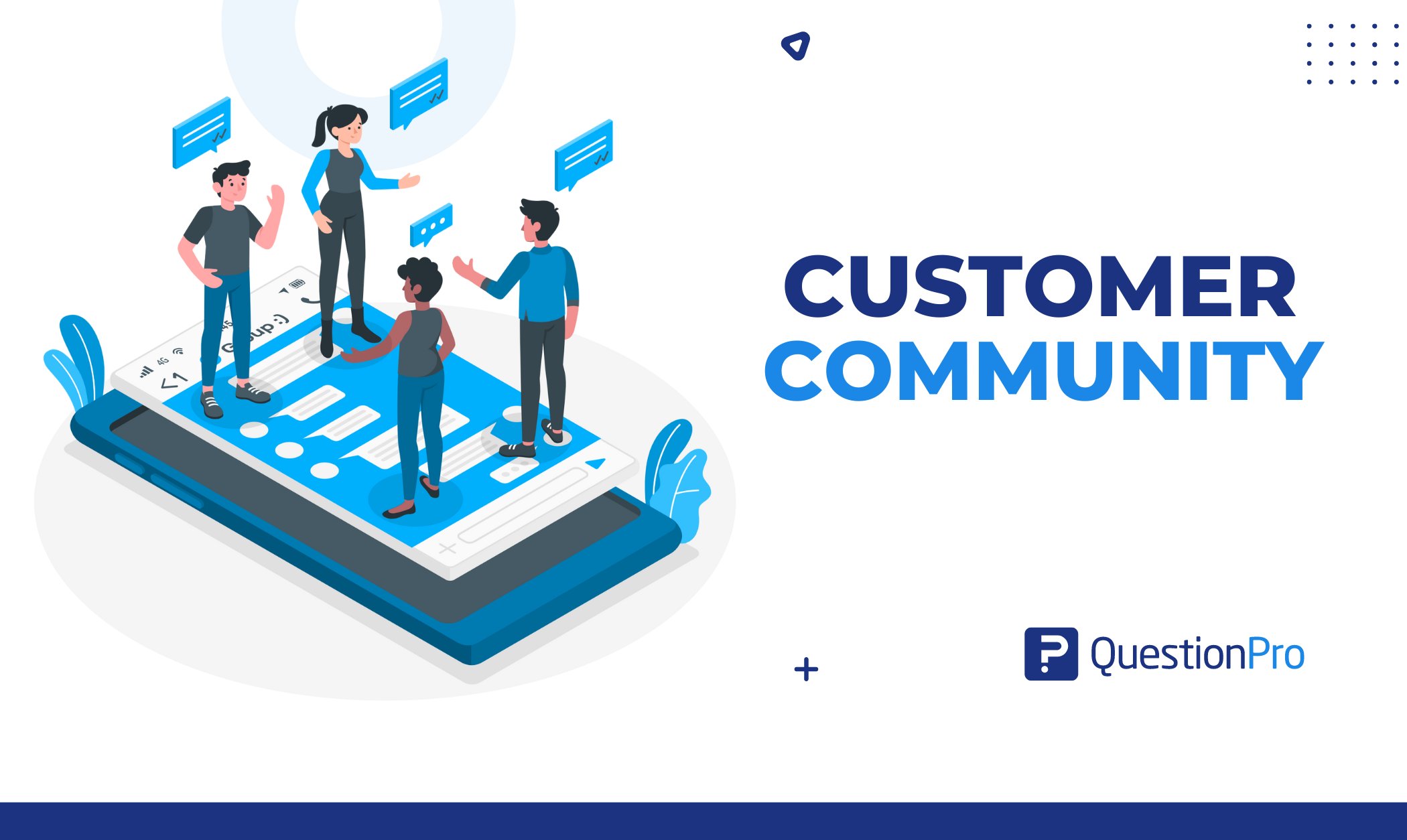 Building a strong and loyal customer base is more critical than ever in today's fast-paced and competitive business landscape. One effective way to achieve this is by creating a thriving customer community.
But what exactly is it, how can you build and maintain one, and why is it essential for your business's success? Let's dive into these questions and explore the significance of fostering a customer community.
Definition of customer community
A customer community is defined as places or platforms for customers, experts, partners, and others to discuss a product, marketplace, post reviews, brainstorm new product ideas and engage with one another about a company's products/services/brands.
Online customer communities are online platforms for similar activities. They have gathered steam in recent years, majorly because of the boom in social media platforms, the evolution of smartphones, and the cheap and easy internet availability. These technologies have facilitated communication-making interaction smoothly and easily.
This is the era of customers. This has been an important factor in fueling the customer community, which has gained powerful dynamics with businesses and brands. Consumers have a greater say in deciding the product's price and negotiations in terms of deals they want to strike.
Learn more: What is an Online Community Portal?
This attribute has also revolutionized and promoted the democratization of how information flows online. Instead of just a few expert sources providing information online or offline, consumer reports and the consumer community have become trusted sources, as the information offered on these platforms is first-hand. Customer networking is yet another outgrowth of a customer's voice becoming supremely important.
Customers have turned into communities because they offer real-time information to engage with a company, as opposed to the more traditional communication channels. Customers sometimes promote anonymity to discuss or write about poor customer service without having their information attached to the comment.
Learn more- Focus Group: Definition, Questions, Types, Examples, and Advantages
Methods to build a customer community
Customer community communication can be carried out using the following platform (online/offline):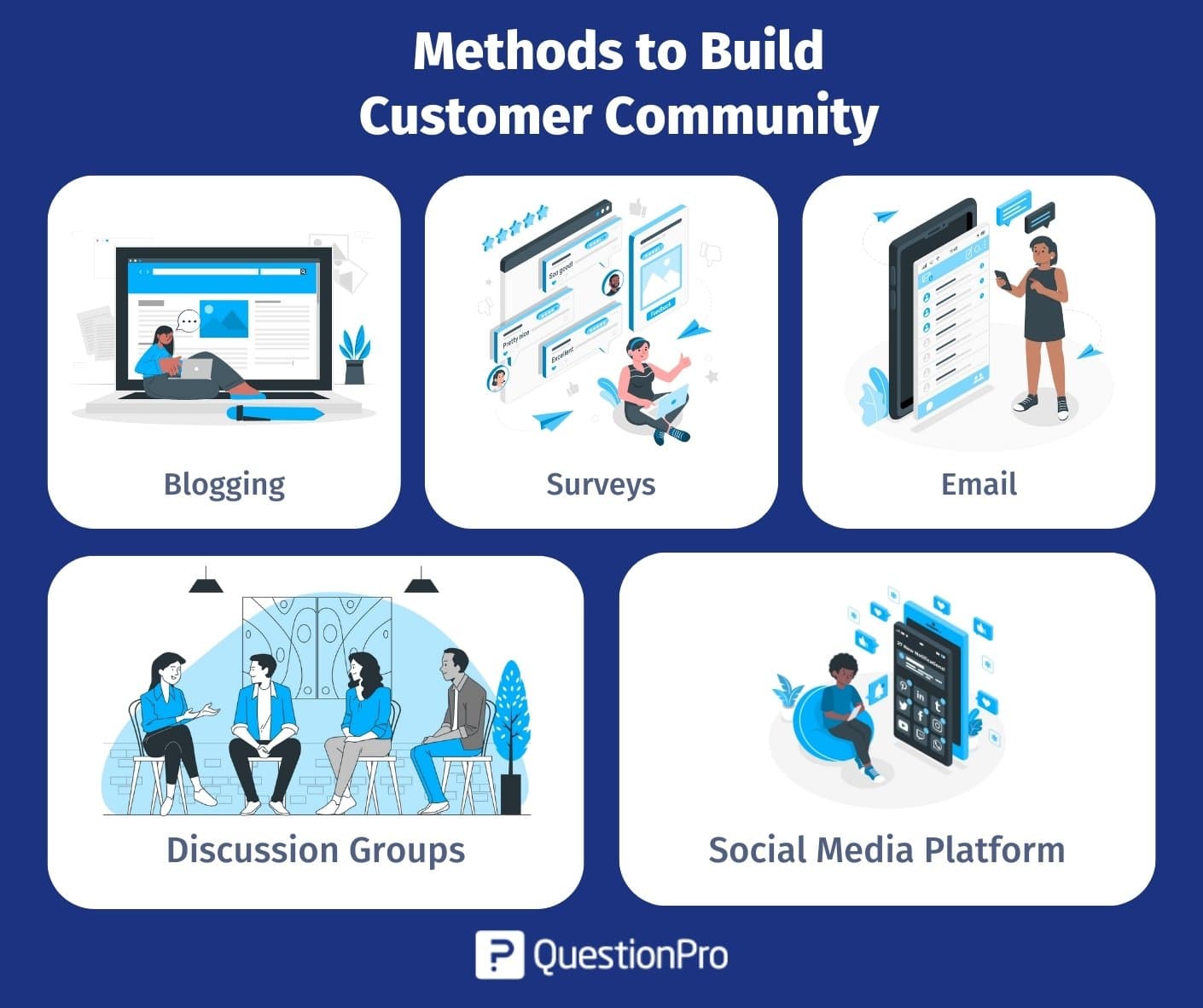 1. Blogging
Corporate blogs serve as an important platform for customers to post their opinions and for other customers to post their opinion on the products or services discussed related to a business or a brand.
2. Surveys
Surveys have always been the most powerful tool to collect feedback from customers. Create and conduct surveys, polls, and questionnaires to collect opinions and use them as a platform where you can create a dedicated dashboard to view the overall analytics of the responses received from the customers.
3. Email
Send emails to a selected group of customers and ask them for their opinion. High-end, loyal customers are usually the ones who render the most honest responses. Use these responses to make the necessary changes to your products or services.
4. Discussion Groups
Discussion or focus groups are one of the most candid ways of understanding customers' feelings. Customers can ask questions and discuss issues directly with the company employees or representatives and other customers in the forum organized by categories and topics.
5. Social Media Platform
In the last decade, social media platforms have become extremely effective for customer voice and opinion. This platform has democratized the entire outlook of customers voicing their concerns. Community members can do the same things in online customer community building, such as posting an update, uploading and sharing files, links, pictures, commenting, etc.
Learn more: Community survey software
10 critical questions to ask before building a customer community
What is the fundamental reason for building a customer community?
It is important for you to understand why you are building customer communities. Some of the reasons could be to improve the quality of your products and services, make your brand community more visible, increase customer loyalty, etc.
How many members do you want in your community?
Decide whether you want a closed or public community where users can simply add themselves, or would they need an invitation from an existing community member? The number of active threads you are expecting at one time and other such requirements.
What is the user's job title in your consumer community (both company and role)?
If the users in your consumer community have sufficient product and company knowledge, will you be getting GDPR compliance, will you exclude members from certain countries etc?
How much information will they be sharing in a given year?
The information shared will be in terms of a number of topics, posts, leads, deals, etc. So before you start a community, ensure you have answers to these questions.
Do you wish to have a community moderator?
What are the legal terms of use you are expecting when you build a community? Would you need a moderator to facilitate the discussions amongst the community members? Will some discussions be related to topics that may hurt others' sentiments? You need to be careful to think of the consequences first.
What analytics are you aiming to achieve?
Real-time alerts, social media monitoring, daily reports, executive dashboards, etc., are the analytics and data you can collect from such customer communities. Know beforehand what your needs are.
What will be your usage patterns?
Will your user be using the single sign-on or direct log in? Will they be logging in through the mobile device, how often do you expect them to log in, and how long will they stay on the site? These questions are important
What will your customers come to the community for?
What are your customers trying to achieve by logging into the customer-branded communities, with whom are they trying to communicate, what information will be shared on the platform, etc?
Do you need ambiguity from your customers?
There will be certain topics that will require ambiguity of the customer or a hidden customer identity. If such is the case, then these criteria should be pre-mentioned. Also, a survey disclaimer should be shared with the participants.
What is the content horizon for the community?
What will be your content archiving strategy? Will some data get hidden after a few months? Will this be automatic, or this has to be done manually? Will humans do it, or do you want an artificial intelligence interface?
Learn more: 4 Reasons You Should Conduct an Online Community Research
Why do you need to consider a customer community?
A customer community manager won't thrive without both a compelling reason for existence and modern but easy-to-use technology. One of the giant market players in the digital camera industry failed to thrive because of these two reasons. Let us go further and understand why you need such a community:
1. To empower your customers
Give your customers a destination where they can access first-hand information from backend systems, apps, and other records. Through these platforms, your customers can discuss and add comments, and you, as a business or a brand,, can pick those feedback to make necessary changes in your products or services to make them more market acceptance.
2. Give your brand a 360-degree boast
Out-of-the-box thinking, seamless customer experience, and providing a suitable platform for them to interact and communicate will give your brand the boost and a competitive edge against all other similar players in the market.
3. Get answers from experts- your customers
Create a vibrant consumer community that keeps customers coming back time and again. Add updated questions, answers, and other relevant material to engage your customers. Offer personalized feedback to them and make it easy for them to collaborate and turn your customers into your brand ambassadors.
4. Give them a fine customer experience
Make sure you personalize every touchpoint by delivering information based on the customer insights profile information. Remember, nothing hurts more than providing wrong information. Give your customers the most relevant answers to the questions they ask.
Learn more: 5 Ways to Engage Your Community Members
Benefits of a customer community
A customer community can bring numerous benefits to a business, enhancing its overall success and strengthening its relationship with customers. Here are some key benefits of having a consumer community:
Increased customer loyalty
A thriving community fosters a sense of belonging and brand loyalty among its members. When customers feel connected to brand advocates and fellow users, they are more likely to remain loyal and continue using the products or services.
Satisfied customers within the community become brand advocates, spreading positive word-of-mouth about the business. This organic form of marketing can significantly impact potential customer's decision-making process, leading to increased brand awareness and customer acquisition.
Valuable customer feedback
Customer communities provide invaluable feedback and suggestions. By actively listening to customers' needs and pain points, businesses can make informed decisions about product improvements, enhancements, and overall customer experience.
Improved customer support
Peer-to-peer support within the community can reduce the burden on the customer support team. Members can help each other troubleshoot common issues, share solutions, and provide tips, leading to faster problem resolution and improved customer satisfaction.
Innovation and co-creation
Engaged online community platform members often provide innovative ideas and suggestions for new products or features. Involving customers in the co-creation process can lead to offerings that better meet their needs, ultimately driving innovation within the business.
Market insights and competitive advantage
Customer communities offer real-time market insights. Understanding the discussions and trends within the online community can give businesses a competitive edge and help them stay ahead of industry developments.
Customer retention and reduced churn
A strong community can contribute to reduced customer churn. When customers feel supported and engaged within the community, they are less likely to switch to competitors.
Upselling and cross-selling opportunities
Customer communities provide a platform to showcase additional products or services, facilitating upselling and cross-selling opportunities. Existing customers with positive experiences are more likely to explore and adopt other brand offerings.
Enhanced brand reputation
A vibrant community forum helps build a positive brand reputation. Members sharing their success stories and positive experiences boost the brand's overall perception, attracting new customers and building trust.
Being part of an existing user community empowers customers by giving them a voice and a platform to express their opinions. This empowerment can lead to increased satisfaction and a stronger emotional connection with the brand.
Customer communities can lead to cost savings in marketing and customer support. Organic word-of-mouth marketing and peer support reduce the need for extensive advertising and dedicated support resources.
Conclusion
Building and nurturing a customer community can significantly benefit your business in various ways. By fostering a sense of belonging, encouraging customer engagement, and leveraging the collective knowledge of your customers, you can create a loyal customer base and stay attuned to their needs.
As a result, your business will thrive, and you'll be better equipped to adapt to the ever-changing market dynamics.
So, if you still need to invest in a customer community, it's time to start thinking about how to build one that brings value to your customers and your business. Embrace the power of community, and watch your brand flourish!
QuestionPro can help in various communities by providing robust survey and feedback tools. Businesses can use QuestionPro's surveys to gather community members' insights, opinions, and suggestions. This helps in understanding customer needs, improving products, and fostering engagement. With QuestionPro, businesses can nurture a thriving customer community and boost brand loyalty.