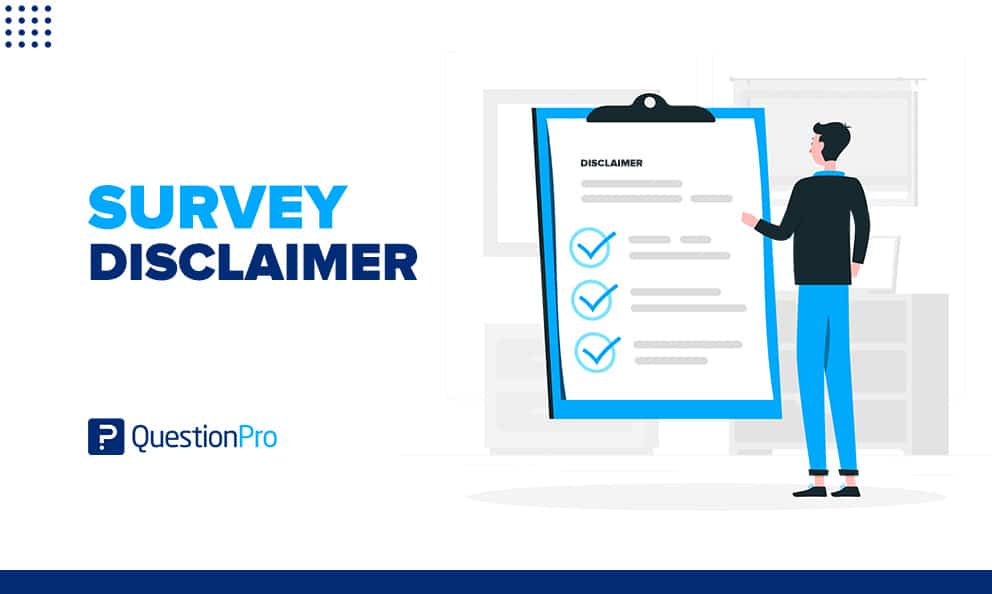 Surveys are an effective means of data collection. However, it might get difficult for you to get respondents to take an online survey if you don't assure them privacy. Or if they are skeptical about how their answers will be used. After all, everyone wants to know the survey goals and objectives before answering the questions.
Adding a disclaimer in the questionnaire is an excellent practice to get more responses. It aids in reassuring the audience that their data is safe. Organizations can stay transparent and let the participants know how their responses will be used.
What is a survey disclaimer?
A survey disclaimer is a way for researchers to reiterate their privacy policies and data security measures. You can let the survey takers know what they can expect after answering the questionnaire.
A survey disclaimer is a way to ensure that the participants know if their responses will be anonymous or used for any marketing purposes. Organizations can take this opportunity to let them know if their data will be shared with any third party.
Usually, people do not go through the terms and conditions before consenting to the survey. Most participants would quickly glance through the policies and tick the 'I agree to the terms and conditions.' checkbox.
Adding a survey consent statement will ensure that the participants know what they are about to do and how their responses will impact the research study.
Why do you need a survey disclaimer statement?
A survey disclaimer or survey consent statement is not mandatory to include in the survey as per the laws. However, many government regulations such as GDPR, HIPAA, CCPA, and others aim at protecting consumers' privacy.
Survey participants might not want their names to be disclosed with sensitive information, and so you can let them know about the various data privacy and security measures your company takes. 
One of the reasons respondents are reluctant to share their Personal Identifiable Information (PII), such as email addresses is they fear they will get promotional, spam or junk emails. Hence, market research companies should show a survey disclaimer statement before asking the questions and highlight if their PII  is safe. If no PII is being collected, mention the purpose of the survey and how the data will be used.
Here are why you should add a survey privacy disclaimer or ask consent questions.
It increases the credibility of researchers: Respondents will be willing to answer questions once they know their anonymity, privacy and confidentiality.

Get more responses: Respondents are likelier to answer questions from a trustworthy organization, increasing the

 survey response rate

.

Industry best practice: It is good to share with your survey participants that your survey tool and method adhere to various data privacy laws and regulations.

Allow participants to decide if they want to answer the survey or not:  Let them know how you are going to use the data, and then give an option if they want to proceed further. It also emphasizes that respondents' consent matter to your organization.
Example#1: Survey disclaimer statement
Consider a student wants to conduct research on alcohol. If the sample audience is evenly distributed, it is likely that a few people may not consume alcohol. Below survey consent statement provides more information about the survey and checks with the participants if they are willing to proceed further with the checkbox 'I agree".
Example #2:  Anonymous survey example
Researchers often struggle while choosing between the ability to track the respondents and not linking their identity. Keeping responses anaonymous ensures the responses are honest and accurate, while the identity details allows researchers to contact respondents if further inputs are required.
QuestionPro allows our users to maintain the privacy and confidentiality of the survey participants with Respondent Anonymity Assurance (RAA). There will be a link to more details for surveys with RAA enabled in the footer. Once it is activated, it cannot be removed or edited by the researchers.
Important points to consider while drafting a disclaimer for your survey
The disclaimer statement depends on the type and purpose of the survey. For instance, if you are ride-sharing app asking feedback after a trip, then there is no need to add a disclaimer. However, if you are conducting a deep medical research study, it is advisable to draft a consent statement for your questionnaire.
Here are some of the basic questions you must answer in survey disclaimer for your participants.
What is the purpose of the survey?
Be explicit about the aim of the study. For instance, you can say "The responses  will be used for general analytical use only".
How will privacy be maintained?
Unless it is an anonymous survey, respondents' identity details such as email address, IP address, location and country code are collected. You can disclose whether the email address will be linked to the responses in any way. 
What happens with personal information if collected?
Many surveys ask for contact details such name, address, phone number, etc. Mention if you conduct GDPR compliant market research. 
 Will the data be shared with third-party apps?
Nobody wants their inbox flooded with unwanted marketing emails. So, disclose whether the email address or individual responses will be shared with third parties.
 What is the approximate time taken to complete the survey?
This is optional, but you can mention the number of questions in the survey and the approximate time take to answer them, so that the respondents know beforehand if they want to go ahead.
And last but no the least, take consent! Ask questions like 'do you wish to proceed further?' or 'do you agree with the terms and conditions?' 
Conclusion
A survey disclaimer statement in the questionnaire reflects the values of researchers and agencies. Hence, if you want your respondents to stay loyal and have a good survey experience, you should disclose any necessary information.
If you need any help with how to draft a disclaimer in the survey, or how to design a survey, feel free to reach out to us at sales@questionpro.com.