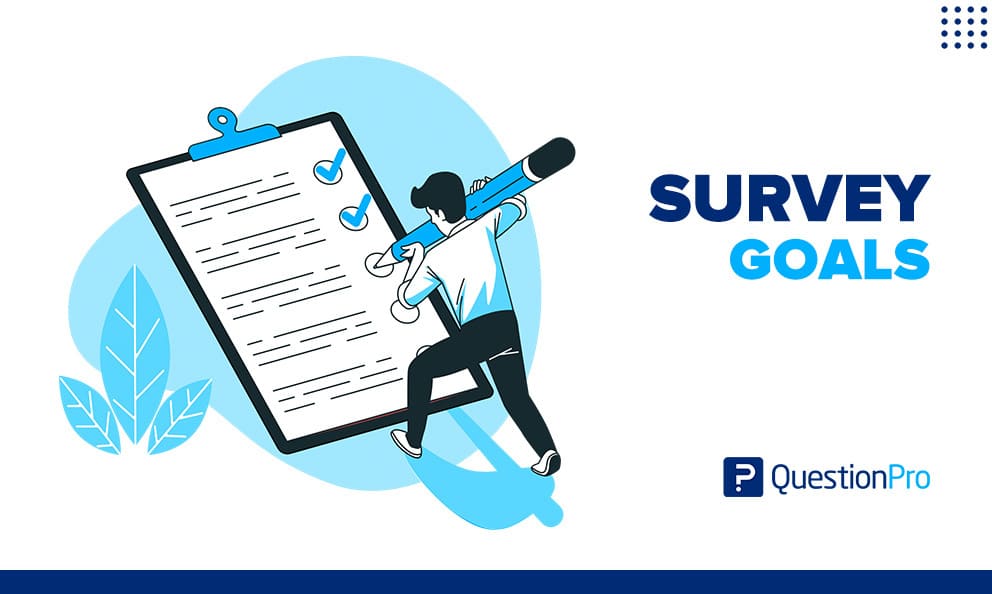 What are Survey Goals? 
A survey goal is a target you want to achieve from the exercise of creating a questionnaire, distributing it to your audience, and gaining meaningful insights. However, the goal may vary depending on the business objectives and intent behind conducting a survey. 
The goal of the survey is to answer the 'why' for conducting the research. It's about what you want to achieve and knowing what is unknown currently. Think of what questions you are going to answer and how to collect the data for it.
Once you have set the goal, you can break it down into objectives. Survey objectives can be considered action items that will help you achieve your end goal.
LEARN ABOUT: course evaluation survey examples
Importance of Survey Goals
Survey goals are important because they help you ask the right questions, using the question types, and selecting the appropriate distribution method. For instance, for market researchers conducting advanced research into user experience and preferences, it might be appropriate to do online interviews and run focus groups.
On the other hand, it might be better to create an online survey for university students who want to find out more about the preferred clothing brand among consumers aged 18-35.
Move-in the right direction
Having survey goals help you ensure you are on the right track. They define your strategy, allocate resources, and minimize your chances of going haywire. Once you've clarity in thoughts about what you want to know from your audience, you can select the question types to collect the right type of data.
For instance, a good research project needs qualitative and quantitative data analysis. However, at times some projects give more weightage to qualitative data such as emotions, body language, etc. In such cases, you must incorporate questions that explore and extract the experience your respondents went through.
It becomes easier to track your progress when you have goals. The end goal becomes your target, i.e., the finishing point. Hence, comparing the progress made so far versus what needs to be done becomes possible. You can estimate the time it will take to reach the target and the resources needed.
Now that we have understood 'why' you should have survey goals, let's start by creating them!
Survey Goals Step-by-Step Guide
Here's a step-by-step guide on how to set survey goals that help you make the most of your data collection exercise. Depending on your project requirements, you can add or remove any of the steps.
Identify your business objectives: This is the most important task of your project. List what you want to accomplish by conducting a survey. It can be cutting the cost of a product, improving the design or usability, adding more features, or making more revenue.
Map business objectives with survey goals: Once you have listed your business objectives, it's time to map these objectives with the corresponding survey goals. Think of ways you can achieve these business objectives through a survey. For example, if you want to make more money, then it can be done by selling more products or increasing the price of products. You can also sell higher-priced products in the market to make more revenue. However, you need to find the right audience and find out the right price at which your potential customers would be willing to pay. When the survey is done, track whether you could achieve your business objectives through a survey. You can also conduct multiple surveys for various targets and, in the end, measure the ROI for each survey.
Find your personas: Next, identify the target audience. Think about who is going to take the survey. Are they your existing customers, potential customers, employees, students, etc. Select your audience based on demographics and other parameters that the respondents must qualify for.
Draft your questionnaire: Think of questions that you want to answered from the survey data. Select the right

survey question types

for your questionnaire that will help you collect data in the required format. For example, if you want to know the likelihood of your customers recommending your products and services to others, use NPS question. It has a numerical scale of options, making it easy to analyze the data. If you, instead, use a multiple choice question type, you can still analyze the data and calculate the number of people who would likely recommend you. However, it would be a tedious process without gaining the required insights.

Select distribution channels: Decide how your respondents are most likely to take the survey. You can send an email, embed on your website, post it on social media or send an SMS. You can even let them take an offline survey on a mobile app. Select the medium that has a minimum barrier to entry and where the respondents will have a great experience.
Create the right reports: Once you have the responses, it's time to generate reports. Create customized reports that highlight the data points needed for making decisions. For instance, if you conduct a pricing research study, you can generate conjoint, maxdiff, TURF, or comparison reports to understand your audience's purchase behavior better. You can also automate this task using online tools to save time.
Share insights with stakeholders: Share reports with the internal and/or external stakeholders. You can also let the respondents view how their choices stand as compared to the other survey takers.
Set timelines for each survey objective: Last but not least, it's crucial to perform this exercise in a time-bound manner. Set deadlines for each step listed above to make sure you collect data and make sense of it at a point when it still holds value.
Survey Goals Examples
Below are some examples of survey goals. You can take clues from them on what do you want to learn from the survey outcomes. 
NPS survey
Identify promoters, passives, and detractors

Find out ways to improve customer satisfaction

Open a channel of communication
Product satisfaction survey
Identify usage patterns and most used features

Ideas for new features

Areas of improvement

Open a channel of communication

Sales strategy and Marketing messages
Online course evaluation survey
Student satisfaction

Areas of improvement

Faculty evaluation

Quality of audio/video
In case you need any help with customizing survey objectives and goals for your business, get in touch with us. Our team of experienced professionals will guide you through your research project.