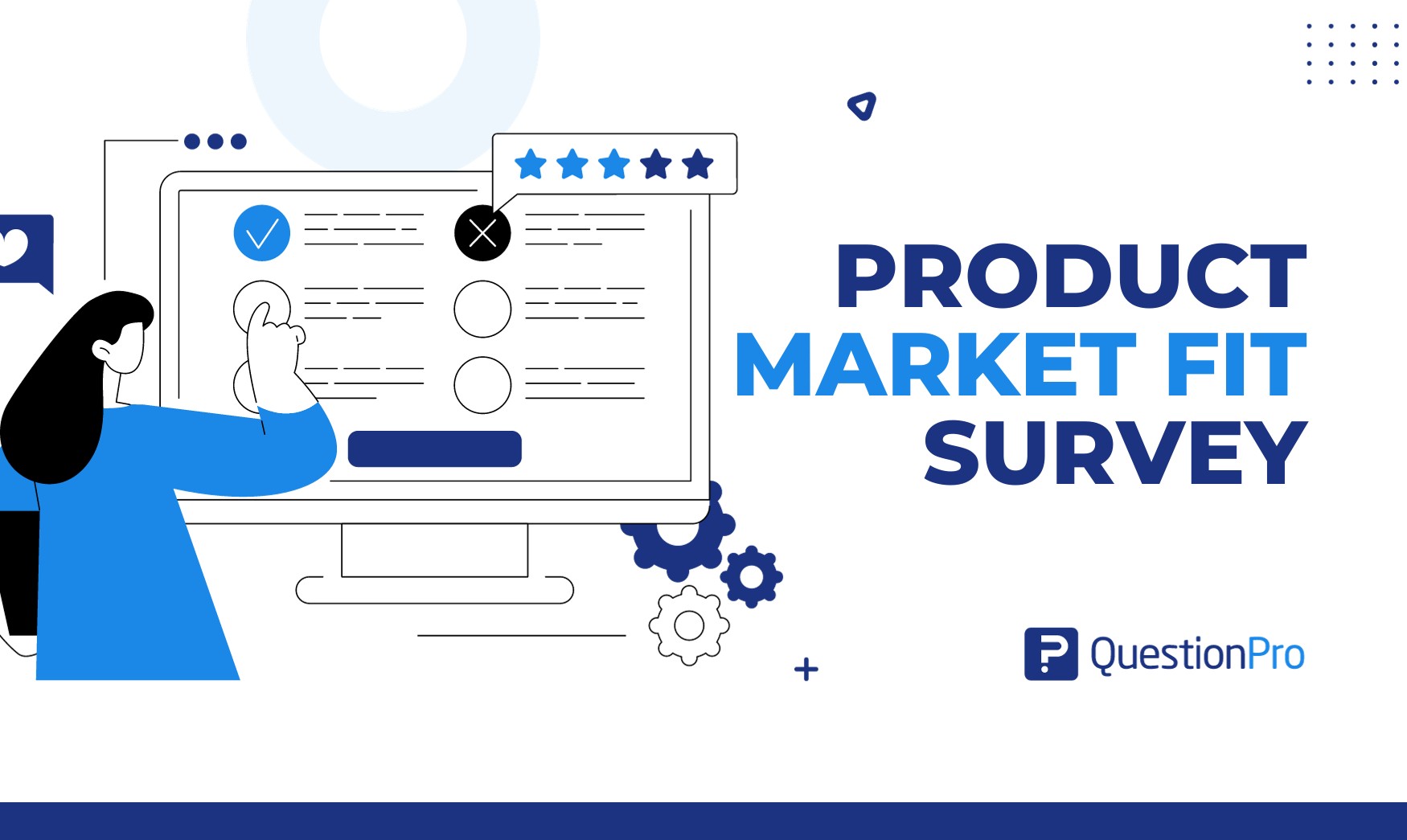 Imagine launching a product that's just what your customers want, boosts sales, and ensures long-term business success. Sounds amazing, doesn't it? Well, you can make this dream come true by understanding and achieving product-market fit (PMF). Businesses and startups use a product-market fit survey to check if their product or service matches their target customers' needs.
In this blog post, we'll explore the concept of product-market fit, its importance, and how a product-market fit survey can help you gather meaningful insights to optimize your product and grow your business.
What is Product-Market Fit?
Product-market fit means how well a product matches what a specific market needs. It's all about ensuring your product is exactly what your intended customers want.
Measuring product market fit is crucial for ensuring your business's success. Your business growth and sustainability depend on achieving the desired product-market fit, which ensures your product aligns with your target audience's needs.
The first thing a business should do to determine product-market fit is to know its customers. This step is super important, and nearly a hundred startups have found that understanding their customers is the key to success.
You should use the product-market fit survey to figure out how to make your business grow. This survey helps you learn what your customers think and whether you can expand your business.
Here are the steps to follow:
Pinpoint pain points that existing options cannot address.
Provide additional value by recognizing your target audience's needs.
Analyze competitors to identify gaps in the market.
By following these steps, you can effectively assess your product-market fit and make informed decisions for business growth.
What is the Product Market Fit Survey?
A product-market fit survey helps check if a product matches the market's wants. It's crucial to see if the product is good for the market and meets customers' needs at the right price and convenience.
To conduct a PMF survey, the Sean Ellis test is a well-known measure for determining product-market fit. You'll ask your customers about their sentiments if they can't use your product anymore.
Your goal is to find out the PMF score of your product. A favorable PMF score is achieved when less than 40% of disappointed users respond with "very disappointed" in their PMF survey responses.
The Role of PMF Survey in Business Success
PMF surveys are engagement methods that demonstrate your attitudes toward a product or service. While measuring product-market fit without a PMF survey is possible, the results may not be entirely precise. With the valuable insights into your user requirements provided by PMF surveys, you can identify methods to exceed your expectations.
Achieving sales, fostering your loyalty, and ensuring long-term success requires product-market fit. Determining your target market and your needs before product development is essential to guarantee that the product is in line with your expectations and has a profitable market.
Having a high product-market fit score can result in a variety of beneficial outcomes for you, such as:
Increased team growth
An increase in Net Promoter Score
Users expressing their enthusiasm for the product
Investor interest
Timing the scaling of a product is crucial for you, as it can be a decisive factor for your product's success in the market.
Benefits of PMF Surveys
PMF surveys provide valuable insight into customer happiness and opportunities for improvement. Collecting 40-50 responses for a PMF survey is recommended to ensure a meaningful sample size. Including a range of respondents will help you ensure unbiased results.
By engaging your customers with open-ended questions, you can gain insight into the motivations behind their decisions and the rationale behind the scores they provide. You can use this valuable feedback to refine your marketing strategies and improve your product to meet your customers' needs better.
Common Challenges in PMF Surveys
PMF surveys often face common difficulties, such as figuring out the right questions to ask, identifying the right people to survey, and picking the best time to conduct the surveys. When you receive a lot of responses, it can be hard to make sense of all the data.
Sometimes, the survey results can be misunderstood if they are not analyzed or interpreted correctly. This can happen if the people who respond to the survey don't represent the group you're trying to understand or the survey questions aren't well-worded.
Another challenge is defining exactly who your target audience is because it involves understanding what the people you're trying to reach really want. Analyzing your competitors thoroughly can also be challenging because it means knowing what they're good at and where they might fall short.
Designing Your PMF Survey
The key step in creating a useful PMF survey is determining what you want to ask about. It is essential to include both open-ended and closed-ended questions in a PMF survey to gain a comprehensive understanding of the feedback of customers.
Open-ended questions let customers say what they think in their own words, which can give you more detailed and nuanced answers. On the other hand, closed-ended questions have set answer choices, making it simpler to understand and count the responses.
Using both kinds of questions helps you get a complete picture. Open-ended questions give you quality insights from detailed answers, while closed-ended questions provide easy numbers to work with. This way, you'll have a survey that gives you helpful information you can act on.
Choosing the Right Questions
Choosing the right questions for a PMF (Product-Market Fit) survey is essential to gather valuable customer insights. The questions you choose must be thoughtfully crafted to elicit meaningful responses that will guide your product development and business strategy.
You should consider asking your customers about the primary advantage they derive from your product and how they think it could be improved. These questions will benefit your business as they will help you concentrate on the most important aspects of your product offering and prioritize the areas that require improvement.
Here are some example questions:
Primary Benefit Question: Why did you choose to use our product/service?
Improvement Suggestion Question: In your opinion, what is one thing we could do to make our product/service even better?
Consider questions that explore specific pain points or challenges your customers might be facing:
Pain Point Identification Question: Are there any specific issues or challenges you encounter when using our product/service?
Competitor Comparison Question: Have you tried similar products/services from our competitors? If so, how does our product/service compare?
You can inquire about the likelihood of customer referrals and the overall satisfaction level:
Referral Likelihood Question: How likely are you to recommend our product/service to a friend or colleague?
Overall Satisfaction Question: On a scale of 1 to 10, how satisfied are you with your experience using our product/service?
Balancing Open-Ended and Closed-Ended Questions
Choosing the correct questions for a PMF survey is critical for gaining meaningful information. You should incorporate both open-ended and closed-ended questions in your PMF survey.
Open-ended questions will allow your customers to articulate their thoughts and opinions in their own words, which can yield more in-depth and subtle responses. On the other hand, closed-ended questions offer structured response options, making it easier for you to interpret and quantify the data.
By including both types of questions, you can obtain qualitative insights from the open-ended responses and gather quantitative feedback from the closed-ended responses. This approach will result in a comprehensive and actionable survey for your business.
Implementing PMF Surveys
To get useful results from PMF surveys, you need to do them right. This means setting up a quantitative feedback system to gather customer and team input to improve your product and make customers happier. It's important to write down what you learn and take action based on it.
When conducting a PMF survey, consider these tips:
Send the survey at specific times, like after showing your product or making a sales pitch.
Decide how often the survey pops up for each user.
You can aim the survey at a certain group of users or add more details based on what users do.
Selecting the Right Audience
Choosing the right audience is very important for getting accurate and useful results from your product market fit survey. People who use your product or service regularly and are involved with it can give you valuable feedback to evaluate how well your product or service is doing. Including specific user groups in your survey is crucial to understanding your target market's wants and likes.
To determine which users to include, you can look at information like age, gender, where they live, and how much money they make. You can also consider how often they use your product and how engaged they are with it. If you choose the correct audience, your PMF survey feedback will accurately represent your market and help you improve your product.
Timing and Frequency
Determining the appropriate timing and frequency for conducting PMF surveys is crucial for obtaining accurate and meaningful results. Here's what you should do:
Use surveys inside your app to ask users about their recent experiences.
Plan to do smart surveys every 3-4 times yearly to see how things change over time.
Keep an eye on what users think as they continue using your product.
Make sure to align your surveys with your product roadmap so that the results match what's happening with your product. This helps you identify any changes in what users think over time. To avoid bothering users with too many surveys, remember to:
Limit the number of surveys you send out.
Make sure the surveys are about what the user is doing right now.
Send surveys at the right times so you get up-to-date information.
Analyzing Product-Market Fit Survey Results
Analyzing the results of a product-market fit survey is really important for you. It helps you determine how well your product matches your customers' wants. When you look at the survey feedback, you can see if your customers are happy, find areas to improve things, and use data to improve your product or service.
The product-market fit helps you stay up-to-date with what your target customers want, see how good your product is, and track how close you are to achieving a good fit between your product and the market.
To improve things, you can listen to your customers' suggestions and choose the best ideas to work on. This way, you can meet customer needs and improve your product, making your customers happier and getting a better fit with the market.
Key Metrics and Benchmarks
Key metrics and benchmarks for a Product-Market Fit (PMF) survey are essential for evaluating how well your product or service aligns with the needs of your intended customer base. Here are some key metrics and benchmarks commonly used in PMF surveys that you should consider:
Net Promoter Score (NPS): NPS measures the satisfaction and loyalty of customers. It's based on the question, "On a scale of 0 to 10, how likely are you to recommend our product/service to a friend or colleague?" NPS benchmarks can vary by industry, but a score above 30 is generally considered good, and above 50 is excellent.
Customer Satisfaction (CSAT): CSAT measures overall customer satisfaction with your product or service. It typically asks respondents to rate their satisfaction on a scale from 1 to 5 or 1 to 7. A CSAT score above 70% is often considered a benchmark for good satisfaction.
Retention Rate: This metric measures how many customers continue to use your product over time. High retention rates are a positive indicator of product-market fit.
Churn Rate: It is the percentage of customers who stop using your product over a specific period. A lower churn rate is better.
Usage Metrics: These can include metrics like Daily Active Users (DAU), Monthly Active Users (MAU), or other usage-related KPIs specific to your product.
Product-Market Fit Score: Some businesses calculate a PMF score based on responses to specific survey questions. A score above a certain threshold (e.g., 40 out of 100) can be considered a benchmark for achieving product-market fit.
Customer Feedback and Suggestions: Analyzing customer comments and suggestions from the survey can provide qualitative insights that complement quantitative metrics. Look for recurring themes and ideas for improvement.
Conduct PMF Survey With QuestionPro
QuestionPro is a popular online survey tool. The Survey Software can be a valuable tool for conducting a Product-Market Fit survey. Here's how it can assist you in the PMF survey process:
Ease of Use: QuestionPro offers an intuitive and user-friendly interface that allows you to create and distribute surveys without needing advanced technical skills.
Customization: You can customize your survey to align with your brand's identity, including adding logos, colors, and fonts. This branding can enhance the professional look of your survey.
Question Types: QuestionPro provides many question types, including multiple-choice, open-ended, Likert scales, and more. This flexibility enables you to craft questions that specifically measure PMF factors.
Branching and Skip Logic: You can employ skip logic and branching to create a personalized survey experience for respondents. This ensures that each respondent only sees questions relevant to their previous responses.
Distribution Options: QuestionPro offers various methods for survey distribution, such as email, social media sharing, embedding on your website, and generating direct survey links. This allows you to reach your target audience through their preferred channels.
Reporting and Analysis: QuestionPro includes built-in reporting and analysis tools that allow you to generate charts, graphs, and reports to visualize and interpret survey data. These features are crucial for evaluating PMF.
Data Security: The platform ensures data security and complies with privacy regulations, making it suitable for handling sensitive customer information.
Templates: QuestionPro provides survey templates for various types of surveys, including NPS surveys and CSAT surveys. You can use these as a starting point for your PMF survey.
Feedback Analysis: The platform includes tools for analyzing qualitative feedback collected from open-ended questions. This provides insights into customer sentiment and preferences.
Conclusion
The product-market fit survey is crucial for business success. It helps businesses understand what customers like and what needs improving. This way, companies can improve their products and get closer to achieving PMF.
When businesses use insights from PMF surveys, they can make smart choices and focus on improving their products. This leads to product improvements and helps the business grow.
QuestionPro Survey Software streamlines your entire PMF survey process, from survey creation and distribution to data analysis and reporting. Its flexibility, customization options, and user-friendly interface make it a valuable tool for your business if you're aiming to assess and improve your product-market fit based on customer feedback.
Sign up for a free account to discover more about your product market fit and to use data to improve it. Join now to gain valuable business insights.