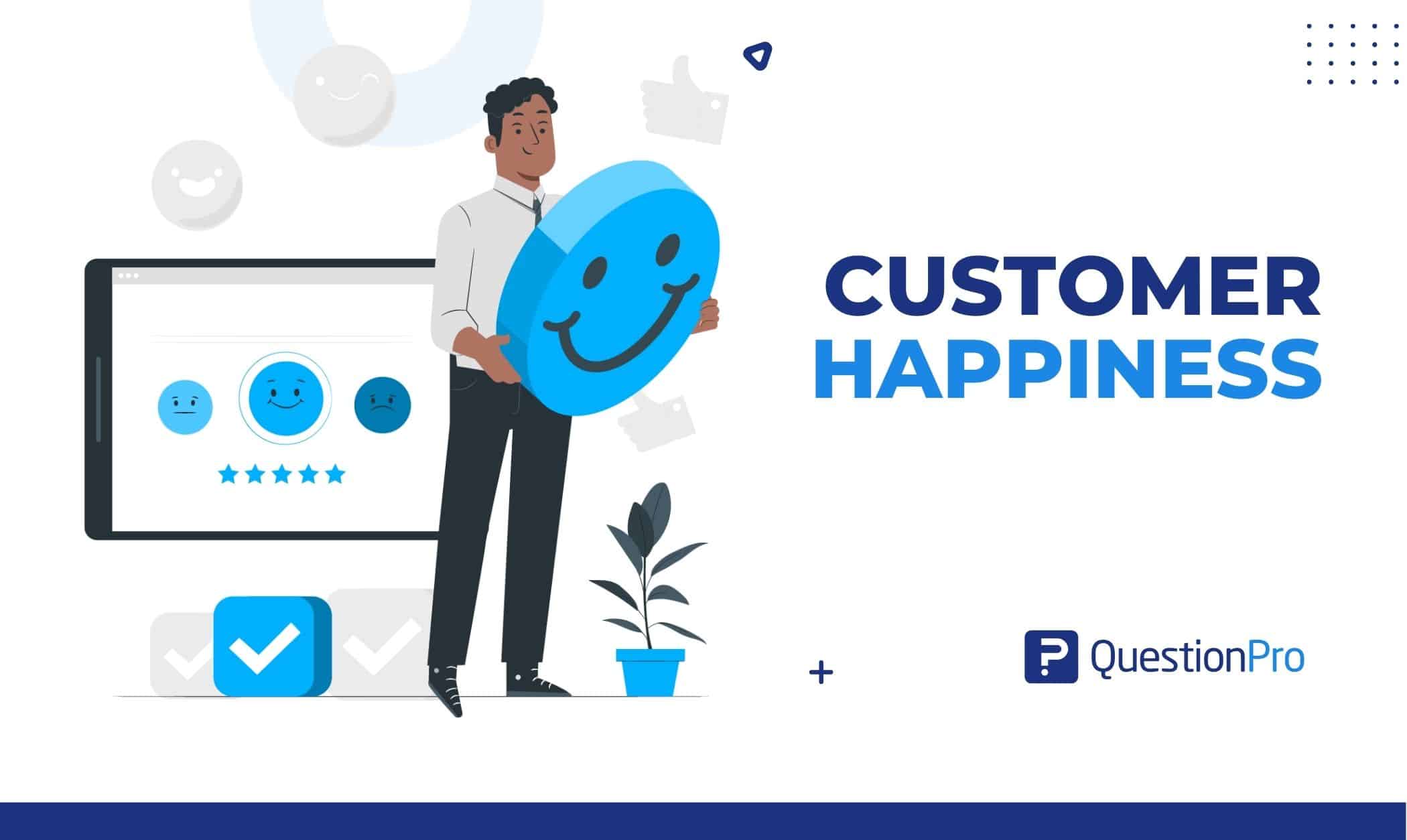 It can be difficult to win customers' hearts and minds. What do they want? It is important to know what they want and keep customers happy with your products or services.
Customer happiness is one of the most important things that helps a business grow. A happy customer is considered the main revenue source for any business.
Attracting a new customer costs 5x more than keeping an old one. It's never too late to start taking better care of your customers because a happy customer is a better way to market your business than any ad.
It's easy to keep your customers happy. Care about their needs and feelings at every step of their journey and be there for them.
LEARN ABOUT: Time to Value
Here, we will discuss the definition of customer happiness, why it is important, and how to measure it. Keep reading to learn more.
What is customer happiness?
Customer happiness is the level of customer loyalty and customer satisfaction after engaging with your product, services, or staff. It's how your customers feel when their needs are met regularly, at the right time, and in the right way.
People who are happy with your business will stick with you for a long time. Also, a happy customer is more likely to stay with you. When customers find a business they can trust, they tell their friends and coworkers about it.
You may also check out this guide to learn how to build your own Customer Journey Map.
Importance of customer happiness
Keeping your customer happy is important because it helps problem-solve, prevents churn, and identifies happy customers who might promote your brand. Below, we will explore some key importance of clients' happiness:
Helps to earn customer's loyalty
If your customers are happy, it's a sign that they might stick around and buy from you for the rest of their lives.
If you make your customers happy with your products and services, they'll be more loyal to you and more likely to promote your brand by telling their family and friends about how great your business is.
It can take years to get a customer to stick with you, so make sure that every interaction they have with your business is good.
Make your Customers Remember
You want your customers to feel good about your business and remember you when they leave. You really don't want them to be unhappy when they leave.
One analysis found that an unhappy customer will tell between 9 and 15 other people about their bad experience. About 13% of unhappy customers tell more than 20 people. That gives your business a lot of bad vibes.
Negative comments from word of mouth or online reviews can be challenging for your company to fight. Because of social media, it's easy for bad customer experience comments to spread. When your customers are happy, you don't often have to deal with people who don't like what you do.
What to do if a customer isn't happy? Try to see the situation from their point of view and do what you can to help. Listen with understanding and care.
Help you beat the competition
It's a safe bet that if you invest in customer happiness, you will beat your competition in terms of business.
Make sure your customers are happy if you want to stay ahead of the competition. Think about the restaurant that goes above and beyond to make its customers feel special by taking care of their special requests with grace. You may be sure that the customer will talk to their friends, recall how happy the restaurant made them, and visit again.
Improves customer lifetime value
When you invest in customer happiness, you increase the lifetime value of your customers. What is it? It predicts your net profit from your connection with one customer.
According to research published by Info Quest, a completely satisfied customer generates 2.6 times as much income as a slightly happy customer.
Also, a pleased customer brings in 14 times more money than a somewhat unhappy customer. So, the longer your customer is happy, the more likely their lifetime value will increase.
Learn more about why understanding your Customer Journey transforms your CX program.
Ways to measure customer happiness
Since customer happiness is closely related to customer satisfaction, you can learn a lot by looking at some common metrics to measure it, such as:
Customer satisfaction surveys
Social media sentiment analysis
Net promoter scores
Let's examine each option.
Customer surveys
One way to find out how happy your customers are is to send out customer surveys. It gives you a way to get direct customer feedback and determine how they feel about doing business with you. Now the concern is when are some good times to send out surveys? Here are some good times to send out surveys:
Right after your first sale to the customer
Following the resolution of a customer service ticket
Periodically as part of a nurture campaign
Use QuestionPro survey software to know your customer experience and how they feel about your product and service conducting surveys.
Net promoter score (NPS)
The net promoter score is an indicator of the customer. You can use this as a customer satisfaction metric to monitor changes in customer happiness. On a scale of 1 to 10, customers are asked how likely they are to recommend your company to others.
If you want to use this metric, QuestionPro is there for you. The QuestionPro NPS survey dashboard has detailed charts and graphs that show the NPS value. It also displays comparative NPS scores and benchmarks by geographical region, product, and service.
Social media sentiment analysis
Analyzing social media data is another way to measure customers' happiness. You can use this data to determine what customers like about your business and what needs to be changed. It might provide insight into how people are discussing your business online.
QuestionPro survey software has sentiment analysis tools to analyze your customers' sentiments. Businesses can determine if they are on the right track by analyzing QuestionPro's sentiment analysis tool. It also helps in measuring customer happiness and lowering churn.
Conclusion
Customer happiness can have a direct impact on your company! It will make customers more loyal and keep them coming back for more. There are a lot of things you can do to make and keep your customers happy. If you want your brand to be known as one, then care about its customers and make them feel valued.
You can immediately improve your customer happiness by using these steps. QuestionPro can help you to do that. QuestionPro CX is a tool for managing customer experience and feedback. It helps you track your customer journey and gives you real-time data. Contact QuestionPro for a free trial.