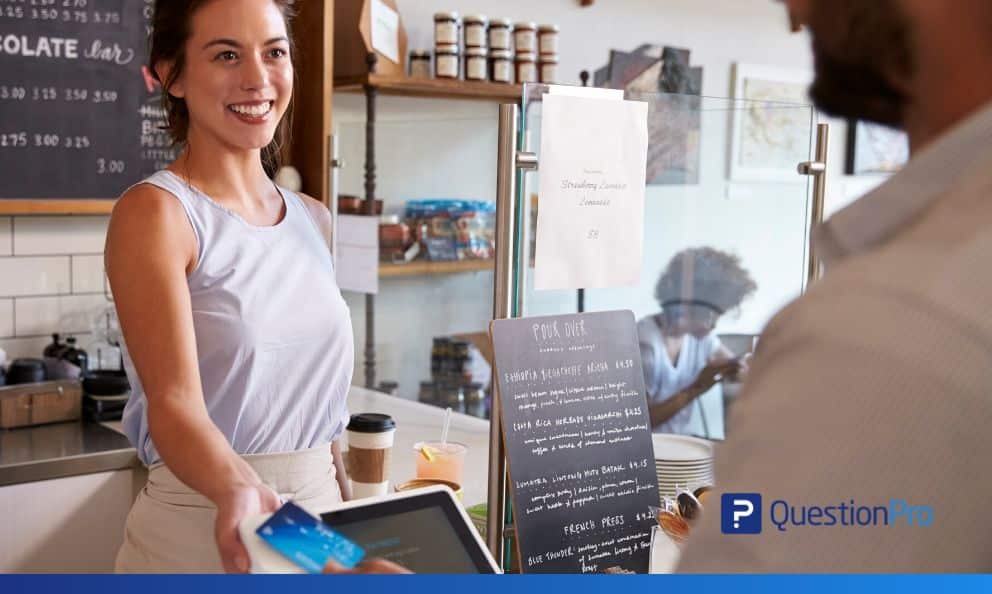 Feedback saved in spreadsheets doesn't do any good if you cannot make out if the respondents are happy or not. How do you know if your customers are satisfied in a simple, effective, and quick? How do you make sure it doesn't take long to collect customer experience data? After all, if there is a long gap between the point of experience and the point of data collection, chances are the accuracy of the data might get diluted.
The smiley face survey question is the answer to the above questions. Using smiley faces, you can gauge the experience and sentiments of your audience. Its typical usage consists of a question and five options displayed horizontally with opposites at both the ends.
You can use smiley face questions offered by QuestionPro in customer feedback surveys, employee satisfaction surveys, course evaluation surveys, and more. We have enhanced them to provide better insights collection abilities and enable our users to customize them as per their research needs.
What's new?
You can choose from ready-to-use design or upload your custom smiley faces.

By default, a five-point scale is used for smiley questions. If you want to use two, three or four-point smiley scale, upload all images of the set in one go.

You can also change the colors of the smileys to match your brand style and image. We offer a color picker tool to select the color of your choice or enter a HEX code.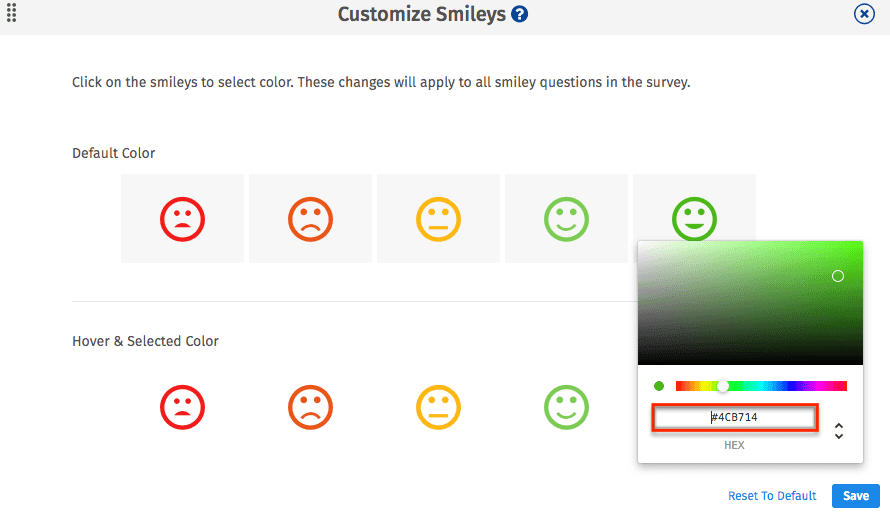 You can also flip the scale from a negative-to-positive to make it a positive-to-negative rating scale.
How do custom smileys improve research and data collection?
Custom smileys can reflect your brand color and style and reinforce the impression of your brand in customers' brains. Thus, research surveys can be used for branding and marketing.
You can configure your customized branded smiley faces as the default so that whenever you use a smiley rating question, you don't have to select an image set again.
You can also share these smileys with your team. That way, you can ensure that whenever somebody from your organization creates any survey with a smiley rating question, it's standard all across.
With communications becoming more digital and visual, smileys offer a great medium to collect 'emotion' based feedback. Customized smileys can make surveys more fun and casual way to collect feedback and thereby improve respondents' experience.