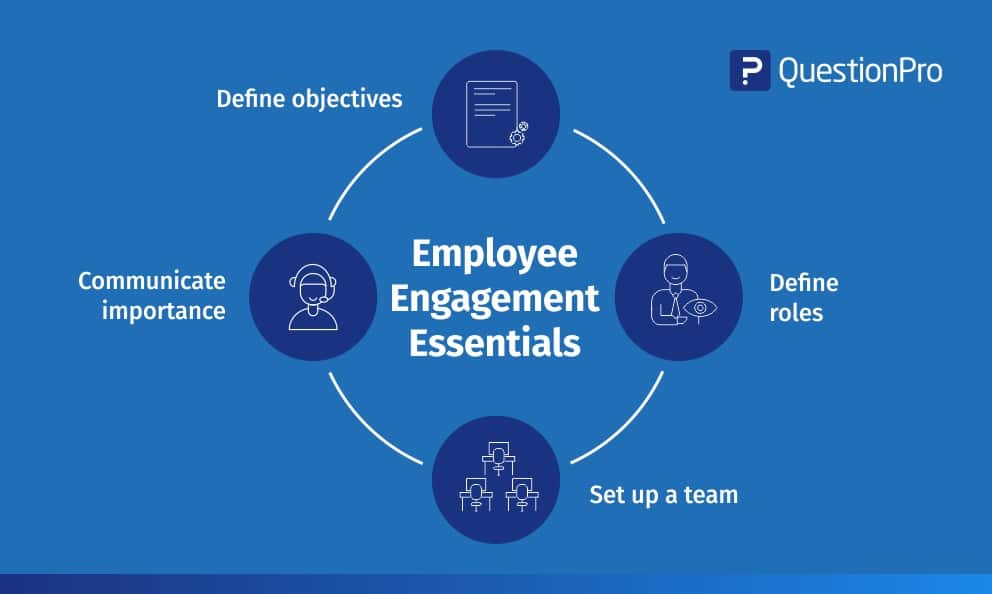 Employee engagement is a term for how committed, passionate, and motivated an employee is about his or her job and the company. Engaged employees are more productive, creative, and loyal, which is important for the success of any business.
Many organizations find it hard to keep their employees interested, especially in today's fast-paced, always-changing work environment.
In this situation, there are a number of employee engagement ideas and strategies that companies can use to create a good work environment and encourage their employees to be involved. These ideas range from praising and rewarding employees for their hard work to giving them chances to grow and develop professionally.
LEARN ABOUT: Employee Rewards Ideas for Employee Engagement
Companies can build a strong sense of community and purpose in this way, that not only engage employees but also improves the performance of the business as a whole.
What is employee engagement?
Engaged employees love what they do and work hard to help the business reach its goals and meet its needs. They like the organization and what it stands for and are dedicated to their work.
On the other hand, a disengaged employee may be coasting through their work (doing just enough to get by) or actively bad-mouthing the company to people inside or outside the organization.
With employee engagement software, you can make a plan that tracks employee experience and job satisfaction, keeps an eye on your organization's culture, and analyzes survey results to understand better how engaged and happy your employees are.
What are employee engagement ideas?
Employee engagement ideas are specific plans, programs, and activities that a company culture can use to increase the level of engagement among its workers. These ideas are meant to create a good work environment that encourages employee motivation, productivity, job satisfaction, and overall well-being.
Employee engagement ideas can be different depending on the organization's culture, industry, and workforce. Still, they usually focus on giving employees opportunities for professional growth and development, recognizing and rewarding their hard work and achievements, promoting work-life balance, creating a sense of community and belonging, and encouraging open communication and feedback.
These ideas aim to create a workplace where employees feel valued, supported, and motivated to do their best work every day.
Importance of employee engagement ideas
Employee engagement ideas are important for any business that wants to make a good workplace and reach its goals. Here are some reasons why it's important to get employees involved: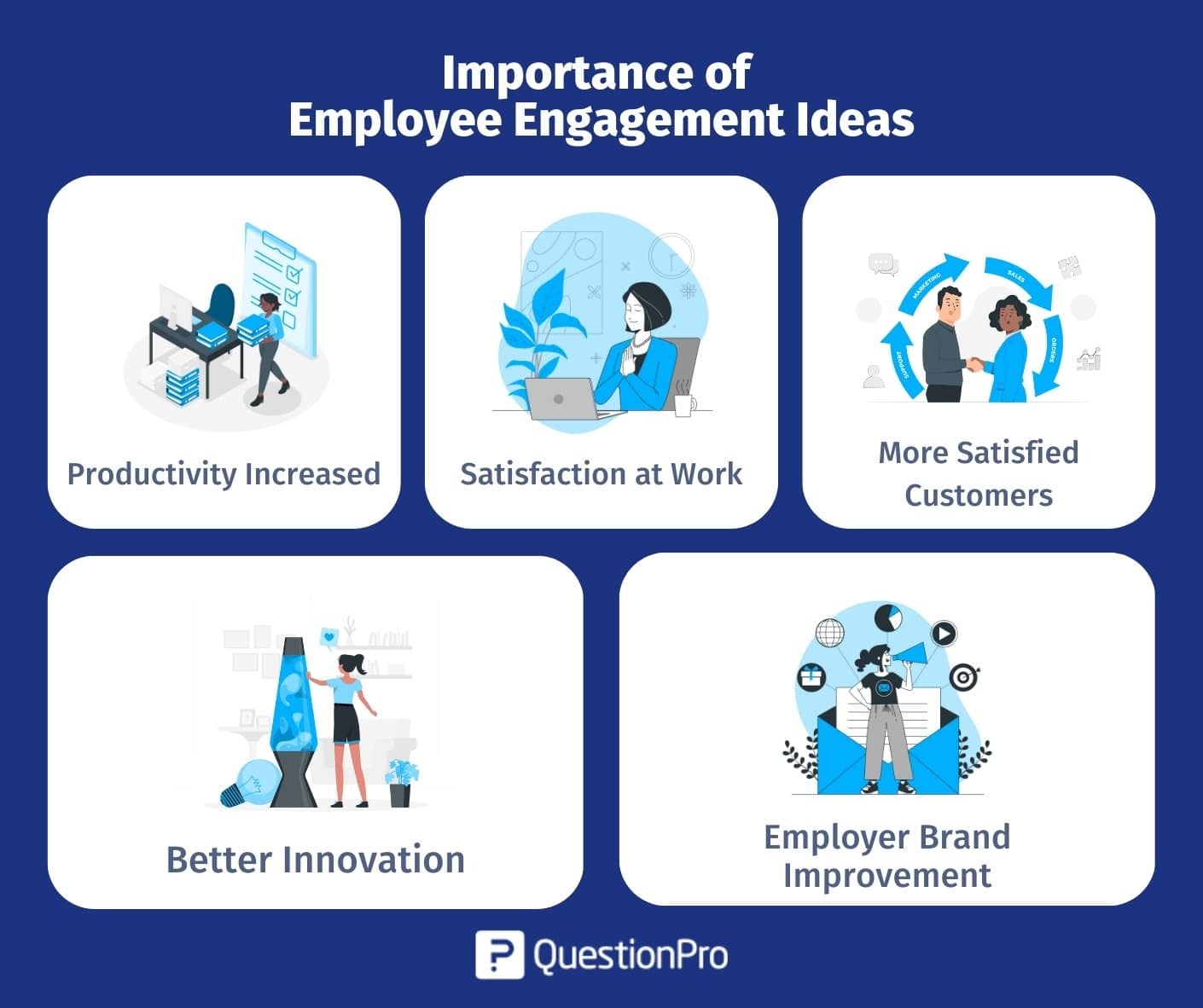 1. Productivity increased:
Employees who are motivated, focused, and committed to their work are more productive. They are willing to go above and beyond to reach their goals and help their organization succeed.
2. Satisfaction at work:
Employees who are engaged are happier at work and more likely to stay with their company. They feel valued, supported, and appreciated, which makes them happier at work and less likely to leave.
3. More satisfied customers:
Engaged employees are more likely to give customers high-quality service, which makes customers happier and more loyal.
4. Better innovation:
Engaged employees are more likely to take risks, come up with new ideas, and question the status quo, which makes them more creative and innovative.
5. Employer brand improvement:
When employees are engaged, they are more likely to talk positively about their company to other people. This improves the employer brand and makes it easier to get top talent.
Employee engagement ideas are important for making the workplace a good place to work, making employees happier and more likely to stay with the company, and achieving business success.
Employee engagement ideas and activities
High employee engagement levels boost organizational productivity, help develop the right workplace culture, and improve employee experience (EX). Engaged employees are better team players, highly proactive, align themselves with the organization's goals, and help reduce attrition.
Organizations understand the importance of employee engagement and clearly see its benefits but fail to act on it. This inaction is responsible for low engagement levels at many organizations. We will look at some employee engagement ideas and activities that you may try at your organization.
Before we look at some employee engagement ideas, let's understand how we can make your employee engagement initiative a success.
1. Let the employees know the importance of employee engagement
Engaged or not, employees clearly need to understand what it is and what it could mean for them at work. If you plan to start and measure employee engagement initiatives proactively, your employees should know all about it. You need to be clear in conveying what it means for them and how they stand to benefit. You should equally encourage employees and their managers in the process.
Not only is it important to involve your employees, but also keep them informed of all developments. One needs to remember that engagement cannot and will not be driven by only one department. All departments must be part of employee engagement strategies, ideas, and activities.
2. Role and expectations
Employers and employees need to be clear about what's expected of them and their role in successfully executing employee engagement initiatives. This is a time-intensive process and requires equal participation from all stakeholders to make it a success. There is no magic formula.
3. Set up a team
You can start by involving all function managers or heads with your core HR team; HR cannot entirely drive this. You may diversify the team as you see fit with old and new employees. Rather we encourage more involvement. Bigger participation and new hires bring about more and better ideas.
4. Define objectives
You must set clear objectives for your employee engagement initiative and meet at fixed intervals for status updates. Core objectives can be decided on roles, functions, and levels of experience. Clear objectives will render effective results and bring direction to your employee engagement ideas and activities.
5. Data
There are many tools available in the market to help you conduct surveys, gather data and run various types of analyses. Collecting and analyzing data should be the first step in your action plan. It helps you understand the status quo but also helps in making informed decisions and devising strategic next steps.
Data gives direction to your plan and also helps you make comparisons, which comes in handy to gauge the effectiveness of new activities. Sharing of data with the management team and Heads of Department (HODs) will bring about awareness and suggestions to revamp processes. It also helps in identifying trends about employee dissatisfaction, exits, etc.
Employee Engagement Ideas
Now that we have established the importance of employee engagement and why buy-in from all departments is essential to make it a success let's look at some ideas.
6. Striking for the right work-life balance
This is tough since this will be something unique to every employee, and you have to realize that every employee is unique, as are their needs in the health and wellness program. Managers and HR reps can work with encouraging employees on this, and creating a flexible work schedule is a good way to start.
LEARN ABOUT: Employee Wellness
7. Check your workplace's weekly pulse
Weekly Pulse is one of the most heavily used Workforce features. It's a quick, direct, and easy question asked by many employees to understand their mood and morale. In other words, it's an employee sentiment analysis.
Workforce provides you with clear and crisp dashboards that combine deep analytics with powerful insights oriented towards enabling you to take action in the form of employee engagement ideas and activities. Why don't you sign up and try the portal for yourself?
8. Training needs
Providing regular training to all your employees is essential. It fosters their growth. You may plan these for some employees or do them for teams. Regular training sessions indeed help curb attrition. Employees stay back if their training needs are attended to. Managers can help design these training sessions. Asking your employees directly is also a great way to ensure they get what they want and need.
9. Career-pathing
No matter the nature of the work or seniority of the employees, everyone should be absolutely clear about their growth path. They need to know and understand their future roles and responsibilities and how they can get there. If some employees wish to pursue different roles or functions within the same organization, there should be a way of doing that.
10. Communication is key
Employees must feel safe about communicating their thoughts, whether new ideas or grievances. Feedback is heard and acted upon and instills confidence about the management in the employees, a key reason for them to stay longer with the association.
11. Conduct cross-team benchmarking surveys
While every employee is unique, they do work in teams. And sometimes, being part of a team can influence how employees think and feel. Therefore, while analyzing individual employees is important, it is equally insightful to analyze them in teams.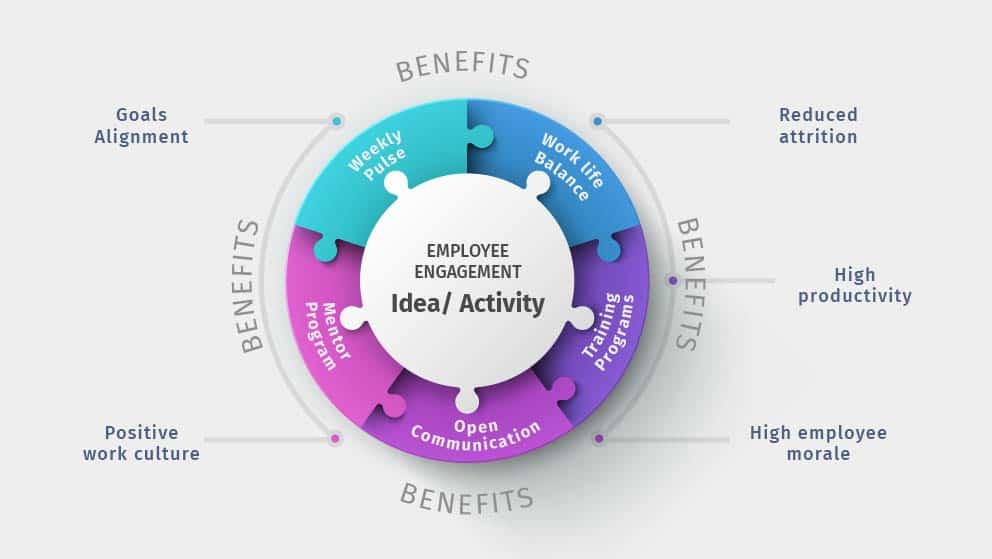 Employee Engagement Activities
Some employee engagement activities are quite easy to conduct and fun to be a part of. You may start with some from the below. We are always on the lookout for new ones.
Here's our latest.
12. Present ideas at Townhall
Conduct a Townhall one day every week, where everyone in the organization participates. Anybody can present their thoughts/ideas here. It can be an interesting presentation, a productivity hack, or absolutely anything that you like.
This gives them a podium to present and also becomes a channel where they learn something new every week.
13. Start a mentor program
This is important for all employees across various roles and functions. Everyone needs and seeks out a mentor. This will help you pair your employees with mentors and identify them.
14. Celebrate victories
Organizations must recognize and celebrate employee victories, whether big or small. This assures them their efforts are being noticed and will not be just a footnote in a long annual appraisal. You need to conduct this very important employee engagement activity regularly.
15. Fun Fridays!
Yup, you read it right. This is a fun employee engagement activity. Your workforce is dynamic, which should factor in when developing employee engagement activities, assignments, or processes. You can start conducting weekly activities in the second half of Fridays. This can be a quiz, a movie showcase, or just fun team games. Your employees will have a great weekend and be happy and excited on Monday.
We hope that you like these and implement these in your organization. Do you think we've missed any? What's working for you? How do you keep your employees engaged? We would love to hear from you.
Conclusion
Employee engagement ideas are important for any company that wants to create a positive work environment, boost employee motivation, improve job satisfaction, and reach its business goals.
These ideas can include giving regular feedback and praise, giving opportunities for professional growth and development, promoting work-life balance, fostering a sense of community and belonging, and encouraging open communication and feedback.
By using these ideas, organizations can create a place of work where employees feel valued, supported, and motivated to do their best work every day.
This leads to higher productivity, better customer satisfaction, better innovation, a better reputation as an employer, and lower turnover rates. Investing in employee engagement ideas is a win-win for both employees and the organization, as it helps to create a positive work culture that benefits everyone.
Organizations can increase their employees' levels of engagement by using the suggestions offered by QuestionPro. These suggestions include open lines of communication, chances for training and growth, employee reward systems, an engaged workforce, improved employee retention, wellness initiatives, and team-building exercises. Gather employee feedback with the help of QuestionPro survey software.
Employers may improve the working atmosphere, build a feeling of community among staff, and motivate workers by implementing these suggestions.
In the end, spending money on employee engagement tools like QuestionPro will benefit the company's growth and staff retention.