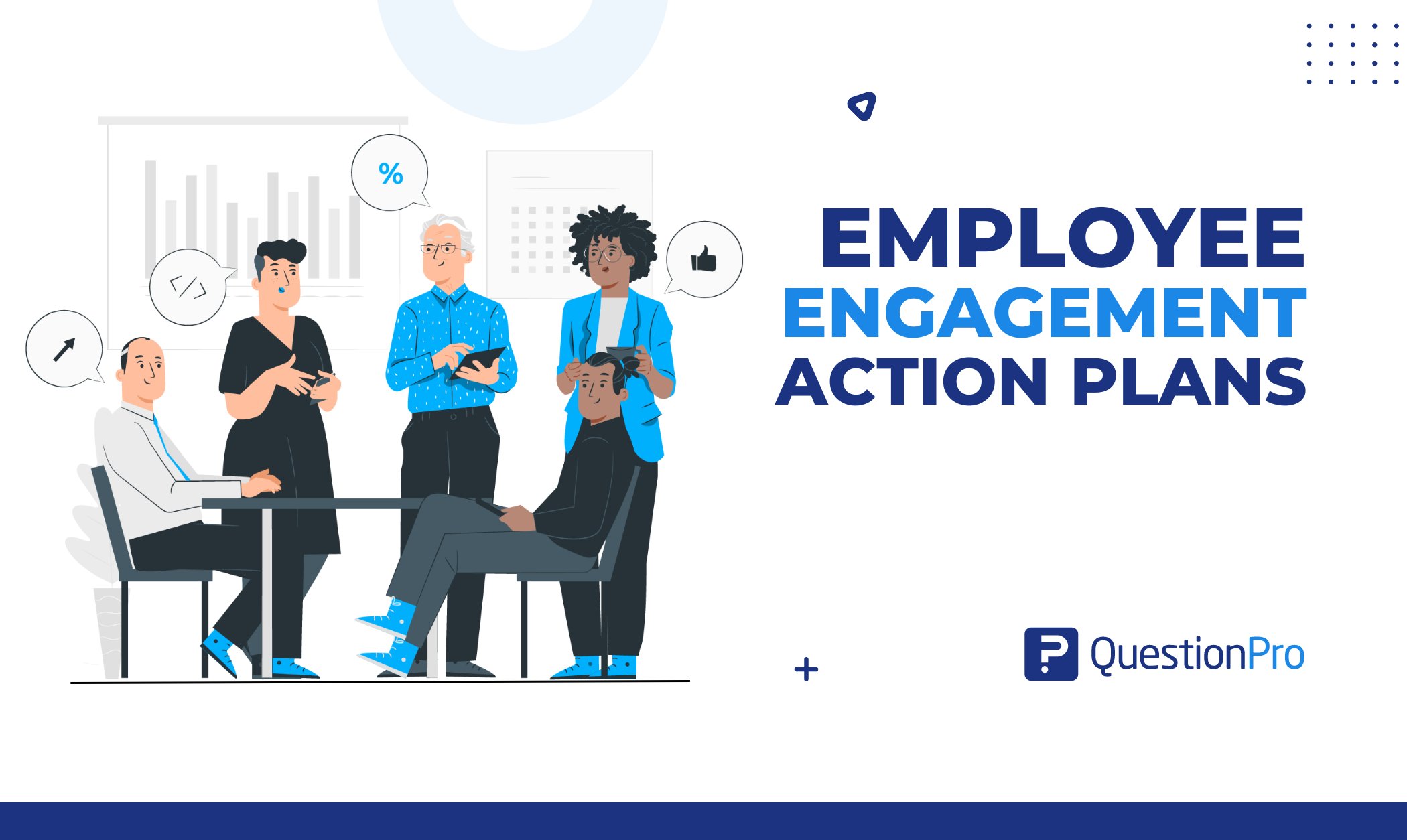 Employee engagement is when employees feel emotionally connected to their work, their coworkers, and the company they work for. It is a very important factor that can affect how productive, loyal, and successful a company is as a whole. Organizations can use employee engagement action plans to create a work environment that encourages engagement. These plans usually include specific actions and projects that can help give employees a sense of meaning, connection, and power.
By putting money into employee engagement, businesses can create a positive workplace culture that is good for both the workers and the company. In this blog, we'll talk about employee engagement action plans, the key parts of an effective action plan for employee engagement, and the best ways to implement these plans.
What are employee engagement action plans?
"Data without action is meaningless"- Unknown.
Employee engagement action plans are a process that an organization must come up with to identify and prioritize their actions and also be able to identify quick and simple changes to demonstrate to its employees that the organization is determined to set in an action plan on receiving any form of employee feedback about levels of employee engagement within the organization.
Suppose your organization is determined to bring a substantial change in terms of how employee engagement is perceived in your organization. In that case, an employee engagement action plan is the perfect tool to get started with.
We surveyed and interviewed HR leaders across the globe, and a whopping 50% of them said they rarely, if ever, do anything meaningful with their survey results. The reasons are alarming:
Data collected focuses on outcomes and not the drivers of employee engagement
It's tough for us, we have competing priorities, and we are day jobs
It's tough to manage internal teams toward progress on something which isn't even a priority
It's data about the stuff that has already happened and lags behind any new indicator. It's not predictive. It's hard to turn it into knowledge about what is going to happen
We should invest in this kind of work just as we do in any other operating system in our business. We invest in our accounting systems, marketing systems, in our sales systems, in our production facilities.
If engagement (and culture) is really important, as we say it is, why don't we want to invest here as we do in any operating system? This takes resources and investment, and this takes intention. This is not just a one-time process. This is an ongoing effort.
According to a study conducted by Gallup, more than 51% of employees in the U.S. alone are said to be disengaged. 16% of the employees are actively disengaged. These statistics are surprising and disheartening.
Higher levels of employee engagement are good for the business as businesses with a large number of engaged employees have registered better profit percentages. It's not just the monetary gains; this talks greatly about workplace culture.
Learn more: employee engagement survey examples
Identifying employee engagement action plans
Before you start putting the plan together, consider the following questions to gain better clarity and direction while strategizing an employee engagement action plan:
What areas of improvement will result in strategic gains in the levels of employee engagement?
Do any of the areas of improvement already align with the current strategic direction?
Is the change considered reasonable?
What is the amount of funds that the organization is looking to invest?
Is the organization ready to deliver what it is promising?
It is advisable to thoroughly study all the attributes related to the levels of employee engagement plan in your organization before creating an action plan. It is essential to question the strategy during the incubation period. Once the plan is in the implementation stage, it would be easier to change its implementation constantly.
LEARN ABOUT: Employee Experience Strategy
Here are some of the things you can do for quick wins to improve the levels of employee engagement:
Arrange for employees to meet one-on-one every fortnight with their manager or supervisors to get an opportunity to say what they have.
Set a separate budget for employee training and development to improve employee learning activities.
Create a comprehensive employee onboarding process to improve employee engagement levels for new employees.
Having the organization's leadership clarifies the vision, mission, and goals so the employees know the organization's employee expectations.
How to build employee engagement action plans
There are a few key steps to creating successful employee engagement action plans. Here's how to make an effective employee engagement action plan: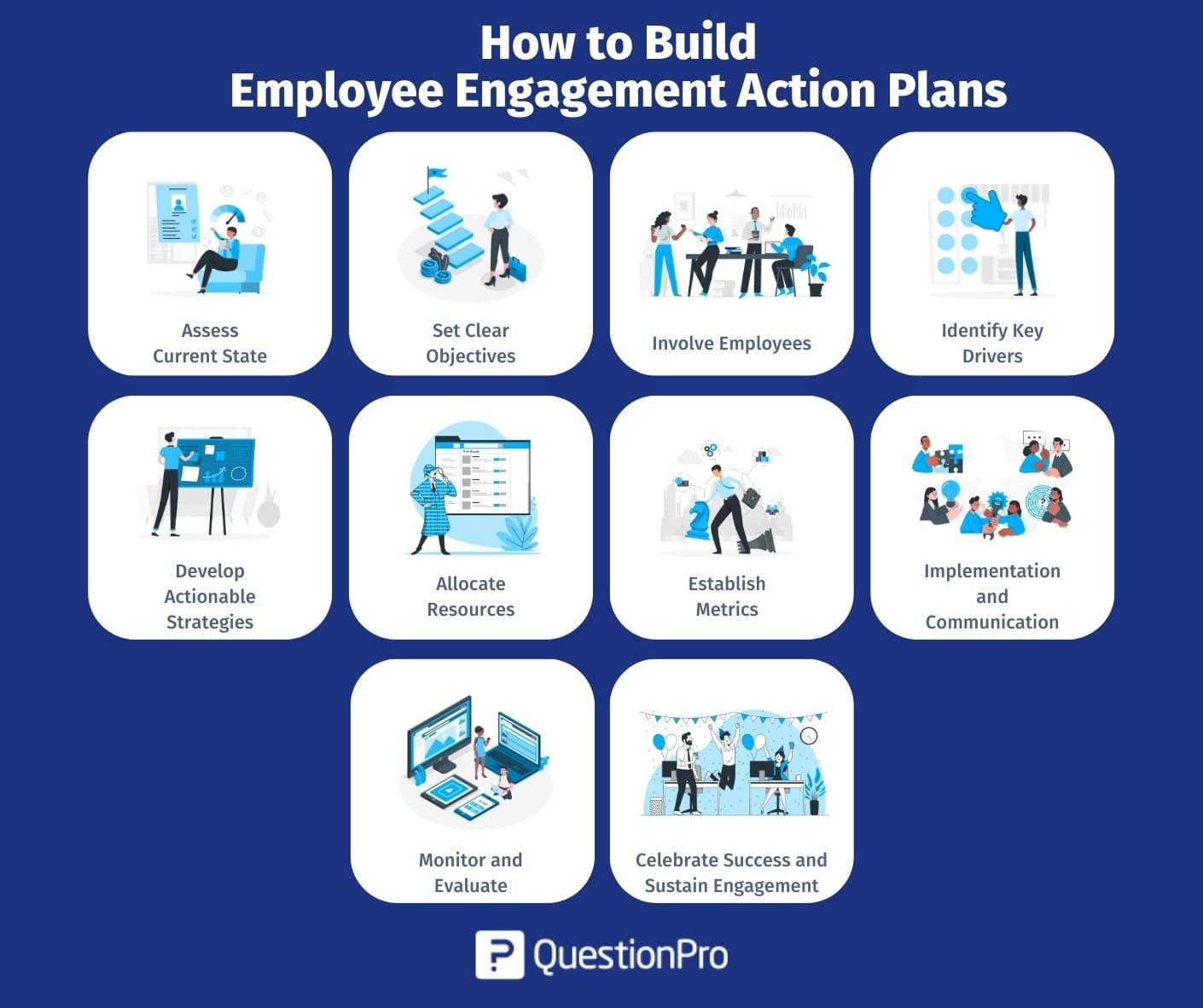 Assess the current state

Start by discovering how engaged your present employees are. Do surveys, interviews, team meetings, or focus groups to get feedback and figure out what needs to be changed. This evaluation will be a starting point for measuring employee growth.
Set clear objectives

Set clear, measurable goals for your employee engagement action plan. These goals should be in line with the organization's overall strategic goals and show the desired results you want to reach.
Involve employees

Encourage participation from your employees in the process by asking for their opinions. Hold open forums or conduct employee surveys to learn about their needs, difficulties, and solutions. Thanks to this cooperative approach, employees will feel more appreciated and have a greater sense of ownership over the engagement activities.
Identify key drivers

Determine the main elements that influence employee engagement in your company. Examples are effective leadership, open communication, career advancement opportunities, a healthy work-life balance, awards and recognition, and a supportive workplace culture. Sort the drivers in order of impact and viability.
Develop actionable strategies

Create specific strategies and efforts that address the gaps and work on improving employee engagement based on the drivers that have been identified. These tactics include establishing frequent channels of communication, offering training and development opportunities, cultivating a culture of appreciation and recognition, encouraging work-life balance, and providing chances for employee input and participation.
Allocate resources

Budget, technology, and other resources should all be allocated to help your action plan be carried out. Ensure you have the backing from management and leadership to advance the ideas.
Establish metrics

Define metrics and key performance indicators (KPIs) to measure the progress and impact of your employee engagement initiatives. These metrics can include employee satisfaction scores, retention rates, productivity levels, absenteeism rates, and participation in training programs. engagement initiatives
Implementation and communication

Phased implementation of your employee engagement action plan will ensure successful communication throughout the organization. Employees, managers, and stakeholders should be made aware of the plan's objectives, tactics, and anticipated results clearly and concisely. To assist managers in successfully adopting key engagement drivers, offer training and resources.
Monitor and evaluate

Follow up on the implementation of your employee engagement action plan by regularly gathering employee input. To gauge the success of your projects, frequently examine the measurements and KPIs. Adapt and enhance based on the feedback and information gathered.
Celebrate success and sustain engagement

Celebrate the accomplishments and results brought about by the action planning process. Recognize and value employees' contributions, and keep the employee engagement plan chugging along by periodically reviewing and revising the projects.
Remember that increasing and sustaining employee engagement is a continuous endeavor. Review and update your action plan on a regular basis to guarantee its relevance and efficacy in keeping your employees engaged and motivated.
3 tips for creating employee engagement action plans that work
Be strategic

Long-term employee engagement action plans-those that will take longer than 12 months will require detailed communication. Organizations are generally good at communicating with employees about other long-term strategies that align with their growth. Still, when it comes to employee engagement initiatives, leadership tends to go mute on them.

Make sure to integrate the employee engagement action plan with your organization's other plans and strategies and effectively communicate it to your employees. Do update your employees if there are any changes proposed to the plan, and fill in the gap.
Send out surveys at fixed time intervals

Keep your employee engagement survey short and precise. The survey need not be 20 questions long, and it can ask three or four relevant survey questions and collect meaningful insights to make informed decisions.
Don't stop, no matter what

Don't feel disappointed if you don't achieve the desired results on the first go. Remember, Rome was not built in a day. There is always something new affecting your culture. Changing leadership, new employees, etc, may be the attributing factors to the constantly changing employee engagement strategy and levels within the organization. There is always a scope to fine-tune what you are doing to achieve better results.
Benefits of Employee Engagement Action Plan
Here are some of the crucial employee benefits of a well-crafted action plan:
Better productivity in the workplace

Studies have shown that engaged employees are more diligent than their counterparts. In fact, the study shows they are 43% more productive than employees who just show up to work without any motivation at all. It's true for most businesses. Employees more invested or engaged in their workplace feel it's their responsibility to get the dice rolling.
Increased employee satisfaction

Better levels of employee satisfaction lead to internal marketing advantages for an organization/ business. Doesn't matter what business you are running. It is always good to have employees who can vouch for the organization and be the brand advocate, thus increasing employee Net Promoter Score. One negative word of mouth can ruin the brand's reputation, making social media platforms more powerful than ever. Look at the upside; what can a positive talk from an employee who is satisfied and happy at work do for your brand then?
Lower attrition rate

Naturally, employees who are satisfied in their workplaces tend to stay longer in the organization. As a result, companies with higher levels of employee engagement experience lower attrition rates. Better engagement scores and lower attrition rates will surely take your organization places and help you perform better in the ever-growing competitive business market. Companies in the 21st century have realized they don't only have to fight the local business, but the fight to stay ahead is global.
Better work-life balance

Employees who are interested in their work are more likely to strike a good work-life balance. It is a mutually beneficial relationship. While employees feel the need to work hard and spend their time wisely at work, employers feel happy about their employees being diligent at work. Employee engagement plans help employees achieve their goals and targets, while the efforts of employers to recognize this increase engagement.
Revenue growth

Last but not least, you cannot undermine the financial benefits of keeping your employees engaged. A personally invested workforce in the organization will help your business register better revenue growth. In fact, according to Watson Wyatt, companies with higher levels of engagement generate 26% more revenue growth than their counterparts.
Learn more: QuestionPro Pulse Review App- Goodbye Boring Performance Reviews
Examples of employee engagement action plans
Employee engagement action plans are designed to improve employee satisfaction, motivation, and productivity within an organization. Here are some examples of the employee engagement action plan: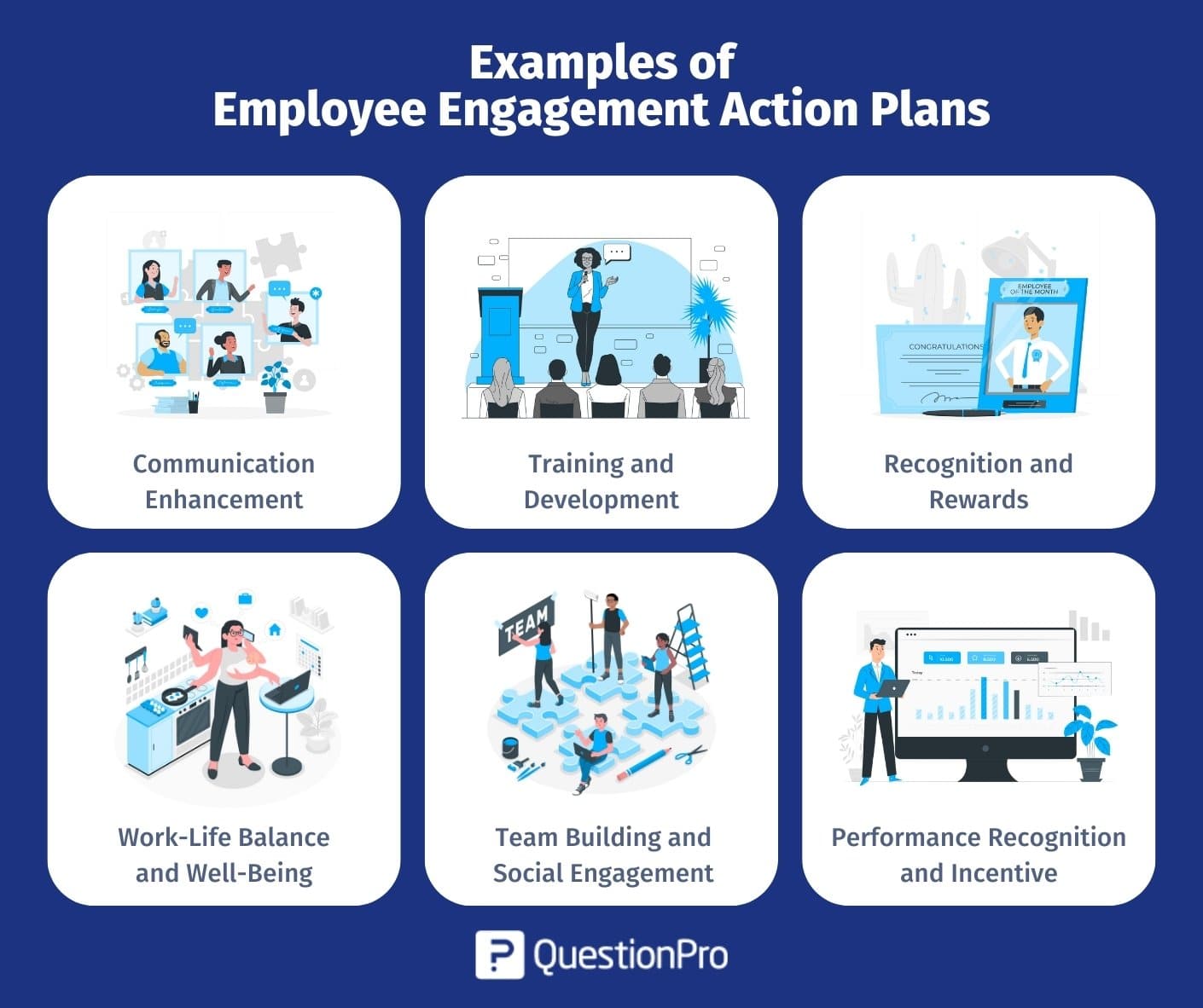 1. Communication enhancement plan:
Implement regular town hall meetings or all-hands meetings to keep employees informed about company updates, goals, and progress.
Encourage open and transparent communication channels like suggestion boxes, online forums, or anonymous feedback surveys.
Establish a mentorship program or buddy system to foster relationships and promote communication between employees.
2. Training and development plan:
Identify skill gaps and provide relevant training programs or workshops to enhance employees' knowledge and expertise.
Offer opportunities for career advancement through internal promotions or professional development programs.
Encourage employees to set individual development goals and provide resources and support to help them achieve those goals.
3. Recognition and rewards plan:
Implement an employee recognition program to acknowledge and reward outstanding performance and achievements.
Provide regular feedback and constructive performance reviews to recognize employees' efforts and offer guidance for improvement.
Establish a system for peer-to-peer recognition, where employees can nominate and appreciate their colleagues' contributions.
LEARN ABOUT: Employee Rewards Ideas for Employee Engagement
4. Work-life balance and well-being plan:
Promote work-life balance initiatives, such as flexible work hours, remote work options, or compressed workweeks.
Provide access to wellness programs, such as gym memberships, mindfulness sessions, or mental health support resources.
Encourage regular breaks and vacations to prevent burnout and promote overall well-being.
LEARN ABOUT: Employee Wellness
Organize team-building activities like offsite retreats, sports events, or volunteer initiatives.
Foster a positive work environment by promoting social interactions and encouraging collaboration among employees.
Create employee resource groups or interest clubs to allow employees to connect and bond over shared interests.
6. Performance recognition and incentive plan:
Establish performance-based incentives, such as bonuses, profit sharing, or commission structures.
Set clear performance metrics and goals to provide employees with a sense of direction and purpose.
Celebrate milestones and achievements publicly to boost morale and motivation.
Remember that an effective employee engagement action plan should be tailored to your organization's specific needs and culture. Regular evaluation and employee feedback will help refine and improve the plan over time.
LEARN ABOUT: Workplace Employee Experience Examples
Conclusion
Employee engagement action plans are the key to making a workplace that is both positive and productive. Organizations can improve motivation, job satisfaction, and general performance by putting in place strategies and projects that meet the needs of their employees.
Regular feedback, leadership commitment, and ongoing review must be needed for these action plans to work. Investing in employee engagement surveys leads to a more engaged and dedicated workforce, which leads to better employee engagement survey results and success for the company.
Using the power of QuestionPro can make action plans for employee engagement much more effective. QuestionPro's features and capabilities, like taking surveys, analyzing data, and sending reports in real time, give companies valuable information about how employees think and what they need.
Using QuestionPro's tools, companies can get feedback, track progress, and make decisions based on data to improve employee engagement projects over time. By adding QuestionPro to employee involvement action plans, companies can create a positive and welcoming workplace, boosting productivity, satisfaction, and overall success.