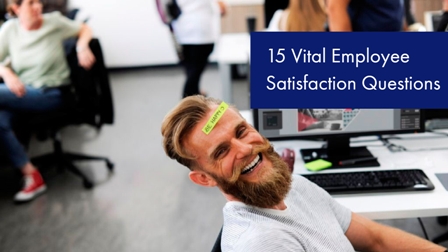 Employee Satisfaction Survey is a powerful method that Human Resource Managers can use to understand the mood of the employees. Employee satisfaction survey provides management with the knowledge to build a positive work environment and positive employee relations, through years of research we have compiled 15  employee satisfaction survey questions that you cannot afford to miss:
Organization relation and employee satisfaction survey
Is there a clear understanding of the strategic objectives of the organization?
In a research conducted by QuestionPro, 36% of employees said that better visibility of organizational goals would amplify their satisfaction and job performance.
Is it clear to you what your role demands in meeting the company objectives?
When employees have a sense of direction how they fit in the long term broader company vision it does impact the job satisfaction positively.
Do you believe that there is an opportunity for individual career growth and development within the company?
If the employee is directionless in terms of growth, eventually the employee will leave sooner or later.
Will you be working for the same organization in next 2 years?
A satisfied employee acts as a word of mouth promotion tool for the organization, hence this question is of immense significance and if the answer to this question is no, it should ring alarm bells within the organization and call for immediate corrective measures.
Are you satisfied with your Job overall?
This will give you an overall average overview of employee's perception towards the organization.
Team work and employee satisfaction survey
Research has proved that team work culture has a direct impact on job satisfaction; we have underlined 3 questions that have to be part of your Employee satisfaction survey:
Do you relish being a member of your team?
Is your team an inspiration for you to do your best at job?
Does your team provide you support at work whenever needed?
Information and employee satisfaction survey
This part often goes unnoticed in organizations especially when the employee is a recent hire they depend highly on information.
Do you struggle to get information to make better decisions at work?
If something unusual comes up, do you know who to go for a solution?
Does the organization inform you about all the resources and tools to perform your duties well?
Relation with supervisor and employee satisfaction survey
Do your seniors, managers encourage you to give your best effort?
Do you feel you are rewarded for your dedication and commitment towards the work?
Do you feel that your opinions are heard and valued by your Superior?
Do you feel there is a scope for personal growth such as skill enhancement?
Improving Employee satisfaction is the best investment a business can make. Satisfied Employees put their heart and soul into work, go the extra mile and get work done. So it's high time that you work towards improving the employee satisfaction and witness its positive impact on employee performance.
Choose from our wide range of FREE Employee Satisfaction Templates to improve your employee engagement.