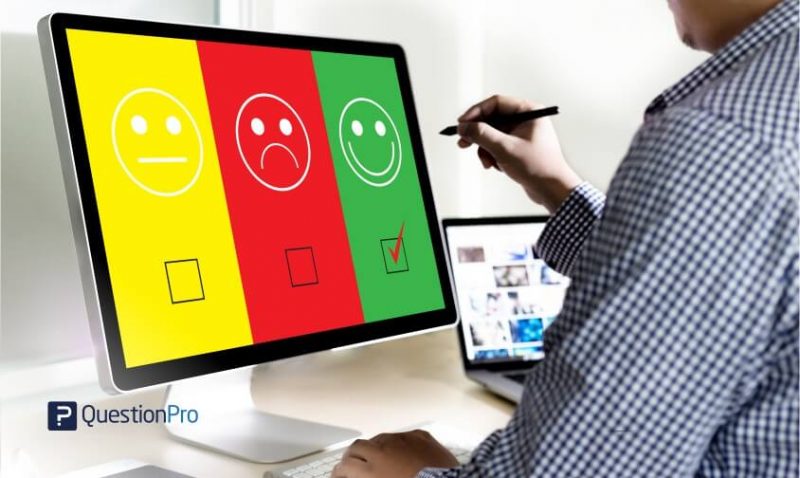 Employee Survey: Definition
An employee survey is defined as a type of survey questionnaire to obtain opinions and reviews and evaluate employee mood and morale, a degree of engagement and also monitor employee achievements. Generally, employee surveys are used by HR and Management members of an organization and are kept anonymous to motivate the workforce to comment on their good and bad experiences without any hesitations.
Employee surveys are integral employee feedback mediums to get perspective on factors such as work culture, direct managers and elements that motivate or demotivate employees at the workplace. An employee survey can bear productive results only when designed tactfully from scratch or by using one of the 250+ survey templates, with carefully curated survey questions, and when employees are aware of the acknowledgment for their previously submitted responses by an organization's management.     
Learn more: Salary and Compensation Survey Questions + Sample Questionnaire Template
Initially, in the 1920s, these surveys were introduced in the name of employee attitude surveys. After 20+ years of its initiation, the National Industrial Advisory, in the middle of 1944 and 1947, observed more than 200% increase in organizations out of 3500 who implemented these surveys. These days, 50-75% of organizations are determined to use employee surveys and implement changes suggested by employees to keep them engaged regularly and ultimately succeed.
Employee Survey Types with Examples
There are 5 main types of employee surveys that can help business owners to boost their relationship with employees.
1. Employee Satisfaction Survey: Also known as employee morale survey, this survey is used to gather opinions that the management and HR can use to build a positive environment for the employees. This can be done by understanding multiple employee perspectives such as:
Assessment of the human resource department

Contentment in regards to the salary and other perks

Overall job satisfaction

Reasons to stay or leave the job

Assessment of company policies
These surveys include questions which are highly crucial for the growth of an organization such as employee loyalty, aspects of the organization that motivate them, the scope of growth or training opportunities. Due to this, these employee surveys are usually lengthy spanning across 60-120 survey questions. The feedback received from employees is summarized and evaluated by the management to make amends in the way the function accordingly. The employee satisfaction survey is best used to get a thorough idea of what makes an employee stay or get retained by an organization's management.
2. Employee Engagement Survey: This employee engagement survey is implemented when an organization intends to monitor factors that contribute to the performance of its workforce. An employee engagement survey is conducted with one or more purposes. The survey questions can give the management a peek into an employee's perspective on changes in the organization, their motivation to be productive, how closely do they relate to the work culture and mission, etc. These parameters are measured using employee engagement survey:
Employee skill set

Employee understanding of assigned tasks

Relationship with direct and indirect managers/supervisors

Inter-department relationship management

The frequency of circumstances for employees to flourish
A lot of these questions in one employee engagement survey might not provide the results that an organization would expect. It's advised to use 30-40 survey questions from which the management can analyze results and a plan of action can be developed accordingly.
3. Organizational Culture Survey: Also known as culture alignment survey, usually used in situations such as mergers and acquisitions or when there are structural changes in an organization. They're tools used to know how well the employees understand an organization's culture and their commitment towards an organization. The following parameters can be measured using organizational culture surveys:
Organization's mission as understood by employees

In case of a merger, difference in the work culture of employees belonging to the two involved companies

Contribution to team unity

Bonding with supervisors

Transparency about business outcome
This survey is generally used for understanding how involved is an employee in the organization's culture and growth.
4. Business Process Feedback Survey: Employees are integral cornerstones for an organization's success. Most of the employees who are directly interacting with customers or are involved in the research and development process of a product may have ideas and suggestions which can help an organization grow. It's natural to not be able to execute every suggestion but asking them for their opinion gives them a sense of belonging which motivates them to work harder. A few reasons why to conduct a business process employee survey:
Give an honest opinion about aspects that an organization's management may look into.

Employees feel appreciated as they are being involved in the business decision-making process.

Issues that have an immediate impact on business can get highlighted as employees work closely with matters concerning customers and products/services.
5. 360° Feedback Survey: Feedback from the organization's staff is important. But in some case, additionally, feedback from other sources such as supervisors, senior management, clients etc., can be gathered using a 360° feedback survey. Asking staff members of different categories, their respective colleagues, to participate in a survey and also conducting self-analysis is the key to this employee survey.
A 360-degree feedback survey gives multiple perspectives about an employees performance on the basis of which decisions about training, change of workload and other factors that can further enhance an employee's performance can be made.
These surveys consist 4 to 7 point scale questions which give accurate insights into an employees performance. In some cases, open-ended questions are also used to get more information about the topic. Feedback about the entire team, entire organization and also conduct a comparison between two employees and their scores. The specificity of this employee survey is dependent on an organization's output requirement.
Analysis of the received results can be used to modify existing strategies and also to develop new ones. A critical feedback is a sign of improvement that needs to be taken constructively. It gives an organization scope of eliminating the existing errors that offer opportunities for employees and teams to progress.
360 degree feedback surveys are instrumental in understanding the strengths and weaknesses of each staff member. Receiving feedback from multiple sources, the management can decide on personalizing training schedules for individuals who feel demotivated to work that will enhance the individual at a professional level and make him/her more suitable for an organization.
6. Employee Experience Survey: An employee experience survey consists of questions that help an organization measure the overall experience of an employee, that talks about what an employee has encountered, felt and learned in an organization. An employee experience survey needs to have a proper blend of open-ended questions and close-ended questions, to collect employee feedback that helps relate their experience. Employee experience can be measured at different milestones in an employee's lifecycle, like onboarding, training, and development and also when an employee exits the organization.
Learn more: Employee Survey Software and Tool
Advantages of an Employee Survey
Employee surveys will give an organization opportunities to focus on aspects such as work culture, attracting new employees, retaining the current ones and constantly focusing on keeping employees content.

Efforts can be made towards improving employee productivity.

An organization's management can make efforts to address the various concerns employees face every day and eventually improve the entire process of solving employee complaints efficiently.

Streamline communication with employees so that they do not shy away from sharing their issues with an organization's management.

Employee performance as evaluated by team members and managers can be evaluated continually. Every improvement tracked can be appreciated and every reported flaw can be worked on.

Get inputs about what can be done differently to improve business and uncover issues that may cause loss to the business according to the workforce.
Learn more: Employee Psychological Safety Survey Questions + Sample Questionnaire Template
10 Tips to Design the Perfect Employee Survey
Identify what you want to cover in a survey: Even before you finalize the survey design, it is important to think about what is the objective of deploying a survey. Identify what you want to cover in your employee survey and make sure the topic is clear at once. 
Put questions that are necessary:

When you are building a survey, to collect important insights, every question in the employee survey, should be there for a reason. It is a good idea to first plan your survey by identifying the data outcomes you need from it and then plan out what questions need to be in the survey.

Keep it short and simple:

 Employees may get irritated and less likely to complete the survey if a topic is not clear and tend to bounce back and forth. Therefore, it is good to make sure that a logical order is followed n placing the questions and to stick to a certain topic. Also, if the survey is too lengthy respondents might not stay interested in filling out entire survey and survey results might get compromised. Hence, keep it short and simple.

Ask one question at a time:

Branching questions or asking more than one question at a time can confuse employees and they might not be able to choose correct option/options from the list of answer options provided to them. Therefore, it is advisable to ask one question at a time, to give clarity to the respondents.

Avoid using jargons:

For employees to respond to a survey, avoid using jargons. Using a language that is easily understood by respondents will help them understand and respond to surveys in a better manner.

Open ended questions or closed ended question?: This is always the tricky part, whether to ask open-ended questions or closed-ended questions? The trick here is, balance out both these options. Try and include descriptive and objective questions to balance survey. Again question types should be carefully sorted as it defines the tone and importance of asking a question in the first place.
Spend time to design your survey:

Now that there is clarity on what should be included in a survey, it is also important to spend some time to design survey and make it presentable. Survey needs to create a brand awareness with respondents. For this, survey creator can use the brand language (brand logo and brand color) so respondents can correlate with it.

Analyze the responses after collecting:

Once you've sent out the survey, collect all the responses and maintain a document or excel sheet for the collected responses. This excel sheet should have all the mentioned classifications of the survey so that you have all the data in place. You need to make sure you follow this step and categorize data into Behaviour, Psychographics and Demographics. For any researcher, it's extremely important to have organized data so that analyzing, predicting outcome and writing reports become easy.

Put a summary report together:

After collecting responses and analyzing it, share your analysis with your customers. You should have all the data gathered from surveys in a particular format by this stage. The readers should get a clear picture about your goal, i.e. what were you trying to attain from the survey?Make sure you cover questions such as: do users prefer/use a particular product or service? Which product do the users prefer? Any comment?

Conclude your plan of action:

Prepare your final action plan on the basis of your goal, responses put together and drawn conclusion. Mend your final plan and start executing the changes
Learn more: Employee Meeting Survey Questions + Sample Questionnaire Template