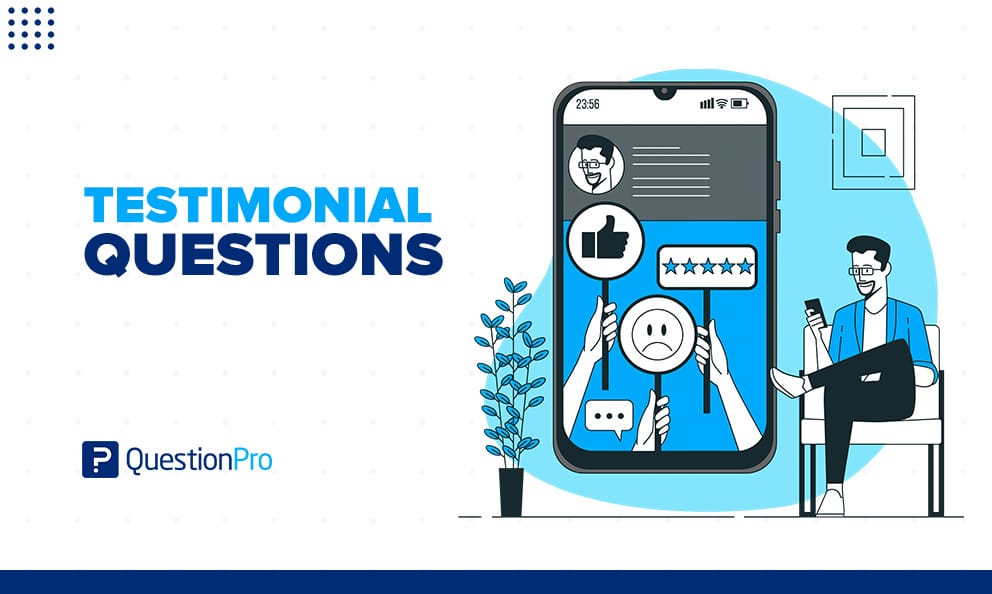 Customer testimonials are essential to the success of any company. Good testimonials show the value of your business, build trust, and offer your company power. Getting high-quality customer testimonials that sound honest and show off your business can be hard. The customer's story can be told alongside your business with the right testimonial questions.
This post will provide an explanation of what testimonial questions are, along with some examples.
What are testimonial questions?
A customer testimonial is a review or recommendation from a customer that tells others how your products or services helped them. You can receive thorough testimonials by asking focused questions. These are called "testimonial questions."
You may develop a compelling, authentic testimonial to boost sales by asking consumers the right questions. Asking the correct and relevant questions enables you to create great client testimonials. When it comes to generating conversions with customer testimonials, the questions you ask can shape online reviews.
Importance of asking testimonial questions
Asking these questions is of great importance for various reasons, and it serves as a valuable tool for the marketing team and business growth. Here are some key reasons highlighting the importance of asking these questions:
These questions allow satisfied customers to share their positive experiences and outcomes. These testimonials act as social proof, demonstrating to potential customers that real people have had successful and satisfying interactions with the brand or product.
Building trust and credibility
Testimonials are powerful in establishing trust and credibility for a brand. When future customers see positive feedback from others, it reduces skepticism, builds confidence in the brand's offerings, and creates customer satisfaction.
Authenticity and transparency
It enables businesses to collect genuine and authentic customer feedback directly from customers. This transparent approach helps create an honest and open brand image.
Understanding customer needs and preferences
By asking specific questions in testimonials, businesses can gain valuable insights into what customers value the most, what pain points their offerings address, and how they fulfill customer needs and create prospective customers.
Effective content creation
Testimonial responses can be repurposed into compelling content for marketing materials. Whether in written or video format, testimonials make for engaging content that can attract and resonate with the target audience.
Overcoming objections and doubts
These questions can address common objections and doubts that potential customers may have. By featuring authentic responses, businesses can alleviate concerns and uncertainties.
Personal connection and emotional appeal
It often elicits emotional responses. When potential customers can relate to the experiences shared by others, they are more likely to connect with the brand on a personal level.
Improving products and services
Testimonial feedback provides valuable insights into the strengths and weaknesses of products or services. This feedback can be used to make necessary improvements and enhancements.
Positive impact on conversions
Testimonials have a direct impact on conversion rates. Positive testimonials can influence potential customers to make a purchase, sign up for a service, or take any desired action.
Satisfied customers who provide testimonials can become brand advocates, spreading positive word-of-mouth about the brand to their social circles.
Reinforcing brand reputation
Consistent and positive testimonials contribute to building a strong brand reputation. A well-regarded brand can attract more customers and retain existing customers.
Differentiation from competitors
Unique and compelling testimonials help a brand stand out from competitors. It highlights the brand's unique selling points and positions it as a preferred choice in the market.
Testimonial questions with example
A delighted, successful customer's written, visual, or video testimonial might generate leads. You can request a testimonial from a customer in a variety of ways. Here are a few examples of these questions that can be used in a variety of circumstances.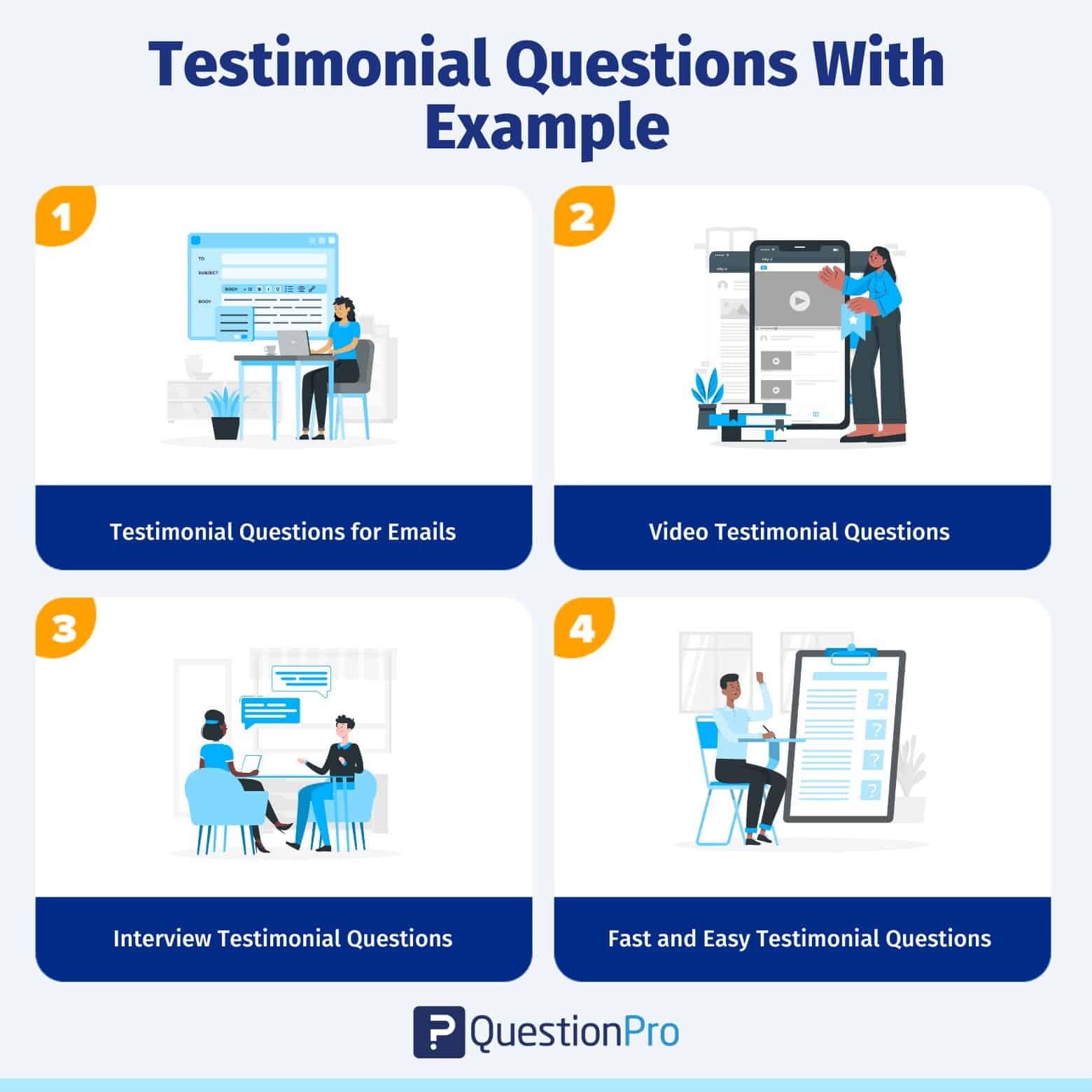 Testimonial questions for Emails
Emailing is a great way to reach a lot of customers quickly for testimonials requests. You can collect feedback from clients through a link to the testimonial page in text, photos, or videos. You can save time and reach all of your happy customers by automating your emails. Here are some examples of testimonial questions you can ask:
When did you first hear about us?
How was your experience using our product or service?
What did you like most about the sales and marketing teams?
How would you describe our product or service to someone else?
Is there anything else you want people to know about our product or service?
Video testimonial questions
In recent years, video testimonials have become one of the best ways to get people to buy something. Putting a video on your landing page could increase the number of people who buy from you and make you seem more trustworthy. It's not too hard to create an exciting testimonial these days. Here are some examples of testimonial questions you can ask other prospective customers that help you make a video testimonial.
Why did you think our product or service was a good idea?
How has our product changed your daily workflow?
Did you face any problems or issues with our product or service? If so, how did our team help?
How has the product affected your business?
Do you think that our product or service helped you reach your goal? If yes, how?
Interview testimonial questions
Some businesses collect testimonials in person from clients. If you or your client aren't sure what to say, an interview is an excellent way to get a customer testimonial. These questions keep it casual while detailing how other customers can benefit from your business. You may already know the answers to some questions, but repeating them for the testimonial is a good idea.
What are the issues that led you to seek out our product or service?
When you bought our product or service, what happened?
Which parts did you like the most about our product or service and why?
Would you tell your friends about us?
Do you have anything further you'd like to address?
Fast and easy testimonial questions
Even if neither you nor your customer has time for a lengthy interview, you can still make a good testimonial in just a few minutes. It can be a phone call, a video chat, or an in-person conversation. Consider asking the following examples of these questions to get the most out of this.
What made you use our product or service?
When did you start using our product?
What's your favorite part of our product?
What are your thoughts about our product or service?
Why did you pick our product or service?
How likely are you to tell others about our product or service on a scale from 1 to 10?
Conclusion
Testimonials are an excellent demonstration of how a story may increase sales. When your marketing material and selling materials fail to attract potential customers to buy, testimonials can help.
Let consumers know what benefits your product or service can offer them. Testimonial questions can help to get the answers showing how good your product is. Whether you have a few minutes or an hour, these questions can help you keep customers and help your business grow.
QuestionPro is equipped with some of the most cutting-edge tools for enhancing the customer experience. Using the QuestionPro CX platform today, you may quickly and easily gain significant insights into the thoughts and feelings of your customers.