Get qualified, reliable and mobile-ready survey respondents and survey research panel using QuestionPro Audience. Also get full turnkey data collection including - Sample, survey programming, tabs, dashboard reporting and custom scripting!
End-to-end 360 degree data collection and fieldwork
Build your survey and leave the fieldwork to us. Our panel experts will gather the requested completes from our panel and provide frequent updates on the progress of your sample. You'll be contacted by one of our panel experts shortly after submitting a sample inquiry for your survey.
Seamless access to qualified online survey respondents
QuestionPro maintains a global panel of millions of highly qualified respondents ready to take your surveys. We.re able to ensure high quality respondents through our disciplined and methodical approach at recruitment and panel operations.
Integrated solution/ unified platform
Take advantage of the innovative, industry leading QuestionPro survey software to monitor survey completes and review data in real-time while the panel team qualifies and recruits your target audience. Our unified platform allows you to obtain and analyze survey results more quickly and is more cost effective than utilizing external vendors for your sample needs.
Get Qualified Research Sample & Survey Respondents>>
Survey Respondents and Data Collection - Key Features
How do I request a survey research panel (research sample) quote?
Go to:
Login »  Surveys »  Send Survey »  Respondent Access »  Request Quote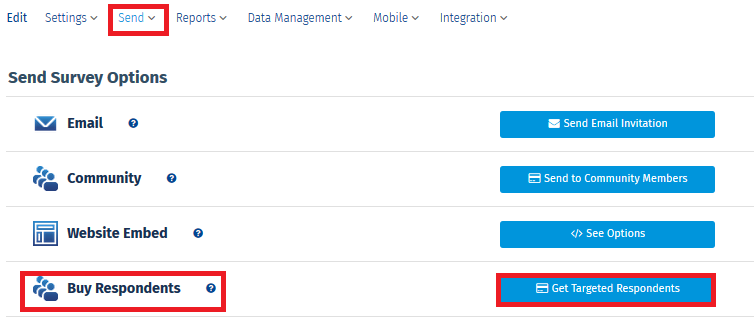 This will take you to the sample request form.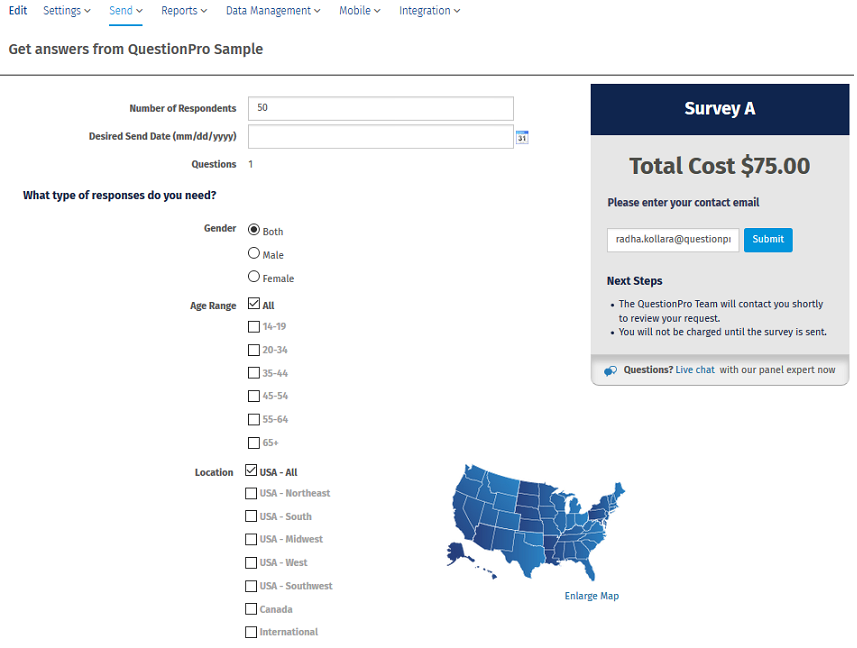 QuestionPro allows you to select the respondent panel based on Gender, Age, Location, and Ethnicity. If you require more specific criteria, click the Tell us more link, enter the criteria you're looking for into the text box, click Submit,  and a panel expert will get in touch with you.
Get Qualified Research Sample & Survey Respondents>>
How soon will the research panel be available?
The respondent panels are readily available. Once we have your requirements, we will review them and provide you with a quote. Once the quote is accepted, our team will set up the panel and can be ready to launch within 2 to 4 hours.