An employee engagement survey includes a series of questions that are designed to measure how engaged and motivated your employees are to perform 100 percent at work each day. Moreover, it also helps in measuring the performance, calibration, competence, and satisfaction of employees. 
Every successful and emerging organization must know the value of employee engagement if they want to stick out from the average performing organizations. 
To achieve a good employee retention rate, organizations have done the analysis and come up with the fact that engaged employees have better productivity levels and also they share out of box ideas, suggestions and are ready to take initiatives which can help in the growth of a company. 
Therefore, employee engagement surveys are an important process which every organization must include in their business module. The continuous feedback from the employees helps every company to know where they are positioned and what all they need to improve on the current processes and discard the negatives completely. 
4 excellent employee engagement survey templates that real brands use
Glance through the 4 excellent employee engagement survey template used by the brands to keep their employees engaged : 
1. NSC – National Safety council

The National safety council is a non-profit organization serving from the last 100 years with the aim of preventing death at work, homes or communities. 
The below survey template is provided by NSC to begin addressing opioids use in different organizations. Opioids also called narcotics are the medications prescribed by doctors to treat persistent or severe pain. This employee engagement survey template will help NSC to know whether the employees working in different organizations know about Opioids, it's side effects and addiction which could result in the death of any individual due to drug poisoning.
This Survey template will help the organization in many ways : 
Helps employees in knowing opioids and how it can affect the workplace

Know about Opioids misuse and disorder

Build awareness among employees about opioids.

Direct the HR department to integrate drug-related policies
The Look and feel of this survey are quite simple. It includes a single matrix and open-ended text questions. If you want to incorporate strong drug policies in your organization then this is an effective survey template.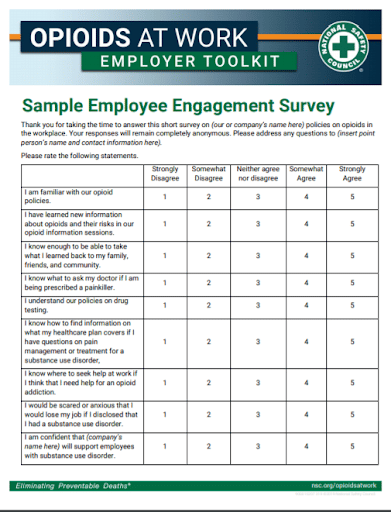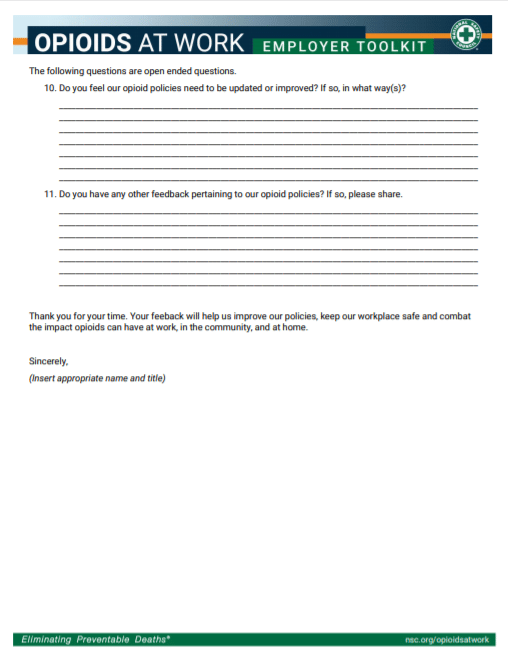 2. BambooHR


A leader in providing HR Software. They help organizations to focus on every aspect of the employee which can be onboarding, policies, biometric, leaves, holidays, team communication and others.
The below employee satisfaction survey template is integrated within their employee satisfaction software which helps organizations to know the feedback from their valuable employees at regular intervals.  Moreover, it helps the organization to work on the areas on improvement as per the employee feedback. The UI/UX of this template is clean and easy which includes single matrix questions and open-ended text questions. If you want to keep your employee engaged then you can use this simple employee engagement survey template.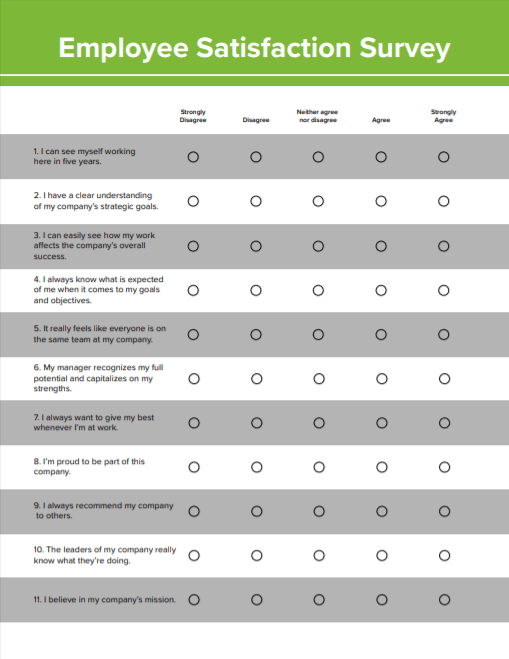 3. Bluewire Media


The hub of web planning strategy templates for doing surveys, event marketing, social media and many more. 
The below template is a Staff happiness survey template that includes the set of questions to measure employee engagement and staff satisfaction. It can be downloaded in the form of a google sheet or excel sheet but it won't work well in excel because it cannot create an online form for people to fill in the data. This template includes the single select questions which have the rating from 1 to 5, where 1 stands for strongly disagree and 5 stands for strongly agree. If you as an organization want to know the employee net promoter score and measure employee engagement then you can use this adaptable staff survey template.
4. Smart Church Management


A consulting company that provides the services to help the local church in developing the systems and process for the church growth. 
The below survey template is used by every church leader to ensure that their church employees are satisfied, have a good amount of resources to keep up the good work in their job. The reason why these surveys are deployed is that church employees are the ones who are making things happen at church with fewer resources like time, money and people. So, in order to keep on knowing the feedback regarding the resources, church leaders do these surveys at regular intervals to support the employees. If you the church leader or own any organization then you can use this survey template with single matrix questions.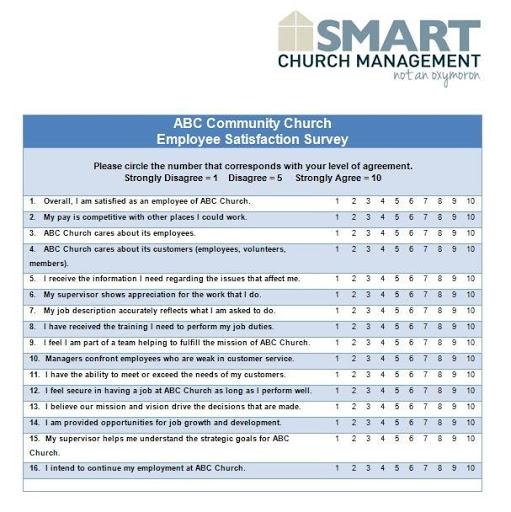 Need of the Employee Engagement Survey
Engaged employees are functioning on all barrels, which means they are less likely to make a blunder and more likely to accomplish perfection. According to the recent study by Gallup, engaged organizations saw 40% fewer defects in the quality of their service, product, and employees. 
Every organization must have these questions in mind. How much do they value their employees? How serious are they about employee engagement? First and foremost, employees are the brand ambassadors for every organization, who spread awareness in the form of satisfaction, job responsibilities, engagement and turn out to be an influencer. 
Employee engagement surveys must be sent by every organization on a frequent basis so that to continuously work on improving the feedback provided by the employees. Here are the top 3 reasons for deploying an employee engagement survey : 
Good for the Organization

:  Engaged and satisfied workforce is the booster for the growth of any company. Better employee engagement rate has resulted in better productivity, less turnout time, fewer leaves and more ROI.
Employee engagement is directly related to the quality of work delivered by
every employee. High engaged organization see the fewer resignation
Email, reduction in work defects, and good flow of ideas and suggestions coming into the pipe. According to the recent study, a company with a highly engaged workforce is 21% more profitable than companies with less engaged employees.
Good for the Customers:

Customers are the most valuable asset for every organization which must be secured and cultivated. 
Highly engaged employees play an important role to deliver outstanding customer service who make sure that the customer is satisfied with the product or service which is being offered to them. They also help in making your organization more customer-centric by providing them the exceptional service, so that your customers are most likely to return. 
Better for the Employees:
Employee Engagement Survey >  Engaged Employee > Happy Employee 
If every organization is taking the initiative to conduct employee engagement survey then it will transform your employees to engaged employees and will result in :

Employee Happiness: Not always happiness is related to an engaged employee, but at some point engaged employees create a happy work environment.
Healthy: According to various studies, employees who are engaged in their workplace experience less depression and stress as compared to disengaged employees.
Safety: Engaged employees are aware of the safety measures which are designed to keep them and their colleagues safe. 
How to create a compelling employee engagement survey template
Creating an effective employee engagement survey requires a lot of effort. By looking at the template it looks easy as putting the series of questions and deploying it to the employees to answer the survey. But in reality, it required the complete analysis and planning like any other business process.
Every organization must create a good employee engagement survey with a goal to identify the organization's weaknesses and strengths which helps them to stand out from the other organizations.
Here are some secrets that need to be followed while creating employee engagement survey :
Measure the start

: To know what strategies you need to implement in your organization you need to ask your employees for honest feedback on how the current things are going in your organization.

Add content carefully

: While creating the content of the survey, you should keep in mind the hierarchy of the organization which means to customize the survey based on the leadership team, managerial and junior level employees. 

Survey Setup & Design:

Study says that employee survey should not take more than 15 minutes. If it is taking more time then there are possibilities of biased answers, incomplete responses, and less survey completion rate. In terms of design, keep it simple and uncomplicated. Include both the open-ended text questions and close-ended questions so that there is a balance in the quality of data. 

Clear Language: 

For survey questions, use plain and

easy to understand sentences and avoid the phrases that have a strong corporation with religion, gender and ethnicity. 
Employee engagement survey tool and platform
QuestionPro Workforce is an excellent tool or software to conduct your organization's employee engagement surveys. Leaders and HR managers can use the online survey software and platform to conduct online staff engagement interviews, collate crucial staff data, security survey questions and analyze it to bring about informed changes in their staff processes. Here are four top advantages of using an employee engagement tool or platform:
Time saver

: With a bunch of pre-set templates in-built into the platform, you can send your employee surveys as soon as you need them. You can also either modify the existing templates or create new ones. The tool is user-friendly and a big time saver.

Customization

: Customize your organization's portal to match your brand themes and colors. This lends credibility to your staff surveys and significantly improves the survey response rates.

Data security

: When conducting employee engagement surveys, HR professionals need to take care of privacy, data security, and anonymity. They can do this by limiting interview access for some people in the organization. Such tools have the settings and ability to allow and restrict access to certain employees, which ensures data security and privacy.

Credible and actionable insights

: Collecting employee data or feedback is only just the beginning and failing to act on that data is worse than not gathering staff feedback. Using these tools helps collect data that can help revamp and improve your HR initiatives.