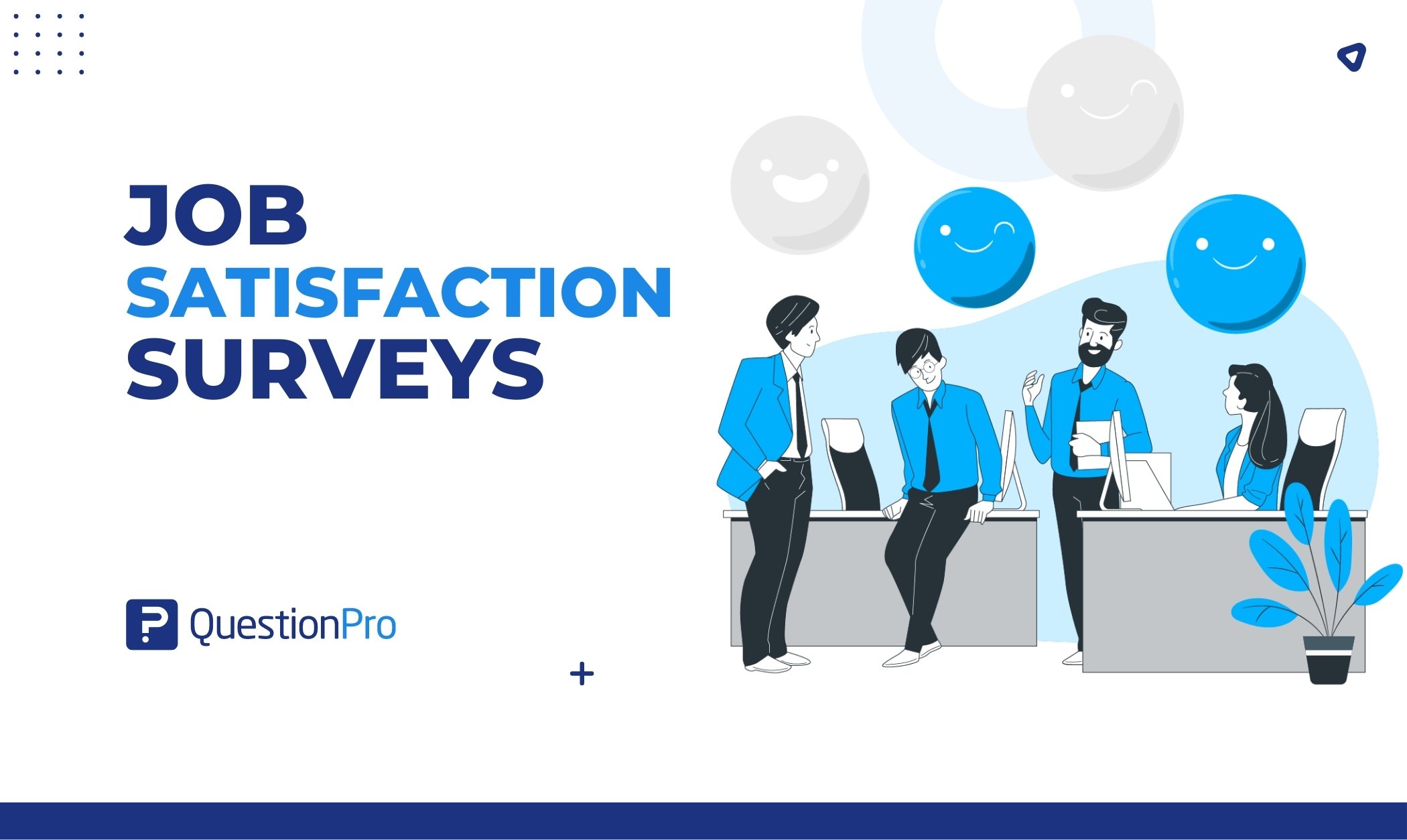 Are you having trouble keeping your best employees engaged and motivated? Employee retention is a major challenge for businesses in today's competitive employment environment. Job satisfaction surveys are an excellent tool to improve employee retention.
Organizations can gain important insights into what motivates and engages their employees by collecting employee feedback from them about their work experiences and satisfaction levels.
In this article, we will explore how job satisfaction surveys can improve employee retention by highlighting best practices for executing them.
What are Job Satisfaction Surveys?
Job satisfaction surveys are used to evaluate employees' overall happiness with their jobs and work environment. These employee surveys consist of a series of employee satisfaction questions that aim to measure employee satisfaction in various aspects.
These include a variety of employee satisfaction survey questions that evaluate different areas of the workplace, such as:
Overall satisfaction:

The general level of employee satisfaction among employees.

Job responsibilities:

How employees feel about their job responsibilities, whether they're challenging, satisfying, and match their skills and interests.

Work environment:

Employees' views on workplace cleanliness, comfort, and resources.

Compensation and benefits package:

Employee satisfaction with salaries, bonuses, benefits, and opportunities.

Relationship with colleagues and supervisors:

The quality of employer-employee relationship and communication.

Organizational culture:

Employees' views of the company's principles, mission, and culture.

Feedback and recognition:

Employee satisfaction with feedback, recognition, and awards.

Employee engagement:

Motivation, commitment, and involvement in work.
The Importance of Job Satisfaction Surveys in Creating a Positive Work Culture
Job satisfaction surveys are essential in fostering a positive work culture inside an organization. They provide helpful insights regarding employees' thoughts, feelings, and views about their jobs, workplace environment, and overall employee satisfaction. Here are some of the key reasons why these surveys are important:
LEARN ABOUT: Workplace Employee Experience Examples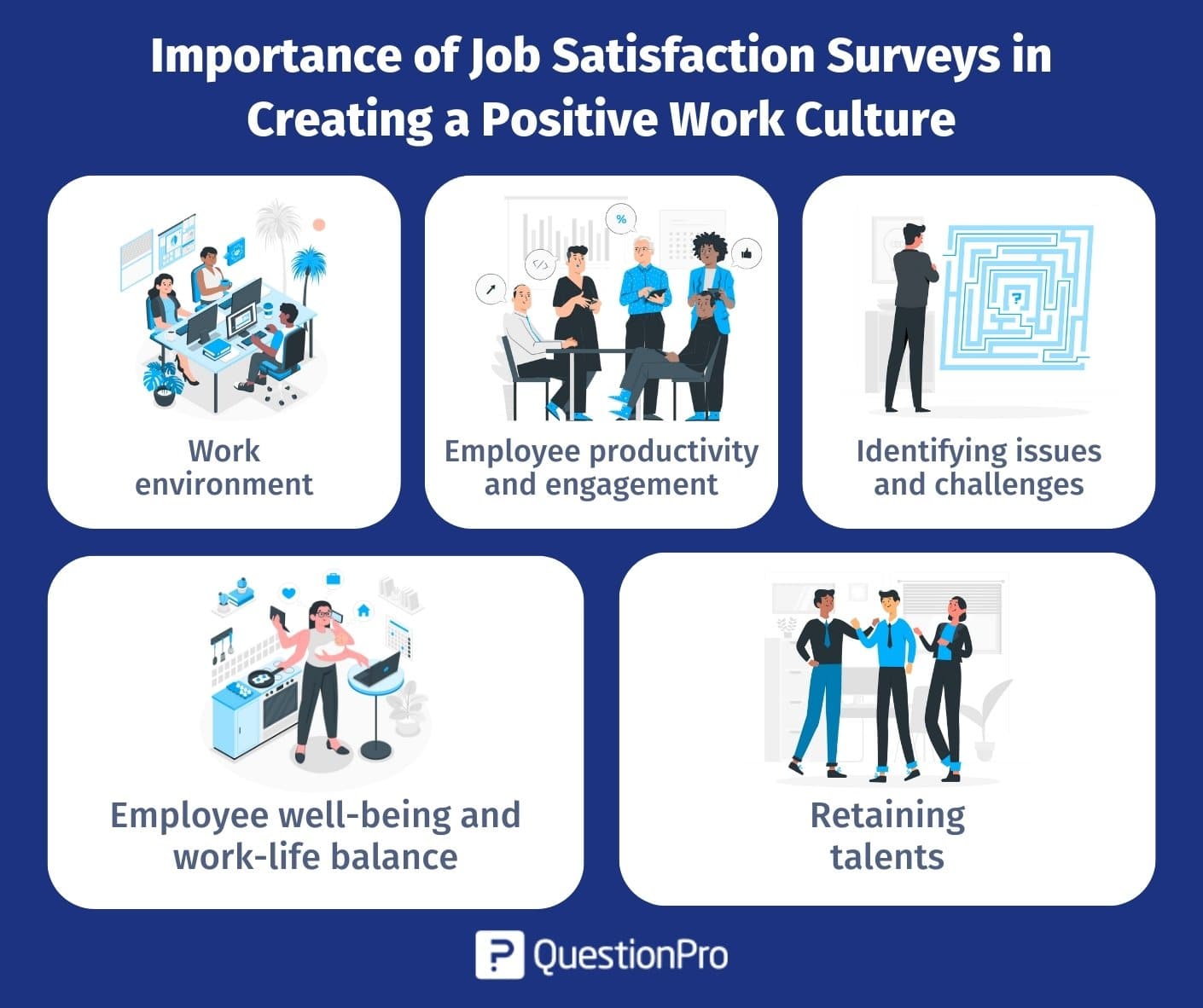 Work environment

Employees can share their ideas and concerns about their work environment through job satisfaction surveys. This feedback may reveal strengths and opportunities for improvement.
Employee productivity and engagement

Employee satisfaction surveys can measure employee engagement and productivity. Engaged employees are more productive, imaginative, and dedicated to their jobs.
Identifying issues and challenges

Employee satisfaction surveys identify areas of dissatisfaction. These include insufficient salary, personal and professional growth opportunities, communication, and management issues.
Employee well-being and work-life balance

Employee satisfaction surveys reveal work-life balance and well-being insights. Organizations can implement employee policies by understanding employees' personal and professional issues.
Retaining talents

Employee satisfaction increases employee retention. Satisfied employees are more loyal and less likely to leave. Regular employee satisfaction surveys assist companies in uncovering employee turnover issues and taking action to retain employees.
LEARN ABOUT: Salary Survey
Factors Affecting Job Satisfaction and Retention
Workplace dissatisfaction is a significant contributor to unhappiness. Many employees feel disengaged by their employers. This is also the cause of a growing trend of having fully loaded HR recruiters in organizations because of high employee attrition rates and low year-on-year employee retention.
LEARN ABOUT: HR Analytics
So how can you insulate your business from this dampening trend and increase employee satisfaction? To begin with a solution, it is essential to recognize that you must approach this problem in the same manner that you would handle any other human problem – with open and honest communication!
A lot of factors influence overall job satisfaction and retention. However, some important aspects that may impact employee satisfaction and retention are as follows:
Compensation and Benefits:

Competitive salary and comprehensive benefits packages can majorly impact employee happiness and retention. Employees expect to be fairly compensated for their efforts.

Career Development and Personal Growth Opportunities:

Satisfied employees are more likely to stay with a company if they see career advancement opportunities. Career paths, training, and skill development can improve employee satisfaction and retention.

Workplace Support:

Satisfaction requires a collaborative, respectful, and communicative workplace. Support from managers and coworkers improves employee engagement and motivation.

Recognition and Appreciation:

Identifying and recognizing outstanding performance or achievements can help employees feel valued and motivated to stay with the company.

Job Security:

Organizational stability and job security can affect employee satisfaction and retention. Layoffs, organizational changes, and insecurity might hurt retention.

Workload and Stress Levels: Workplace stress and overwork can cause burnout and dissatisfaction. Work-life balance, sustainable workloads, and realistic expectations can improve satisfaction and prevent turnover.
Designing Effective Job Satisfaction Surveys to Maximizing Employee Engagement
Effective job satisfaction surveys are essential to measure employee satisfaction and increase engagement. Here are some important considerations and steps to take when designing such surveys:
Define the objectives

Outline in detail the goals and purposes of the employee satisfaction survey. Find out which specific components of employee satisfaction and engagement you want to evaluate and improve, then measure those aspects.
Keep it short and to the point

A lengthy employee satisfaction survey may result in respondent fatigue, and respondents may lose interest. Keep the survey short by focusing on the most relevant components of work satisfaction. Aim for an appropriate completion time, which is usually about 10-15 minutes.
Cover relevant job satisfaction factors

Include employee satisfaction survey questions about compensation, work-life, professional development prospects, employment security, work atmosphere, recognition, and feedback. Customize the questions to your organization's exact needs.
Use Likert scales or rating scales


Use Likert scales or rating scales for evaluating employee satisfaction. This enables measurable data analysis. Make sure the scale options are obvious and provide a variety of options.
Incorporate benchmarking questions

Include benchmarking questions that compare employees' levels of satisfaction with industry or internal norms. This helps in identifying areas for improvement and offers context for the outcomes.
Consider demographic questions

Include a section for demographic questions such as age, gender, department, or tenure. These demographics might help in identifying patterns or differences in employee satisfaction among different segments within the business.
Ensure anonymity and confidentiality

Ensure employees that their responses would remain confidential and anonymous. This encourages open and honest feedback resulting in more accurate outcomes.
Job satisfaction requires ongoing evaluation. An annual employee survey or biennial employee satisfaction survey can track developments and evaluate initiatives.
Analyzing Survey Results
Survey data analysis can provide helpful insights to increase employee retention inside an organization. Here are some particular ways to properly use survey findings:
Identify retention drivers

Analyze survey data to determine the key factors influencing employee engagement and retention inside the organization, such as remuneration, career development opportunities, balance between work and life, leadership, and company culture.
Prioritize areas of concern

Focus on those areas where unhappy employees reveal dissatisfaction or disengagement, as they are likely to have a major effect on retention. Address these problems as soon as possible and as carefully as possible.
Utilize predictive analytics

Use predictive analytics tools to examine the results of employee surveys and other relevant data to identify potential threats and manage retention issues before they become a problem.
Personalize retention strategies

Create customized retention strategies based on survey results. Create efforts that target employees' individual problems and desires, such as career development programs, flexible work arrangements, or wellness activities.
LEARN ABOUT: Employee Wellness
Monitor progress and adapt

Monitor employee satisfaction, engagement, and retention rates on an ongoing basis to measure the effectiveness of retention strategies. Gather feedback from employees on a regular basis and make adjustments as needed to guarantee continuing progress and alignment with their needs.
Job Satisfaction Survey Templates by QuestionPro
Job Satisfaction Survey Templates by QuestionPro are some of the most trusted and insightful workforce employee evaluation survey templates. These surveys offer great questions to assess employee satisfaction, workplace mood and employee morale, team motivation, and more.
Companies can use many kinds of employee satisfaction surveys to find out how satisfied their employees are. Most employee satisfaction surveys are designed with a mix of employee satisfaction survey questions and look like one of the following:
Traditional Employee Satisfaction Surveys:

These are the most popular type of surveys. It asks a number of questions about employee satisfaction, work environment, balance between work and life, pay, and benefits.

Pulse Surveys:

These surveys are brief and done monthly or quarterly. The employee feedback survey collects employee feedback on a certain topic.

Exit Surveys:

When employees leave, these surveys help the company understand why and highlight areas for improvement.

Employee Engagement Surveys:

Employee engagement is measured through these surveys. Employee satisfaction, motivation, and organizational commitment are frequent questions.

Culture Surveys:

Employee surveys evaluate the company's culture and values. They pinpoint company culture issues.
Conclusion
You can improve employee retention and create a committed and successful workplace culture when you actually listen to your employees, give them a sense that their opinions and ideas are being heard, and make changes to organizational policies and actions in response to these suggestions.
The challenge arises when your company is mid-sized or larger, and it is tough to hold face-to-face meetings with every employee. The QuestionPro Workforce employee engagement survey tool is the best choice in these circumstances because it enables you to conduct 360-degree feedback surveys and offers analytics with in-depth insights into the data collected.
You can use employee opinion survey questions. Those questions provide valuable insights into employee morale, enabling organizations to make informed improvements and foster an engaged workforce.
Learn more: employee engagement survey examples
Additionally, Workforce is not only another online HR survey or HR analysis tool. It was built from the ground up to gather actual Human Insights in real-time and assist senior management and HR professionals in making data-driven decisions.
QuestionPro Workforce also provides a platform for employees to post and share ideas. This is known as the Idea Board. It's a democratized platform where employees may vote on ideas, and you can choose and select them based on feasibility and the good impact they can make.
Moreover, you can measure Organization Health Index (OHI) and get a real-time sense of your workplace mood and employee morale with Weekly Pulse reports.
Sounds interesting? Try it now!