In a new series designed to support our goal of simplifying decision making, we will be highlighting some of the survey templates QuestionPro offers, starting with one of the templates in the employment category: The employee satisfaction survey.
What is an Employee Satisfaction Survey?
This sort of survey is usually taken by staff members, designed to gauge their level of job satisfaction with their employment. Typically these surveys ask for some demographic information, helpful in identifying any potential red flags with the way certain employee groups are treated; however it is customary to make responses anonymous.
What Employee-Related Questions are Asked?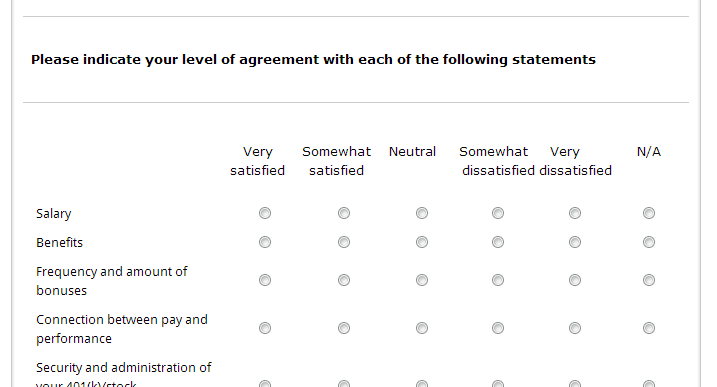 Questions often revolve around employee satisfaction levels based on key areas such as manager/supervisor interactions; level of employee empowerment; satisfaction-level with pay and benefits; whether there is room for advancement, and much more. Employees taking the survey are often asked to rate each question based on a scale. For example, this scale could range from very satisfied to very dissatisfied.

Ultimately, the specific questions asked will be up to the employer. There are a number of varying schools of thought, and we've incorporated some popular philosophies to create the initial template. The employer can then add or remove to create the most relevant data set to capture.
Can I Use QuestionPro's Employee Template As-Is?
We thought you'd never ask! Our template library has scores of great templates that are ready to go right out of the box!
To view our employee satisfaction survey and many other employee-related templates, please visit our employee satisfaction survey template page.