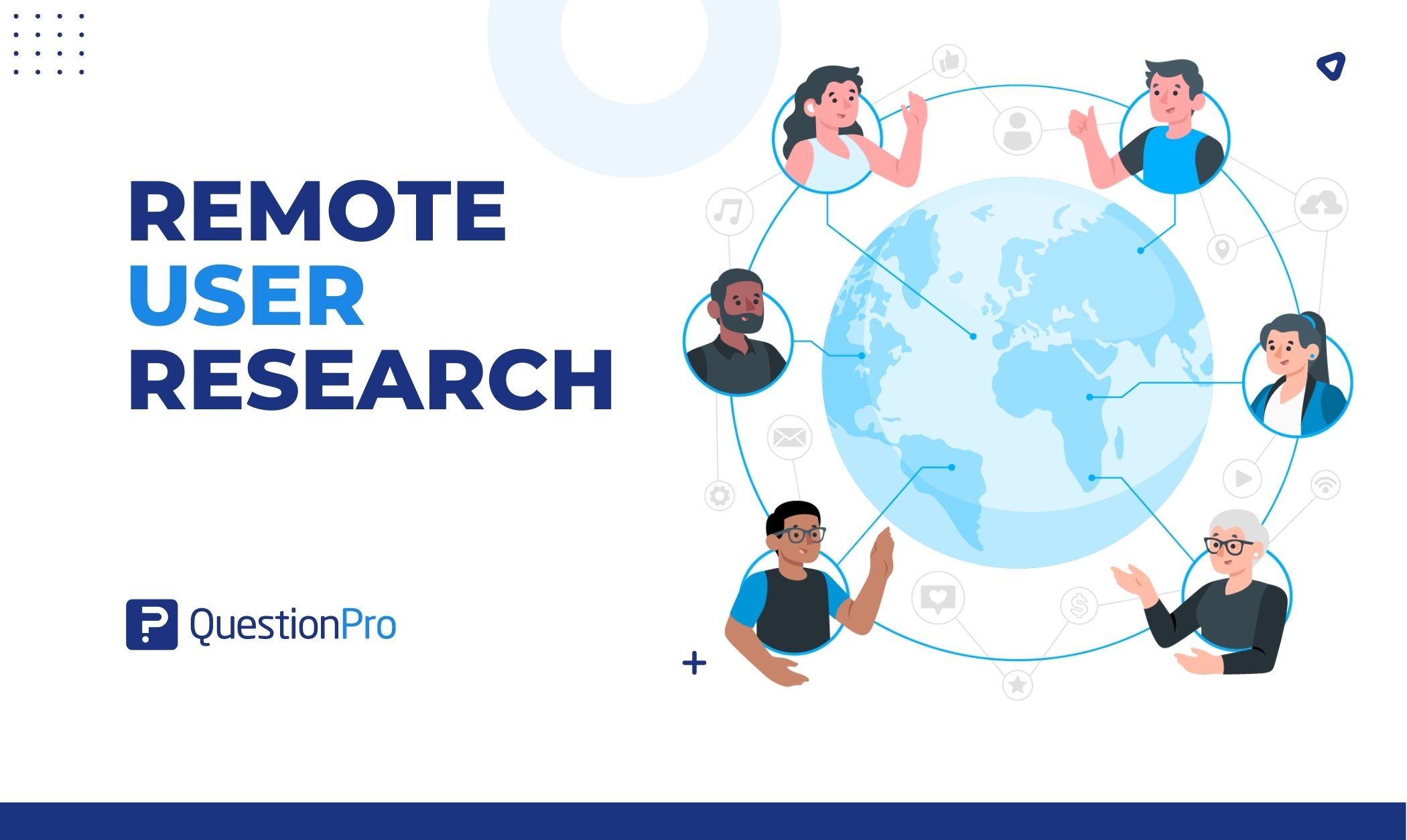 Remote user research is called "settle for it" research. It's research when the team needs more money to travel, the time to be out in the field, or the resources to bring users into the lab.
And while it's okay to think of remote research as having these benefits (it's often more cost-effective, efficient, flexible, or scalable), it's also not right to think of it as a shortcut or a backup plan for research.
Even if you don't believe it, remote research can give you better information if it's done right, and more often than you might think, it should be your first choice.
This blog tells you when it's best to do research from a distance and how to do it in a way that's as good as, or even better than, in-person methods and its pros & cons.
What is remote user research?
Remote user research is a way to do user research by using digital tools like video conferencing, screen sharing, and online collaboration platforms to do it from a distance.
It lets researchers get feedback and ideas from users in different parts of the world. It can be especially helpful when face-to-face communication is hard or impossible, like during a pandemic or when working with a global audience.
User research done remotely can take many different forms, such as remote usability testing, remote interviews, remote surveys, and card sorting exercises done remotely.
In remote usability testing, for instance, people are given tasks to do on a website or app while a researcher watches from afar and takes notes.
In such interviews, a researcher talks to people using video conferencing software. In remote surveys, people answer questions through online forms.
Remote user research can be just as useful as in-person research as long as the researcher makes sure the technology works and the participants are comfortable and interested. It can also be cheaper and more efficient than in-person research since there are no costs for travel or problems with getting people to a physical location.
LEARN ABOUT: User Experience Research
How to conduct remote user research
Remote user research is a great way to get feedback from users who may be in different places or unable to participate in person. Here are some steps to help you do user research well:
Define research goals:
Before you start your research, you should be clear on what you want to learn from your users. This will help you make a plan focusing on the most important types of question you want to answer.
Pick research methods:
Many ways to do remote user research include surveys, interviews, usability testing, and card sorting. Choose the methods that will help you achieve your research goals the most.
Choose research tools:
Many tools, such as video conferencing software, online survey platforms, and usability testing software, can be used for remote user research. Choose the tools that best fit your research methods and your budget.
Recruit participants:
Depending on how you do your research, you may need to recruit participants. You can find possible participants on social media, email lists, or online communities.
Do your research:
Schedule your research sessions with participants, ensure all your tools and software are working, and run your research sessions according to your plan.
Analyze data:
Once you have finished your research sessions, look at your data to find patterns and insights. Use this information to make an informed decision about your product or service.
Share results:
Share your findings with the people who matter and your team members. Use visual aids like charts and graphs to make your findings easy to understand.
Remote user research needs careful planning and attention to detail, but it can be a very effective way to learn from users.
Pros & cons of remote user research
Like any other research method, remote user research has advantages and disadvantages. The following are some of the primary benefits and drawbacks of remote user research:
Pros:
Access to a larger and more diverse pool of participants: Remote user research lets researchers find participants from different places, backgrounds, and cultures, which can lead to more diverse and accurate data.
Cost-effective: Remote research eliminates the need for travel, significantly lowering research costs.
Convenience: Since remote research can be done anywhere, it is more practical for researchers and participants.
Flexibility: Remote research can be easily adjusted to different time zones and schedules, making it more flexible and accommodating for participants.
Reduced bias: Remote research can reduce the risk of bias that can occur during in-person research, such as observer bias or social desirability bias.
Cons:
Limited control over the research environment: Researchers may need to fully control the participant's environment or the technology used during the research, which can affect the data quality.
Technical issues: Software, hardware, or internet connection problems can interrupt research sessions and lower the data quality.
Limited nonverbal communication: Nonverbal communication, such as body language and facial expressions, may be harder to observe during remote research, limiting the researcher's ability to interpret the data.
Limited contextual understanding: Remote research may need to capture the context in which participants typically use a product or service, which can affect the validity of the research findings.
Limited feedback: Participants in remote research may need to give more or more high-quality feedback, making it harder for the researcher to understand their experiences and needs.
LEARN ABOUT: 12 Best Tools for Researchers
How QuestionPro can help in Remote User Research
Remote user research has some benefits, such as access to a larger and more diverse pool of participants and lower costs. Still, it also has some drawbacks, such as less control over the research environment and technical difficulties. When deciding if remote user research is the right approach for your research needs, you should consider these pros and cons.
QuestionPro is a powerful survey and research software for remote user research in these ways:
Surveys: QuestionPro offers several survey solutions for user input. Surveys can be sent via email or social media and automatically recorded and analyzed.
Mobile App: The QuestionPro mobile app lets you survey respondents without a computer.
Live chats and video interviews: QuestionPro has built-in live chat and video interview facilities for distant interviews and user testing.
Screen recording: QuestionPro may record user sessions, including screens, audio, and video, for subsequent analysis.
Enhanced reporting: The platform's extensive reporting and analytics tools allow you to see and analyze remote user research data to uncover trends and insights.
Integration with other tools: QuestionPro may be integrated with Slack, Salesforce, and Zapier to simplify research and data sharing.
QuestionPro is a powerful tool for remote user research, participant input, and analysis. It has several features and tools to streamline research. To find out how QuestionPro can help you with your surveys and research.