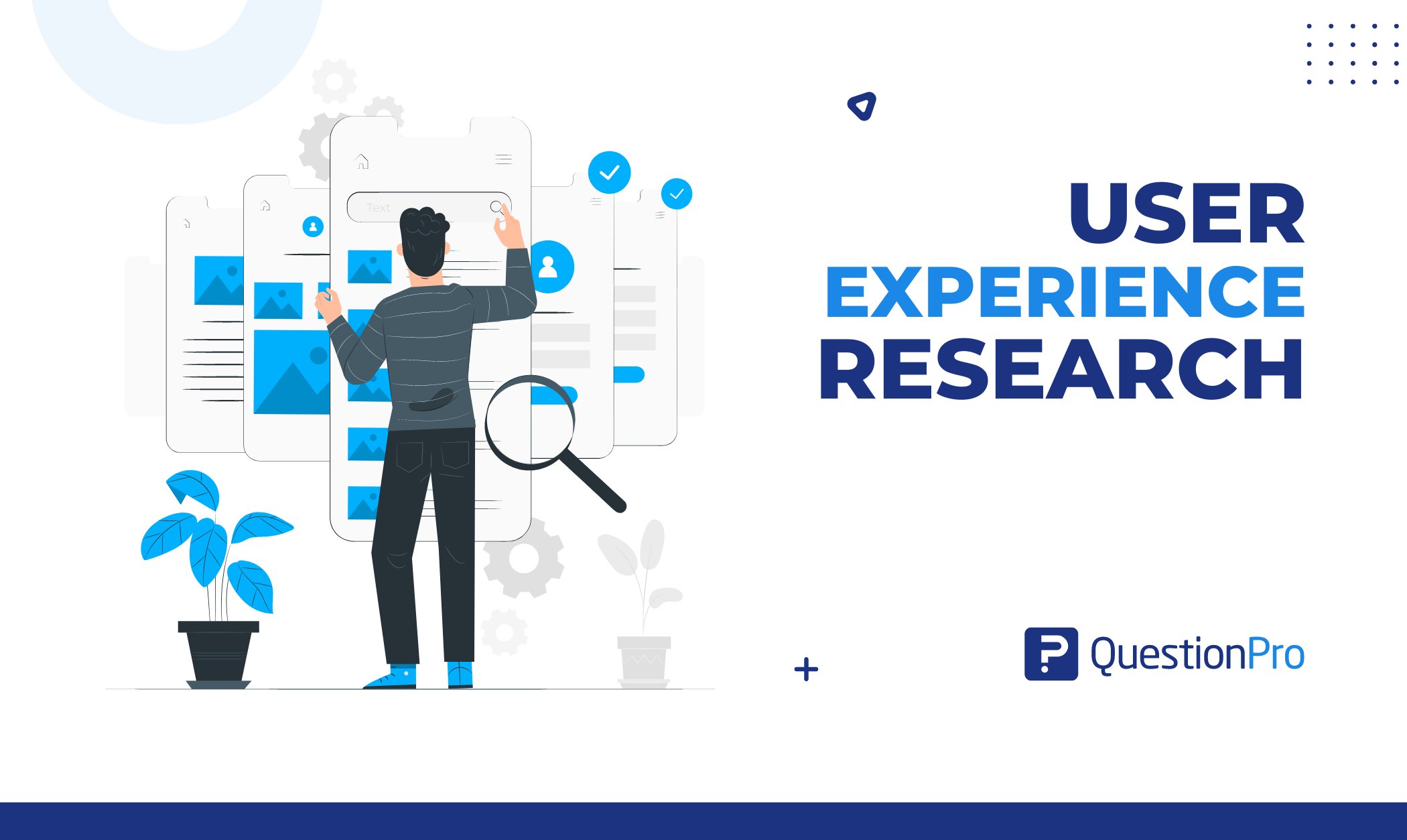 Have you ever noticed how your favorite applications and websites appear to read your mind? How do they smoothly anticipate your wants and make you feel like a tech-savvy superhero? It isn't magic; it is the result of User Experience Research!
UX research is a dynamic and ongoing process that is essential in developing effective and user-friendly products or services. It fills the gap between user expectations and design decisions, resulting in higher product satisfaction and better business-related results.
Continue reading to learn more about user experience research, how to do it, and how researchers may use it.
What is User Experience research?
User Experience research or UX research is defined as users' systematic study to discover behaviors, needs, motivations, and trends through observations, analysis, and other user feedback.
UX researchers use different methods to understand problems and draw opportunities to stand out amongst their competition. Organizations conduct UX research to precisely understand how real customers react to the products or services in the real world.
Types of UX research methods
We can divide UX research into two dimensions depending on the product type, its environment, the research size, and your timelines. Let's look at both measurements.
Quantitative vs. qualitative research
Quantitative research is the study of a population through the use of surveys and questionnaires. Quantitative research helps to generalize findings and understand what a specific population likes and dislikes. This data collection technique is generally mathematical in nature.
Qualitative research helps researchers gather information by observing users in field studies or focus groups. Qualitative research brings sense to the motivations and reasons for consumer behavior. The users are generally in small numbers belonging to diverse backgrounds and help answer the 'how' and 'why' questions about consumer behavior.
LEARN ABOUT: Qualitative Research Questions and Questionnaires
Attitudinal vs. behavioral research
"Attitudinal research" applies to what users say, while "behavioral" applies to what they really do. What users and customers usually say and what they do are sometimes pretty different. Researchers often conduct attitudinal research to measure customers' needs and beliefs.
However, researchers lean towards behavioral research for insights as data on what users tend to do is more relevant. Website A/B testing is an excellent example of behavioral research because it gives researchers critical insights into how users perceive and act on different versions of the same site.
Steps to conduct user experience research
Conducting user experience research is a structured procedure that helps discover significant insights for improving the user experience. Here are the five steps to conducting user experience research:
Step 1: Define objectives
Always define the goals of your research before you act. Understand what you want to discover about your customers and their requirements.
By defining the objectives of your study, you can set the foundation for targeted and purposeful studies. Your goals should include a thorough understanding of your clients and their individual needs. This first stage acts as a compass to ensure that your research efforts are focused on measurable outcomes.
Step 2: Set a hypothesis
Set a hypothesis on what you feel you know about the users. This hypothesis serves as a preliminary assumption, a starting point that you will test and modify during the study process. A well-crafted hypothesis helps guide your research efforts and serves as the foundation for structured inquiry.
Step 3: Choose a suitable method(s)
Choosing the best research techniques is similar to choosing the right tools for a job. The method you'll adopt is heavily influenced by factors such as project kind, available resources, research team size, and deadlines.
Whether you use surveys, interviews, usability testing, or a combination of methodologies, the goal is to customize your options to the specific context of your research, assuring effective data collecting and insight development.
Step 4: Apply the research method(s)
Conduct research using the research method(s) you chose and start collecting user data about their preferences, likes, dislikes, and needs. Conducting user experience research involves actively engaging with your target users and collecting valuable data.
This step entails creating surveys, setting up usability testing, conducting user interviews, or deploying any other chosen methodologies. UX researchers use a number of user research methods to conduct UX research. By directly interacting with users, you gain firsthand insights into user behaviors, preferences, and pain points.
Step 5: Synthesize feedback
Compiling and synthesizing the feedback is critical as data from your research activity comes in. This involves thoroughly examining user data and discovering trends, patterns, and variations. Collect and analyze the user-feedback data to fill in your knowledge gaps. Use this knowledge to improve and enhance your offering.
You can develop and improve your offers based on actual consumer demands by using synthesized feedback as a source of insights to direct your decision-making.
Uses of User Experience Research
UX research is a comprehensive toolkit for researchers. It allows them to navigate different stages of design and development while uncovering a variety of user insights. Researchers use UX research for the following:
Discovery means understanding what the users find relevant. Researchers either interview the user in their environment or ask them to maintain a record of their daily interaction with a design. Researchers look for insights into user habits, needs, and preferences during this phase.
UX researchers may conduct interviews with users in their natural surroundings or ask them to keep a record of their everyday experiences with a specific design to do this. Researchers can better empathize with users' experiences and discover insights that help drive the design process by immersing themselves in their reality.
Exploration involves investigating many options and solutions to meet the different requirements of customers. During this phase, researchers look at possibilities to address the needs of all users. Card sorting is one of the interactive UX research methods to understand precisely what people like and dislike.
This interaction method helps researchers better understand users' mental models and how they expect information to be organized. By investigating these preferences, UX designers may create interfaces and structures that fit customers' needs, resulting in more intuitive and user-friendly designs.
Usability Testing is an important stage in the UX research process because it allows designs and prototypes to be thoroughly tested. Testing helps you evaluate the design process thoroughly. UX researchers evaluate the product's usability, functionality, and overall experience.
Usability testing involves observing real users interact with a prototype, product, or service. A UX researcher can modify the design and make informed decisions to produce a more seamless user experience by identifying pain points, problems, and places of misunderstanding. Companies test products to ensure they're easy to use and accessible to everyone.
Listening to user feedback and viewpoints is essential for getting insights and putting design issues into context. Listening assists UX researchers in putting issues in perspective. It helps them find unseen problems to fix quickly.
Surveys and Questionnaires are useful tools that help researchers track user feelings. UX researchers can frequently seek user feedback via surveys, questionnaires, and feedback sessions. This method enables researchers to measure user sentiments, identify potential problems that may not be obvious at first, and fix them as soon as possible.
Benefits of UX research
The benefits of conducting UX research are numerous, contributing to both product quality and business success. Here's a closer look at the main benefits of incorporating UX research into your design and development processes:
Better products
Involving your potential customers directly helps you gain a lot of knowledge on what the customers prefer, what their pain points are, and what will help the overall improvement of the product.
Happy users
UX research helps you collect unbiased feedback directly from your customers – your most reliable feedback source. It is the best actionable feedback source because it is not influenced by company leaders, investors, or other outsiders.
Business growth
Understanding what your customers seek helps organizations spend less money and time correcting flawed designs. It helps to speed up the product development process and boosts customer satisfaction.
Conclusion
User Experience research is an ongoing process. It connects user expectations and design decisions to create seamless product experiences. It discovers user behaviors and preferences using approaches such as quantitative and qualitative research, as well as attitudinal and behavioral insights.
QuestionPro research enables you to effectively develop, distribute, and analyze surveys, acquire useful insights, and make data-driven decisions across a wide range of research areas. It speeds up the research process, increases user interaction, and ultimately helps you better understand your target audience and improve your products or services.
Looking to deliver an exceptional customer experience? Discover more about how to delight your customer at every touchpoint and turn them into brand advocates.