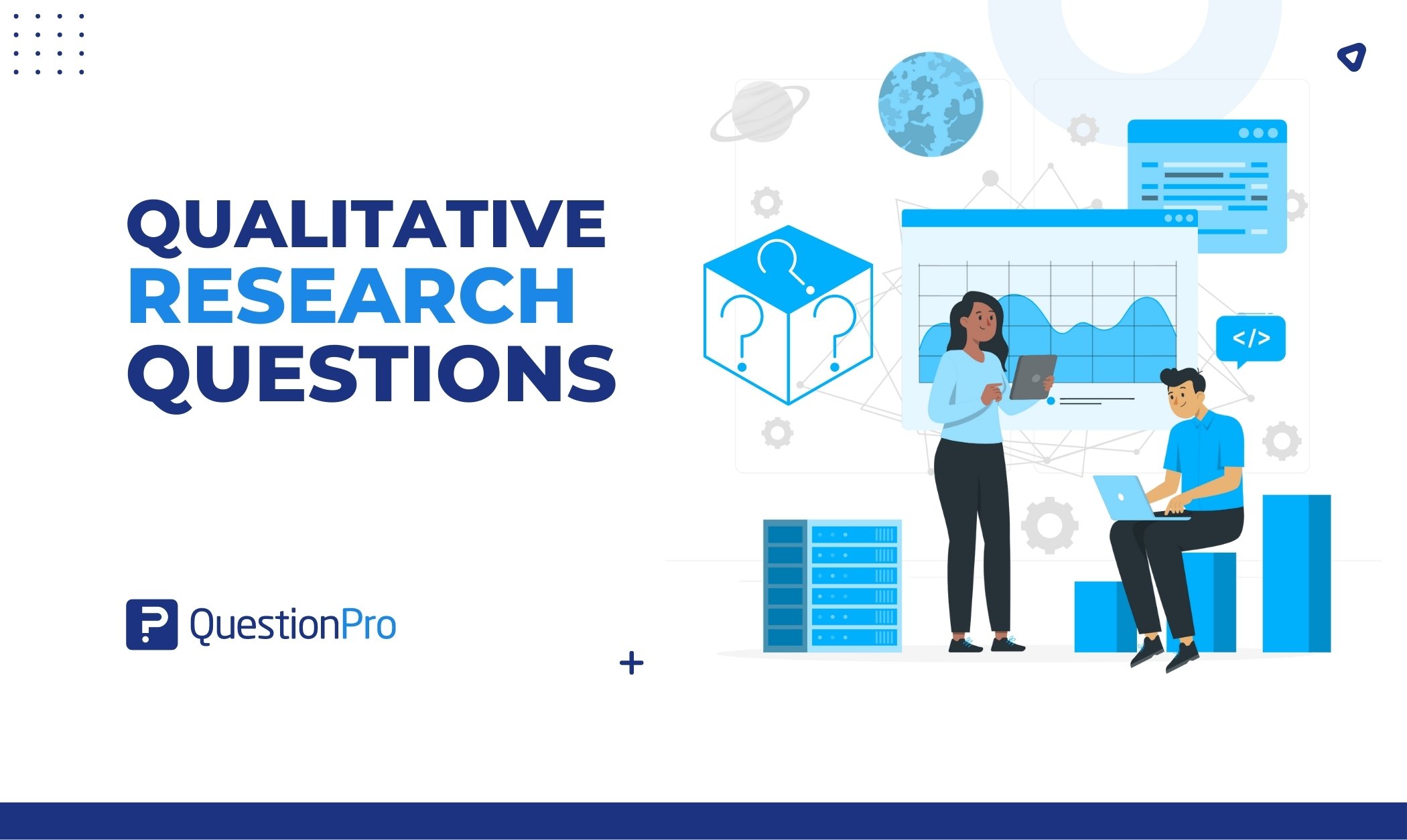 Qualitative research questions are like a compass that points researchers in the right direction to find rich stories, untangle complicated social relationships, and get a clear picture of how people act in subtle ways. Unlike their quantitative counterparts, these questions go beyond numbers and figures to explore the subjective, contextual, and complex parts of the human experience.
It's well-established that all forms of research come with their own theories and implementation methods. Qualitative research is much the same. Qualitative research is conducted to understand the thought process of both the respondents as well as researchers. It usually is conducted in a natural setup where respondents will be their true selves and would respond transparently.
Results achieved from this research will not be generalized to the entire population but asked research questions, and their vocabulary gives away the researcher's motive making it easier for respondents to participate in qualitative market research.
LEARN ABOUT: Research Process Steps
Qualitative research survey questions are created to understand a particular topic better or to inspect a new subject to understand the nerve of respondent experiences.
What are qualitative research questions?
Qualitative research questions are the inquiries that lead to qualitative research studies and investigations. They are meant to help people explore and understand phenomena, experiences, meanings, and views from the participant's point of view.
Different from quantitative research questions, which often try to measure and quantify variables, qualitative research questions try to understand the richness and complexity of human experiences and social events.
Most qualitative research questions are open-ended and allow for in-depth study. They want more than simple yes/no answers but instead want people to talk about their thoughts, feelings, views, and experiences. These questions try to find deeper meanings, patterns, and connections in a given situation.
Here are some examples of qualitative study questions in different fields:
In psychology: How do individuals experience and cope with traumatic events?
In sociology: What factors influence a student's decision to pursue higher education?
In anthropology: How do cultural norms and values shape gender roles in a specific community?
In education: What are the challenges faced by teachers in implementing project-based learning in the classroom?
In healthcare: What are the experiences and perspectives of patients undergoing long-term treatment for a chronic illness?
Qualitative research questions should be straightforward, specific, and tailored to the research's goals. They guide the process of gathering data through interviews, observations, or document analysis and give a method for analyzing and interpreting data.
How to write qualitative research questions
Writing the right qualitative research questions requires careful thought about the research goals, the event being studied, and the wanted level of understanding. Here are some tips to help you write good qualitative research questions:
Begin with a broad research question
Start by posing an all-encompassing question that probes the subject or phenomenon of interest. Exploring and learning from the answer to this open-ended question should be possible.
Specify the research objectives
Clearly state the objectives and purposes of your research. What do you want your qualitative study to accomplish? What facets or dimensions of the subject do you wish to investigate?
Decide on whatever specific subject or phenomenon you want to research. Any pertinent topic, including social behavior, cultural customs, personal experiences, and more, may be used.
Use open-ended and exploratory language
In qualitative research, open-ended questions should be used to enable participants to offer thorough and in-depth responses. Avoid yes/no questions and queries with a one-word answer. Use words like "how," "what," "why," or "describe" instead to compel people to express their thoughts and experiences.
LEARN ABOUT: Qualitative Interview
Consider the context and participants
Consider your research's background as well as the qualities of your subjects. Make sure your qualitative methods are specific to the people you will be studying so that they are pertinent and meaningful to them.
Incorporate theory and literature
Your research questions should be based on pertinent theories and available literature. This gives your investigation a theoretical foundation and places your study within the body of knowledge.
Balance breadth and depth
When formulating your research topics, try to strike a balance between depth and breadth. To fully understand the subject, you should investigate it broadly to get a variety of viewpoints and intensively delve into certain areas.
Avoid leading or biased questions
Ensure your questions are neutral and unbiased. Avoid leading participants towards a particular response. Instead, create questions that allow participants to express their thoughts and experiences freely.
Pilot test your questions
Pilot-test your research questions with a small group of people before finalizing them. This will make it easier to spot any possible problems, ambiguities, or places where clarity may be increased.
Revise and clarify your research questions based on the comments and understandings received from the pilot testing. Aim for consistency, coherence, and congruence with your research goals.
Remember, qualitative market research questions should be flexible and adaptable throughout the research process. They serve as a guide but may evolve as you delve deeper into the data and discover new insights.
LEARN ABOUT: Steps in Qualitative Research
Types of qualitative research questions
There are several types of qualitative research questions focus that can be used to guide qualitative studies. Here are some common types:
1. Descriptive questions
These questions aim to describe and understand a phenomenon or topic in detail. They focus on providing a comprehensive account of the subject matter. For example:
What are the experiences of individuals living with chronic pain?
How do employees perceive the organizational culture in a specific company?
2. Exploratory questions
These questions are used to explore new or under-researched areas. They seek to gain a deeper understanding of a topic or phenomenon. For example:
What are the factors influencing consumers' decision-making process when purchasing organic food?
How do teachers perceive the implementation of project-based learning in the classroom?
3. Experiential questions
These questions focus on understanding individuals' experiences, perspectives, and subjective meanings related to a particular phenomenon. They aim to capture personal experiences and emotions. For example:
What are the challenges first-generation college students face during their transition to higher education?
How do individuals with social anxiety disorder experience social interactions?
4. Comparative questions
These questions involve comparing and contrasting different groups, contexts, or perspectives to identify similarities, differences, or patterns. They explore variations in experiences or phenomena. For example:
How do parenting practices differ between cultures A and B in terms of child discipline?
What are the similarities and differences in the coping strategies used by individuals with individuals and depression questionnaire with anxiety disorders?
5. Process-oriented questions
These questions focus on understanding a phenomenon's processes, mechanisms, or dynamics. They aim to uncover how and why certain outcomes or behaviors occur. For example:
What are the processes by which teams in a workplace reach a consensus on decision-making?
How does the negotiation process unfold during conflict resolution in interpersonal relationships?
6. Theoretical questions
These questions seek to generate or refine theory. They explore concepts, relationships, or theoretical frameworks to contribute to the existing body of knowledge. For example:
How does the concept of "self-efficacy" manifest in the context of entrepreneurship?
What underlying mechanisms explain the relationship between social support and mental health outcomes?
These are just a few examples of the types of qualitative research questions that can be used. The specific type of question you choose will depend on your research objectives, the phenomenon under investigation, and the depth of understanding you aim to achieve.
How to choose qualitative research questions?
Choosing a good qualitative research question involves a thoughtful and systematic approach to ensure they align with the objectives of your study and allows for an in-depth exploration of the topic. Here are some steps to help you choose effective qualitative research questions:
Identify your research objectives
Clearly define the purpose of your study. What do you want to explore or understand? What specific insights or knowledge are you seeking to gain through your market research?
Review existing literature
Conduct a thorough review of relevant literature to identify existing research gaps or areas requiring further exploration. This will help you understand the current state of knowledge and inform the development of your research questions.
Brainstorm potential qualitative research question
Generate a list of potential research questions that address your research objectives. Consider different angles, perspectives, and dimensions of your topic. Creating open-ended questions that allow for in-depth exploration rather than simple yes/no answers is important.
Prioritize and refine the questions
Evaluate the generated questions based on their relevance to your research objectives, feasibility, and potential to yield meaningful insights. Prioritize the questions that are most likely to provide rich and valuable data. Refine and rephrase the questions as needed to ensure clarity and focus.
Consider the research design and methodology
Take into account the specific qualitative research design and methodology you plan to use. Different research approaches, such as ethnography, interviews, focus groups, or case studies, may require different types of research questions. Ensure that your questions align with your chosen methodology and will help you gather the desired data.
Before finalizing your research questions, consider conducting a pilot test with a small group of participants. This will allow you to assess your questions' clarity, appropriateness, and effectiveness. Make necessary revisions based on the feedback received.
Share your research questions with colleagues, mentors, or experts in your field for feedback and suggestions. They can provide valuable insights and help you refine your questions further.
Finalize your research questions
Based on the steps above, select a set of research questions that are well-aligned with your research objectives, provide scope for exploration, and are feasible within the resources and time available for your study.
What should be the process of forming qualitative research questions and questionnaires?
1. Mention the purpose of conducting qualitative research. It can be in the form of either of these sentences:
This study will be on the topic of ….
The reason for conducting this research is ….
2. Create qualitative statements with a defined objective that can be easily communicated to the target audience.
Keep these pointers in mind while designing this statement:
Try and form single-sentence statements. Single statements can be much more effective than elaborate ones as they help in communicating important messages in an impactful manner in a short and succinct sentence.
Clarify the purpose of conducting qualitative research in clear words so that respondents understand their contribution to this research.
Mention the main topic of research that would prompt respondents to have a clearer idea about what they're getting into.
It's the words that make all the difference. Use qualitative words that demonstrate the quality or feeling behind your purpose, such as understanding, describing, explore.
Specify details that you would want to communicate to your respondents.
Mention the name of the research website.
3. Other than the primary qualitative questions, you must create sub-questions so that the purpose is executed in a better manner.
The main question might be – "What is the state of illiteracy in your state?"
You can create sub-questions such as: "How does illiteracy hamper progress in your state?" or "How would you best describe your feelings about illiteracy?"
4. Highlight these questions using 'qualitative' words:
Start the questions with "What" or "How" to make sure the respondents provide details about their feelings.
Communicate what you're trying to "understand," "explore," or "identify" using this Qualitative research online survey questionnaire.
Questions such as "What happened" can be asked to develop a description of the topic.
Questions about "how did respondents interpret the what happened question" can be asked to examine the outcome.
Understand the entire qualitative research process by asking questions about "What happened to you with time?"
5. Develop a skeleton to design the primary questions and also the sub-questions. For example:
Primary Qualitative research survey question: "How do you think _______ (the main topic of research) means?" or "Describe _____(the main topic of research) as you've experienced."
Sub-question for qualitative research: "What _________ (characteristic) does __________ (respondents) interest in as a _________ (main topic of research)?"
LEARN ABOUT: Structured Questionnaire
Conclusion
Qualitative research questions are key to giving research studies depth and breadth. These questions go into the details and complexities of human experiences, perceptions, and behaviors. This helps researchers get a full picture of a certain occurrence.
Qualitative research questions are meant to explore, describe, and make sense of subjective truths. Most of the time, they are open-ended, so people can say what they think and feel in their own words.
QuestionPro is an online poll and research platform with several tools and features that can make it easier to make and use qualitative research questions. Its easy-to-use design and variety of question types help researchers collect qualitative data quickly and easily, improving the whole research process.