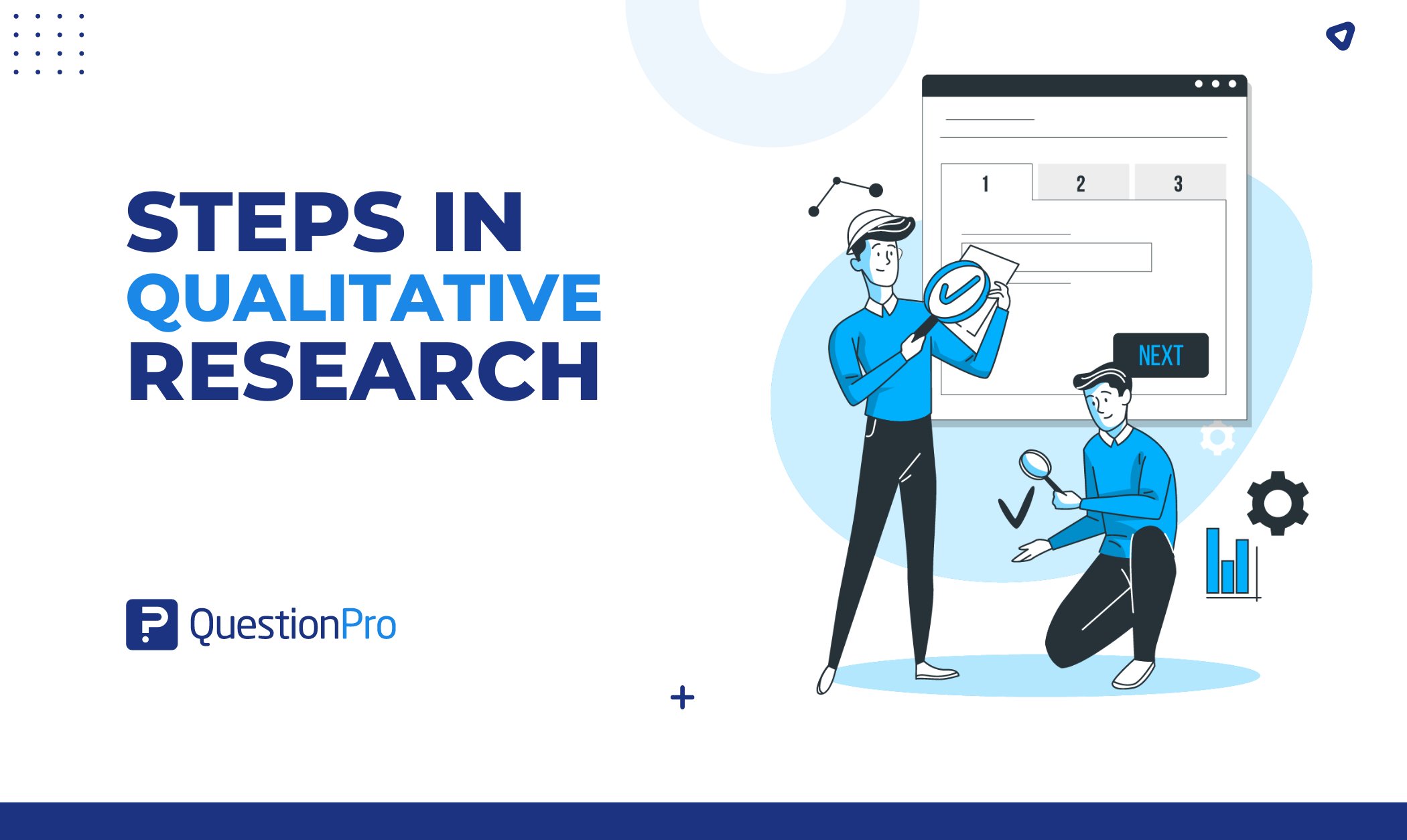 Qualitative research is a valuable approach that allows researchers to delve into the complexities of human behavior, perceptions, and experiences. It provides a deeper understanding of the "why" and "how" behind actions, making it an essential methodology in various fields such as social sciences, psychology, anthropology, and more. In this blog post, we will delve into the five essential steps in qualitative research that can help unlock profound insights.
What is qualitative research?
Qualitative research is a research approach or methodology that seeks to explore, understand, and interpret individuals' or groups' underlying meanings, motivations, attitudes, behaviors, and experiences within a specific context. This type of research aims to generate rich, non-numerical data and insights into the complexities of human behavior, social phenomena, and cultural practices.
Qualitative research typically employs methods such as interviews, focus groups, participant observation, and open-ended surveys to collect data, and it emphasizes subjective analysis, context, and the development of theories or explanations to illuminate the studied phenomenon.
It is often used in social sciences, psychology, anthropology, and other fields to understand various aspects of the human experience better.
Importance of qualitative research
Qualitative research is a valuable and important research methodology that provides in-depth insights into human behavior, experiences, and social phenomena. Its significance can be understood through several key aspects:
Understanding Human Behavior and Experiences
Qualitative research allows researchers to explore complex human behaviors, attitudes, and experiences. It delves deep into the "why" and "how" of people's actions and perceptions, providing a rich understanding of the underlying factors.
Qualitative research is well-suited for capturing the context in which phenomena occur. It helps researchers uncover the cultural, social, and historical factors that influence people's thoughts and actions, providing a holistic view of the subject matter.
The qualitative analysis process often serves as an initial step in the research process, helping researchers generate hypotheses or refine research questions. It can guide the development of quantitative studies by uncovering relevant variables and relationships.
Qualitative methods are particularly useful for studying complex or sensitive topics where quantitative data might not fully capture the nuances involved. It allows researchers to explore multifaceted issues in depth.
Qualitative research can contribute to theory development by generating concepts, categories, and theoretical frameworks grounded in empirical data. These insights can help build and refine theories in various fields.
Policy and Program Development
Qualitative research can inform the development and implementation of policies, programs, and interventions. It provides valuable information on the needs, preferences, and barriers faced by specific populations.
Enhancing Quantitative Research
Qualitative research often complements quantitative research by providing a deeper understanding of the phenomena under investigation. It can help researchers design better surveys and experiments. 
Personalization and Customer Insights
Qualitative research is instrumental in understanding consumer preferences, attitudes, and behaviors in business and marketing. This information can guide product development, marketing strategies, and customer service improvements.
Healthcare and Patient-Centered Care
Qualitative research is essential in healthcare to understand patient experiences, preferences, and satisfaction. It informs patient-centered care approaches and can lead to better healthcare outcomes.
Social and Cultural Research
Qualitative research is indispensable for exploring social and cultural phenomena, such as identity, social norms, and cultural practices. It helps researchers appreciate the diversity and uniqueness of human societies.
5 steps in qualitative research for creating research study
Creating a qualitative research study involves careful planning and execution to gather in-depth insights into a specific research question or phenomenon.
In the early stages of conducting steps in qualitative research, gathering qualitative data through methods such as interviews and surveys is followed by the critical step of discourse analysis to unearth underlying themes and patterns in the collected information. Here are five essential steps in qualitative research: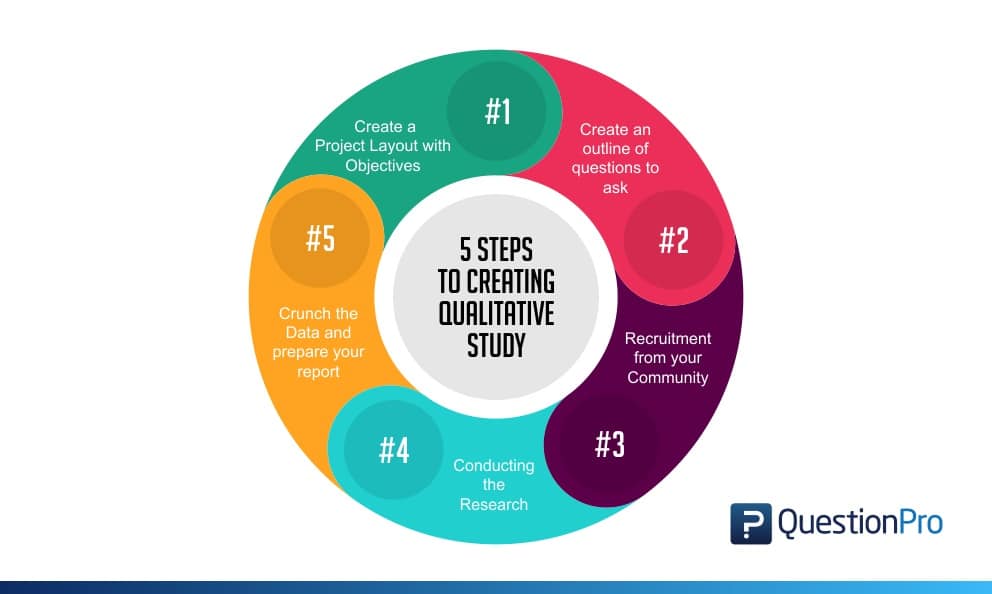 1. Create a Project Layout with Objectives
When beginning a market research project, it is important to have a clear outline of the challenge you are hoping to find clarity on. There are a number of reasons why you would want to survey consumers, including:
Brand awareness
Product testing
Next, know your objective. Objectives are geared towards the end result and information you will obtain, not steps in a qualitative research project. For example:
Ideal Objective
Understand what drives customer retention for my company vs. the direct competitor
Not an Ideal Objective
Recruit 20 participants for an in-depth interview
2. Create an outline of questions to ask
With your goals and objectives created, craft your survey questions. Use QuestionPro's survey platform to put together screener questions to filter the right participants from your community. The number one mistake when creating survey questions is asking leading questions. They will unconsciously sway the participant towards one side of an argument. For example:
Leading question
Do you think the color red is the right color for this product?
Non-leading question
What are your thoughts on the color of this product?
Some additional best practices include:
Not asking absolute questions (using always, never, all, every)
When asking questions of a sensitive nature (such as race, sexual orientation, beliefs, etc.), ask near or at the end.
Do not use jargon or abbreviations without explaining what each word means
3. Recruitment from your Community
Before collecting data, it is important to think about your sample size. In a qualitative survey, 15-20 is typically the ideal number of participants to survey. Your community will make it easy to view your member's profiles to see past participation, so you aren't surveying members too frequently.
The community participant sample should be a general representation of your targeted demographic. Otherwise, your answers are going to miss the mark on who you are trying to reach. Once your target sample from your community is set up, you are ready to conduct your research.
4. Conducting the Research
This is the time when you are administering your survey, conducting your qualitative interviews, and implementing your field test. These important steps can be time-consuming but are critical. However, using a community makes it easy to set up questions and tasks without having to survey each individual in person.
You can ask a question to either the entire group and have a discussion or pose questions to individuals separately. The answers, choices, and observations are collected and recorded so you can go back to review to prepare your report.
5. Crunch the Data and prepare your report
Reviewing and analyzing qualitative data analysis can be difficult, depending on the number of questions asked, how many participants were surveyed, and the number of team members reviewing the data. Since you are asking open-ended questions, it's important to try and structure the answers. You can explore our new blog, "Examples of Qualitative Data in Education. "
Once you begin noticing phrases and subjects aligning, start adding them into word piles, and remember to keep track of who mentioned each comment. Doing this can create a persona to delve even more into your target demographic.
Your deliverables matter when presenting your work. The great thing about using qualitative data is that you can get creative with how you present. Use a word cloud to see what keywords pop up frequently.
The most important step of all is after your presentation. Make sure to go over actionable steps, create timelines to regroup, and bring in appropriate stakeholders to review your findings. Don't let the data you worked hard to obtain not create value for your company.
Qualitative research methods
Qualitative research methods are a set of techniques used in social sciences, psychology, anthropology, and various other fields to gather and analyze non-numerical data. These methods are particularly useful when qualitative researchers aim to understand better human behavior, perceptions, experiences, and social phenomena.
Qualitative research methodology typically involves collecting and interpreting textual or visual data, such as interviews, observations, surveys, or written documents. Here are some common qualitative research methods:
Qualitative interviews involve open-ended questions to elicit detailed responses from participants. These interviews can be structured (with a predefined set of questions) or unstructured (more like a conversation), depending on the research objectives.
In focus groups, a small group of participants is brought together to discuss a particular topic or issue. The interaction among group members can provide insights into shared perspectives, differences, and consensus.
Researchers engage in direct or participant observations to gather data about people's behaviors and interactions in their natural settings. Field notes and observations are recorded for analysis.
Content analysis involves systematically analyzing written, spoken, or visual material, such as documents, speeches, videos, or social media posts. Researchers look for patterns, themes, and meanings within the content.
Case studies involve in-depth exploration of a single individual, group, or organization. Researchers collect data from multiple sources (interviews, documents, observations) to understand a particular case in detail.
Grounded theory is a research approach that aims to develop theories or explanations from the data itself rather than testing pre-existing theories. It involves systematic coding and analysis of data to generate new theoretical insights.
Ethnographic research findings involve immersion in a particular cultural or social setting to understand a group's behaviors, values, and norms. Researchers often participate in the community to gain a deeper perspective.
Narrative research focuses on the stories people tell about their experiences. Researchers analyze these narratives' structure, content, and themes to gain insights into personal experiences and meanings.
Researchers examine existing written or visual documents, such as historical records, diaries, photographs, or artwork, to gain insights into past events, cultures, or social phenomena.
Surveys with Open-Ended Questions
While surveys are typically associated with quantitative research, adding open-ended questions allows participants to provide qualitative research approach responses, which can provide more context and depth to the data.
Additional tips:
Maintain ethical considerations throughout your research, ensuring informed consent from participants and protecting their privacy.
Consider data saturation, where you continue data collection until no new insights or themes emerge.
Keep detailed records of your research process, including field notes, transcripts, and any changes made during the study.
Engage in member checking, which involves sharing your findings with participants to validate the accuracy of your interpretations.
Write a comprehensive research report presenting your findings, discussing their implications, and relating them to the existing literature.
Conclusion
Qualitative research is a valuable methodology that provides rich insights into human behavior, experiences, and social phenomena. By following the five essential steps in qualitative research outlined in this guide, you can create a well-structured interpreting qualitative data analysis research study that generates meaningful and actionable insights.
Whether you are exploring customer preferences, evaluating policies, or understanding cultural practices, qualitative research can enhance your understanding and decision-making processes.
Check out the features and functions on QuestionPro to design your own market research project!