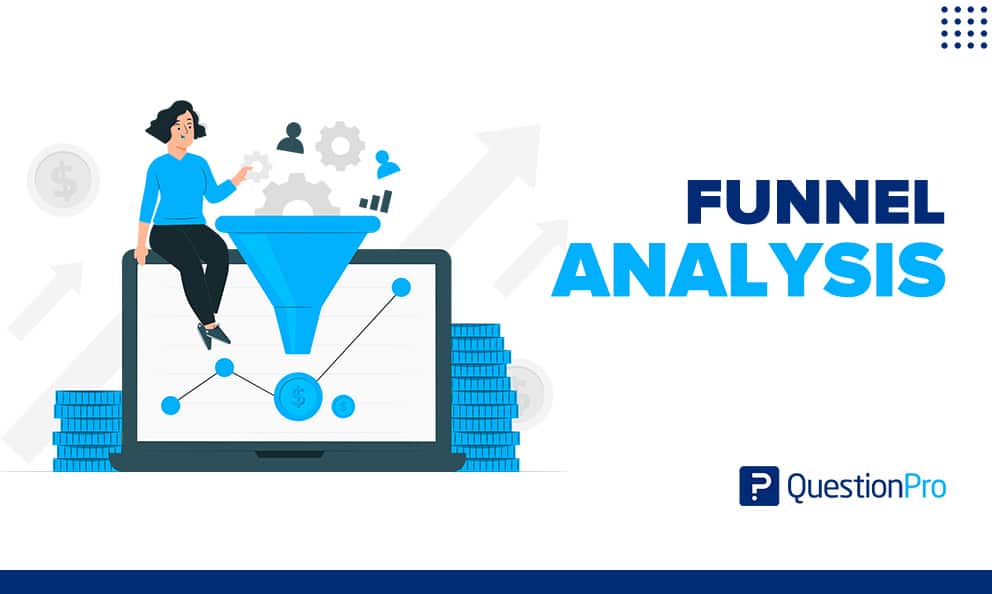 Using funnel analysis, companies can identify untapped possibilities to enhance conversion rates. It helps them detect the abandonment areas on their sites and discover ways to maximize their traffic.
Analyzing and improving the marketing funnel can help you comprehend the efficacy of your marketing efforts and plans for client acquisition and retention.
This enables you to determine where visitors are leaving your site, allowing you to make improvements and increase conversion rates. This blog will demonstrate the conducting procedure. But first, you may think, what is it exactly?
What is Funnel Analysis?
In funnel analysis, the actions of users are visualized and mapped. With the help of a funnel, you can see the different stages of the customer's journey. You can track how people get to each part of the funnel and where they leave.
Because they enable companies to learn what hinders users from achieving the aim of their website, funnels are an effective piece of marketing solution. 
You will also be able to watch visitors' interactions with your website as they navigate it, as well as observe how many people exit at each point of the sales funnels. 
This will allow you to locate issues and determine how to improve the customer experience.
How to Conduct Funnel Analysis
Now that you are familiar with funnel analysis, the next topic we will cover is the procedure that must be followed to carry it out.
Map the ideal purchasing procedure.
The funnel map should be the first step in your funnel analysis.
To identify areas for improvement, you must plan out all the stages and variables that will be monitored. Before converting, how would you want customers to navigate the research and decision-making steps?
Or, how does your sales staff locate and cultivate clients through email prospecting?
Customer journey maps to aid in defining the objectives of a campaign. They may also give you vital information to understand how prospects and consumers connect with your brand and how they behave.
KPIs should be monitored.
Once you've identified your ideal purchasing path, you should begin tracking the Key Performance Indicators and success metrics. However, let's rewind a little. How do you choose your key performance indicators?
The following are typical KPIs to track:
Lead development

Lead churning

Time to convert

Sales process metrics

Customer lifetime value
There are just a handful of sales funnel metrics you need to monitor.
Tracking your funnel's KPIs is vital for analyzing the pipeline's overall health and resolving issues. Once you've identified the KPIs crucial to your firm's success, assess if you're meeting those objectives.
Understanding customer behavior.
Using user behavior analytics, you can track how people interact with your brand. You want to comprehend user encounters and determine pain spots.
Get as much pertinent information as possible to better comprehend user behavior. The information offered by technologies such as Google Analytics, for instance, may provide you with significant insights on how to build your website, depending on your visitors' actions.
This information may be combined with CRM-collected data points. For instance, you can monitor recipients opening your email and visiting your website.
Try to acquire as much relevant information as possible from eligible data points. The more information you can get, the more probable it is that you will be able to spot issues and create solutions that reduce marketing funnel leaks.
Identify issues at each step of the funnel.
Integrating the insights acquired from tracking your KPI for each funnel level with relevant information may spot issues at each funnel stage. Then, give a numerical number to each issue you've identified.
A "to-do" list may be created by prioritizing things in order of priority. This is the list generated by your funnel analysis.
Then, you may examine the gaps in your funnel, determine the reason, and remedy the problem.
By examining and assessing the significant drop-off points throughout your funnel, your total conversion rate should increase. Keep in mind that this is an evolving procedure. Make adjustments, evaluate the outcomes, and then take necessary action.
Make use of the funnel comparison.
When doing a funnel analysis, you may take the extra step of comparing your funnel to a rival. A funnel comparison might give insight into how competitors or individuals with a comparable funnel to yours are attempting to produce conversions.
A comparison of funnels may reveal several valuable pieces of information. However, it is doubtful that you would get significant information on the exchange rate at every funnel level.
Conclusion
Funnel analysis to figure out why you're losing conversions is effective. It assists you in determining when your website visitors leave so that you may concentrate your efforts in the most effective way possible.
Suppose your conversion rate is poor or your visitor count is meager. In that case, something is wrong with your funnel, and you should start improving it now. It would be best if you tracked various funnel metrics to see how effectively it's functioning for this objective.
We defined funnel analysis and demonstrated how to do it in this blog.
QuestionPro delivers analytics as part of the surveys package, which helps acquire insights into the past and make choices for the future. Numerous functions, including reports, statistics packages, data filtering, cross-tabulation, trend analysis, text analysis, etc., may aid clients in predictive decision-making!