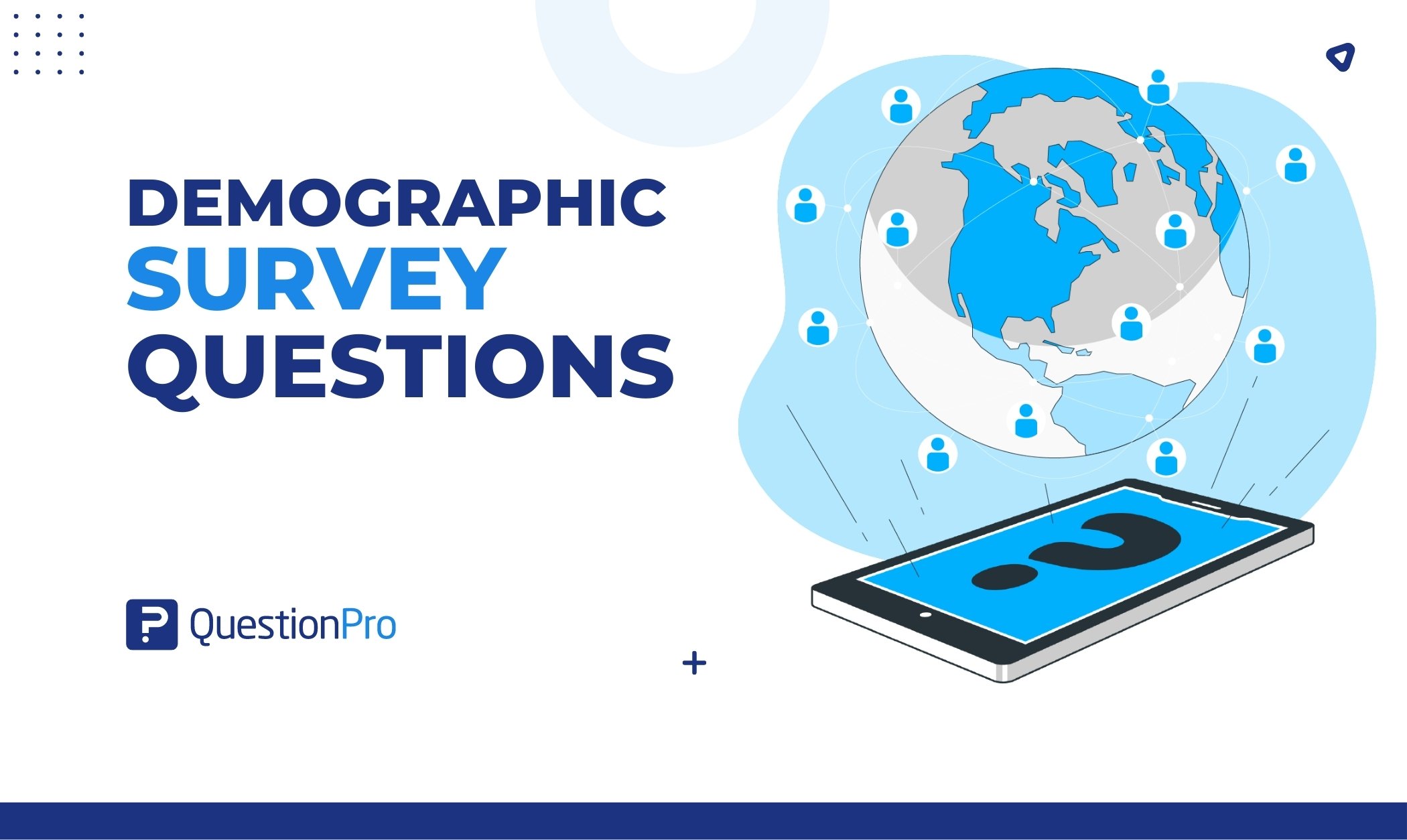 Suppose you want to conduct market research and understand your target audience. In that case, demographic survey questions are vital to revealing valuable information and insights about the individuals that matter most to your reseach.
Market researchers can learn more about their target audience's demographics, interests, and lifestyle choices by asking carefully crafted demographic survey questions. These demographic questions reveal your audience's complicated makeup and provide vital demographic data that can be useful in developing your marketing strategies and generating unique experiences.
LEARN ABOUT: Survey Mistakes And How to Avoid
Don't underestimate the value of demographic surveys; they could be the key to unlocking your audience's full potential. You can get a deeper insight into your customers and their requirements by asking the correct questions. It allows you to adjust your strategies and develop stronger relationships.
In this blog, we will learn about 15 different demographic survey question examples, which can be very useful to deeply understand your target audience and ease your research.
LEARN ABOUT: Testimonial Questions
What are demographic survey questions?
Demographic survey questions are usually a part of market research or market segmentation surveys that give survey creators insights into respondents' age, gender survey questions, or marital status.
Demographic information can provide details about users that other question types might fail to achieve. This way, marketers can conduct focused and reliable survey research, providing filtered responses from their target audience.
While designing an online survey, including a few demographic questions is essential irrespective of the core topic. These questions should be in line with the purpose of the study and should be catalyzing in receiving detailed information from respondents.
An acute understanding of the demographic questions that correspond to a survey is pivotal to getting into the nerve of customer feedback and opinions. These questions are used in surveys to enable survey creators to compare two or more different sections of demographics.
LEARN ABOUT: Event Surveys
For example, if you're surveying school children, you are highly unlikely to ask questions about qualifications, marital status, or information about kids.
Demographic survey questions are easily created using multiple-choice questions within a few minutes. The demographic survey includes questions on age, ethnicity, gender, marital status, basic qualifications, employment, household income, and other such parameters.
Learn about: Demographic Survey Questions Template
Why Demographic Survey Questions Are Important?
Demographic survey questions are essential for understanding and connecting with your target audience. The following are some of the reasons why demographic questions are important:
Audience Segmentation

Demographic data enables you to segment your audience into categories based on age, gender, region, education, income, and more. This classification allows you to better personalize your products, services, and marketing strategies to each group's individual needs and preferences.
Targeted Marketing

Demographic survey data provides valuable insights for targeted marketing campaigns. By knowing your audience's demographic profile, you can craft messaging and choose channels that are most likely to resonate with them, increasing the effectiveness of your marketing efforts and optimizing your return on investment.
Decision Making

Demographic information helps make effective decisions. It lets you match your products and services to your target market's tastes, habits, and actions. Knowing your audience's demographics enables you to make better product development, price, distribution, and progress decisions.
Personalization

Demographic data allows you to personalize your customer interactions. Understanding your audience's particular characteristics will enable you to create personalized content, offers, and experiences that connect directly to their needs and interests. This personalization boosts customer satisfaction, loyalty, and engagement.
Market Research

Demographic survey questions are important for conducting thorough market research. They provide the groundwork for understanding market trends, defining target markets, and evaluating the competitive environment. Demographic data helps you stay ahead of industry developments, identify future opportunities, and make data-driven business decisions.
Social Impact

Demographic survey questions are essential in determining why there are differences and inequalities in society. They reveal information about income inequality, gaps in schooling, access to health care, and more. This knowledge can be used to drive social initiatives, push for change, and make policies that meet the specific needs of different demographic analysis groups.
LEARN ABOUT: Survey Sample Sizes
How to Design Demographic Survey Questions?
Designing demographic survey questions requires carefully considering the information you want to collect and the unique demographic aspects important to your research or objectives. Following are some key things to focus on while creating beneficial demographic survey questions:
Determine research objectives and demographic factors

Clarify the goal of your survey and identify the exact data you require. Select the demographic factors that match the research objectives and target audience.
Determine question format

Choose the best question type for each demographic question. Select a format that allows respondents to provide precise survey responses based on the nature of the gathered demographic information. Multiple-choice, single-choice, dropdown menus, checkboxes, and text fields are common formats.
Provide comprehensive response options

Provide response alternatives for each demographic question covering the range of possible responses. Ensure that the response selections are inclusive and representative of the many features within each demographic component. Include options like "Prefer not to say" or "Other" to allow a variety of options.
Consider skip logic or branching features

Implement skip logic or branching in your survey if key demographic questions depend on previous replies. This enables you to modify the following questions based on previous responses from respondents, resulting in a more personalized and streamlined survey experience.
Ensure privacy and confidentiality

Assure respondents that their demographic information will be kept private and solely utilized for research purposes. Pay attention to relevant privacy requirements and clearly describe your data protection practices.
15 Demographic Survey Questions to Ease Your Research
Demographic survey questions cover a wide range of topics, allowing you to learn more about the respondents' relevant characteristics. Let's explore 15 different kinds of important demographic survey questions:
01. Age
This is the first question that comes to mind when discussing demographics. According to the accuracy of options, you can offer broad or narrow ranges for all answers.
Age-related demographic answer options are shown as radio buttons. Answer options do not overlap each other, i.e., the range mentioned in each option has to be unique.
What is your age? (Broad range)

Under 18

18-24

25-34

35-44

45-54

Above 54

What is your current age? (Narrow range)

18-20

21-22

23-25

26-28

28-30
02. Race and Ethnicity
These two are distinct parameters that need to be mentioned separately to get customer feedback. Race refers to physical appearance, while ethnicity refers to cultures, historical roots, and also geography.
These are highly sensitive questions that need special attention. Provide checkboxes allowing survey respondents to choose multiple options if they wish to. Questions related to ethnicity will be:
"Are you of Spanish or Latino origin?" which will usually be a Yes/No radio button. A question on race will follow it.




What would best describe you?

African American

Asian

Native American

White

Others
03. Gender or Sex
These demographic questions are as sensitive as race and ethnicity survey questions. There are two ways in which these questions can be asked:
Keep them

open-ended

and make it easier for respondents to comment about their sex.

Gender?


(

Be respectful towards respondents' thoughts regarding gender and subtly ask questions about them.

)


Which gender do you identify most with?

Male

Female

Prefer not to say
Create a Free Demographic Survey
04. Educational Qualification
This very subjective question needs prior evaluation, such as understanding whether many colleges or school students may take your survey and whether this feedback on qualification will be useful to you. A student interest survey helps customize teaching methods and curriculum to make learning more engaging and relevant to students' lives. The classroom response system allowed students to answer multiple-choice questions and engage in real-time discussions instantly.
After analyzing these factors, add demographic questions on qualification, such as:
What is your highest qualification?

Less than a high school diploma

High school diploma or equivalent degree

No degree

Bachelor's degree

Master's degree
05. Marital Status
Relationships revolving around love are often considered less important than questions about race, ethnicity, or sex. But they're sometimes far more complicated and need to be tackled carefully too.
Thus, a deep-rooted analysis must go into whether the fact that someone is married or not would hamper the purpose of a survey. If it's highly critical to know the marital status, only then should you include this demographic survey question.
In case would want to segment your target audience on this basis, you must curate questions in this manner:
What is your marital status?

Married

Divorced

Separated

Widowed

Unmarried

Prefer not to say
06. Employment Information
This demographic question can include various sub-sections of employment status, such as the number of hours worked, job type of employer, and other parameters. The most common classification of employment status options is whether or not the respondent is employed.
What is your current employment status?

Full-time employment

Part-time employment

Unemployed

Self-employed

Home-maker

Student

Retired
Suppose respondents inform you that they're employed. In that case, you can apply the skip logic feature to eliminate options that aren't applicable and include options that might provide further insights about the participant's employment status.
07. Family or Household Income
This question type is very similar to the age demographic question. Question about household income depends on what you would use this information for and what detail you would want to receive these inputs. Here's an example of a household income demographic question:
Which group does your annual household income fall under?

Less than $20,000

$21,000 – $30,000

$31,000 to $40,000

$41,000 to $50,000

$51,000 to $60,000

Above $60,000
08. Household Size
This type of question asks how many people live in one house. It informs researchers, organizations, and governments about population dynamics, resource allocation, and housing demands.
Provide a set of response alternatives that cover a range of household sizes, and consider providing "Prefer not to say" as a response option to respect survey respondents' privacy.
How many people are currently living in your house?

1 person

2 people

3 people

4 people

5 people

6 or more people

Prefer not to say
09. Parental Status
This demographic question helps to learn about a person's parental status or if they have children or are expecting one. It gives data on family structures and dynamics, which can help research social developments, educational demands, and household resource allocation. Here's an example:
What is your parental status?

Parent

Expecting a child

Not a parent

Prefer not to say
10. Homeownership
This demographic question asks if respondents own or rent their homes. It is used better to understand people's or households' housing situations and helps in housing, real estate, market research, or social planning surveys.
LEARN ABOUT: Real Estate Surveys
Do you currently own or rent your home?

I am a homeowner.

I am a renter.

I live with family or friends.

Other (please specify).

Prefer not to say.
11. Disability
This demographic question provides information about the rate and distribution of disabilities in the target group. Including a "Prefer not to say" option alongside other options protects the privacy of people who do not want to reveal their handicap status.
Do you consider yourself to have a disability?

Yes, I have a disability.

No, I do not have a disability.

Prefer not to say.
12. ZIP Code of Residence or Location
If you want to know where a survey respondent lives, collecting ZIP codes is a quick and straightforward approach. If you want to know where your customers are from, you might ask about their geographical location. These kinds of questions can be as follow:
What is your ZIP code? (Please enter your 5-digit ZIP code)

What is your current location?

City

State/Province

Country

Prefer not to say
13. Religion
The Religion demographic question asks about a person's religion. Respecting different viewpoints and backgrounds is essential while answering the Religion demographic question. Make sure respondents feel comfortable revealing their religious affiliation or not.
Include a variety of commonly practiced religions, an "Other" option for respondents to specify their religious affiliation if it is not listed among the provided options, a "None/No religion" option for atheists, agnostics, and secular people, and a "Prefer not to say" option to allow respondents to keep their religious affiliation private.
What is your religious affiliation?

Christianity (Catholic, Protestant, Orthodox, etc.)

Islam

Hinduism

Buddhism

Judaism

Sikhism

Other (please specify)

None/No religion

Prefer not to say
14. Language
Language is important for organizations since it allows you to build customer relationships by speaking their language. The Language demographic question seeks to identify persons' primary language(s).
You can include a language proficiency question depending on the research targets or survey context. This can reveal information about a respondent's fluency or skill in speaking, reading, and writing in several languages.
What is your primary language? (Select all that apply)

English

Spanish

French

Mandarin Chinese

German

Hindi

Arabic

Portuguese

Russian

Japanese

Other (please specify)




Please indicate your proficiency level in the English language:

Native/Fluent

Advanced

Intermediate

Basic

None
15. Political Preferences
The Political Preferences demographic question seeks political and ideological information. To get honest answers, frame the question neutrally. Be careful with any language that might lead respondents toward a biased response.
What is your political preference or affiliation?

Conservative

Liberal

Moderate

Libertarian

Progressive

Socialist

Green Party

Independent

Other (please specify)

Prefer not to say
LEARN ABOUT: Structured Question & Structured Questionnaire
When to ask demographic survey questions in surveys

?
When conducting a survey, the appropriate time to ask demographic questions depends on several factors. Here are a few things to keep in mind when deciding when it is appropriate to ask demographic questions:
Beginning of the survey

Demographic questions often start surveys. This allows respondents to provide basic information upfront, defines the basis for the survey, and establishes familiarity and interest. It also helps responders understand future questions.
After an introduction

It's often helpful to provide a brief introduction or explanation of the survey's purpose before asking demographic questions. This can help respondents understand the importance of providing accurate demographic information and increase their willingness to participate.
Before sensitive or personal questions

If your survey involves sensitive or intimate questions, ask demographic questions first. This approach allows respondents to build trust and familiarity with the survey before disclosing sensitive information.
Before skip logic or branching

If your survey involves skip logic or branching depending on demographic factors, demographic questions must be asked early on. Based on the demographic information provided, subsequent questions are customized to the appropriate categories.
In the end, if needed

In some circumstances, mainly when respondents are reticent to disclose demographic information, demographic questions might be included at the end of the survey as an option. This allows respondents to skip the questions if they do not want to reveal personal information while allowing you to get data from willing participants.
Create Your Demographic Surveys with QuestionPro
QuestionPro enables you to design highly effective and insightful demographic surveys easily. Whether you're performing market research, academic studies, or gathering data for organizational purposes, QuestionPro gives you the tools and capabilities you need to create surveys that capture crucial demographic information.
User-friendly interface

As a researcher, it's important to gather data with precision and accuracy. Luckily, with the QuestionPro survey tool, you can choose from various question types. QuestionPro offers a user-friendly interface that allows you to create surveys customized to your specific requirements easily.
Pre-built demographic survey templates

QuestionPro provides a large library of pre-built demographic survey templates. These templates cover various demographic questions like age, gender, education, etc. Using a template may save time and ensure your survey covers all your research or project requirements.
Advanced survey features

QuestionPro has advanced survey features. Skip logic and branching can personalize and simplify the survey experience based on respondents' previous answers. It also has validation rules to assure data accuracy.
Data security and privacy

QuestionPro understands the value of protecting sensitive information. You can be confident that your demographic survey data is secure and safe due to built-in data encryption and secure hosting.
Analytics and Reporting

QuestionPro's analytics and reporting tools help you understand your data. It enables you to create real-time reports, graph and chart survey results, and export data for additional research. These advanced analytics tools can reveal data trends, patterns, and connections.
Survey distribution

QuestionPro lets you simply distribute online surveys to your intended audience. You can send surveys via email, social media, website embeds, or mobile apps. QuestionPro's mobile-responsive design lets respondents complete surveys on any device and ensures maximum participation rates.
LEARN ABOUT: Performance Appraisal Survey
QuestionPro offers a seamless and efficient way to create demographic surveys. With our platform, you can experience the ease and effectiveness of crafting surveys that gather valuable insights from your target audience. You can use single ease questions. A single-ease question is a straightforward query that elicits a concise and uncomplicated response.
LEARN ABOUT: Free Travel Surveys: Questions & Templates
Sign Up free and unlock a wide range of powerful features, customizable options, and robust analytics to provide the demographic insights you need for your research, business, or organizational endeavors. Take advantage of this opportunity to take your projects to the next level.