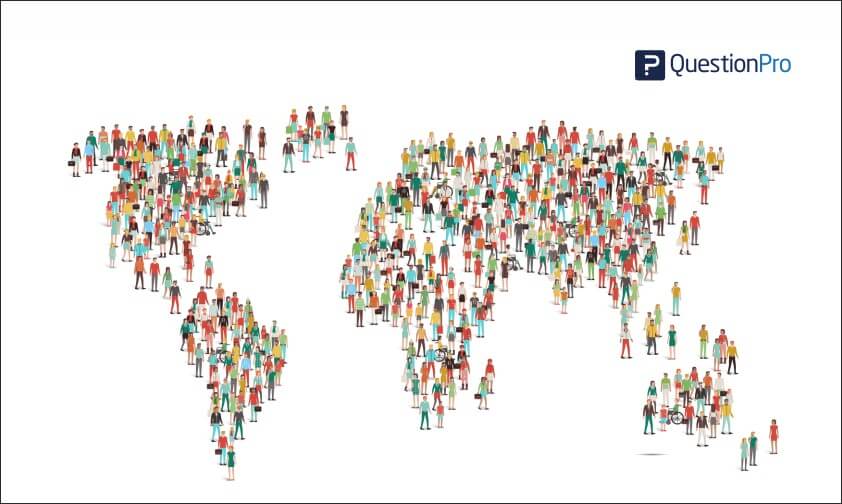 What are demographic survey questions?
Demographic survey questions are usually a part of market research or market segmentation surveys that give survey creators insights into respondents' age, gender, or marital status. Demographic information can provide details about users that other question types might fail to achieve. This way, marketers can conduct focused and reliable survey research, which will provide filtered responses from their target audience. 
While designing an online survey, it's essential to include a few demographic questions irrespective of the core topic. These questions should be in line with the purpose of the study and should be catalyzing in receiving detailed information from respondents. Acute understanding of the type of demographic questions that correspond to a survey being conducted is pivotal to get into the nerve of customer feedback and opinions. These questions are used in surveys to enable survey creators to compare two or more different sections of demographics. 
For example, if you're surveying school children, you are highly unlikely to be asking questions about qualifications or marital status or information about kids, etc. 
Demographic survey questions are easily created using multiple-choice questions within a few minutes. The demographic survey includes questions on age, ethnicity, gender, marital status, basic qualifications, employment, household income, and other such parameters.
Learn about: Demographic Survey Questions Template
7 Demographic survey questions for the questionnaire: 
Related to age:

 This is the first question that comes to mind when we talk about demographics. According to the accuracy of options, you can offer broad or narrow ranges for all answers. Age-related demographic answer options are shown as radio buttons. Answer options do not overlap each other, i.e., the range mentioned in each option has to be unique.  
What is your age? (Broad range)

Under 18

18-24

25-34

35-44

45-54

Above 54

What is your current age? (Narrow range)

18-20

21-22

23-25

26-28

28-30
2. Related to race and ethnicity: Race and ethnicity are two distinct parameters that need to be mentioned separately to get customer inputs. Race refers to physical appearance, while ethnicity refers to cultures, historical roots, and also geography. These are highly sensitive questions that need special attention. Provide checkboxes that would allow respondents to choose multiple options if they wish to. Questions related to ethnicity will be: 
"Are you of Spanish or Latino origin?" which will usually be a Yes/No radio button. It will be followed by a question on race.

What would best describe you?
African American

Asian

Native American

White

Others
3. Related to gender or sex: These questions are as sensitive as race and ethnicity survey questions. There are 2 ways in which these questions can be asked: 
Keep them 

open-ended

 and make it easier for respondents to comment about their sex.

Be respectful towards the thoughts that respondents might have regarding gender and subtly ask questions about them. 

Which gender do you identify most with?

Male

Female

Don't want to say
Create Free Demographic Survey
4. Related to the qualification: This is a very subjective question that needs prior evaluation, such as understanding whether many colleges or school students may take your survey and will this feedback on qualification be of good use to you. After analyzing these factors, add demographic questions on qualification, such as:
What is your highest qualification?

Less than a high school diploma

High school diploma or equivalent degree

No degree

Bachelor's degree

Master's degree
5. Related to marital status: Relationships revolving around love are often considered to be less important than questions about race, ethnicity, or sex. But, they're sometimes far more complicated and need to be tackled carefully too. Thus, a deep-rooted analysis must go into whether the fact that someone is married or not would hamper the purpose of a survey. If it's extremely critical to know the marital status, only then should you include this demographic survey question. In case would want to segment your target audience on this basis, you must curate questions in this manner:
What is your marital status?

Married

Divorced

Separated

Widowed

Unmarried 

Don't want to say
6. Related to employment: This type of demographic question can include various sub-sections such as the number of hours worked, type of job, type of employer, and other parameters like these. The most common classification of options is simply whether the respondent is employed or not. 
What is your current employment status? 

Full-time employment 

Part-time employment 

Unemployed

Self-employed

Home-maker

Student 

Retired
In case respondents inform that they're employed, you can apply skip logic to eliminate options that aren't applicable and include options that might provide further insights about their job.
7. Related to family income: This question type is very similar to the age demographic question. It depends on what you would use this information for and what detail you would want to receive these inputs. Here's an example of a family income demographic question:
Which income group does your household fall under?

Less than $20,000

$21,000 – $30,000

$31,000 to $40,000

$41,000 to $50,000

$51,000 to $60,000

Above $60,000
Learn about: Geographic Segmentation
Create Free Demographic Survey