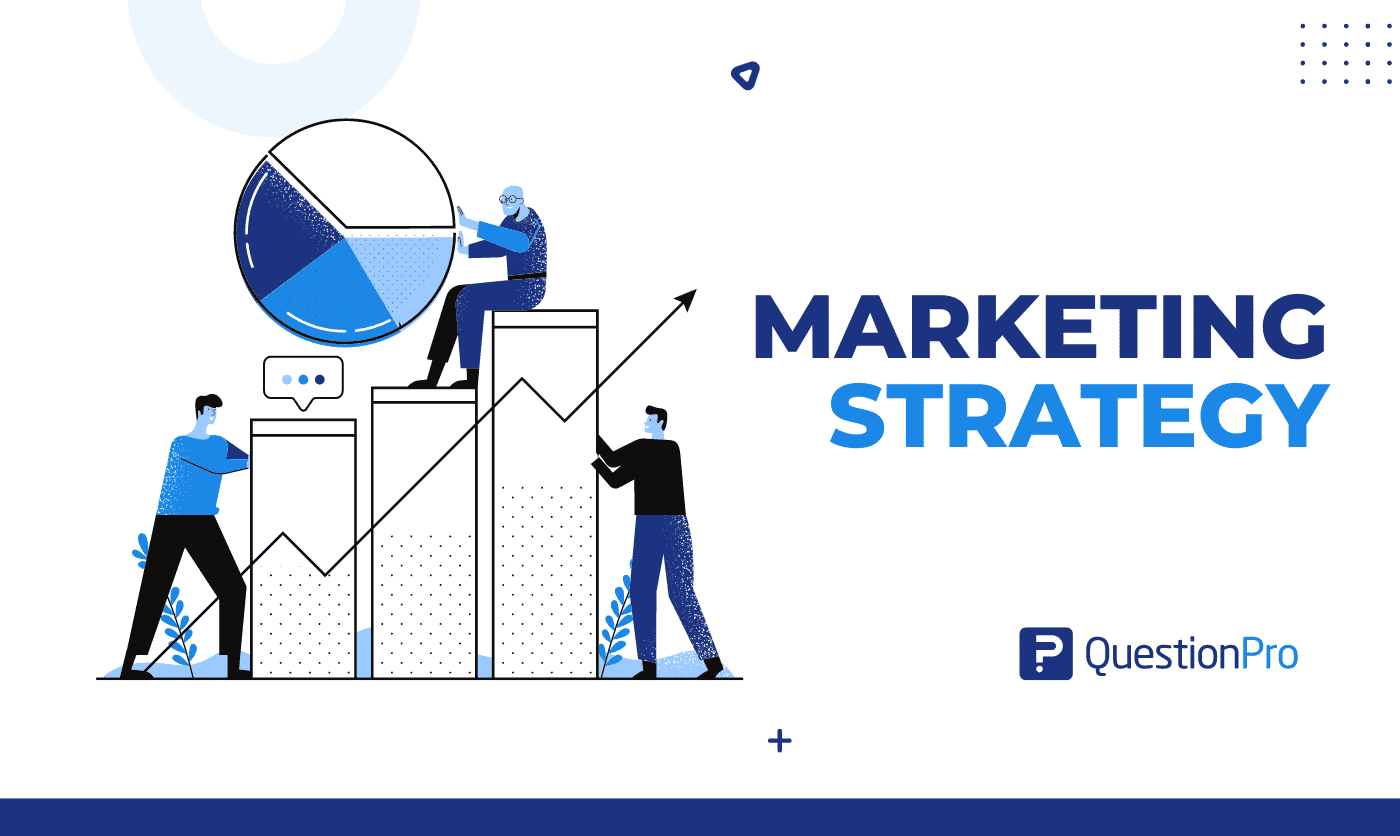 Every company in the world requires an efficient marketing strategy to increase brand awareness and attract new customers to its products and services, regardless of whether it is a Fortune 500 company or just getting started on its first modest business venture.
Creating a good marketing strategy can be more challenging if you've never been involved in one.
There is a lot to cover in a corporate marketing strategy. The most successful marketing plans consider every component of the marketing flow, from a deep understanding of your audience personas to a clear-cut marketing budget.
This blog will explain a marketing strategy, its types, and the steps to follow.
What is a marketing strategy?
A company's marketing strategy is comprised of its approach to attracting potential customers and persuading them to purchase its products or services. You should understand a marketing strategy and how it can help you improve your advertising before we explain how to create one.
Business marketing strategies are essentially a tool that marketers use to describe their numerous campaigns and marketing models. This is how you'll pique clients' interest in your goods and services.
You need to do the following four things to develop a successful marketing plan:

Know who purchases your goods or services (who are your customers?

Recognize how to encourage them to purchase or continue to purchase your goods or services.

Know your rivals and what they do to accomplish similar goals.

Learn how to evaluate the effectiveness of your marketing initiatives and campaigns.



The five "Ps" of marketing should be covered in your marketing strategy, much like in a marketing plan:
Product – Product is what you're trying to sell.

Price – Profit margins, marketing budget, etc.

Place – Which channels or platforms will you use? Consider where your customers already spend their time to find the best places to advertise.

Promotion – What are you trying to do? (Are you trying to build your social media presence, increase brand awareness, promote a new product, or do something else?)

People – Who is your primary audience? What moves them?
Once you know the answers to these questions, you'll be in a great position to start making a marketing plan for your business.
Difference between market strategy and marketing strategy
Market strategy and marketing strategy are frequently used interchangeably.
Do corporate and sales strategies resemble one another?

Are customers gaining and keeping the same things?

Are marketing and sales the same thing?
Although they are connected, they are not the same.
Why, then, are market strategy and marketing strategy regarded interchangeably?
Philip Kotler, the inventor of the four Ps of marketing, is probably to blame for combining them all in his marketing strategy.
A market strategy is a method you use to decide who will be your target customer and how you will persuade them that you are superior to the other players in the market.
On the other hand, marketing strategy establishes how you will persuade your ideal clients of your business proposition.
To better grasp these principles, consider some examples of market strategies for a software company, which we'll call Bird on Cloud. Assume Bird on Cloud provides corporate software to the mobile telecommunications industry.
Market approach #1: Bird on Cloud's market strategy is to differentiate itself in the industry by providing end-to-end services paired with software. In contrast, its competitors provide either the software or the services, but not both.
Market approach #2: Bird on Cloud separates the mobile telecom market based on a range of criteria and selects group operators (businesses with operations in many countries) with more than 5 million users and yearly revenue of more than $50 million. Bird on Cloud is attempting to focus its sales and marketing efforts in this manner since the company's value proposition will connect more strongly with the selected segments than with the others.
Market approach #3: Mobile carriers use a variety of enterprise applications, such as billing, CRM, and analytics. These can be SaaS-based or installed locally. Bird on Cloud has opted to specialize in SaaS-based analytics software because they were the first to do so. They want to keep utilizing the brand perception they've created in the minds of their customers. They have purposefully opted to forfeit the potential market for their industry in other enterprise software domains.
These workforce strategic selections will determine who Bird on Cloud's target customers will be. As previously said, market strategies are often created for relatively long periods of at least 12 months.
‍If we revisited Bird on Cloud and implemented some marketing methods, it may look like this:
Bird on Cloud expects to offer a new SaaS-Analytics version in Q3. Before expanding to the wider market, they plan first to approach their existing clients in Q2 and promote the new version to them. Bird on Cloud's marketing team equips Sales with upselling sales-enablement collateral and targets current customers with ads and emails. So they start by upselling existing consumers.

In Q3, they turn to a new marketing plan, launching a new product with PR, field marketing, etc. Bird on Clouds needs new customers.

In Q4, they may focus on rebranding. They operate a big thought leadership effort with Gartner and Deloitte, 2 recognized mobile analyst and consulting firms. They offer unique insights through white papers, films, webinars, infographics, etc. They want their audience to think Bird on Cloud knows the mobile sector and will deliver relevant products (hopefully to buy).
Depending on your market approach, you might use different marketing tactics. Account-based, field, thought leadership, etc. These marketing methods must be carefully chosen to reach your ideal clientele.
Types of marketing strategies
Various kinds of marketing strategies are generally available. Choosing a marketing strategy involves looking at your target market's needs, your target market's demographics, and the details of your products.
There are two primary categories of marketing strategy:
Business-to-business (B2B) marketing

Business-to-consumer (B2C) marketing



The various types of market strategies are listed below.
Cause-marketing refers to the practice of businesses and corporations promoting social causes to raise money or customer awareness in exchange for marketing advantages like patronage and brand loyalty.
According to recent research, more than 90% of consumers said they would buy products from firms and establishments that promote social causes, including fighting breast cancer, stopping bullying, quitting smoking, and preventing suicide.
Building enduring relationships with customers is the art and process of relationship marketing. It's much more than a typical transactional sale relationship when the only thing on your mind is selling the good or service.
The development of technology has given consumers more knowledge and power. Today, organizations operate under the tenet that "the customer is always right" and that the customer holds all the power. To improve the product or service, relationship marketing focuses on meeting the needs and wants of the target market.
Worth of Word-of-Mouth Promotion
Word-of-mouth advertising is one of the most intriguing marketing strategies since it starts a chain reaction. The foundation of word-of-mouth marketing is the idea of leaving a positive impression on clients. If customers are satisfied with the company's product or service, they will recommend it to their friends and family and reciprocate.
Paid marketing, also known as digital marketing, is a form of consumer targeting where businesses and organizations choose their target market based on the customers' interests and prior interactions with the brand. Although it is expensive, planning it carefully will yield more significant outcomes.
For paid marketing efforts, businesses typically employ a variety of channels, including social media sites, search engine result pages, sponsored social media posts, affiliate marketing, pay-per-click, TV commercials, banner ads on various websites, and guest posts.
When dealing with a diverse population, corporations use diversity marketing as a strategy. It entails creating various marketing strategies based on different client segments' attitudes, behaviors, beliefs, opinions, and demands.
Transactional marketing is a marketing strategy that merchants use to boost sales using various techniques, including discounts and coupons. The goal is to inspire and motivate clients to buy more and more goods. Because of the intense market competition in recent years, sales have become increasingly challenging. Relationship marketing is the antithesis of transactional marketing.
An Internet marketing strategy is another name for e-marketing. It implies that the organization or corporation would market its goods and services online.
Some of the most common forms of e-marketing include search engine optimization (SEO), paid marketing, sponsored articles, guest posts, banners, video, and written ads, and e-mail marketing.
Stealth marketing is another word for undercover marketing. It's a clever marketing approach when organizations and firms promote their brand, product, or service without making it evident that they're doing it. In an undercover marketing technique, companies trick consumers into thinking they aren't aware of them.
Traditional marketing is another name for offline marketing. It indicates that organizations and businesses use conventional marketing techniques. Some of the most common forms of offline marketing are TV, radio, print media, billboards, pamphlets, and newspaper advertisements.
It can seem like offline or traditional marketing is no longer relevant in this era of technology advancement and e-marketing. However, in addition to e-marketing, the top brands worldwide continue to rely on conventional marketing methods to reach more consumers.
7 Steps for making a Great Marketing Strategy
Follow these seven essential steps to create an effective marketing plan. Let's delve deeper into each step's specifics in the following part:
Create a marketing strategy.
Your marketing strategy explains why your team needs particular resources, actions, and goals this year. Your marketing plan details how you'll implement your strategy.
The correct template may help you construct a marketing plan that includes your budget, marketing initiatives, and marketing channels. Plus, a business summary will keep you in touch with the company's goals.
Establish buyer personas.
This is your chance if you need to summarize your audience in a single line. A buyer persona is a description of the ideal customer. When developing your strategy, buyer personas should be your starting point.
Significant demographic and psychographic data, such as age, work title, income, geography, interests, and obstacles, are included in buyer personas. 
Establish your objectives.
The objectives of your marketing strategy should reflect your company's ambitions. Other marketing goals can be to increase brand awareness or deliver quality leads. Additionally, you could try to establish or maintain thought leadership in your industry or increase customer value.
Whatever your objectives are, make a list of them and consider how your marketing team may strive to accomplish them over the upcoming year.
Choose the right tools.
Ensure you have the right tool to gauge your goals' success once you've identified them.
Online tools like social media schedulers provide analytics that can be used to monitor your audience's preferences. You might also think about using Google Analytics to evaluate the effectiveness of your website and blog.
Additionally, to achieve this, make your goals SMART.
Analyze your media.
Consider what you already have to establish in a strategy. Consider paid, owned, and earned media to organize your assets.
Paid media are channels you pay for to reach your audience. This includes offline and online platforms, including TV, direct mail, and billboards.
Owned media includes photos, videos, podcasts, ebooks, infographics, etc.
UGC is another term for earned media. Social media shares, tweets, and Instagram photographs mentioning your brand are examples of earned media.



Gather your media in one place to see what you have and how to combine it to maximize your plan. If resources don't fit your goals, cut them. This is a perfect moment to tidy up and discover any gaps.
Audit and plan media campaigns.
Focus on marketing and owned media.  Next, examine buyer personas. Suppose you make video editing software. If one of your persona's issues is adding clean sound effects to videos, develop a 15-second Instagram demo video to explain how your solution solves that challenge.
Create an editorial calendar. Plan content around topic clusters, goals, format, and channel. Include your buyer persona's challenge for content creation ideas or a deeper.
Put it into action.
Market research and planning should help you visualize how and by which teams your approach will be executed.
Finalize your plans by assigning actions.

Create a document with campaign steps. Strategize.

Create a long-term document. A 12-month plan is standard. This planned timeline should guide your marketing strategy.



Your digital strategy and plan should be unique to your firm. You'll be fine if the strategy has all the necessary information.
Conclusion
In the end, it takes time to develop a complete marketing strategy. Making sure you reach your ideal audience whenever and wherever they want to be reached time, hard work, and commitment.
Keep at it and use the resources we've mentioned in this post. Over time, research and customer feedback will help you adjust your strategy to spend most of your time on the marketing channels your audience cares about.
Contact the experts at QuestionPro if you need help with marketing insights research. QuestionPro can help you get through the process and use your data to its fullest potential.