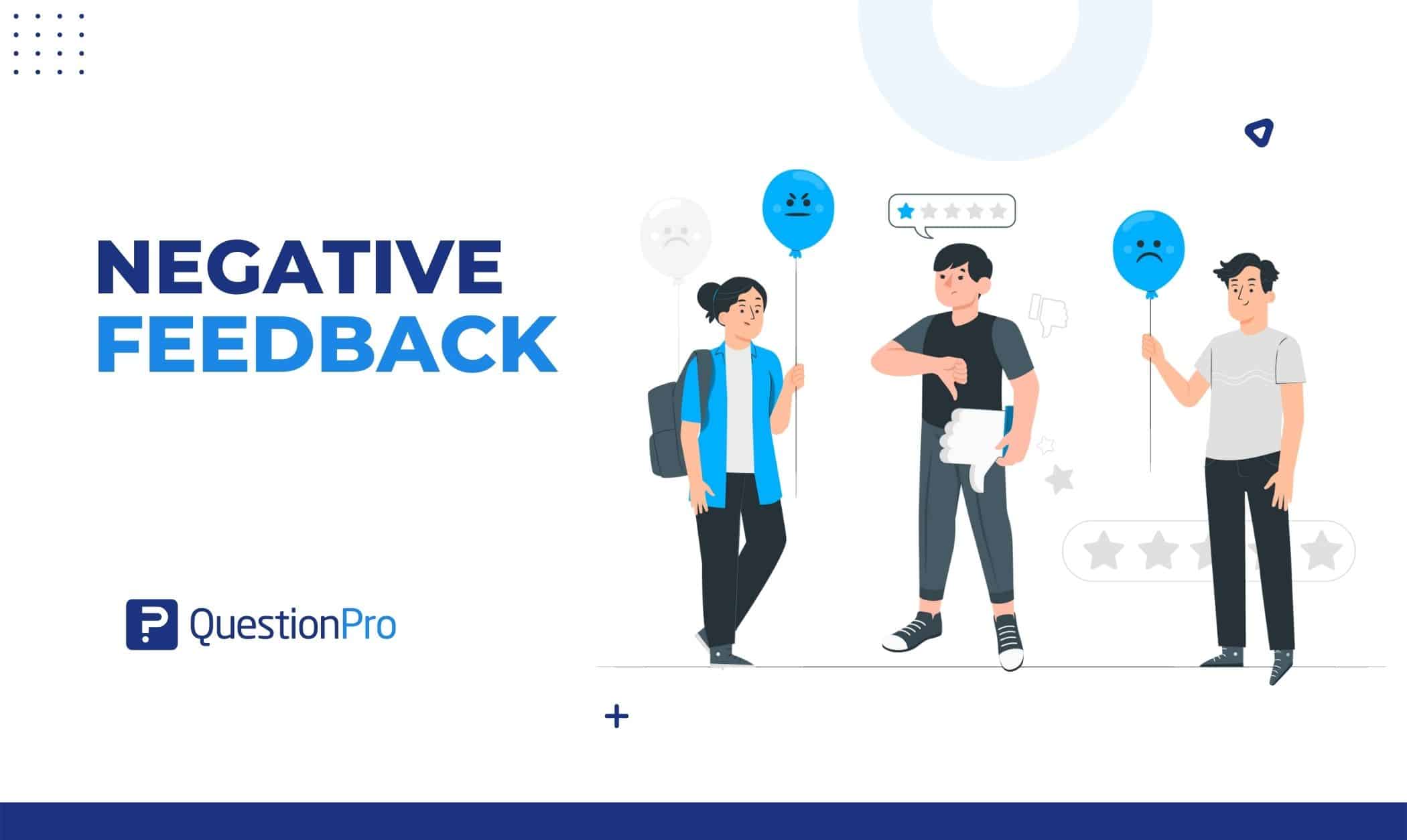 Giving feedback is frequently thought of as stressful, particularly if you have to provide negative feedback. The situation is made considerably worse when you know that an employee has a history of causing issues.
Employees' productivity, enthusiasm, and faith in you are all influenced by how you deliver feedback. That's why leaders must learn how to give constructive criticism.
Read on to learn how to develop your feedback abilities and turn constructive criticism into a win-win for everyone on your team.
What is negative feedback?
Negative feedback is information given to an employee to highlight actions that should be changed to avoid issues or poor performance. It aims to modify employee behavior to improve productivity and performance.
For example, If an employee files a contract wrong, the management should meet with them as soon as they receive it, not days or weeks later.
It is a valuable tool for boosting workplace efficiency. It can increase employee-manager connection and trust. Many employees appreciate and welcome constructive feedback from their managers, even if it makes them uncomfortable.
LEARN ABOUT: Employee Trust
Importance of providing negative feedback
There are several reasons why it's helpful to provide negative feedback. The following is a list of some of the primary reasons why this is the case:
It leads to improved performance from employees.
It facilitates growth in managerial leadership abilities.
Ensures that employees are aware of their manager or the organization's expectations of them.
Assists workers in experiencing a sense of being supported and cared about while they are on the job.
Employees are allowed to ask questions for clarification.
Enhances the capacity of workers to carry out their work responsibilities.
Definition of positive feedback loop and negative feedback loop
Let's explore the concepts of positive feedback loop and negative feedback loop, which are important to understanding how systems function and adapt. These mechanisms shed light on how processes either amplify or stabilize in response to change:
A positive feedback loop refers to a self-amplifying process in a system where the effects of an initial change are enhanced over time, leading to exponential growth or reinforcement of the original change.
The output reinforces the input in this positive feedback mechanism, resulting in a continuous and escalating cycle. Positive feedback loops can drive systems towards extreme states or outcomes. They contrast with negative feedback loops, which act to stabilize or regulate a system.
A negative feedback loop, also known as a negative feedback mechanism, is a regulatory process within a negative feedback system where the effects of an initial change are counteracted by subsequent changes, resulting in stabilization and equilibrium.
This type of feedback mechanism involves the system sensing a deviation from a set point and activating processes that reduce or reverse that deviation. Negative feedback loops are fundamental for maintaining homeostasis and stability in various natural and artificial systems.
They serve as a negative feedback control mechanism, minimizing deviations from desired states.
A positive feedback loop reinforces change and can lead to amplified effects, while a negative feedback loop counteracts change and promotes stability through self-regulation. Understanding both positive and negative feedback mechanisms is crucial for comprehending the behavior and dynamics of complex systems across various domains.
Ways to make negative feedback positive
Giving positive feedback is often simple, but giving negative feedback can be more challenging. Employees are not responsive to it when it is not appropriately provided. The following are positive ways to provide negative criticism to an employee:
Avoid delivering negative feedback harshly
Provide feedback with care and respect. If offered too regularly and without respect for feelings, the recipient will go into defense mode, potentially losing trust, ego, and enthusiasm.
Maintain emotional stability
Before giving negative feedback, regulate your emotions. When outraged, furious, or otherwise negative, it's hard to give helpful feedback. Ensure the person receiving feedback is relaxed. It will make them less defensive about feedback.
Never give negative feedback in front of colleagues. The employee may feel embarrassed and hindered by feedback. Meet the person at your office or in a meeting room. Doing so will show the employee respect and inspire an open response to your feedback.
Give behavior-based, not person-based feedback
It's better to focus on the desired change in behavior than on the employee. Focusing on the employee's actions makes feedback easier to receive and prevents them from feeling attacked.
Sometimes, leaders or supervisors begin discussions on negative reviews with trivial remarks or unjustified flattery. The employer does this to make it simpler for the worker to obtain critical feedback.
When providing constructive criticism, keep your attention on the facts and try to be as sincere, practical, and exposed as possible. It will motivate the employee to respond similarly.
Provide negative feedback in a timely
Unfavorable feedback timing is crucial. It's crucial to give feedback as soon as the desired behavior occurs. It will motivate the employee to act quickly and make the feedback feel less harsh than if you waited days or weeks.
You should provide timely, precise comments. Instead of responding, "You filled out the form incorrectly," explain what they did wrong and how to fix it. You might also describe the consequences of doing the assignment or acting improperly.
Providing negative feedback can be difficult if the action is severe or the employee is protective. Despite your anger, be cool. Losing your temper could lead to the employee refusing to modify or not receiving constructive feedback well.
Give feedback in a chat. Once you've discussed the behavior and needed improvements, let the employee reply and ask questions. It demonstrates that you value the employee's time and thoughts and are prepared to hear them.
Create a note or action plan once you've explained the problem. Set employee performance targets and deadlines. You can check on the employee's progress weekly or monthly. Include that if you need to do anything as their boss to encourage behavior change. Include a new training strategy in the agreement if required.
Set a date and time to follow up with the employee and review the note or action plan. Regularly monitoring the employee's improvement and providing positive comments on adjustments is vital. It also enhances the possibility that the employee will follow through on agreed-upon activities.
Example: to give negative feedback positively
Practice, experience, and observation are crucial for doing anything well. It can be challenging to provide feedback in a suitable and sophisticated manner. The examples below could serve as a place to start:
Example 1
Remarks: You keep missing deadlines, which is affecting the project and the rest of the team.
Positive alternatives: I've seen that you struggle with time management. Is there anything you need from me to help?
Example 2
Remarks: Your goal wasn't fulfilled. It concerns me that it will affect the team's performance.
Positive alternatives: I know how hard you have worked even though you haven't reached your goals. Do you have any roadblocks that I can help you with?
Example 3
Remarks: Your late-night emails to the team have troubled me because you don't seem to be in charge of your work.
Positive alternatives: I'm concerned about your work-life balance because I've seen your late-night emails to the staff. Can you go into more detail so we can better understand your workload?
Example 4
Remarks: You've taken on the new responsibilities but don't appear to be managing them well.
Positive alternatives: Congrats on your new position. There must be difficulties. Can we talk about any possible training and support?
Example 5
Remarks: In the meeting yesterday, you were irritated, which made making a decision quite difficult.
Positive alternatives: In yesterday's meeting, I observed that you seemed upset. Could you please let me know how things are going?
Conclusion
Giving feedback is a necessary part of people management. However, it can be challenging. The person you are giving feedback to will recognize your sincerity when you are committed to employee development. Use the ways outlined in this blog to provide negative feedback positively.
Carefully handle negative reviews. Explore ways, learn from examples, and give feedback for progress. The provider should realize the activity's objective and motivation. They must also evaluate personal and contextual situations and know what information they lack.
Discover how to improve your company by regularly collecting feedback from your workforce with the help of QuestionPro. The QuestionPro Workforce will assist you in determining your capacity to offer negative feedback. You can survey your employees to learn what they think about this.
Frequently Asked Questions (FAQ)
What is negative feedback?
Negative feedback is constructive criticism or evaluative input provided to help improve performance or outcomes.
How does negative feedback contribute to personal development?
Negative feedback highlights weaknesses and allows individuals to work on enhancing their skills.
What are some ways to receive negative feedback positively?
Approach negative feedback with an open mind, view it as an opportunity to learn and avoid becoming defensive.