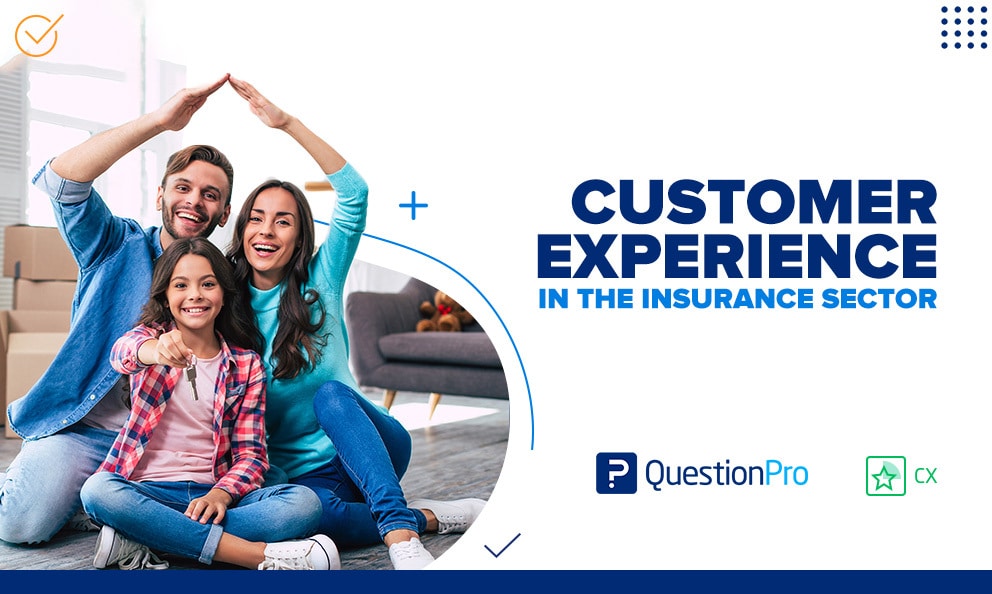 Customer experience plays a crucial role across all industries, gaining popularity year after year as a cornerstone strategy in any major business plan. The insurance industry couldn't stay on the sidelines, especially in an increasingly competitive market. Insurance providers are realizing the importance of delivering exceptional customer experiences to both attract and retain clients.
Customer experience refers to the total number of interactions and touchpoints with an insurance company. This encompasses every stage of the customer lifecycle, from researching and purchasing policies to filing claims and seeking assistance. A robust customer experience strategy takes care of and evaluates each of these touchpoints to identify opportunities and leverage them to delight customers.
Crafting a seamless and empathetic customer journey is vital in the insurance sector, where topics can be complex and emotionally charged (such as health insurance or life insurance). Many steps in the customer's life cycle depend on it.
Importance of Customer Experience in Insurance Industries
The insurance industry's success is closely linked to the experiences it provides to its customers.
A positive customer experience sets insurance companies apart in a competitive landscape and builds lasting customer relationships, leading to brand advocacy and business growth. As technology evolves and customer expectations change, insurers must remain adaptable and committed to creating meaningful, seamless, and customer-centric interactions.
Such an approach and strategies bring forth numerous benefits, as you will see in our section dedicated to the most notable examples from leading companies. However, it's important to highlight that some of the most favored aspects are:
Differentiation
In the current era, where online reputation and other factors play a crucial role in the discovery and consideration stages of any customer journey, exceptional service and customer experience become standout features when evaluating a service or product. The insurance industry is no exception to this, and achieving a positive experience becomes a key differentiator in an industry where satisfaction is challenging to achieve.
Retention and Growth
A robust customer experience strategy doesn't only cover initial interactions. Still, it extends to every aspect of the customer journey, from the first touchpoint to later moments after a process has concluded. This level of attention provides a greater opportunity for current users to trust the company even more, remaining loyal or acquiring more products and services.
Transparency and Action
Monitoring customer interactions and feedback provides valuable insights into pain points and areas for improvement. Data analytics can help insurers identify trends, optimize processes, and make informed decisions to enhance the overall customer journey. This transparency often leads to actions and strategies that improve the chances of offering top-notch service aligned with customer expectations.
Innovation
There's no more reliable and effective source of information than your own customers. Maintaining a suitable feedback program and establishing clear evaluation points allow you to be attentive to any dissatisfaction, pain points, or successes to turn them into actions that prevent unsatisfied customers from becoming detractors and turn satisfied customers into brand advocates.
The Role of Technology in Enhancing Customer Experience for Insurance Companies
Technology and Customer Experience go hand in hand due to the nature of the methodology itself. CX encompasses a wide range of techniques, methodologies, and tools to achieve optimal results.
Therefore, implementing the right technology is crucial to the success of any customer experience-related initiative.
Below, we'll explain some of the techniques and tools commonly used so that you can start incorporating them into your own strategies:
Customer Satisfaction Survey
Satisfaction surveys could be considered the seed of what would become the customer experience approach. The need to understand users led to the implementation of these tools in the marketing and business initiatives of major companies.
Satisfaction surveys are data collection tools where opinions and data about users are gathered through a questionnaire for subsequent analysis and interpretation.
These surveys are often conducted online and delve into user perceptions, attempting to obtain essential data to understand what's happening in the consumer's mind.
Net Promoter Score Question
Net Promoter Score (NPS) is a methodology that has been a researcher's great ally for years. It's a widely used metric that measures customer loyalty and satisfaction based on their likelihood to recommend a company's products, services, or company to others. Introduced by Fred Reichheld in 2003 through his Harvard Business Review article titled "The One Number You Need to Grow."
NPS is typically determined through a simple survey question: "On a scale of 0 to 10, how likely are you to recommend our product/service/company to a friend or colleague?" Based on their responses, customers are categorized into three groups:
Promoters (Score 9-10)
Passives (Score 7-8)
Detractors (Score 0-6)
This classification allows for specific actions to be taken for each group and measures the impact of these actions over time. Companies like QuestionPro have revolutionized this methodology by adding more elements that provide users with even more information and context about how their users perceive their services.
Customer Experience Management Software
A Customer Experience Management (CEM) Software is a technological solution designed to systematically manage and enhance customers' overall experience when interacting with products, services, and brands.
This type of software provides tools and features that enable companies to gather, analyze, and act upon customer feedback and data, ultimately aiming to improve customer satisfaction, loyalty, and retention.
QuestionPro CX is one of the top CEM Platforms on the market. It allows users to conduct evaluations, use functions like Closed Loop, Outer Loop, and Push Metrics to manage tickets, and provides access to a powerful suite of analytics that gives you insights to elevate your business to another level.
Customer Journey Mapping Software
A customer journey mapping software is a specialized tool designed to help businesses visualize and analyze customers' end-to-end experience when interacting with their products, services, and brands. It often includes design tools for customer journey maps and other options to visualize the customer's journey attractively and effectively.
QuestionPro SuiteCX encompasses many features that make for a great customer journey mapping software platform. In addition to pre-designed templates, you can integrate user personas or data collected previously to enrich your customer journey map further and analyze opportunities from start to finish.
Examples of Successful Customer Experience Initiatives
Over time, customer experience has become a pivotal aspect of all major companies' marketing strategies. This has led to the implementation of innovative initiatives and actions to improve user perception and service levels delivered by their teams and products.
At QuestionPro, we've collected some of the best examples of this. If you want to delve deep into the customer journey maps of these insurance companies, we invite you to explore them all and take note of their success stories.
Notable Customer Journey Maps Examples in the Insurance Industry
Seeking ideas to craft a unique customer journey map for the insurance sector? Your search ends here! We present some fantastic maps showcasing top-tier insurance brands.
Explore these examples and derive insights from their remarkable endeavors that ensure customer satisfaction and retention. Prepare to elevate your own Customer Journey in the insurance landscape!
AXA Customer Experience

Through co-creation, innovation, and unwavering dedication, AXA consistently sets new benchmarks in enriching the customer experience, transforming lives, and shaping the future of the industry.
Allianz Customer Journey Map

As a diversified financial services provider, Allianz offers a comprehensive portfolio of insurance solutions, including life insurance, health insurance, property and casualty insurance, and specialty insurance products.
MetLife Customer Experience

Among all the brands and companies in this field with an exceptional focus on this aspect, MetLife stands out. With over 150 years of history, they have positioned themselves as one of the top choices in the market.
Cigna Customer Experience

With a dedication to delivering exceptional services and building lasting relationships, Cigna's customer experience serves as a shining example of excellence in the insurance industry.
Successful Initiatives from Top Companies:
MetLife:
Misir Guru: Misir Guru is a helpful platform for people in Bangladesh to learn about insurance easily. It uses simple elements like words, pictures, fun images, and even comics in the regular Bangla language.
MetLife Educare: MetLife Educare is a special plan to help parents take care of their kids as they grow. It's a combination of saving money and helping kids learn. There are fun classes for little kids, lessons and activities for older ones, and even help with picking a good university for teens.
Allianz Trade: Allianz Trade has a special segment where they use smart AI and technology. They created something called Allianz Trade Online, a digital space just for customers. This platform makes things easier by using advanced processes and tech. These new features show that Allianz Trade is tech-savvy, always ready, and really wants to make customers happy.
Start Improving Customer Experience in Your Insurance Company Today!
Choosing the right platform is one of the most critical points to ensure the successful implementation of a strong customer experience strategy.
At QuestionPro, we always keep this in mind, which is why we're continually developing new solutions and features that allow experts to obtain the necessary data and evaluate every point of their customer journey precisely and efficiently.
We'd be delighted to show you our features and find ways to collaborate to make your projects a success and ensure your customers receive excellent service, elevating satisfaction levels in your company.